Whether you prefer to dine out among friends and family, or cozy up inside with a prepared-for-you fete, these local restaurants and catering companies have all the traditional trimmings we know you'll be craving. Happy Thanksgiving from our family to yours. 22 Bowen's Wine Bar & Grille Give thanks at 22 Bowen's over a choice of native apple and parsnip soup or roasted delicata squash for starters. Entrees offer a choice of cider-brined turkey breast with whipped potatoes, herb bread pudding, haricot vert, creamed mushrooms, gravy, cranberry relish and orange-rosemary gremolata; pan-seared halibut with winter squash and Brussels sprouts hash, roasted pumpkin bisque, cider gastrique and fried sage; or a roasted prime rib of beef with mashed potatoes, grilled asparagus and horseradish cream. End with pumpkin carrot cake topped with white chocolate cream cheese mousse, salted caramel, pineapple sorbet and candied chestnuts. Find the menu here. 22 Bowen's Wharf, Newport, 401-841-8884, 22bowens.com Atlantic Beach Club Atlantic Beach Club will be offering an All You Can Eat Thanksgiving Buffet full of traditional items including turkey, carved roast beef, mashed potatoes and sweet potatoes, green beans, butternut square and more. There will also be an assortment of pies, breads, soup, stuffing and dark meat upon request. $20.95 for adults, $10.95 for children 10 and younger. Children under 3 are free. 11 am - 3:30 pm. 55 Purgatory Road, Middletown, 401-847-2750, atlanticbeachclub.com Boat House Boat House in Tiverton is creating a unique Turkey Day feast of parsnip pear soup and crispy pork belly with roasted sweet potatoes, apple cider braised cabbage and apple butter to start. Then, move on to entree options of Helger's Turkey Dinner with chourico-chestnut stuffing, roasted Brussels sprouts, mashed potato, cranberry sauce and gravy; beef wellington with roasted kabocha squash, creamed onions and crispy fingerling potatoes; or crab stuffed sole with spaghetti squash, roasted red pepper and caper-brown butter sauce. Save room for pumpkin pie and apple crumb pie for dessert! 227 Schooner Drive, Tiverton, 401-624-6300, boathousetiverton.com Castle Hill Inn Castle Hill Inn offers a Thanksgiving meal beginning with chilled seafood appetizers, such as littleneck clams and Matunuck oysters. The second course offers herb-roasted Helger's Farm turkey and roasted Black Angus prime rib, and traditional sides including sweet potato pie, traditional Thanksgiving stuffing and more. The Thanksgiving menu is $78 for adults and $28 for children younger than 12, and is offered from 12:306:30 pm. Peek at the menu here. 590 Ocean Avenue, Newport, 888-466-1355, castlehillinn.com. Clarke Cooke House Clarke Cooke House is serving up an Organic Turkey Dinner including traditional stuffing, cranberries, butternut squash puree, mashed potatoes and giblet gravy with a cup of soup or salad and a choice of pumpkin pie, creme brulee or apple crisp. $45 for adults and $18 for children. Noon to 9 pm. Options will also be available from an a la carte menu including soups and salads, oyster bar options, appetizers including caramelized Nantucket Bay scallops and Salad of chilled Maine crab meat, as well as entree options of native lobster out of the shell, wood-grilled filet Mignon, native cod and roast loin of venison. Find the complete menu here. Bannister's Wharf, Newport, 401-849-2900, clarkecookehouse.com DeWolf Tavern DeWolf Tavern is serving a four-course Thanksgiving feast. Dishes feature Thanksgiving favorites including a first-course choice of butternut squash or seafood chowder, a second-course of mesclun salad with balsamic dressing and shaved carrot, a third-course choice of roasted turkey, baked salmon or prime rib with traditional sides and a fourth course choice of pecan pie, pumpkin pie with marshmallows or apple pie. Note: A vegetarian option of mashed potatoes, Brussels sprout cornbread hash, black lentils, glazed carrots and cranberry chutney is available as a third-course alternative. $50 per person and $25 for kids ages 10 and younger. Prefer to stay in? More delicious options are available for takeout when ordered by November 16. Menus available here. 259 Thames Street, Bristol, 401-254-2005,dewolftavern.com The Grill at Forty 1 North Executive Chef Terence Feury has crafted a savory Thanksgiving menu available from noon to 10pm, in addition to The Grill's full a la carte menu. Enjoy Slow Roasted Misty Knoll Farms Turkey stuffed with herbed mousse, and accompanied by pan gravy potato pure and brioche, and herb and roasted chestnut stuffing. Traditional sides includes sweet potatoes, Brussels sprouts, broccoli rabe and glazed turnips. $30 per person. 351 Thames Street, Newport, 401-846-8018, 41north.com The Mooring Your Thanksgiving dinner at The Mooring comes complete with a side of Newport Waterfront. Enjoy Roasted Pat's Pastured Turkey with mashed potatoes, cornbread stuffing, green beans, turkey gravy and cranberry sauce; Pan-Roasted Local Cod with roasted tomato risotto, charred green onion, crab-bell pepper salad and preserved lemon buerre blanc; and Barden Farm's Apple Pie with oatmeal crumbs, cider caramel, and bourbon-vanilla gelato. Find the menu here. Sayer's Wharf, Newport, 401-846-2260, mooringrestaurant.com One Bellevue at the Hotel Viking One Bellevue at the Hotel Viking is hosting a triad of Thanksgiving options with ALL the fixings. The first: a grand buffet with two seatings at noon and 2pm featuring a raw bar of local little necks, shucked oysters and shrimp cocktail; a carving station including honey roasted turkey, molasses and pineapple lacquered ham and salmon; an assortment of soups, salads and appetizers including butternut squash and apple cider soup and roasted vegetable ratatouille; and entree options of petit sirloin, herbed salmon and more. Also offered as options will be roasted sweet potatoes, cardamom and ginger-scented turnip puree, whipped potatoes, brioche and cornbread stuffing, autumn squash and Rainbow Swiss chard sides, and much more. A variety of pies, cakes and desserts are also available. $58 for adults, $48 for seniors and $25 for children ages 6 to 12. Children 5 and under are free. A children's buffet will be offered, as well as music entertainment from noon to 4 pm. Find the full menu here. The second: a prix fixe three-course menu including butternut squash and apple cider soup, poached shrimp cocktail and baby spinach, Frisee, Raddiccio salad for starters; entrees of roasted turkey, prime rib of beef, pan seared salmon and vegetable cupola; and pumpkin and apple pie, and NY style cheesecake for dessert. $49 per person. Read the menu here. The third: If you'd rather cozy up inside for the holiday, One Bellevue is offering a Thanksgiving meal to go. All orders must be made by Monday, November 23, and picked up during the specified pick up times of 10am, 12pm and 2pm on November 26. Each order will serve 8-10 people and includes:
12 lb Turkey
Stuffing
Mashed Potatoes
Butternut Squash, BabyCarrots and Broccolini
One Loaf of Italian Bread
Gravy
Cranberry Sauce
Apple Pie
Pumpkin Pie
Pecan Pie
$149+ per order. Read the menu here. 1 Bellevue Avenue, Newport, 401-848-4874,hotelviking.com Redlefsens If Thanksgiving Buffet has your name written all over it then Redlefsens is the place to be from 11:30 am to 3:30 pm. Complete with butternut squash and apple soup, salads, roasted turkey with three (count 'em, three!) kinds of gravy, baked ham with apricot raisin sauce, salmon Florentine, macaroni and cheese, and sides of moms old-fashioned bread stuffing, cornbread stuffing, mashed potatoes, yams, potatoes au gratin, and more. $30.95 per person and $12.95 for children 10 and younger. Find the menu here. 444 Thames St., Bristol, 401-254-1188,redlefsens.com The Spiced Pear at The Chanler Chef Thomas Duffy of The Spiced Pear will put a creative twist on a traditional Thanksgiving meal. $75 per person, $35 for children younger than twelve. Noon5 pm, followed by a light-fare bar menu from 610 pm. 117 Memorial Blvd., Newport, 401-847-2244,thechanler.com/dining
Take-It-Home Options
CRU Cafe Cru Cafe is offering an a la carte and Heat & Serve Menu this Thanksgiving. Choose from a la carte starters of baked brie, a domestic cheese platter and spinach and artichoke dip; entrees of CRU Galantine: slow roasted turkey breast, Roulade, and sage sourdough stuffing and Herb Brined Turkey Breast roasted and basted with butter and herbs. Finally, side options include roasted natives carrot, whipped potatoes, roasted fingerlings, and sourdough-sage stuffing. End your feast with a choice of pies including apple, pecan, traditional pumpkin and coconut custard. Heat & Serve Options:
Orders must be placed by November 20 and can be picked up on Wednesday, November 25. One Casino Terrace, Newport, 401-314-0500, crucafenewport.com Persimmon Provisions Persimmon Provisions is nowtaking orders for Thanksgiving featuring all-natural, broad-breasted turkeys from Baffoni's Poultry Farm, a family-run farm in Johnston.You can also pre-order your choice of ducks, capons, chickens, guinea hens, pheasants, beef, lamb and pork. 338 Country Road, Barrington, 401-337-5885 Russell Morin Catering & Events Let Russell Morin do the cooking for you this Thanksgiving with a lengthy list of options for you and your loved ones to feast on. Options includes Fresh Willow Tree Turkey available in 10-30 lbs, an assortment of dressings ranging from oyster, ground pork, ground beef and chicken liver to apple cornbread and gluten free bread. Potatoes are available served anyway you'd like from whipped and twice baked to oven roasted or glazed. Lastly, choose your choice of pies from a vast list including apple, pumpkin, lemon meringue, pumpkin cheesecake and many more. Complete dinners for a set price are also available: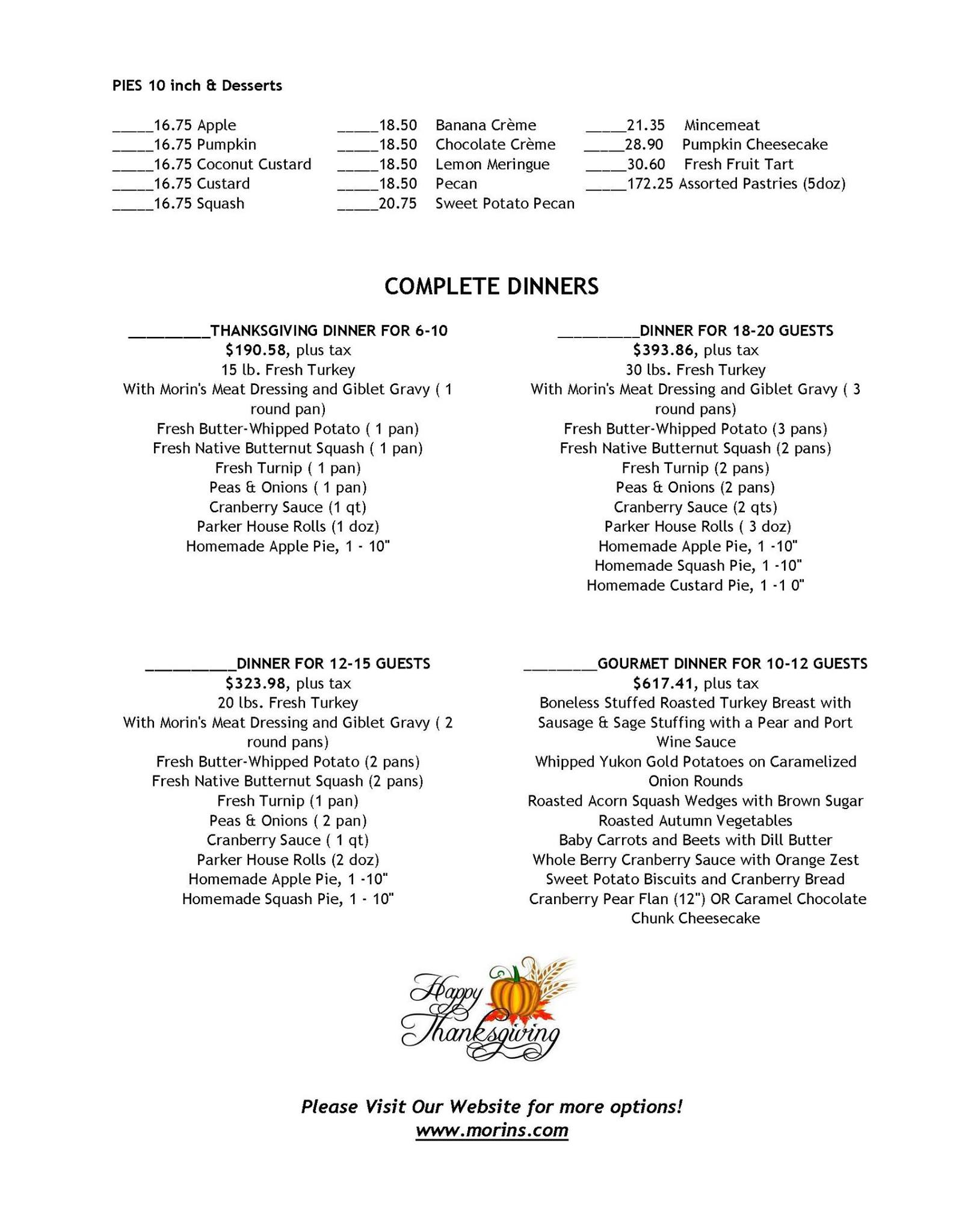 Orders must be placed before November 20 for pick up on Wednesday November 25. Call 508-226-6600   The featured image in this post is courtesy of CRU Cafe.