The snowflakes have dropped, the big game is over and its time to relax and cozy up by a fire. Unfortunately, with all of these great events happening here in the City by the Sea you may only have time to squeeze in a power nap. But that is okay, with inciting speakers, romantic evenings and even more winter fun!
DAILY
FEBRUARY 8
BIRD FEEDING BASICS
When: 6:00 PM to 7:00 PM
Where: Norman Bird Sanctuary
Admission: $8 Members, $10 Non-members
Details: It's not too late to feed birds! Watching birds at a backyard feeder is a great way to learn about bird identification and behavior while also helping birds survive the harshest months of the year. NBS' interactive program will cover a wide range of topics from seeds to storage to help transform your back yard into a winter oasis for our feathered friends. Families will have an opportunity to make a bird feeder out of natural materials!
Where: Brix Restaurant at Newport Vineyards
When: 5:00 PM to 9:00 PM, Recurring weekly on Wednesdays
Admission: $10 per person
Details: Book your wine – OR – beer flight each Wednesday and enjoy your own personal tasting of 4 wines or 4 draft beers for $10. Sip and savor your stay-cation when you pair with our Chef's Selection Bite Board, changing weekly.
SCI SPEAKER SERIES : "MINISTERING TO MERCHANT MARINERS"
When: 7:00 PM to 8:30 PM
Where: Seamen's Church Institute
Admission: Suggested Donation of $10
Details: Join us at SCI for a presentation by Reverend Erik Larsen on "Ministering to Merchant Mariners".

This event is part of SCI's ongoing Monthly Speaker Series. It will take place at 7:00 PM in the Mariners' Lounge of the Seamen's Church Institute, 18 Market Square, Newport. It will be open to the public without charge, though a suggested donation of $10 will help defray costs and fund the Institute's outreach programs. 

Due to limited seating we ask those interested in attending to register in advance by calling (401) 847-4260 or by emailing Assistant Superintendent Megan Bayley at megan.seamens@gmail.com.
FEBRUARY 10
BOYD METCALF DUO
When: 6:00 PM to 9:00 PM
Where: Saint Matthew's Episcopal Church
Admission: $35, 4 Concert Package $100—Save $20
Details: Blissful newlyweds Laura Metcalf and Rupert Boyd return to Rhode Island with a charming program "Boyd Meets Girl"for cello and guitar. Festival-goers know the passion and artistry both bring to their performances—you will have the opportunity to see them perform together here for the first time. Their program features music by Radamés Gnattali, Ástor Piazzolla, J.S. Bach, Ross Edwards, Manuel de Falla, Gabriel Fauré and Jaime Zenamon. The Friends of the Newport Music Festival will prepare a wonderful preconcert reception at 6:00 PM. followed by the concert.
Valentine's Day Weekend Getaway
When: February 10 and February 11
Where: OceanCliff Hotel & Resort
Admission: Dinner, $65 per person (excluding tax and gratuity)
Details: Valentine's Weekend at OceanCliff. This Valentine's Day, treat your someone special to a romantic escape at the historic OceanCliff Hotel! Join us on Friday, February 10th or Saturday, February 11th for an intimate five-course dinner featuring several wine specials and a prosecco toast. $65 per person (excluding tax and gratuity) View menu online at newportexperience.com.

Or make a weekend out of it and take advantage of our Romantic Escape package*
BEERTASTING
When: 6:30 PM to 8:00 PM, Recurring weekly on Thursdays
Where: Christie's
Admission: $15 per person
Details: Every Thursday Christie's will feature a flight of local craft brews that will be accompanied with a light food pairing
FEBRUARY 11
ALBERT BIERSTADT: THE ACCIDENTAL ARTIST OF MANIFEST DESTINY - JANICE HODSON
When: 2:00 PM 
Where: Newport Art Museum
Details: Janice Hodson, Curator at the New Bedford Free Library
During the second half of the nineteenth century painter Albert Bierstadt gave audiences some of the most stirring images yet seen of the expansive American West. Ms. Hodson will trace the ways Bierstadt and his contemporaries exploited the public's fascination with western regions and ultimately helped shift popular opinion regarding their fate.
ALEX JOHNSON AND COLORWAY
When: 7:30PM
Where: Sandywoods Center for the Arts, Tiverton RI
Admission: $12 advance/ $15 at the door
Details: Colorway didn't start the rock revolution, but its fighting spirit is certainly strong. 

Band leader F. Alex Johnson stands tall, front and center and sings about why love, loss, recovery and the search for contentment isn't something to scoff at. 

But his searing guitar work is the real star here, bending, bobbing and and weaving lyrical solos up and down the neck. His extensive experience from recording and performing in the U.S. and around the globe isn't worn on his sleeve. But you can see it and feel it in the way he does what he loves—what's he's done almost all of his life. 

The power trio format—guitar, bass and drums—is the perfect vehicle for Colorway's music. Space is as important as density here, and bassist Matt Clegg and drummer Riley Godleski hold down the proverbial fort with equal parts grace and ferocity. Meanwhile, Johnson powers on, sometimes teetering dangerously close to aural chaos but somehow always coming in for a secure landing. 

In short, Colorway, who calls Northampton, Massachusetts home, is a reflection of three very different people's love of music in all its forms. 

Come join the rock revolution and see, hear and feel what Colorway does. They promise it will be one hell of a time.
ALL YOU NEED IS LOVE...GREAT FOOD & FABULOUS WINE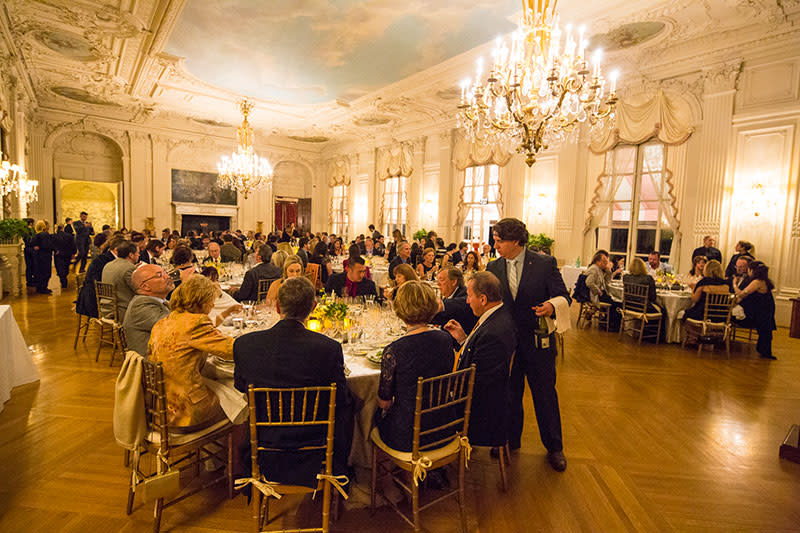 When: 6:30 PM 
Where: Rosecliff
Admission: $125 per person
Details: Looking for a unique way to spend a special evening with a special someone in your life? Or maybe a get together with close friends? The Preservation Society of Newport County and Blackstone Caterers are hosting a very special food and wine tasting at Rosecliff on Saturday evening, February 11. Start your evening with a sparkling aperitif and hors d'oeuvres, followed by 4 small plate courses paired with the perfect wines, topped off with a lavish dessert buffet. Admission is $125 per person, and tickets are limited, so don't wait. Check out the menu, and buy your tickets now.
FROSTBITE BASH
When: 6:30 PM to 11:00 PM
Where: Herreshoff Marine Museum
Admission: $85
Details: We are pleased and excited to announce the 5th annual Frostbite Bash! Join the party and enjoy full open bars and food tastings from a variety of top local restaurants and vendors. Dance the night away to live music in the historic Hall of Boats, bid on items in our silent auction, and snap photos with your friends in our photo booth. It will be a night you're sure to remember!
The Frostbite Bash is the biggest celebration in the winter to celebrate the young and the young at heart. This is why for our 5th Anniversary Bash we've lowered our ticket price and are offering a special price for the young professional under 30. No matter who you are, this is a party you do not want to miss!
SAVE THE BAY SPLASH
When: 11:00 AM to 11:30 AM
Where: Easton's Beach (First Beach)
Admission: Adult $30, Children 12 and under $15, Virtual Splasher $30
Details: Take off on Save The Bay's quarter-mile obstacle course followed by a cold water plunge in The Splash. The obstacle course includes five obstacles created by Laid Back Fitness owner and trainer, Ryan McGowan, and a mystery obstacle from BoldrDash! Warm up after the splash with heaters and hot cocoa at the Exploration Center and Aquarium, or help support Save The Bay and take the plunge from the comfort of your own bed by registering to be a virtual splasher! Registered splashers receive free admission to the Exploration Center and Aquarium, and discounted rates on Save The Bay Seal Tours happening that day in Newport.
THE HOTEL VIKING PRESENTS PATIN WINE DINNER
When: 7:00 PM to 10:00 PM
Where: Hotel Viking
Admission: $119 per person
Details: Join us tonight for our second wine dinner of the Viking Wine Festival Series featuring the fine wines from Paitin Giovanni Pasquero paired with the amazing food creations of Chef Correia and the Hotel Viking Culinary Team.

Paitin was established in 1796 with the first Barbaresco Sorì Paitin, bottled in 1893. This Piedmontese winery located on the hillsides of Nieve has been producing outstanding Barbarescos ever since, along with Arneis, Barberas, Dolcettos and Nebbiolos. Seventh generation winemaker, Giovanni Pasquero, will present these artisan wines at dinner. Chef Barry Correia will create Northern Italian fare to complement these estate wines.
FEBRUARY 12
JOANN SVENDSEN, COUNTRY STANDARDS
When: 6:00 PM 
Where: Sandywoods Center for the Arts
Admission: $10 advance/ $12 at the door
Details: Joann Svendsen is a gifted American vocalist. Her Genre is neo traditional country music and she records New Original music with traditional style. She began singing as a small child for family and in church. Joann has been working with Nashville songwriter / producer Lorri Shankar and has recorded two songs in Nashville that are soon to be released for digital download. 
NATURE'S KALEIDOSCOPE, LEAF ROTATION: PHOTOGRAPHY BY BRIAN WOOD
When: 9:00 AM to 5:00 PM
Where: The Audubon Environmental Education Center
Details: Discover nature's magnificent hidden patterns and soothing layers through camera rotation photography. Trees provide heart and home to us all – and their leaves are more than just an essential part of life on earth, they are also extremely beautiful. This style of foliage photography unlocks a hidden world of beauty and breathtaking geometry. 
SUNDAY BLOODY FUNDAY
When: 3:00 PM to 6:00 PM, Recurring weekly on Sunday's
Where: O'Brien's Pub
Admission: $50 per person
Details: Mermaid Masterpieces, the area's leading paint party organizer has teamed up with Newport's legendary O'Briens Pub and the fastest growing fashion brand, Lularoe, to offer a series of winter paint party socials. The events will be held on Sundays beginning January 29th from 3pm-6pm through March 5th. Tickets are on sale now via Eventbrite, $50/person and should be purchased in advance. The link to purchase tickets can be found on the event facebook page; https://www.facebook.com/sundaybloodyfunday2017

These unique events include a complimentary Bloody Mary, a pair of Lularoe leggings and a painting which the attendees will create while Becky from Mermaid Masterpieces teaches step by step. The events will also feature tarot card readings a professional photo booth with The Snapshot Stop as well as vendors including local artisans as well as BeautyCounter, Herbalife, India Hicks, Keep Collective, Touchstone by Swarovski, Younique, and many more. Vendors will change weekly.
ON GOING:
25th Annual Fakes & Forgeries
When: 12:00 PM to 5:00 PM
Where: Spring Bull Studio & Gallery
Admission: FREE
Details: From its conception 26 years ago, artists have been invited to submit serious "copies" or tongue-in-cheek humorous interpretation of known art work in two and three dimensional form. The February exhibit has grown to be a much anticipated area event for both artists and the art appreciators. The artists study and learn techniques used by the old and modern masters while the public has a chance to enjoy and own an "almost masterpiece" without traveling to Boston or New York.
When: 8:00 PM to 9:45 PM, both Friday and Saturday
Where: Firehouse Theater
Admission: $18 per person
Details: RI's most award-winning comedy troupe, The Bit Players hit the stage EVERY Friday and Saturday night ALL YEAR LONG with their fast paced, high energy hilarity! These improvisation masterminds present hilarious scenes, side-splitting musical numbers, and larger than life characters all inspired by the suggestions of the audience. Coming to celebrate a special event? Let them know ahead of time and they will make a special moment in the show all for the guest(s) of honor. And don't worry, they never put anyone on the spot or "pick on" anyone... unless they bring it on themselves of course. Every show is BYOB. Get tickets early. Shows often sell out. Come ready to laugh and enjoy a one-of-a-kind performance that will never be replicated again! Visit the website for tickets and more information. Laugh More.
NEWPORT SEAL TOUR WITH SAVE THE BAY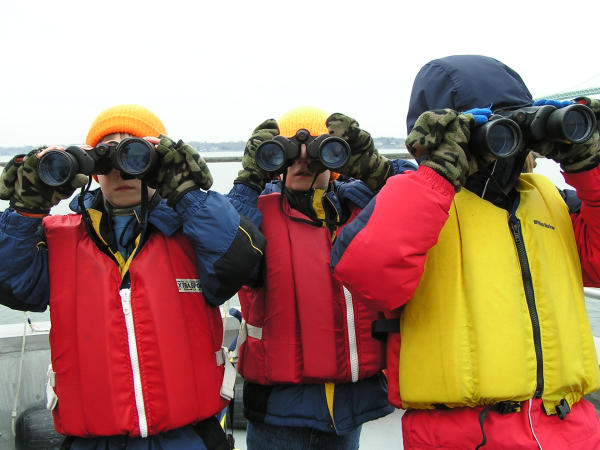 Where: Bowen's Ferry Landing
When: Check tour times & purchase tickets here! Recurring through the month of January.
Price: $22 non-members; $17 members, seniors & children ages 3-12
Details: Embark on a one hour tour aboard one of our education vessels as we cruise through historic Newport Harbor and take in 360 degree views of seals resting on Citing Rock off of Rose Island and the Newport Bridge.