Unparalleled ocean views, world renowned accommodations and out-of-this-world culinary experiences have always been a given in our quaint seaside city, but that doesn't mean we're not constantly seeking new opportunities and growth. These 7 events and new additions to our already lengthy list of must-see's in 2016 are sure to you have you itching for another visit.
We'll see you soon.
2016 World Match Racing Tour | May 31-June 4, 2016
The world's best match racing sailors will compete in Newport, RI as part of the World Match Racing Tour (WMRT) May 31 through June 4, 2016. The WMRT Newport event will be the last stop in the world tour before the finals are decided in Sweden, July 4-9, 2016. Prior to Newport, the event will have visited Fremantle, Perth Australia (March 2-7) Long Beach, CA (April 5-10) and Copenhagen, Denmark (May 9-14). The professional sailing event will be within yards of the shoreline for optimal spectator viewing (including start and finish line). Live action commentary will be broadcast onshore and the event will be free and open to the public. Details.
Hotel Viking Wine Festival | January through March
From January through March, Hotel Viking will host the Viking Wine Festival featuring a sequence of exceptional winemaker-hosted dinners.Held twice a month, the Viking Wine Festival will launch on January 23 and end on March 19, 2016. Featured winemakers will pair their wines with a four course prix-fixe menu designed by Chef Barry Correia of One Bellevue. Correia's goal is to work with each winemaker to craft a menu that truly showcases Rhode Islands harvests and flavors, while also enhancing the flavors of the wine itself. Details.
Opening of The Stone House
Little Compton's legendary Stone House has been reopened and reawakened under the new ownership of The Newport Experience. Located on 2.7 acres of land near the tip of the Sakonnet Point. The original building was constructed in 1854 as a private residence. Today, following a recent $12 million renovation, the property features guest rooms, a restaurant, a state of the art spa and a private beach. There is also a renovated barn on the grounds that features guest rooms and a beautiful function space with an outdoor terrace and gorgeous water views. Details.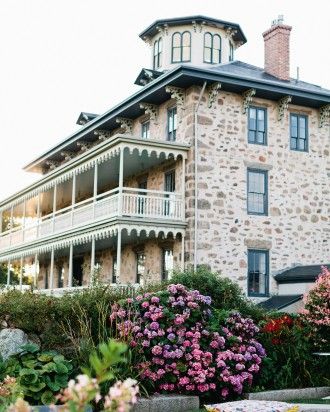 Bowen's Wharf Oyster Festival | May 20-22, 2016
The new event in the heart of downtown Newport will promote Rhode Island-grown oysters from more than 45 local oyster farms. Growers and oyster aficionados will come together with a select group of local restaurants under festival tents at historic Bowen's Wharf. Tickets will be sold online, and in person, so attendees will enjoy oysters raw, steamed, roasted, Rockefellered, fried and stewed along with the accompanying sauces, beverages and serving techniques. The event also includes an on-your-own Oyster Hop. Details.
PowerShares Series Tennis | July 17, 2016
This competitive tour featuring some of the biggest names in tennis will make a stop in Newport during the Hall of Fame Tennis Championships (championships: July 11-17). The PowerShares Series was co-founded by Jim Courier and players on the tour often include Andre Agassi, Michael Chang, Andy Roddick, John McEnroe, Stefan Edberg, Courier, James Blake and Lleyton Hewitt. Details.
Opening of The Atlantic Resort at Cambria Suites | Anticipated Opening July 2016
Located just over the Newport/Middletown border, this hotel and conference center has been going up quickly in time for a projected July 2016 opening. The property overlooks picturesque Easton's Pond and the Atlantic Ocean and will include 141 guest suites, three banquet rooms for weddings, conferences and corporate events. Plans include an indoor/outdoor pool, expansive terrace, restaurant, lounge and bar. (This property is owned by Peter and Harry Kyriakides who own numerous local properties. They most recently sold the Atlantic Beach Club.) Details.
The East Island Reserve | Anticipated Opening Early Fall 2016
Located in Middletown, Landings Real Estate Group purchased the former Sandpiper Cottages located at 935 East Main Road. The building is currently underway on this luxury vacation destination which will feature 24 luxurious cabins along with a small hotel component of 10 studio style units and an outdoor lagoon style pool. The cabins will be two-stories and will include a kitchen, master bedroom, living area, bathroom and porch. All units will have gas fireplaces and central air conditioning. Located within minutes of area beaches, nature trails, entertainment venues, shopping and historic Newport. The property is expected to be a comfortable year round destination with nightly rates around $375/night. Details.