412917N 711845W
Lets imagine for a moment that you happen to find yourself in Newport for just the day. That's about 12 hours or so of pure serenity; a daycation if you will, where the City by the Sea is your date and the possibilities are quite endless. Our breathtaking destination won't buy you lunch, but it will offer you a long, romantic walk on the beach, if that's what you want. The truth is that picturesque scenery will accompany you no matter what you do, but this day date is more than just easy on the eyes - it's full of history, loves adventure and can cook (well, our restaurateurs can cook, but you see what we're doing here.) Heres your day-date itinerary for the perfect day in Newport, RI.
First Stop: Coffee Grinder - this quaint coffee shop is tucked away on Bannister's pier and a peaceful way to start the morning with a cup of coffee sweetened by the view of Newport harbor.
Next: Newport Mansions - a walk down Bellevue Avenue transports you back in time to an era of opulence with a front row view of Newport's Gilded Age mansions. Tour one, or many of the fabled "summer cottages" of America's elite. More information here.
[gallery type="rectangular" link="file" ids="1966,1967,1968,1969,1970"]
Lunch Break: The Black Pearl - enjoy a cup of world-renowned clam chowder or seafood delicacy at this waterfront restaurant located in the heart of Newport's downtown area. Eat inside at the tavern or on the waterside patio.
Sweet Snack: Your sweet tooth beckons from across the street at Kilwins Chocolates and Ice Cream, a haven of in-house made fudge and chocolates; handmade corns and brittles; caramel and chocolate covered apples; and ice cream (we highly recommend the Newport Mud!) Get your dose of Vitamin Sea from Newport's famous Cliff Walk a 3.5-mile walk combining the natural beauty of Newport's unspoiled coastline with the architectural history of the Gilded Age. [gallery type="rectangular" link="file" ids="1973,1972,1971"]
Earn your sea legs during a harbor cruise aboard one of our city's many sailing yachts and schooners. After all, you are in the sailing capital of the world. Details here.
Soak up one of those stunning Newport summer sunsets with a specialty cocktail at the rooftop bar at Hotel Viking, complete with panoramic views of the city and harbor. (Special note: Raw Bar Items including oysters, shrimp and clams are half-priced every Friday from 2-6pm).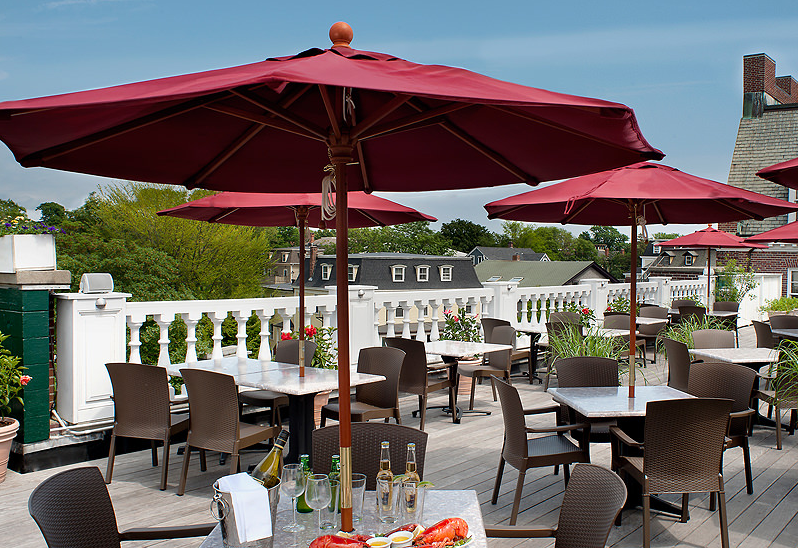 Conclude your day-date with a fine dining experience and New England ambiance at any of Newport's diverse eateries. With a view: Castle Hill Inn Restaurant Life-altering nachos: Brick Alley Pub To satisfy your lobster roll craving: The Landing Casual burger spot: Mission A cozy setting: Cafe Zelda For steak lovers: 22 Bowen's
Visit our complete list of restaurants here.
[gallery type="rectangular" link="file" ids="1977,1978,1976,1975"]