FAST FACTS
WHAT: Bowen's Wharf is hosting the Newport Wooden Boat Show: a waterfront celebration concurrent with the Newport International Boat Show (NIBS) and Newport Brokerage Boat Show.
WHEN: September 15th - September 18th, 2016, from 10:00 AM - 6:00 PM & Sunday from 10:00 AM - 5:00 PM
WHERE: 1 Bowen's Ferry Landing
ADMISSION:
FREE, open to all ages, rain or shine  
---

"Bowen's Wharf Co. has for the past seven years partnered with NIBS to include New England boats on our property and in our basin," said Bart Dunbar, President of Bowen's Wharf Company. "Hinckley, Hunt, Arey's Pond, Pease Boatworks, The Landing School and many others have exhibited here. This partnership will continue and the Bowen's Wharf parking lot and basin will again be full of NIBS exhibitors."
New this year is the expansion to include a beautiful array of wooden power and sailboats in the water at Bowen's Wharf Marina  600-feet of floating dock at 1 Bowen's Landing, originally home to Newport's historic ferry landing. All boats in-water will be available for boarding, including the handicap-accessible 36' Pilar, replica of Ernest Hemingway's 1934 sport-fishing boat.

39' yawl from Concordia Company in Dartmouth, MA; 22' Catboat from Arey's Pond in South Orleans, MA; a 16' Beetle Cat from International Yacht Restoration School in Newport, RI, and the 85' Enticer from McMillen Yachts. Multiple boats are en route from Pease Boatworks in Chatham, MA. Featured on land will be live-edge timber from Newport Nautical Timbers in Bristol, RI, and yachts for sale from Herreshoff Yacht Sales and Herreshoff Marine Museum.
Two special events are designed to help depict the enduring attraction and high quality craftsmanship involved in wooden boat building and design: Opening Night Party launches Wood, Wind & Water: The Genius of Chatham's F. Spaulding Dunbar at Seamen's Church Institute. The show was originally prepared for the Chatham Historical Society and the collection of drawings is part of the permanent Hart Collection at Massachusetts Institute of Technology. The catalog will be available for purchase during the show and at Opening Night.

One ticketed event accompanies the show: the screening of the film Wood, Sails, Dreams will follow a concert with Chelley, Bill & Dyl and Coole Swan sampling at the Jane Pickens Theater and Event Center downtown. Q&A with the producer and some of the boatbuilders afterwards.
Waterfront bar at the marina will be open daily from 12:00 PM - 6:00 PM featuring Coole Swan Mudslides, Stella Artois, wines & mixed drinks all served up at the anchor of the Newport waterfront. Live music will feature Caribbean steel drum with Aaron Cote and Panoramic View and a rotation of acoustic performers. Newport Wooden Boat Show bar will benefit SSV Oliver Hazard Perry, Rhode Island's official sailing education vessel.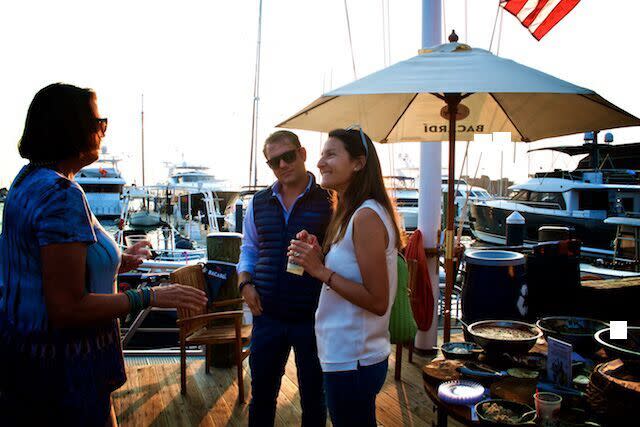 ---

Special highlights and additional information:

Thursday, September 15th – Opening Night of Wood, Wind & Water: The Genius of Chatham's F. Spaulding Dunbar, 6:00 PM - 7:30 PM

Free and open to the public, mingle with exhibitors, builders, restorers at Seamen's Church Institute, a historic building and organization. All are welcome to enjoy the two-storey exhibition, Mariner's Lounge, Henry H. Anderson Maritime Library, Chapel of the Sea and Memorial Garden and live steel drum music, hors d'oeuvres. www.seamensnewport.org
Join for welcome drinks compliments of Coole Swan – Superior Irish Cream and Santa Margherita USA, whose wines and prosecco come to us from the Eastern Veneto, Conegliano-Valdobbiadene, Alto Adige regions in Italy.

Saturday, September 17th – Screening of Wood, Sails, Dreams and Concert with Chelley, Bill & Dyl, 6:00 PM - 8:30 PM

Start this evening with soul and R&B with Newport's favorite band: Chelley Smith on vocals, Dylan Roy on bass, Bill Cote on guitar, Doug Ernest on drums. Mingle or dance in the lobby and theater while sipping Coole Swan. Film starts at 7pm: Wood/Sails/Dreams explores the resurgence of wooden boats, the restoration of American maritime history, and the lessons to be learned from the ancient craft of traditional boat building. Jon Stanton the producer will join boatbuilders on stage for a Q&A starting at 8:00 PM.
Tickets for the film screening event ($12) can be purchased in person at the Bowen's Wharf Pilot House 45 America's Cup Ave, or online through the Bowen's Wharf website at: http://www.bowenswharf.com/events, Phone: (401) 849-3478