NEWPORT, RI, November 17, 2015 - Newport Waterfront Events, a division of Waterfront Productions LLC, announces that although the Newport Skating Center fundraising campaign has yet to completely meet its goal there is enough confidence that additional funds will be received over the next few weeks to move forward with the return of the rink to its former downtown location at the Newport Yachting Center this upcoming winter season. Michele Maker Palmieri, President and CEO of Waterfront Productions, the parent company of Newport Waterfront Events, reports that the generous response over the last month by the corporate community and individuals is truly inspiring, led by new presenting sponsor ALEX AND ANI. Historically, Newport Waterfront Events has needed to sell a minimum of $150,000 in sponsorships to finance the rinks operation and maintenance over a full winter season.
ALEX AND ANI, all our other corporate sponsors, local organizations and individuals really came through to save the Skating Center and we are looking forward to celebrating with the entire community at the rinks grand opening and tree lighting ceremony on Friday, December 11th, said Palmieri. In the meantime, there is still more work to be done as we are at 93% of our fundraising goal with more sponsorship and partnership opportunities available, including dasher board signage.
Palmieri added that a crowd sourcing campaign set up so the community can pledge funds via a link to Indiegogo.com on the skatenewport.com website is scheduled to end this Thursday, November 19th but will stay up and keep accepting donations.
ALEX AND ANI is a company dedicated to its customers, its employees and its communities, said Carolyn Rafaelian, Founder, Creative Director & CEO of ALEX AND ANI. When there is an opportunity that creates a central place for people to enjoy our beautiful state, we are excited to commit our time and resources to the community to create unity for all to enjoy.
Additional corporate sponsorships that have been secured to date for the Newport Skating Center presented by ALEX AND ANI include: Stop & Shop, Cox, Peoples Credit Union, Viti Auto Group, Amica Insurance, Haven Brothers Concessions Food Truck, Discover Newport, Rob Levine & Associates, KVH, Think Thin, NAVSTA Newport Homes, BankNewport, Hyatt Regency Newport, AquaBall. Cumulus Media, William Mr. Bill Medeiros, Cappys Hiilside Cafe, Whats Up Newp, Island Skating Academy, Peregrine Group/Scotts Wharf, LLC and Newport Harbor Corporation/Newport Restaurant Group. Plans are to have a full schedule of activities this winter at the rink, including Family Fun Nights, Skates with Santa, Learn to Skate camp, community partnerships with non-profit groups including the Boys & Girls Club and the Martin Luther King Jr. Community Center and, of course, the grand opening and traditional tree lighting ceremony in early December. In another exciting development, Haven Brothers Concessions Food Truck will handle the on-site concessions at the rink this season. The Rhode Island icon has been serving Rhode Islanders from it downtown Providence location since 1893, making it the oldest diner on wheels. The rink failed to open last winter due to the sale of the Newport Yachting Center by Newport Harbor Corporation to Scotts Wharf. In the spirit of cooperation, the Newport Harbor Corporation has agreed to donate the skating rink equipment and assets to Newport Waterfront Events while Scotts Wharf is providing the Newport Skating Centers former space at the Newport Yachting Center for the coming skating season. Palmieri said she can not guarantee that the Newport Yachting Center location will be a long-term solution for the rink but said it is a first step towards the goal of realizing a permanent home for the Newport Skating Center. The Newport Skating Center, which first opened in 2000, features a 9,000 square foot skating surface large enough to accommodate up to 100 skaters at a time. Skate rentals, hot beverages, comfort foods, lighting for night skating, regular admission discounts, FREE parking and viewing spaces for the public are also featured at the rink. Waterfront Productions LLC, headquartered in Newport, Rhode Island, specializes in event management/production and venue operation and is the parent company of Newport Waterfront Events and Rhode Island Waterfront Events. The events Waterfront Productions owns and manages include the Great Chowder Cook-Off at Fort Adams in Newport, Rhode Island and the Waterfront Reggae Festival and the International Oktoberfest at India Point Park in Providence, Rhode Island. The Waterfront Productions team has co-produced a variety of other events, including the Newport Comedy Series, the WBRU Concert Series at Providence Piers, the Food Truck Festival, the Newport International Boat Show and the Newport Charter Yacht Show, and offers event management consulting services.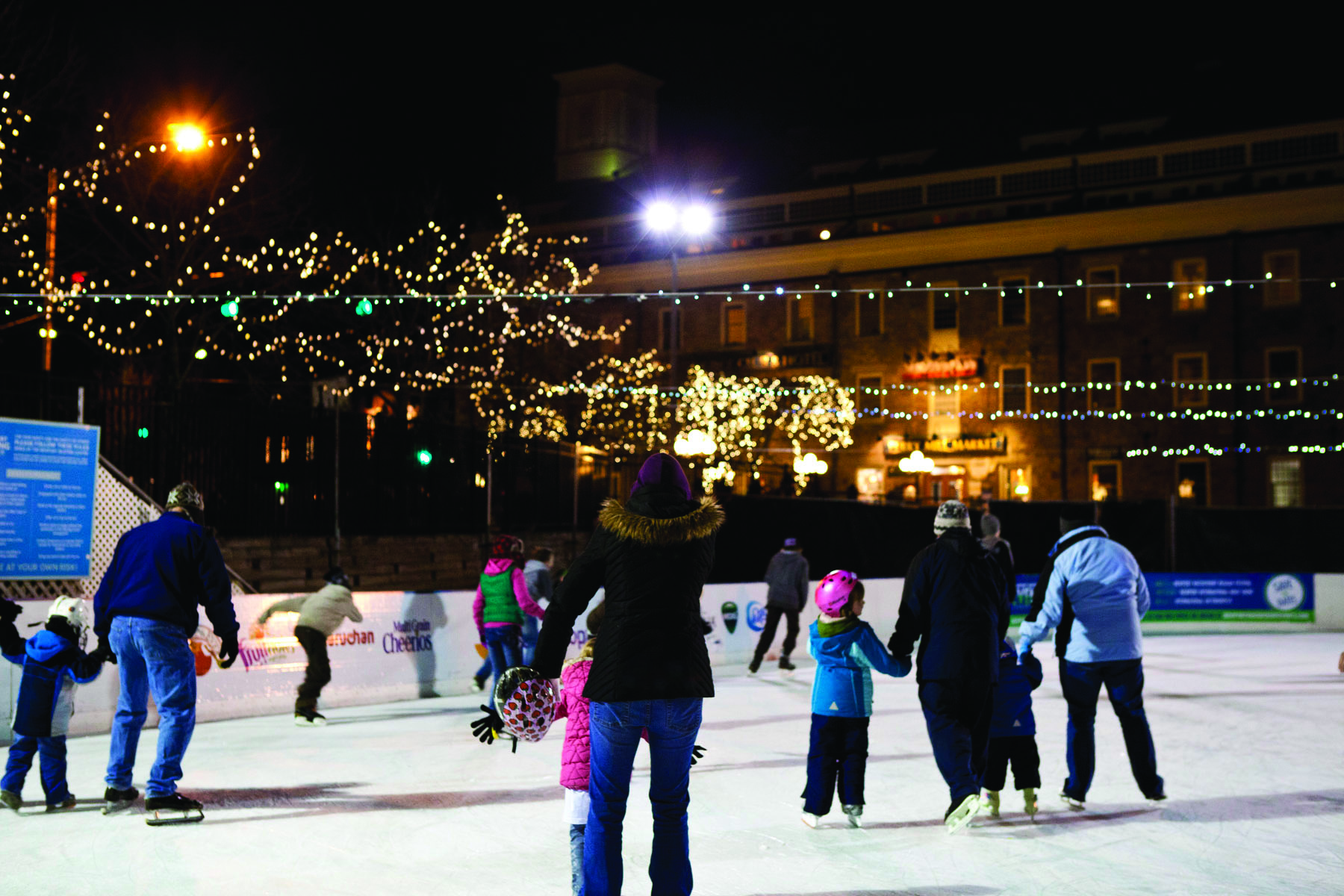 For more information on the Newport Skating Center, sponsorship and donation opportunities, visit skatenewport.com, or contact Michele Maker Palmieri, President and CEO of Waterfront Productions LLC via email at mmaker@newportwaterfrontevents.com or call (888) 900-8640, Ext. 709.