Todays Coastal Cooking recipe is courtesy ofChef Rich Silvia from The White Horse Tavern via our weekly Rhode Show segments, which premiere Tuesdays at 9am.
28 oz High Quality Fresh Ahi Tuna Spring Vegetables
Add the following to a 8 Qt. High-Sided Pot:
2 whole globe artichokes (good quality longstem marinated artichokes are fine for home use), trimmed, quartered and soaked in acidulated water (lemon).
1 medium sized carrot, peeled and sliced
1 medium sized onion, peeled and julienne
2 fennel tops, fronds removed for garnish, stalks thinly sliced
3 clove garlic, smashed
2 lemons, halved and squeezed lime, squeezed
Strong pinch of crushed red pepper
1 bay leaf
Dash Espelette pepper
1 tbsp salt gallon water
How To Make It
Simmer all ingredients 20 minutes then checking every 5 to 10 minutes for tenderness, then add the fava beans to warm. 1 lb shelled fava beans, blanched and rinsed Reserve aside and add a pat of butter if you wish for richness. 1 cup cooked black barley cup basil pesto, fresh made Reserved broth from artichoke braise
For the Tuna: Divide the tuna steak into 4 evenly portioned and shaped pieces. Lightly coat the outside of the tuna with canola oil. Then season with salt and fresh ground pepper. Warm a medium to large flat bottom saut pan to medium high heat, add 1 tbsp canola oil and a pat of butter. Sear all sides of the tuna to desired rareness.
Plate: In a large bottom pasta bowl, place a mixture of the spring vegetables, pesto broth, and black barley.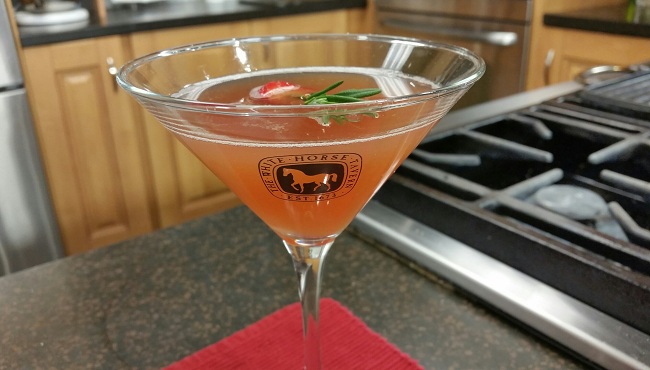 Strawberry Banana Daquiri
By: Alex Brandariz, Beverage Director of the White Horse Tavern
3 oz Strawberry and Herb Infused Dark Rum (Local Preferred)
1 oz Banana Liqueur oz Lime Juice, Fresh
oz of geat almond syrup
Pour over ice, shake, and strain over fresh ice.