With all of the national foodie holidays in the world, it is hard to keep up. But here in the City by the Sea we make sure we remember August 16th as National Rum Day to support our favorite local Thomas Tew Rum. Drink local this National Holiday, or any day for that matter. Newport Storm and Thomas Tew tastings are closed on Tuesdays, but that doesn't mean we won't be celebrating around town.
Let's keep it simple and check out our favorite Thomas Tew rum-filled drinks for National Rum Day in Newport and Bristol Counties:
RESTAURANT & BAR
NEWPORT
Caleb & Broad, 162 Broadway
Caleb & Broad has done it again, they have concocted a Newton's Juice with Thomas Tew that is said to make you CRAZY.

Diego's, 11 Bowen's Wharf
Smile, you're on an island! Diego's is mixing up The Local Mai Tai made with Thomas Tew, Bully Boy White Rum, Pierre Ferrand Dry Curacao, Orgeat, Fresh Lime & Roasted Coconut juice shaken, on the rocks.

The Lawn @ Castle Hill Inn, 540 Ocean Drive
Picture this, you are sitting on an Adirondack Chair with the sea breeze flowing in the air, and you are sipping your straight Thomas Tew on a perfect, mid-august day. Doesn't get much better than that, right? Unless you order two...
Midtown Oyster Bar, 345 Thames Street
Midtown may not have a specialty Thomas Tew cocktail, but they do sell it by the glass. If you want to "mix it up" ask the bartender to make you something special with the Thomas Tew. Don't worry, they love to get creative.
One Bellevue, 1 Bellevue Avenue
Try One Bellevue's Two for Tew signature cocktail, featuring Thomas Tew Rum and Yacht Club Orange
Pineapples on the Bay, Goat Island
The Narragansett Pirate strikes again AYE, and it is mighty fine, made with Newport's own Thomas Tew Rum, Malibu Coconut Rum, Banana Liquor, Pineapple, Orange, and a splash of Cranberry. But wait, there is more: you can get this drink on the rocks or frozen, and we ARRRR serious about this one!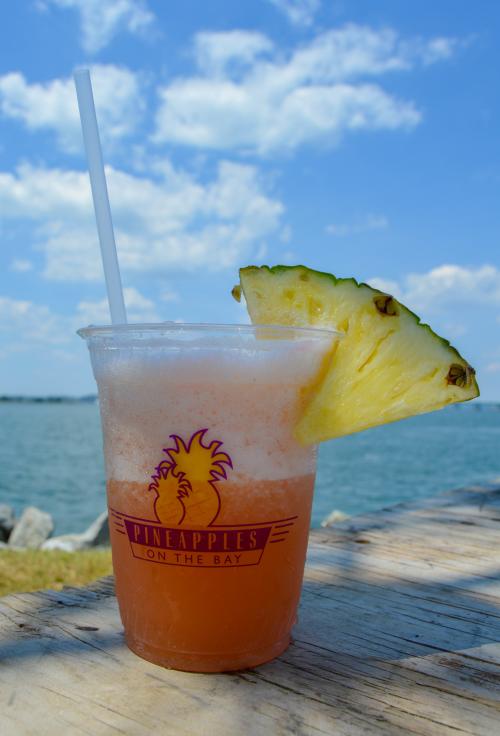 Revolving Door, 509 Thames Street
Join Jason Kindness in enjoying the Revolving Door's Thomas Tew specialty, the Nelson's Folly. Mixed to perfection with local Thomas Tew, Black Cavendish, and Carpano Antica Vermouth.

Smokehouse, America's Cup Avenue
Pinch, punch you owe me a Mason Jar cocktail from Smokehouse, and make sure it's the Thomas Tew Punch. Made with the local rum, peach, cranberry, orange, pineapple, sour and topped with Grenadine.
Spiced Pear, 117 Memorial Blvd.
The Spiced Pear has truly brought the sunshine back to Aquidneck Island with their Island Sunshine cocktail. This Rum-tastic drink is made with Bacardi rum, Thomas Tew rum, apricot brandy, pineapple juice, orange juice, fresh lime garnish.
Top of Newport, 1 Bellevue Avenue
Another sailor's delight with water views from a rooftop devour the Arrrrrrrr!!!!!!! signature cocktail made with Thomas Tew Rum, Orange Curacao, Amaretto, pineapple juice, soda, squeeze of lime and a cherry garnish.
PORTSMOUTH
Gulf Stream Bar & Grille, 1 Lagoon Road
Featured first on their house cocktail menu, the Tew Old Fashioned is a classic cocktail with a rum twist. Made with Thomas Tew Rum, sugar in the raw simple syrup, bitters muddled orange and rum-soaked cherries.
 
TIVERTON
Boat House, 227 Schooner Drive
The Boat House is mixing up their Harbor Cask with Thomas Tew Rum mixed with orange liqueur, sweet vermouth and bitters. The blend is then oak barrel-aged in-house and served chilled with a cherry and orange peel; Manhattan style.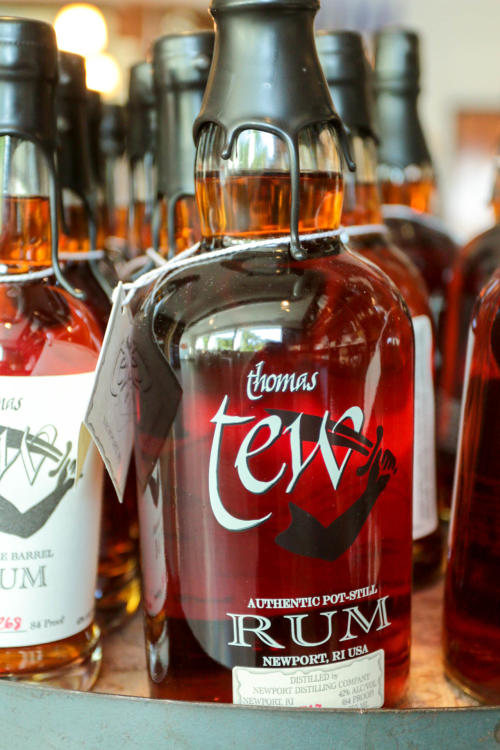 AT HOME
No need to fret, here is where you can purchase Thomas Tew Rum at a Liquor Store:
 
BARRINGTON:
Brickyard Wine & Spirits, 1 Waseca Avenue
 
BRISTOL:
1776 Liquors, 597 Metacom Avenue
 
LITTLE COMPTON:
Goulart's Package Store, 39 Meeting House Lane
 
MIDDLETOWN:
Aquidneck Liquors, 15 East Main Road
Beach Wine & Liquors, 43 Aquidneck Avenue
Goode Spirits, 1374 West Main Road
NETC Newport - Navy Base, 1250 Hacker Avenue
 
NEWPORT:
Andrew's Liquor's, 297 Connell Highway
Bellevue Wine & Spirits, 181 Bellevue Ave
Bridge Liquors, 23 Connell Highway
Downtown Liq., 202 Thames St. Cotton Ct.
Harry's Package, 199 Connell Highway
Island Liquors, 291 Broadway
Sully's Beer, Wine & Liquor, 25 Bliss Road
Vicker's Liquors, 274 Bellevue Ave

PORTSMOUTH:
Allen's Wine & Spirits, 3001 East Main Road
Ferreira's Package Store, 1965 East Main Road
Portsmouth Wine & Spirit, 1557 West Main Road

TIVERTON:
Stone Bridge Pkg., 2490 Main Road

WARREN:
Malik's Liquor, 254 Market Street
Patriot Wine & Spirits, 145 Main Street
Enjoy, Drink Responsibly!