What is Newport Restaurant Week
Every Spring and Fall, Newport Restaurant Week returns with participating restaurants from Newport and Bristol Countys nine coastal towns. The event offers three-course dining deals for lunch ($16) and dinner ($35) that cater to the culinary desires of both frequent restaurant goers and first-time diners alike. Since its start in 2006, Newport Restaurant Week has grown tremendously, but its mission has always remained the same: provide visitors and residents the opportunity to experience the quality, diversity and hospitality that epitomize a Newport County dining experience.
When is Newport Restaurant Week?
November 6-15, 2015
Do I Need a Reservation?
You do not need a reservation to participate in Newport Restaurant Week. However, divine meals at unbeatable prices tends to cause an influx of people and so, it couldn't hurt to reserve your spot!
Where Can I Find More Information?
Your best resource for discovering mouthwatering menus at a steal is DiscoverNewportRestaurantWeek.org where we continually add more restaurants and menus as the time gets closer. You can also visit DiscoverNewport.org for more information about lodging packages. Don't forget to follow us on Facebook, Twitter and Instagram for photos, contests and inside details! Use #NPTRestaurantWeek for Newport Restaurant Week-related posts, images and Tweets to engage with other diners, restaurateurs and chefs (and to win a little something special!)
Chances to Win:
There are a number of chances to win throughout Newport Restaurant Week! Here's how to get involved:
Follow @dscvrnewport on Instagram for two giveaways, one for $100 and another for $50, both in gift cards to participating NRW restaurants, leading up to Newport Restaurant Week
Follow @dscvrnewport on Twitter for a $50 giveaway leading up to Newport Restaurant Week
Participate in the #NPTRestaurantWeek photo contest for three chances to win $50 or more in gift cards to participating NRW restaurants.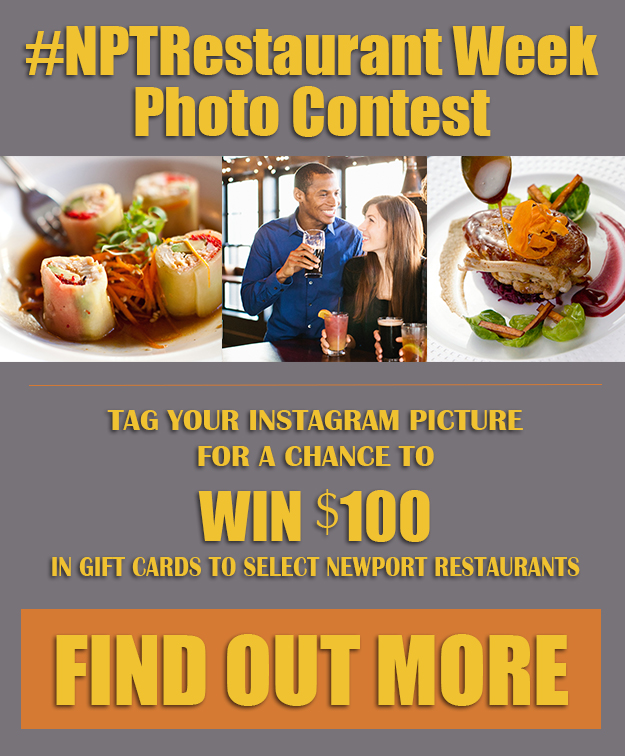 Special Deals & Happenings:
Bristol Oyster Bar Single glass of Sparking Rose or draft of your choice $1 Oysters 4-6pm (Kitchen opens for dinner at 5pm)
Castle Hill Inn Sunday Brunch, three courses $16, 11:30am - 3pm
Jamestown Fish Offering their entire dinner menu for Newport Restaurant Week (a steal!)
History of Newport Restaurant week
Newport Restaurant Week was established in 2006 as an annual event to encourage both residents and visitors of Newport and Bristol Counties to experience the vast culinary talent in our destination at an affordable price. The events mission is to stimulate local business not only at restaurants, but at retail and lodging partners as well. In 2008, Newport Restaurant Week expanded to a bi-annual event; one taking place in early spring and the other in late fall. Restaurateurs often create menus that celebrate seasonal ingredients and promote local food and wine purveyors.Many offer vegetarian and gluten-free alternatives to patrons with food allergies or special dietary requirements. Newport Restaurant Week is brought you by Kenwood Wines, OpenTable.com, Samuel Adams and Discover Newport. [gallery type="rectangular" link="file" ids="2330,2329,2328,2327,2326,2325,2324,2676,2677,2678" orderby="rand"]
A special thank you to our sponsors: