As the City of Newport gears up for an old fashioned Halloween, the Newport Historical Society will present a lecture this Thursday, October 30th at 5:30 thats just right for mischief night. Greg Flemming, author of the new pirate-themed book At the Point of a Cutlass, will share his research on Philip Ashton, a man captured in June 1722 and forced to sail with a pirate crew commanded by the vicious Edward Low. From Ashtons own account, trial records, logbooks and a rare 1725 manuscript, Flemming shares the true story of a man thrust into the violent world of piracy and his daring survival and escape.
Taken in a surprise attack near Nova Scotia in June 1722, Ashton was forced to sail across the Atlantic and back with a crew under the command of Edward Low, a man so vicious he tortured victims by slicing off an ear or nose and roasting them over a fire. A greater monster, one colonial official wrote, never infested the seas." Although my new book about Philip Ashton began as the story of a young Massachusetts fisherman who was captured by pirates in 1722 and then marooned on an uninhabited Caribbean island, Newport kept surfacing time and again in my research, Flemming explains. Thats not a big surprise. Newport was one of the five largest cities in colonial America in the 1700s and a major shipping center for much of the goods exported from the colonies and the Caribbean. When Atlantic piracy peaked in the early 1720s, there was no way Newport could escape the danger.
In fact, Flemming continues, the very first vessels sent to chase down the pirate captain Edward Low in 1722 -- barely two weeks after he struck out with his own crew of about 40 men -- was from Newport. Lows crew ransacked three vessels sailing just off the coast on Sunday, June 3, 1722, brutally wounding one Rhode Island captain, James Cahoon. Word of the attacks reached Newport the next morning, and a call to arms was sounded drums were ordered immediately to be beat about town for volunteers to go in quest of the pirates. By three oclock that same day, two large sloops with 130 men and fifteen cannon between them had set out from Newport to search for Lows crew.
Almost a year to the day later, Captain Edward Low was back near Newport again. This time, however, so was a more powerful adversary, the British warship HMS Greyhound, Flemming said. After a brutal, 12-hour battle at sea, one of Lows two sloops was captured and all of the men aboard were brought back to Newport and put in jail. At their trial a month later, most of the men were convicted of being pirates. Twenty-six men were hanged on Gravelly Point in Newport on Friday, July 19, 1723 in what remains one of the largest mass executions in American history.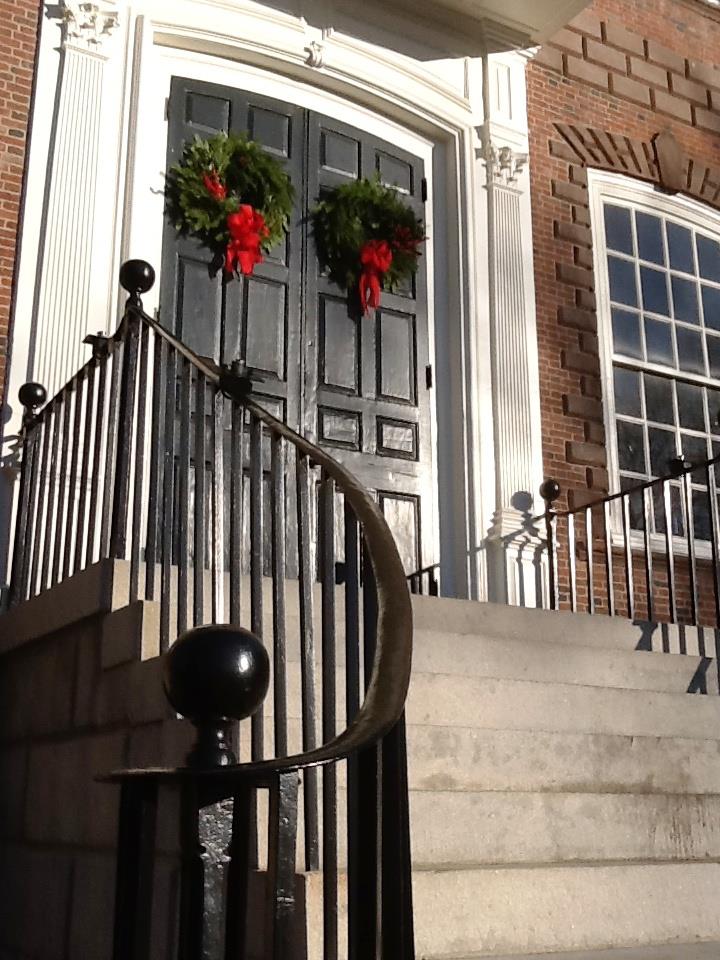 At the Point of a Cutlass takes place at the 1739 Colony House. Please RSVP to 401-841-8770. General admission costs $5 per person, $1 for NHS members, active duty military and students (ID or membership required). A book signing will follow the talk. Beginning November 14th, the Historical Society jumps into the holidays with the start of its annual Holiday Lantern Tour program. Hear the history of early American holiday traditions and learn how Newporters recognized the holiday on The Holiday Histories Tour.
November is a great time to try this family-friendly tour before the winter weather sets in, suggests Ingrid Peters, the Societys Associate Director, who also manages the tour program. Taking this walking tour has become its own tradition for many winter visitors. Its a fun way to learn about past holiday celebrations in Newport as they prepare to celebrate this winter season, Peters concludes. The Holiday Histories Tour is offered on Fridays and Saturdays at 4:30pm beginning November 14th; and at the same time on Thursdays, Fridays and Saturdays in December (excluding Christmas Day).
The Society offers several other December walking tours, such as Discover Colonial Newport in Winter (December 6, 13, 20 and 27 at 11am) and Rogues & Scoundrels Tour (December 26 & 29 at 11am). Tours depart weather permitting from the Brick Market: Museum & Shop, 127 Thames Street, in Newport, and cost $15 per person, $10 for NHS members and active duty military with ID; $5 for children ages 5-12. Reservations required as space is limited: 401-841-8770.
Photo Credit: top left, Greg Flemming / at right: Newport Historical Society