It may be bikini season here in the City by the Sea, but we can never truly desert the desserts when they are all so DELICIOUS. On those hot days…who could go wrong this these fabulous sweet treats:

Diego's: After a few margaritas and some tacos, nothing completes a meal better than Diego's fresh churros. Their West Coast style Mexican cuisine showcases fresh food and rich flavor.  The perfectly prepared cinnamon and nutmeg churros are homemade and served with a mouthwatering spicy caramel sauce. Pro Tip: indulge and order two…even if it is just you eating them.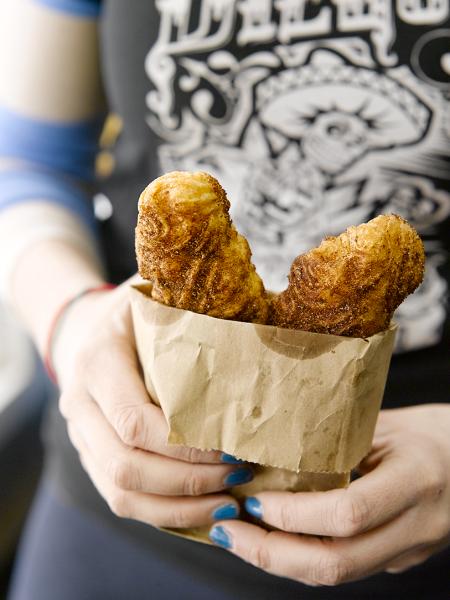 Castle Hill Inn: From house-made Ice Cream and Sorbet options to their more unique sweet treats, Castle Hill Inn is dessert paradise. Be sure to pair any of their great dessert dishes with their delicious dessert wine selection. With breathtaking views of both the water and your plate, CHI will not disappoint.

Fifth Element: Match the fun & trendy vibe of the Fifth Element by ordering their signature "Sticky Toffee Pudding". This warm, break pudding is claimed to be the "Best dessert" people have ever had. Not too sweet, deliciously sticky and oh-so-satisfying, be sure to check out what the hype is about at the Fifth Element.  

Salvation Café: What goes better than Chocolate and Bananas? Not much…except when they are shaped as little purses, fried and paired with ginger ice cream. Salvation Café's Chocolate Banana Purses not only showcase great quality and taste of these charming sweet treats, but they also hit the "dessert ball" out of the park with their stylish presentation. 
Sweet Berry Farm: From farm to fork—try Sweet Berry Farm's delectable Pie selections. Sit and stay for a slice or grab an entire pie to enjoy with the family. Pro Tip: top off your pie with Susanna's Ice Cream. Homemade at the farm, this Ice Cream features local ingredients as often as possible. In addition to their local ingredients, Susanna adds an exotic spin with fresh flavors from around the world. 
Bouchard Restaurant: Complete your perfect dinner with Bouchard's signature Grand Marnier soufflé. This masterpiece is artfully served and topped with a fabulous creme Anglaise tableside. With romance filling the air, impeccable service, tasteful music and a light decadent soufflé filling your stomach, Bouchard Restaurant has the dessert that will stay in your dreams. 

The Revolving Door: With a rotating line-up of chefs bringing their own unique menus and matching cuisine into the Revolving Door every few weeks, the dessert menu is always changing as well. With quality standards high and delectable executions to match, the desserts that the guest chefs bring into the restaurant are always a hit. Check out their current guest chef, and Chef On-deck here!

The Clarke Cooke House: When a dessert on the menu is named "The Snowball in Hell" and it comes in a chocolate coated gauntlet, we know we have made it to dessert heaven. Paired with their other fabulous desserts, or indulging after a fantastic meal you will leave the iconic candy store satisfied and with a dinner reservation already booked for next time.

White Horse Tavern: I scream, we scream, we all scream for boozy ice cream-floats. The oldest tavern in America has adopted a new trend...by pairing Not Your Father's Root beer with a decadent bourbon ice cream and crushed malted milk balls. Oh, and topped with a candied piece of bacon…forget the main course and eat dessert for dinner! 

Who said Dessert is an afterthought? Make dessert the only thing on your brain at these sweet-treat local staples:
Kilwin's: No matter what age you are, when you walk into Kilwins you will immediately be transformed into a kid in a candy store. Have fun, explore their delicious treats and purchase high quality delicacies in a friendly atmosphere.
Frosty Freez: Locally owned and operated, Frosty Freez shares their old fashion simplicity while still staying relevant with new and trendy flavors. Pro Tip: Frosty Freeze is still cash only, so remember to save up those dollars to treat yourself when needed!
Newport Creamery: The name says it all. Established right here on Aquidneck Island, Newport Creamery has been perfecting the Ice Cream game for over 75 years! Pro Tip: on Monday's during the summer months be sure to take advantage of their Buy One Get One deal on Awful Awfuls. 
Ben and Jerry's: With two convenient shops located in downtown Newport, the aroma of freshly baked waffle cones will drive you mad, unless you stop in for a cone or a cup. With all their different flavors and toppings…you technically could try something new each time, what fun!
Newport Fudgery: Fudge that is fresh and made daily is made unforgettable thanks to our friends at the Newport Fudgery. Similar to its neighbor on Thames street, Ben and Jerrys, Newport Fudgery has a second location located on upper Thames Street! Pro Tip: be sure to send these tasteful treasures home to share a taste of Newport for your friends and family.