There are a slew of things we absolutely love about summer. The sun, for starters. And with the sun of course comes the warmth, which then comes the things that grow in said sun and said warmth. You see where we're going here?
The summer season brings farmers markets galore, perfect for getting your hands on an ample supply of fresh & local fruits, veggies, meats, herbs and dare we say, some sweet baked goods; all grown and crafted right here in Rhode Island.
Take your pick.
AQUIDNECK GROWERS' MARKET
Peruse the freshest of local ingredients at Aquidneck Growers' Farmers Market with offerings of farm-raised eggs, coffee beans, meat products, herbs, sweet and savory bakery products, an assortment of seafood options and fresh-cut flowers and plants from 25+ vendors. Details.
WHERE TO FIND IT
Saturdays, 9:00 AM - 1:00 PM: Newport Vineyards, 909 E. Main Road, Middletown
Wednesdays, 2:00 - 6:00 PM: Memorial Blvd. near Bellevue Avenue, Newport
HOW TO PAY
The market accepts cash or allows you to use your debit or credit card to purchase $5 market tokens, from which you will receive change in dollars for vendors while once making a purchase.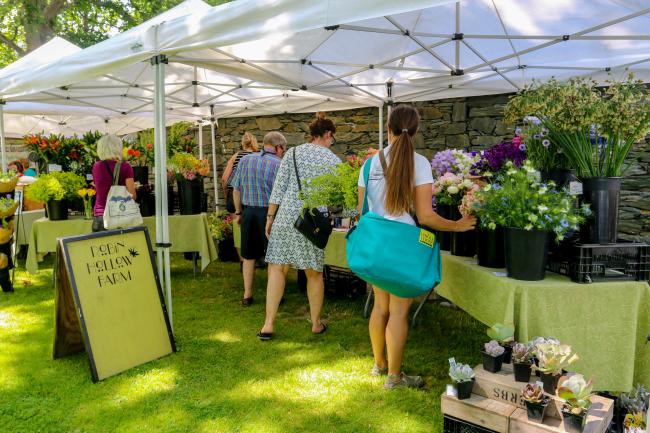 BARRINGTON FARMERS MARKET
The Barrington Farmers Market is held yearly in Haines Memorial State Park. Featured vendors including Mello's Farm Stand, Travis Family Farm, Green Leaf Farm and many more offer local goods of fruit, vegetables, herbs, honey, eggs, flowers, jams & jellies and baked goods. What makes this market unique, we feel at least, is its offerings of specialty goods crafted locally, from beeswax and candles to lip balm, lotions and soaps. Held May - October. 
WHERE TO FIND IT
Wednesdays, 2:00 - 6:00 PM: Haines Memorial State Park, Haines Park Road, Barrington
HOW TO PAY
The market accepts cash, credit, SNAP, WIC and Fresh Bucks (metal coins in denominations of $5).
JAMESTOWN FARMERS MARKET
Jamestown Farmers Market is held at the Fort Getty Pavilion and offers local produce, herbs, meats, flowers crafts and artwork, and more from a variety of vendors. Held May - September. Details.
WHERE TO FIND IT
Mondays, 4:00 - 7:00 PM: 913 Fort Getty Road, Jamestown
HOW TO PAY
The market accepts cash only.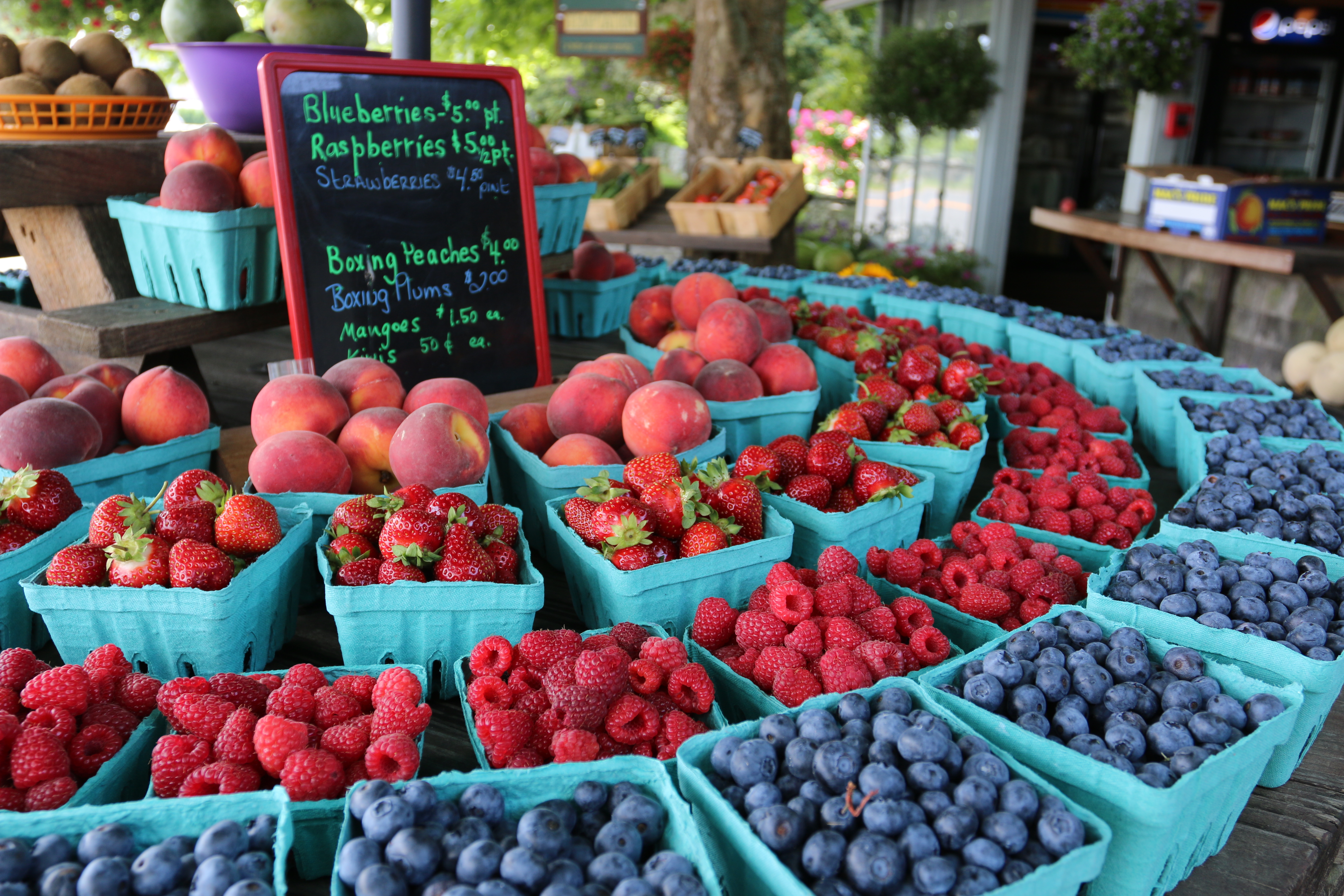 MOUNT HOPE FARMERS MARKET
The historic farm dating back more than 325 years offers a year-round market with vegetables, herbs, fruits, meats, eggs, cheese, seafood, honey, coffee, baked goods and prepared foods. Our favorite part about this market, you ask? It also offers a variety of soaps and lotions, cleaning products and local crafts. Peruse the goods all while enjoying live music, demonstrations, tastings and more. Details.
WHERE TO FIND IT
Saturdays, 9:00 AM - 1:00 PM: South Pasture at Mount Hope Farm, 250 Metacom Avenue, Bristol
HOW TO PAY
The market accepts debit, credit, SNAP & WIC. Pay cash or card at the welcome table to purchase Fresh Buck Tokens accepted by all vendors. 
SAKONNET FARM ROADSIDE MARKET
Sakonnet Farm in Tiverton offers a roadside farm stand open daily. Look for the flag and enter through the yellow door for a variety of products, from jelly and jam to fruit flavored relishes and hot pepper jellies. The farm stand also sells succulent containers, hanging pots, hummingbird and butterfly wildflower seeds, bird seed ornaments and a host of other accoutrements to accompany your home garden. 
WHERE TO FIND IT
Open daily: 4042 Main Road, Tiverton
SCHOOLYARD MARKET
Developed by operators of Hope & Main in Warren, the Schoolaryard Market features a whopping 50+ vendors during its 16-week season and is held in a century-old converted school building with plenty of space for shopping, workshops and demos. Goodies hail from all over the state with vendors including Fully Rooted Juice, Ocean State Smoked Fish Co., Anchor Toffee, Nutty Mammas and many more. Held June - October. 
WHERE TO FIND IT
Sundays, 10:00 AM - 2:00 PM: 691 Main Street, Warren 
HOW TO PAY
The market accepts cash, credit, SNAP & WIC.
WALKER'S ROADSIDE STAND
Walker's Roadside Stand in Little Compton is nestled along Route 77 and serves as the perfect locale for a quick stop to gather fresh treats. Relish in fruits, veggies, flowers and an assortment of organic nuts, savory crackers, jams and more. When you've finished shopping, walk on over to Wilma's - a small sandwich shop & bakery serving up the perfect lunchtime snack.
WHERE TO FIND IT
Daily, 8:00 AM - 6:00 PM: 261 West Main Road, Little Compton 
HOW TO PAY
The stand accepts cash and credit.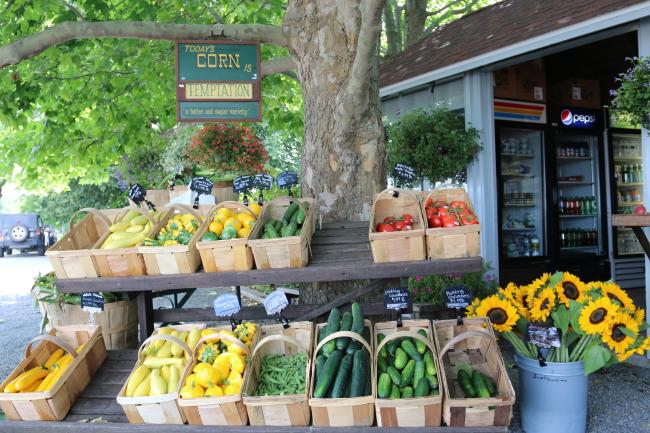 WINDMIST FARM STAND
Located in Jamestown, Windmist Farm was established during the Colonial Era and has since produced naturally raised, grass-fed beef, pork, chicken, lamb and goat. Head to their farm stand year round for a fresh selection of meat, eggs, veggies, maple syrup and honey. They even offer a selection of sheep fleeces. 
WHERE TO FIND IT
Tuesday - Friday: 1:00 - 6:00 PM (Beginning 6.28), Saturdays, 10:00 AM - 4:00 PM and Sundays 11:00 AM - 4:00 PM
71 Weeden Lane, Jamestown 
HOW TO PAY
The market accepts cash, check or credit in the form of Visa and Mastercard. 
HODGKISS FARM STAND
This small stand located in Jamestown is owned and operated by Harry and Gail Chase, who also own and operate Chase Farms, a wholesale operation in nearby Portsmouth. The stand offers a hearty variety of fresh, locally grown herbs, fruit and vegetables, in addition to florals.
WHERE TO FIND IT
Tuesday - Sunday, 10:00 AM - 5:00 PM: 305 North Road, Jamestown
HOW TO PAY
The farm stand is cash only.