When the weather warms up, Newport becomes a fitness-lover's playground. From yoga classes on the beach to pilates overlooking the bay and boxfit in the park, this city is filled with pop-up workouts all over town. Switch up your routine with these outdoor spots and specialty classes.
YOGA SERIES
ON A DOCK
Wake up your body and clear your mind while overlooking Newport Harbor on Newport Shipyard's North Dock. You'll flow through breath-centered yoga poses that target core strength, balance, and flexibility in this all-levels class. Classes are led by instructors from Newport Community Yoga. Don't forget your mat, towel and water. 
When: Every Wednesday, 5:30 - 6:30 PM
Admission: $10
ON THE BEACH
OPTION 1:
Island Yoga is heading out to Third Beach for a mixture of sun and salutations. The community class is held four days per week for one hour. Reduce tension, increase strength and flexibility, and find inner peace among the sound of the waves. Bring a towel in place of your yoga mat.
THE SCHEDULE
Note: Park in the old "Navy Lot" across from the beach. Bring a big beach sheet, hat, sunglasses, sweatshirt; no yoga mat.
Admission: $10
More Information
OPTION 2:
Awaken your mind, body and spirit by the sea, sun and sky at First Beach with Innerlight Yoga. Classes are all levels.
THE SCHEDULE
Wednesdays: 7:00 - 8:00 PM
Saturdays: 8:30 - 9:30 AM
Admission: $18 per class, or $75 for a 5 class pass
More Information
ON A FARM SURROUNDED BY GOATS
The goat yoga trend began two years ago in Oregon, and has since made its way to the East Coast. Intrigued? Simmons Organic Farm in Middletown hosts Goat Yoga every Tuesday and Thursday at 6:00 PM and Fridays at 10:00 AM. The serene farmstead lends itself to a relaxing session of yoga, with rolling green lawns and a scenic view of the ocean. Not to mention, you'll be surrounded by a gaggle of baby goats.
When: Every Tuesday at 6:00 PM, Thursday at 10:00 AM and Saturdays at 8:30 AM.
Admission: $25
AT A LIGHTHOUSE 
Head to the third oldest lighthouse in the country, Beavertail Lighthouse, for a weekly sunset yoga series overlooking the bay. All levels welcome, from beginners to experienced yogis. Bring your own mat. 
When: Every Monday at 7:00 PM
Admission: $20 per person, $25 per family
IN AN AWARD-WINNING GARDEN
A canopy of trees, blooming flora and an ocean view are your inspiration for tranquility during Bristol Yoga Studio's outdoor series presented in Bithewold Mansion's award winning garden.
When: Fridays, 9:30 - 10:30 AM through September
Admission: $15
IN A WATERFRONT COURTYARD
Th manicured courtyard at Forty 1 North offers a breathtaking view of Newport Harbor, proving the perfect place to rest and unwind with a Vinyasa class suitable for beginners and advanced yogis. Yoga mats provided, followed by specially prepared smoothies.
When: Every Saturday and Sunday, 8:30 AM
Admission: $10 per person
BOXFIT
Join Jesse Macrae of Newport Boxfit and crew in Storer Park for Boxfit by the Goat Island bridge. Classes are a 1 hour long full body workout that incorporates all the fundamentals of a boxer's workout. You'll do jump rope, shadow boxing, pad work, heavy bag work, plyometrics, abs and lots of heart pumping exercises in a fun and motivating environment.
When: Every Friday at 6:15 AM
BOOT CAMP
Join Bristol Total Fitness and the Bristol Parks and Recreation team for boot camp in Bristol's Independence Park. 
When: Every Saturday, 6:30 - 7:30 AM
Admission: Free
INDIVIDUAL CLASSES & EVENTS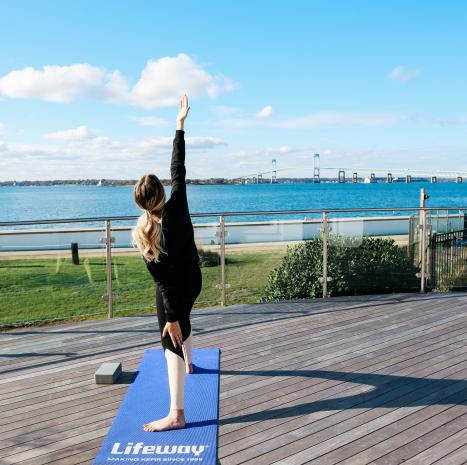 Barre Groove
June 22 + June 23, 10:00 AM
Gurney's Newport Resort & Marina North Lawn

Enjoy a 45-minute signature Cardio Sculpt Class outside on the water with Amanda from Barre Groove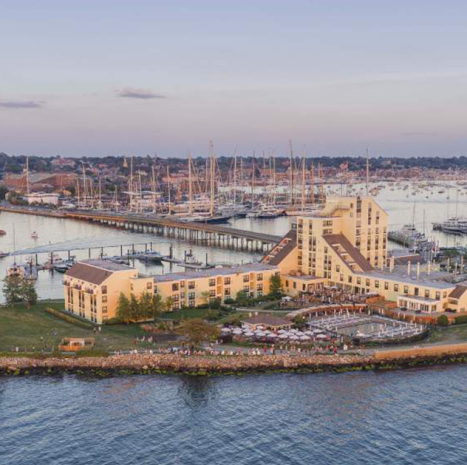 Cardio Kickboxing
July 4 + July 5, 10:00 AM
Gurney's Newport Resort & Marina North Lawn

Join Boston/RI fitness instructor Amanda Chamberlin for a high-intensity cardio kickboxing workout overlooking the water.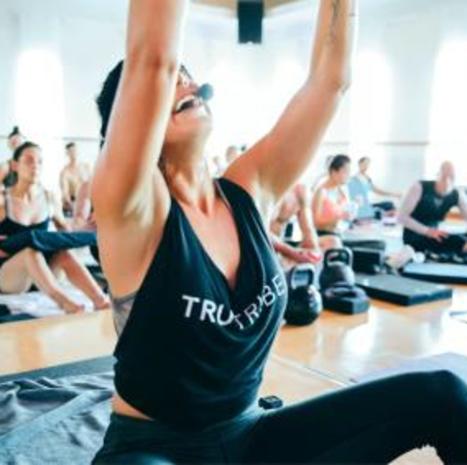 Tone House
June 29 + June 30, 10:00 AM
Gurney's Newport Resort & Marina North Lawn

Enjoy a sports conditioning workout on the North Lawn at Gurney's with Tone House.
Firefly Yoga Festival
September 14, 11:00 AM - 5:00 PM
Glen Park, Portsmouth

Enjoy a day of yoga, meditation, music, vendors, mystics and food.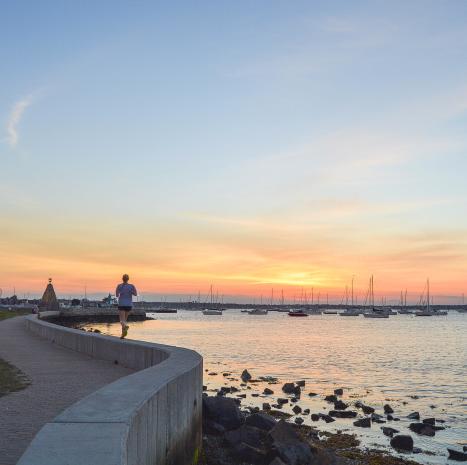 Pop Up PaddleFit SUP
June 29, 8:00 AM
King Park

Combine stand up paddleboarding with progressive techniques and on-board exercises with Elevate Fitness.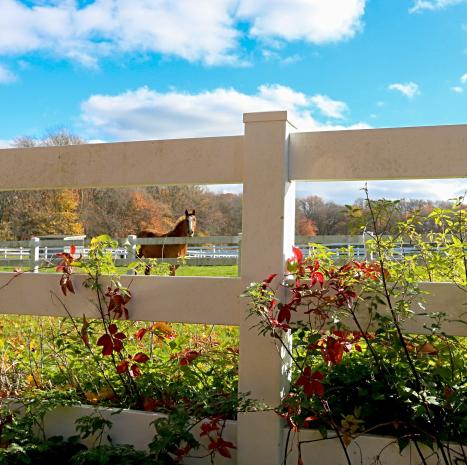 Goat Yoga
July 29, 5:45 PM
Mount Hope Farm

Head to Mount Hope Farm for a one-hour class open to beginners and advanced yogis alongside the farm/s dwarf goats.
GET SOCIAL
Tag your photos #TheClassicCoast for the chance to be featured on our accounts.