Guest blogger and Editor of the Newport Mercury, Janine Weisman, dishes on Bristol's newest hotspot.
Fired up over Bristols newest restaurant
If timing is everything, consider Christian's your Exhibit A. The newest addition to downtown Bristol's restaurant scene opened November 1 in the Thames Street space formerly occupied for five years by The Hourglass Brasserie. With one week to prep for Newport Restaurant Week, Executive Chef Christian Ferreira and his parents and business partners Kendra and Paul Ferreira, jumped feet first into this bi-annual celebration of local dining.
So if our enjoyable table-for-two dining experience last Friday night at the start of restaurant week was any indication, Christian's should quickly win over a devoted following with a menu of savory wood-grilled entrees and a standout wine list no doubt influenced by the three years Ferreira spent as chef at wine savvy Roberto's. 
My husband and I were thankful for our reservation (it's a 42-seat space) and did try to take a moment to think of the many less fortunate walk-ins turned away at the door. But I confess my empathy was fleeting. We had a dazzling menu to peruse after all. ( I'm sure those reservation-less people did just fine at Bristol House of Pizza, anyway.)
Christian's regular menu offers a mix of small plates (chilled beef carpaccio, crispy California roll and wood fired Brussels Sprouts are among the selections), grilled pizza and large plates that include a wood-fired burger and pork chop. While sipping the delicate sweet-tart balance of my Echo Bay Sauvignon Blanc, my new favorite white wine, I gazed at the juicy display of a wood-fired half-chicken draped over bacon cornbread stuffing and charred Brussels Sprouts at the next table in a moment of indecision before ordering.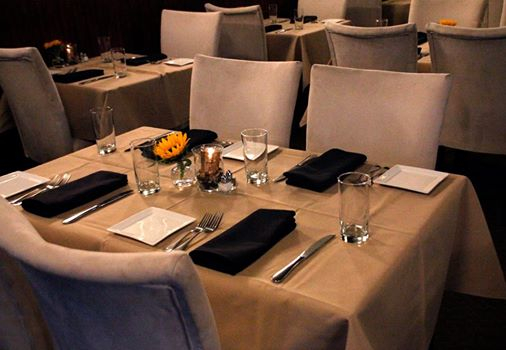 My husband started with a golden beet salad while I began with Ferreiras daring take on calamari. The calamari tubes came grilled and stuffed with spicy pork, harissa and cous cous with gremolata. Not the easiest thing to cut with a butter knife but you have to appreciate the concept. I ultimately went for the wood-fired sea scallops off the restaurant week menu. My husband opted for the fish of the day, which was a lovely moist hoisin-tinged salmon fillet over colorful tomatoes. We were very happy with both dishes that came nicely presented in wide white porcelain bowls. The scallops were nestled over creamy farro with butternut squash, prosciutto and exquisite beech mushrooms. Dessert was a wonderful Kahlua Creme Brulee which I savored oh so slowly.
I forsee many more good things to come at Christian's, with its inviting space and friendly servers. Kendra Ferreira, a locally respected artist known for her vivid pastel and colored pencil works, told me she has artwork planned for the walls. For the dining experience, the artistry in the kitchen and soon to be on the walls, Christian's is a place to get fired up over. We will be back. And we wont forget to make a reservation. 
Christian's, 382 Thames St., Bristol, (401) 396-9811, www.christiansri.com