Discover Newport welcomes guest blogger Janine Weisman, editor of Newport Mercury
Hope springs eternal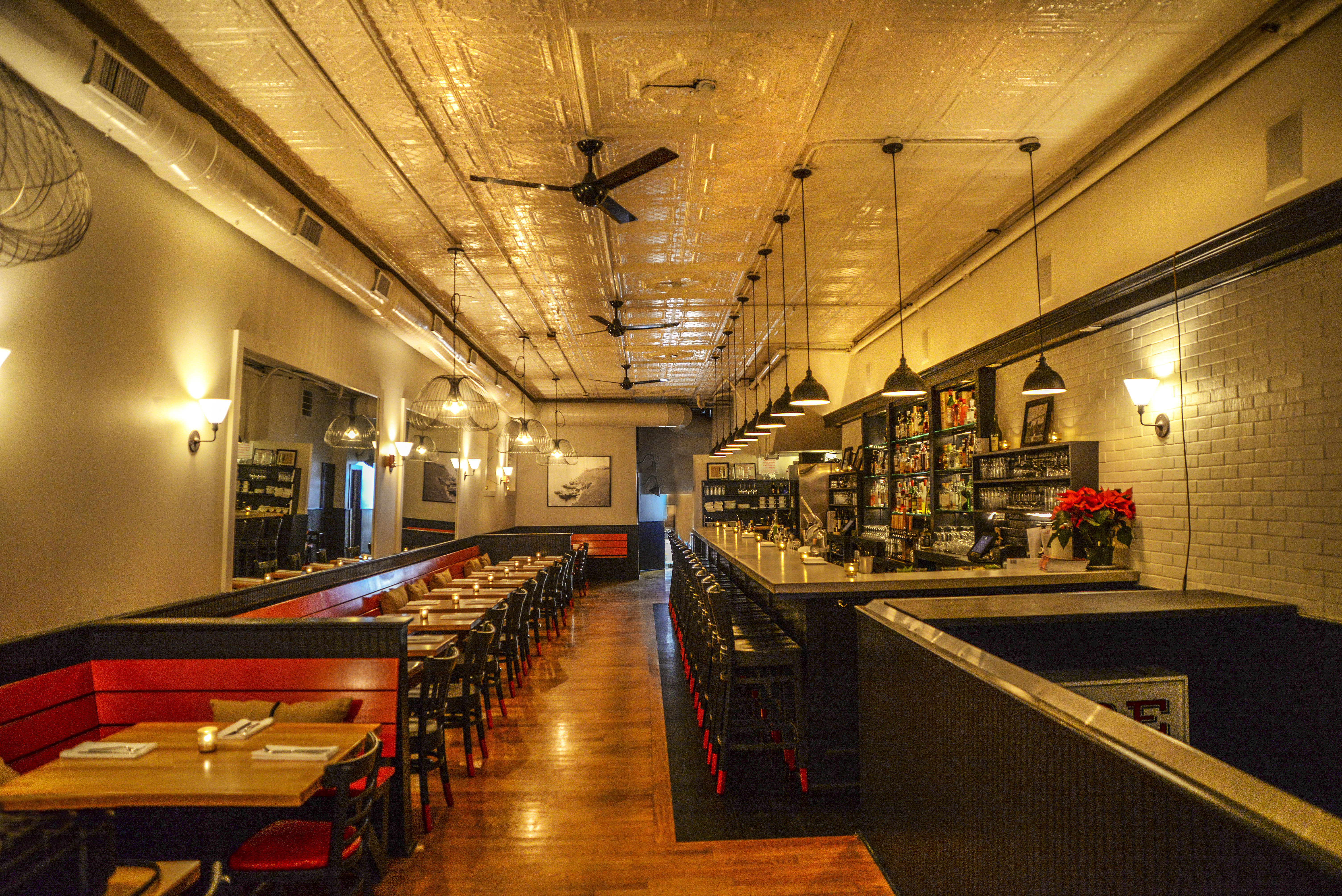 When you name your new restaurant after Rhode Island's state motto, you really open yourself up: Things could get awkward should you not live up to everyone's great expectations. That was in the back of my mind when I arrived at Hope approximately 15 minutes after the vernal equinox. Light snow was falling outside because, as a friend put it, winter was just being rude. But the warm welcome we received from manager Peter Mellekas ensured the weather would not burst my bubble of optimism. I'm happy to report that Hopes friendly staff and truly excellent food crafted in the kitchen of Executive Chef Kevin King preserved that buoyant spirit for the next two hours.
Hope opened last November on the southern end of Broadway in the space previously occupied by One Eighty, but alas my husband and I had yet to visit until Friday, March 20, the first night of the spring installment of Newport Restaurant Week. This twice-a-year celebration of the areas restaurant scene (Hope is one of over 50 participating restaurants) offers an enticing opportunity to check out newcomers, especially one with as much buzz about its interior design as it has foodie cred.
Out of the restaurants black and ivory neutral palette pops the bright orange back to bench seating along the wall. The high tin ceiling and vintage wall sconces preserve turn-of-the 20th century charm, but the bars built-in USB ports allow customers to charge their smartphones. Radiant heat in the bars stone countertop takes the chill away from elbows and wrists.
King previously led the kitchen at Fluke and also consulted at Forty 1 North before developing Hopes just right-sized menu. Our amiable server, Josie Michaud, gave us a bowl of buttery extra virgin olive oil and a plate of foccacia squares with a tiny cup of kosher salt on the side. That's when we realized Hope has no salt and pepper shakers on tables, a gamble that pays off handily. You won't need any.
My husband Larry went right for the Grilled Octopus ($12) off the regular menu, which came with black-eyed peas, grilled leeks and a subtle herb oil. Move over fried calamari, because this flavorful cephalopod dish - one 10 regular small plate options - is what should really be the states official appetizer. I chose to order off the three-courses for $35 Newport Restaurant Week Menu, starting with a generously plated Baby Arugula Salad which came with juicy blueberries, just enough goat cheese, toasted pecans and a Meyer lemon vinaigrette dressing. King also sent out a plate of fresh Chicken Empanadas with a sweet and tangy tomatillo salsa. I wasn't going to eat them all since I'm trying to lay off the fried stuff. I ate them all. My entree was an exquisitely prepared Pan Roasted Chicken nestled on a bed of rainbow Swiss chard, fingerling potatoes and caramelized onions. The juicy chicken had experienced a serious rubdown with pepper, sage and oregano before roasting and that made for a very happy experience for my palate. Larry ordered the Grilled Skirt Steak ($24), which came expertly prepared medium rare with a side of roasted square and cauliflower and a well-balanced rosemary and red wine reduction sauce. It was the perfect dish for someone who doesn't eat white food: Even the cauliflower is the purple kind. He absolutely loved this nutrition-packed meal. Which was really our big takeaway from Hope.
The food here is very healthy fare with some indulgences here and there on the menu. (See Chicken Empanadas.) Speaking of indulgences, I did order a second glass of French Pinot Noir which had lovely fruits and a nice rounded finish. Larry also went French with a blend of Cabernet and Merlot that paired very well with his steak. Ending the night on a happy note, my Milk Chocolate & Hazlenut Panna Cotta restaurant week dessert was served in a highball glass with a long spoon that made every bite a delicious adventure.
Don't think restaurant week is the only time when Hope has prix-fixed specials. On Tuesday nights, live jazz accompanies the dinner for two for $40 including a bottle of wine. Larry and I will be sure to check it out. We hope to see you there.
HOPE 10 Broadway, Newport (401) 849-6676