Highlighting oysters from around the state, the Rhode Island Oyster Trail is your guide to the local farmers that grow them and the restaurants that serve them year-round.
Connect with an industry that is a growing part of Rhode Island's culture and know that the oysters you order are fresh from our waters, straight from our farmers.

WATCH THE VIDEO
HIT THE TRAIL
Travel around the beautiful Ocean State to the ten great restaurants serving fresh, quality oysters and celebrate our local farmers.

THE RESTAURANTS
 
COAST GUARD HOUSE
Address: 40 Ocean Road, Narragansett, RI 02882
Phone: 401-789-0700
Website: Coast Guard House
GREENWICH BAY OYSTER BAR
Address: 240 Main Street, East Greenwich, RI 02818
Phone: 401-398-2462
Website: Greenwich Bay Oyster Bar
MATUNUCK OYSTER BAR
Address: 629 Succotash Road, South Kingstown, RI 02879
Phone: 401-783-4202
Website: Matunuck Oyster Bar
MCCORMICK & SCHMICK'S
Address: 11 Dorrance Street, Providence, RI 02903
Phone: 401-351-4500
Website: McCormick & Shmick's
MIDTOWN OYSTER BAR
Address: 345 Thames Street, Newport, RI 02840
Phone: 401-619-4100
Website: Midtown Oyster Bar
THE LANDING
Address: 30 Bowen's Wharf, Newport, RI 02840
Phone: 401-847-4514
Website: The Landing
THE LOBSTER BAR
Address: 31 Bowen's Wharf, Newport, RI 02840
Phone: 401-619-2890
Website: The Lobster Bar
THE WHARF PUB
Address: 37 Bowen's Wharf, Newport, RI 02840
Phone: 401-619-5672
Website: The Wharf Pub
MEET THE FARMERS
Not all oysters are the same, and even in a small state like Rhode Island, each Oyster Farm on the RIOT is very different. Find out more about our local Oyster Farms, and where you can find your favorites nearest to you.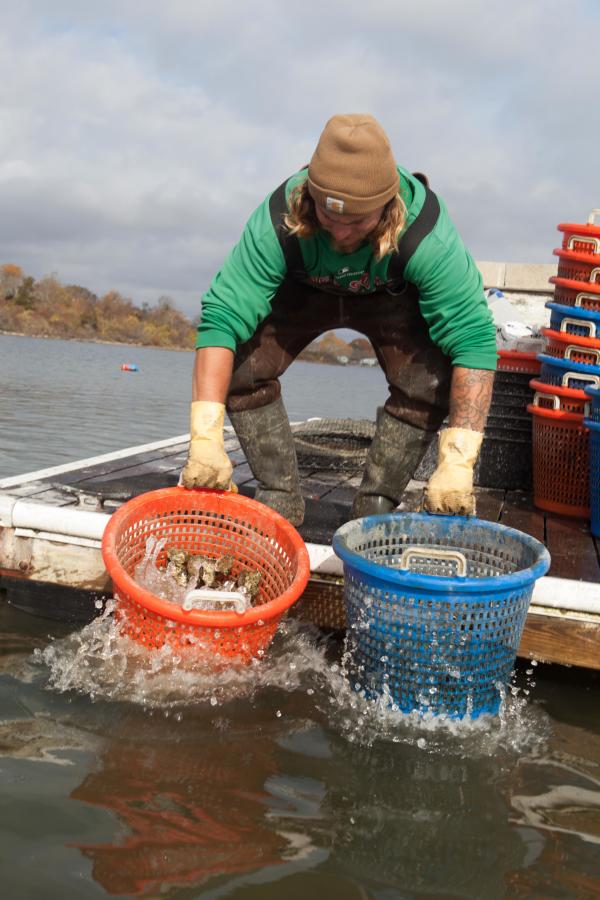 BEHAN FAMILY FARM