Welcome to February on The Coast, where the sights are snow-covered and magical, and events (while they still look pretty different) are aplenty. This month, Newport celebrates Black history with events and lectures that honor the heritage and culture of the Black community. Things heat up mid-month with Valentine's Day events and offerings dedicated to celebrating the love in your life, and the juicy return of Newport's Best Burger contest, Newport Burger Bender featuring beef and plant-based bucket-list-worthy burgers all competing to be crowned the best in Newport. 
COVID-19 NOTE:
When you're ready, we can't wait to welcome you back to The Classic Coast. Rest assured, the safety and well-being of both visitors and locals remains our top priority.  All we ask when you land on these shores is that you play your part in keeping everyone safe. Please be kind and adhere to local guidelines. 
1
GURNEY'S ICE SKATING RINK
Where:

GURNEY'S NEWPORT RESORT, 1 GOAT ISLAND

When:

Now - March 31, 2022

Cost:

Adults: $12, Children 12 & under/Seniors/Military: $7, Skate rentals: $10
Join Gurney's Newport Resort for skating by the sea. Glide across the ice with unobstructed views of the Newport bridge, Goat Island Lighthouse and New harbor as your backdrop through March 31, 2022. Afterwards, enjoy snacks and light bites from the Après skate menu. 
2
Cupid and Constellations
Where:

Norman Bird Sanctuary

When:

February 4 from 5:30 PM to 8:00 PM

Cost:

$25 – $35
Cozy up with your valentine, loved one, or friend for an evening of stargazing beneath the winter sky.
Join the Norman Bird Sanctuary and founder of Spark Strategic Science Communication, Sara Poirier, as we discover winter constellations, explore the night sky, and hear romantic start stories that have been passed down through the ages.
3
Cozy Fires and Tasty Treats at Blithewold
Where:

Blithewold Mansion, Gardens & Arboretum, Bristol

When:

February 12th & 26th

Cost:

Members (6 people): $35 | Non-Members (6 people): $55
Cuddle up by the fire and roast marshmallows overlooking the Great Lawn at Blithewold. We'll provide chairs, s'mores kits, a well-stocked state-of-the-art low-smoke fire pit, and a spectacular view of wintry Narragansett Bay. All you need to do is gather five friends, six marshmallow-roasting sticks, and one reservation. While you're there take a hike around the grounds too! All that adds up to one very relaxing afternoon in the fresh air!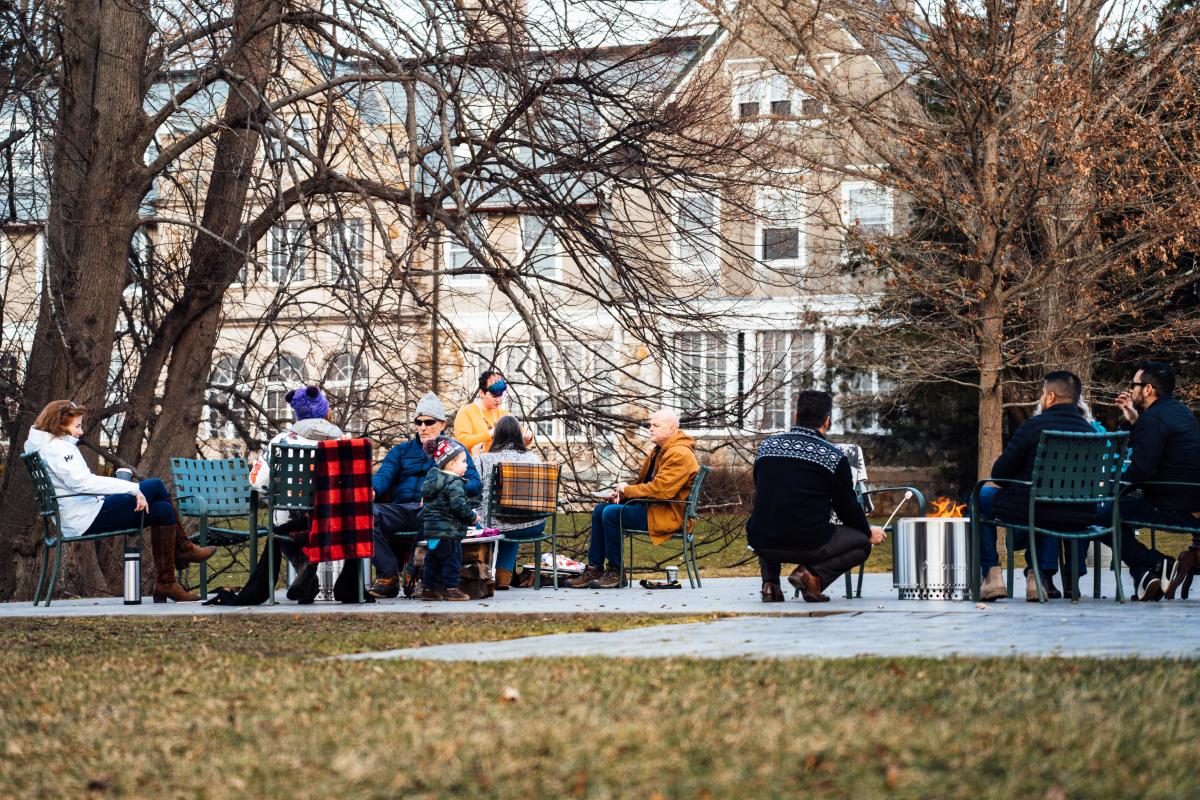 4
S'more Than Just a Hayride
Where:

Simmons Organic Farm

When:

Saturday, February 5th & 19th
Simmons Farm has just the thing to cure your winter blues this season. On Saturday afternoons, throughout the winter, enjoy a hayride through the historic farm with gorgeous views of Narragansett bay and some of the most sought after sunsets on the island, all with a steaming cup of cocoa in hand. To top it off, each guest receives a s'mores kit to enjoy at their fire pits. See you at the farm!
5
Newport Winter Foodies Stroll
Where:

Tour Starts: in front of O'Brien's Pub, at 501 Thames Street

When:

Friday & Saturday's

Cost:

$108
Back for another season, cozy up this Winter and enjoy a three course meal accompanied by selected wine pairings at three of Newport's exquisite restaurants. The Newport Winter Foodies Stroll will last several hours along Newport's Historic Thames Street and will encompass just under 1 mile. Tours will run on Friday and Saturday evenings, beginning at 6:00 PM.
Meet Tom and Sue, your tour guides, in front of O'Brien's Pub, at 501 Thames Street.
6
Newport Burger Bender
Where:

Newport & Bristol Counties

When:

FEBRUARY 18TH - 27TH, 2022
Newport Burger Bender, the "best burger" contest is back February 18th - 27th, 2022. Local restaurants are throwing their buns in the ring with hopes of being crowned the Best Burger (and there is more than just beef!) in Newport. Try one. Try Some. Try them all. Then vote for your favorite burger (voting begins February 18th.) 
7
Wally's Wieners Grand Opening!
Where:

Wally's Wieners, 464 Thames Street

When:

February 5, 2022
The time has come! Join us Saturday, February 5th for the grand opening at Wallys! We will be open all day so stop by and say hi and grab a bite to eat!
8
Rejects Brewery Comedy Show
Where:

Rejects Beer Co.Tour Starts: in front of O'Brien's Pub, at 501 Thames Street

When:

February 4, 2022

Cost:

$15 Advance Ticket, 2 Beverage Minimum
Come out for big laughs at Rejects Brewery. Featuring some of the best local comics in New England. Doors open at 8:00 PM, Showtime is 8:30 PM.
9
TIVERTON FARMERS MARKET
Where:

Tiverton Middle School - Gymnasium, 10 Quintal Drive

When:

Sundays from 10:00 AM - 2:00 PM
A Local Farmers Market situated right smack in the middle of this cozy town of Tiverton, RI. Connecting the community to fresh & local produce, agriculture, makers, products and art. Located at the Tiverton Middle School Gymnasium, 10 Quintal Drive. This market recently transitioned to Sunday's from 10:00 AM - 2:00 PM.
Valentine's Day Market
On February 13th, the market will be extended until 3:00 PM for a special Valentine's Day Market. Grab your honey and enjoy a morning at The Tiverton Farmers Market. Featuring over 40 vendors. Artisan foods, Makers, Artists, Valentine's Specials and more...
10
FARMERS MARKET AT MOUNT HOPE FARM
Where:

MOUNT HOPE FARM

When:

SATURDAYS IN February, 10:00 AM - 12:30 PM
Join us for our weekly farmer's market every Saturday for a full line-up of local farmers, food producers, and artisans. We will begin our season outside and then move to the barn. SNAP, EBT dollars are doubled. *masks required indoors* During the months of January and February the market runs on a shorter winter schedule from 10:00 AM - 12:30 PM
MORE DETAILS
11
AQUIDNECK GROWERS MARKET
Where:

STONEACRE GARDEN

When:

Saturdays from 9:00 AM - 12:00 PM
Aquidneck Community Table's Growers Markets provide easy access to seasonal, regionally-grown food and greater awareness of the benefits of eating fresh local foods for our health, the strength of our local economy, the viability of agricultural life, and the future of our earth.
Our marketplaces feature both organic and conventionally-grown products that include fresh vegetables, cut flowers, herbs, fruit, plants, eggs, breads, baked goods, meats, seafood, cheese, salsa and prepared foods such as soups, vegan foods, Mediterranean and Middle-Eastern cuisine.
12
A Valentine's Themed Opening Reception
Where:

Newport Art Museum

When:

February 11, 2022 from 5:00 PM - 7:00 PM

Cost:

Free for Members, suggested $10 donation for non-Members (payable at the door).
EYE SPY... Love & Art!
Join us to celebrate the opening of three new exhibitions; The Newport Biennial, Call & Response 2022, and Above/Below. Come celebrate the resilience and creativity of these talented artists with us. Festive cocktails, cash bar and light refreshments. 
Masks must be worn inside regardless of vaccination status. 
13
Audubon Society: Citizens Bank Free Family Fun Day
Where:

Audubon Nature Center and Aquarium, Bristol

When:

February 5, 2022

Cost:

Free
Thanks to Citizens Bank, the Environmental Education Center is open to the public the first Saturday of every month at no charge for admission. Enjoy crafts, nature stories, animal discoveries, hikes and more. No need to register. 
14
John Tschirch's Inspired Gardens: Windows into Magical Worlds
Where:

BLITHEWOLD MANSION, GARDENS & ARBORETUM, BRISTOL

When:

Friday, February 4, 2022 to Friday, February 25, 2022 | 11 AM - 12 PM

Cost:

Single Lecture: Members $25 | Non-Members $30 / Full Series: Members $75 | Non-Members $90
This lecture series explores the inspiration behind some of the great gardens of the world, from meditation to images of paradise and the use of brilliant color and innovative plant forms. Each garden is a vision of a perfect natural world, one where superb design blends harmoniously with the extraordinary cultivation of plants, flowers, and trees. Each is a window onto the culture and aspirations, as well as the inspirations, of their creators.
15
Hoods Up Weekend
Where:

Newport Car Museum, Portsmouth

When:

February 12th & 13th, 2022
See what powers over 85 cars in Six Galleries and a Pop-Up Porsche Exhibit. Tickets online or at the door. Open daily from 10:00 AM - 5:00 PM.
16
Newport Out Bookclub
Where:

The Huddle, 42 Spring Street, Newport

When:

February 16th at 6:30 PM, Recurring monthly on the 3rd Wednesday

Cost:

Free (donations welcome)
Join Newport Out for a bookclub focused on queer literature. All ages 15+ are welcome to join us, free of charge. Not only do we read, but we also do creative writing and engage in artistic endeavors. This book club is a safe space for all!
17
Newport's History of Cocktails
Where:

Bar and Board, Newport

When:

February 21, 2022 at 7:00 PM

Cost:

$75 per guest
Even though the Newport Winter Festival is postponed until 2023, there are some activities continuing. One event is the 2nd annual Newport's History of Cocktails class - hosted by Newport Live Events. Since this event will take place on President's Day, that is the theme.
18
Newport Gilded Age in Color
Where:

Newport Art Museum, Newport

When:

FEBRUARY 8, 2022 at 5:30 PM – 7:00 PM

Cost:

Free
We are pleased to welcome back Keith Stokes of the Rhode Island Black Heritage Society for Newport Gilded Age In Color. This talk focuses on the persons and families that lived, worked, and worshipped in 19th and early 20th century Newport during the Gilded Age sharing cultural, social, educational, political, and personal discourse with fellow families of color and means.
19
FREE Guided Bird Walks
Where:

Norman Bird Sanctuary, Middletown

When:

February 13th & 27th, 2022

Cost:

Free
FREE - No registration required. Meet in the parking lot.
Count up as many bird species as you can, from soaring red-tailed hawks to tiny hovering hummingbirds. You'll learn how to identify common year-round residents and seasonal migrants.
All birding levels welcome. Binoculars are helpful but not required.
20
Poulenc Trio - Newport Classical Chamber Series
Where:

Emmanuel Church, Newport

When:

February 18, 2022 at 7:30 PM

Cost:

$58 / $45
The Poulenc Trio is the most active touring piano-wind chamber music ensemble in the world. Since its founding in 2003, the trio has performed in 45 U.S. states and at music festivals around the world. Works from their current repertoire were specifically commissioned and written for the trio, adding onto their legacy of creating strong commitment to commissioning, performing, and recording new works from living composers. Poulenc's signature Trio for Piano, Oboe, and Basson kicks off this exciting evening of exceptional music for the classically curious. 
21
Furniture 101 Workshop
Where:

Blanc & Bleu Home Decor, Bristol

When:

February 19, 2022 from 12:00 PM to 4:00 PM

Cost:

$125 per person
Join us in learning all the basics in furniture painting using milk paint. We'll share all our tips and tricks along with our favorite products & tools to help you with your own projects. This class is designed to have you leave feeling comfortable and confident to tackle future projects yourself. Join us with little to no experience or come to polish up on your skills.
22
Festive Igloo Pop-Up
Where:

GURNEY'S NEWPORT RESORT, 1 GOAT ISLAND

When:

Now - March 31, 2022
Cozy up in one of our igloos located on The Lounge & Firepit Deck.
Enjoy our special igloo experience starting October 29th, with cozy decor and blankets, plus a dedicated menu including shrimp & grits, bruschetta grilled cheese, and house made chili. 
23
The Bit Players Improv Comedy
Where:

Firehouse Theater, 4 Equality Park Place, Newport

When:

Friday & Saturday's

Cost:

$18
Come see RI's most award-winning comedy troupe as they hit the stage with their hilarious improv comedy show full of larger than life characters, hysterical musical numbers, and the quickest wit you'll ever see. Seating is on a first come first serve basis. Each show runs for 1 hour, both Friday and Saturday evenings throughout the month.
Pro-tip: Make sure you get tickets in advance, shows often sell out.
24
Newport Espresso Martini Challenge
Where:

Bar and Board, Newport

When:

February 20, 2022 at 2:00 PM
It is time for Cocktail Season in Newport! Newport Live Events Rogue Island Winter Continues...Sunday February 20th at 2pm at Bar and Board ladies and gentlemen.
Newport Espresso Martini Challenge is Back! 5 Bartenders will throw down and 1 will walk away with the Title and much more!
25
Newport Wedding Show
Where:

Rosecliff and OceanCliff

When:

February 27, 2022 from 11:00 AM - 3:00 PM

Cost:

$15.00 per person in advance | $20.00 per person at the door
The Newport Wedding Show is BACK!
The 19th Annual Newport Wedding Show, sponsored by Audrain Hospitality Group, is Newport's best wedding event of the year! The Newport Wedding Show takes place on Sunday, February 27 at two luxurious venues - Rosecliff and OceanCliff - from 11 AM - 3 PM. Highlights include 80+ exhibitors with the latest trends in weddings plus all the classics, fashion shows, tasty samples of decadent confections and creative cocktails. Plus thousands of dollars in drawing and door prizes! 
GET SOCIAL
Tag your photos #TheClassicCoast for the chance to be featured on our accounts.