Priscilla Pilon is a travel blogger who jetsets travels the world, but is an admitted Paris addict, hence her blog, Weekend in Paris. She is also the travel editor for the online lifestyle magazine, The Daily Basics. She recently traveled to one of Newport's sister cities, Kinsale, Ireland, and quickly learned why these two historic port cities are forever linked.
The sailing capital of the world, Newport, shares the love of splicing the main brace and racing the rhumbline from one port to another with Kinsale, Ireland. What most people don't know is that Kinsale and Newport have many other commonalities. Newport and Kinsale, Ireland are sister cities, or twin cities as the Irish call them. The twinning experience means that members from both cities visit each other and help promote their destinations via cultural and educational exchanges. The similarities are uncanny: food and wine, sailing and leisure, landscape, fashion and decor.
How successful has the twinning connection been and how we were received in Kinsale? Fabulously I say! Having been immersed in the Irish memorabilia at Newport's La Forge Casino for over 30 years, and having heard about Kinsale from the Irish summer employees that work there, I decided Kinsale was a must see city. Not leaving hotel accommodations up to chance, I used the hotel finder app, Trivago to locate a hotel in Kinsale with local charm that was close to the water. Cynthia Bogart, editor of The Daily Basics magazine, is based out of Portsmouth, and accompanied me on this twinning trip to Ireland that Trivago sponsored.
Food and Wine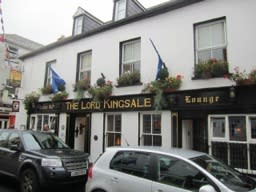 Throughout the years, top Newport chefs have been hosting their counterparts from Kinsale, and vice versa, for a few special events. It's a grand culinary exchange that benefits both destinations.
It is no wonder that Kinsale is considered the gourmet capital of Ireland; the food was every bit as fabulous as its twin city. The first stop along our culinary escapades was the The Lord Kingsale Bar and Guesthouse, where we found exactly we were looking for: an authentic Irish Pub experience. Low ceilings, beams, fireplaces and a huge bar with a dozen draft pulls of beer--it was all there.
What we didn't expect was the fantastic level of pub cooking. We ordered two appetizers: a baked brie and a smoked salmon salad that were out of this world. Their wine selection was quite nice so we ordered a glass each of a fruity Sauvignon Blanc.
After our food had been polished off, Mrs. Mortimer, the owner, sat down with us for a brief chat because her daughter had told her that we were from Newport! She bent over backwards to sing the praises of what the connection has done for tourism in Kinsale. She insisted our next stop had to be The White House because there we would find a grand surprise. She was grinning from ear to ear. We paid the bill and off we went on the treasure hunt.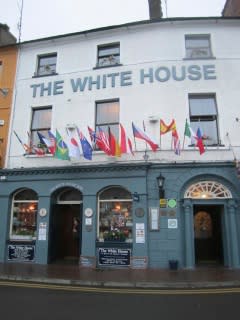 The White House Bar and Bistro is a member of the Kinsale Good Food Circle guaranteeing a great meal with fresh ingredients, but what we didn't expect was that we would walk in and feel totally at home. The ambiance embodies Newport and the ample sailing memorabilia made us feel as if we were in the Clarke Cooke House. The bartender asked us where we were from and when we chimed in, Newport! He insisted we sign the guest book and head towards the outdoor patio to check out the shrine to Newport, and in particular, to Paul Crowley.
Mr. Crowley, our deceased RI State Representative from Newport and co-owner of La Forge, was a driving force behind the Newport/Kinsale twinning. Beside photos of Mr. Crowley was a Newport Yacht Club burgee, a RI license plate and artwork depicting the life of Jacqueline Bouvier Kennedy Onassis on the walls. After our trip down memory lane, we settled down at the bar and ordered some garlic and green onion steamed mussels with heavy brown bread and two glasses of white wine. The delicious pile of mussels we were served could feed an army, but guess what? There was nothing but a mountain of empty shells left behind.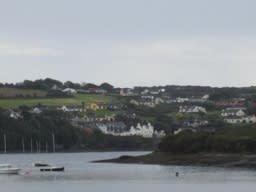 Day two we visited the Bullman Pub in the Summercove section of Kinsale. In nicer weather, tables and chairs are set waterside where patrons enjoy a pint or a gourmet meal. Imagining the crowds, the scene must be reminiscent of summertime at Newport's Black Pearl. It was lovely to view the Kinsale from the other side of the harbor, similar to Newport from Goat Island. Man Fridays' was our next stop for a quick pick me up crab au gratin. We loved the dining room with windows overlooking the harbor, reminding us of the breakfast room at Castle Hill Inn.
HOT TIP: If you never leave home without your smartphone, you might just want to download the free Kinsale App, created for visitors and locals alike. It provides all the essential information needed to explore in and around this vibrant seaside town.
CLICK HERE for more info, All this food reminds me: don't forget to make those reservations for Newport Restaurant Week! Its just around the corner, Nov. 1-10.
Stay turned for Pt. II coming later this week!