Dubbed among the most romantic cities for winter travel via TripAdvisor, and home to America's Most Romantic Hotel in the Country, our City by the Sea has romance down pat. From a table for two next to the roaring fire or a weekend brimming with enchantment, Newport has everything you need for a day, a night or an entire weekend long of sweetness.
These tempting menus, exciting events and luxurious hotel packages are perfect for a romantic rendezvous for two.
UNWIND
Relish in tranquility and the love of your sweetheart with these unique Valentine's Day packages for two.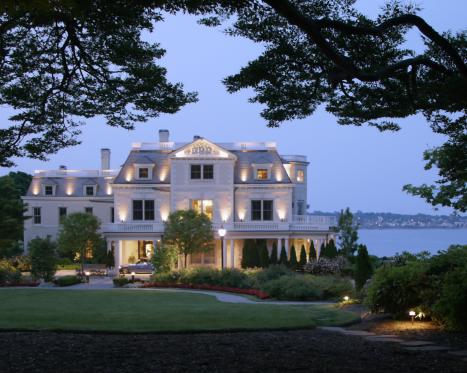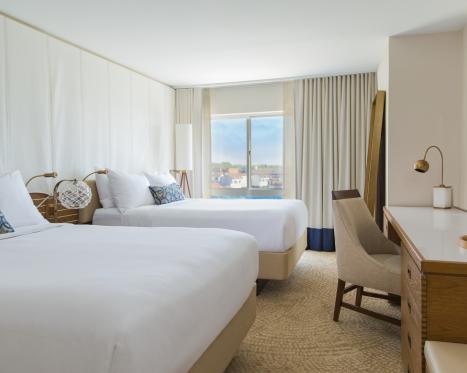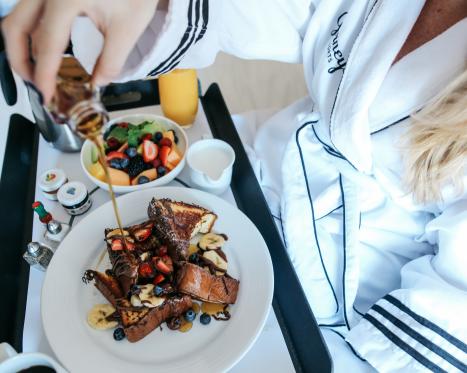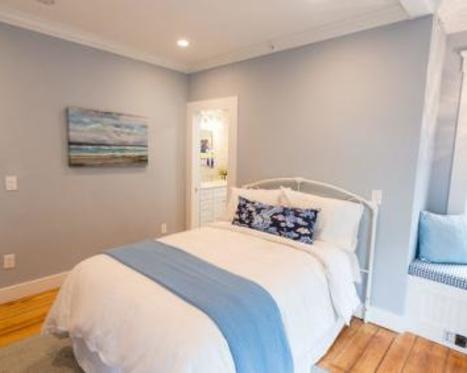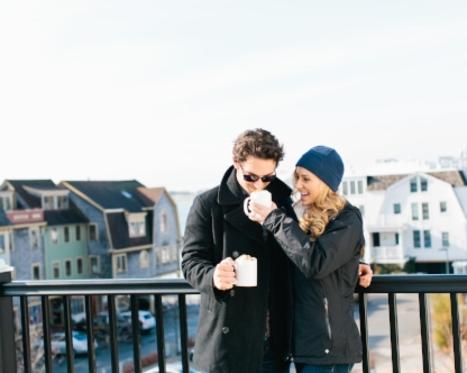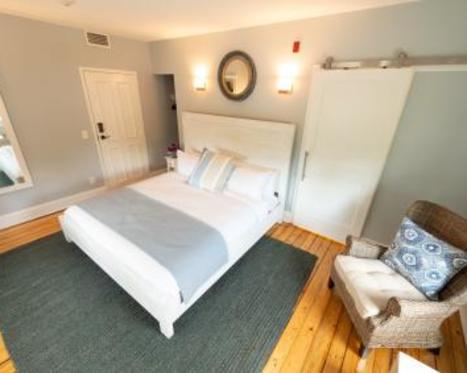 Valentine's Day at Town & Tide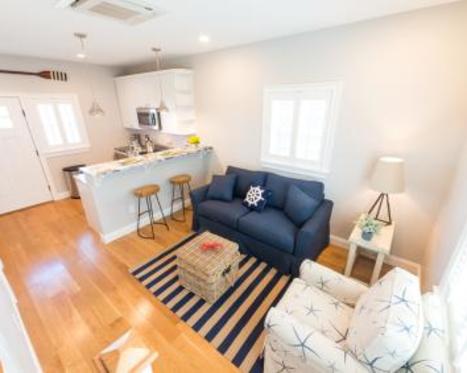 Romance at East Island Reserve
EXPERIENCE
From relaxing spa treatments to helicopter tours and cocktails by the fire, these experiences are perfect for a little (or a lot of) romancing.
Water Journey
Known as hydrotherapy, the water journey experience applies water in the form of hot, cold, steam and ice to help stimulate the circulatory system and detoxify the body. This system has been used by cultures around the world for thousands of years. You'll travel through various pools and saunas for ultimate healing and cleansing. Your journey will include:
Epsom Salt Pool – 104 degrees
Dead Sea Salt Pool – 98 degrees
Cold Plunge Pool – 55 degrees
Aromatherapy Steam Room
Full Spectrum Infrared Sauna
Traditional Dry Sauna
Relaxation Room
Cozy Cocktail Den
Cozy up at Vanderbilt's cozy cocktail den every evening between 5:00 PM and 6:00 PM on the outdoor terrace for cocktails and s'mores around the fire. Enjoy a warm cocktail created by master mixologist, Christina Mercado while relaxing by the fire and savoring a delicious s'more under a blanket.
S'mores & blankets: complimentary for house guests; $10 per person for non-resident guests
More information
Helicopter & Vineyard Tour
Helicopter and vineyard packages include a helicopter tour, tasting and logo wine glass starting at $165 per couple. Looking to up the romance? The Newport Sky Proposal Package offers a smooth, romantic ride over beautiful Aquidneck Island with a bottle of champagne, flowers, and a proposal beach banner starting at $200 per person. 
Warm River Stone Couples Massage
The Spa at Newport Marriott
This relaxing full-body massage utilizes smooth riverbed basalt stones and warm oil for a profoundly calming and unique experience. The combination of hand and stone massage, heated stone placement and pressure opens the pathways and improves circulation. Detoxification is increased, encouraging a healing response deep within the body's system. 
INDULGE
Specially crafted menus full of decadent dishes with a side of enchantment. 
EXPLORE
Romantic events perfect for a day, night or weekend full of enchantment. 
FERMENTATION CLASS: MEDITERRANEAN CUISINE
Date: Wednesday, February 13
Time: 6:30 PM
Location: Forty 1 North
Join Forty 1 North at the Oval Bar for an evening of excellent cuisine from the Mediterranean parts of the world. You can find an abundance of wine from grapes that thrive in these areas, along with food that inspires the styles of wine produced there.
VALENTINE'S POP-UP SHOP
Date: Wednesday, February 13
Time: 2:00 - 5:00 PM
Location: Styled by Jenna
Peruse sweet treats for your valentine from local chocolatier Michele from La Maison de COCO alongside bubbly.
VALENTINE'S DAY COOKING CLASS
Date: Thursday, February 14
Time: 6:00 - 8:30 PM
Location: Newport Cooks, 796 Aquidneck Avenue, Middletown
Using locally sourced, fresh ingredients and special "secret ingredients" Chef Deja Hart will teach you to make a magnificent meal intended to induce amorous results. What's not to love?
Menu: Baked Oysters with Ancho-Chipotle Sauce, "Love Birds" Spanish Style Guinea Hens with an Almond-Saffron Sauce and "Tiramisu" Macaron Kisses.
GIRL SCOUT COOKIE & BEER PAIRING
Dates: Friday, February 15 + Saturday, February 16
Time: 12:00 - 8:00 PM
Location: Newport Craft Brewing Co.
Pair your five favorite cookies with Newport Craft beers.
FROSE POPS, FUDGE + FIRE
When: Friday, February 15 (through 2/23)
Time: 5:00 PM
Location: Newport Vineyards
Warm up by the Brix fireplace, then cool down with your choice of house-made Newport Vineyards Frozen Rosé Pops or Newport Winter Festival specialty cocktails and indulgent house-made fudge.
ONE WORLD CACAO VALENTINE'S SIP + SOCIAL
Date: Friday, February 15
Time: 6:00 - 9:00 PM
Location: Stella Mare Wellness
Honor the divinity of chocolate during this sumptuous holiday with a cacao ceremony, bringing sound and rhythm to this festive evening by talented sound healer Kimber-lee Jacobsen. Event ticket includes a delicious welcome treat, cups of cacao from One World Cacao Chocolate fountain for meditation and sound bath, and followed with a floral and botanical CBD libation for our love centered social.
COOKING CLASS: A VEGETARIAN VALENTINE'S DAY
Date: Friday, February 15
Time: 6:00 - 8:30 PM
Location: Newport Cooks, 796 Aquidneck Avenue, Middletown
Prepare & savor a vegetarian feast of shared plates, infused with fresh, seasonal and unique aphrodisiac ingredients, taught by Executive Chef Michael Hervieux of the Hotel Mannises of Block Island. Menu.
VALENTINE'S TEA
Dates: Friday, February 15; Sunday, February 17
Time: 1:00 - 2:00 PM
Location: Blithewold Mansion, Gardens & Arboretum
The Dining Room at Blithewold has always been a place where fine meals have been served to cherished guests. Today, friends gather and exchange stories while delighting in a cup of tea, freshly baked scones with sweet cream, and a three-tiered tray filled with sweet and savory treats.
FIRE + ICE BAR
Dates: Friday, February 15 - Saturday, February 16
Time: 4:00 - 8:00 PM
Location: Hotel Viking
Hotel Viking's Courtyard will feature an ice bar, fire pits & blankets. Enjoy invigorating cocktails crafted by mixologists. Cash bar.
OPERA, WINE + CHOCOLATE AT BLITHEWOLD
Date: Friday, February 15
Time: 7:00 - 9:30 PM
Location: Blithewold Mansion, Gardens & Arboretum
Join Blithewold and Encore Opera Company for the perfect Valentine's date-night event. Enjoy a mixture of romantic duets and arias from La Boheme and the American Songbook performed in Blithewold's intimate Living Room. Wine, cheese, fruit and an assortment of decadent chocolates and desserts will be served.
Friday Night Funnies with The Bit Players
Date: Friday, February 15
Time: 8:00 PM
Location: Firehouse Theater, 4 Equality Park Place, Newport
Begin a lifetime of laughter together (is it too soon to talk about forever?) with RI's most award-winning improv comedy troupe. BYOB.
KICK START MY HEART - SPEED DATING
Date: Saturday, February 16
Time: 5:00 PM
Location: Audrain Auto Museum
Grab a drink and join other singles for a night of chatting, laughing, and hopefully love at the Audrain Automobile Museum. After two rounds of "dating", judges will choose the most compatible couple for a dinner at La Forge Restaurant at 7:30 PM. Price includes one drink and light appetizers.
Newport Vineyards [Wine]terfest
Date: Saturday, February 16 - Sunday, February 17
Time: 12:00 - 5:00 PM
Location: Newport Vineyards
Two days full of grape stomping, ice wine bar tasting goodness. Enjoy live music from Little Compton Band, while sipping wine and from the ice bar and noshing on food created by scratch.
Polar Pineapples Ice Bar
Date: Friday, February 15 - Saturday, February 16
Time: 3:00 - 11:00 PM
Location: Gurney's Newport Resort
Try a signature infused cocktail or specialty hot drink (alcoholic and non-alcoholic options available) while enjoying views of the bay alongside ice sculptures and an ice luge.
GET SOCIAL
Tag your photos #TheClassicCoast for the chance to be featured on our accounts.