Rhode Island is home to 69,000 acres of farmland covering 10% of the state's land. You can imagine, then, that we've got some pretty robust farmers markets and farm stands sprinkled throughout the area. 
As the farmers market scene continues to grow, you can find vibrant, locally grown fruits, veggies and handcrafted baked goods in some of the state's most pristine parks, fields and gathering areas, all grown and made right here in Rhode Island. All you have to do is take your pick.
1
AQUIDNECK GROWERS' SUMMER MARKETS
Saturdays Market: Embrace Home Loans Campus, 25 Enterprise Dr, Middletown
Wednesdays: Memorial Boulevard near Bellevue Avenue, between Chapel & Edgar
*Monday Summer Market: Miantonomi Park, Hillside Avenue, Newport 
Named Rhode Island's Can't-Miss-Market by Yankee Magazine, the Aquidneck Growers Market features 20+ vendors and offers easy access to seasonal, locally-grown food and greater awareness of the benefits of eating fresh local foods. During the colder months the market moves indoors, check back for seasonal locations. 
DATES
Saturday Market: May 6 - October 25
Wednesday Market:  May 17 - October 28
*Monday Market: July 10 - August 28
HOURS
Saturdays: 9:00 AM - 12:00 PM
Wednesdays: 2:00 - 6:00 PM
*Mondays: 2:00 - 5:00 PM
SAMPLE OF OFFERINGS
Fresh fruits, vegetables and herbs
Farm-raised eggs
Breads, cheeses and baked goods
Meat and seafood products
Fresh cut flowers and plants
Coffee beans
Prepared foods including tacos, burritos and Middle-Eastern options
HOW TO PAY
Cash
Fresh Bucks—Use your debit or credit card to purchase $5 increments of market tokens, from which you will receive change in dollars from vendors once making a purchase
Debit and credit cards accepted at various vendors
SNAP customers—EBT accepted + 100% bonus for fruits and vegetables. Click here for more information
2
MOUNT HOPE FARMERS MARKET
Saturdays: Mount Hope Farm South Pasture, 250 Metacom Avenue, Bristol
Historic Mount Hope Farm dates back more than 325 years and operates a year-round market selling everything from farm fresh fruits and vegetables to locally made soaps, lotions, jewelry and more. 
DATES
HOURS
SAMPLE OF OFFERINGS
Fresh fruits and vegetables
Locally raised meats, seafood, cheeses and eggs
Local honey, coffee and baked goods
Farm fresh kombucha
Prepared foods
Soaps, lotions and cleaning products
Local crafts
HOW TO PAY
Please follow these guidelines while shopping the market:
Masks are recommended while shopping indoors
Please practice social distancing while waiting at vendor booths. Allow 6ft between you and other customers
No pets allowed on the property
Please be king and patient to all vendors, volunteers, and customers
3
JAMESTOWN FARMERS MARKET
Mondays: Jamestown Recreation Center, 41 Conanicus Drive, Jamestown 
Jamestown Farmers Market is held at the Jamestown Recreation Center and offers local produce, herbs, meats, flowers, crafts and artwork, and more from a variety of vendors. June - September.
DATES
HOURS
SAMPLE OF OFFERINGS
Grass fed meats
Farm-raised eggs
Fresh flowers and plants
Organic fruits and vegetables
Baked goods
Art and design items
HOW TO PAY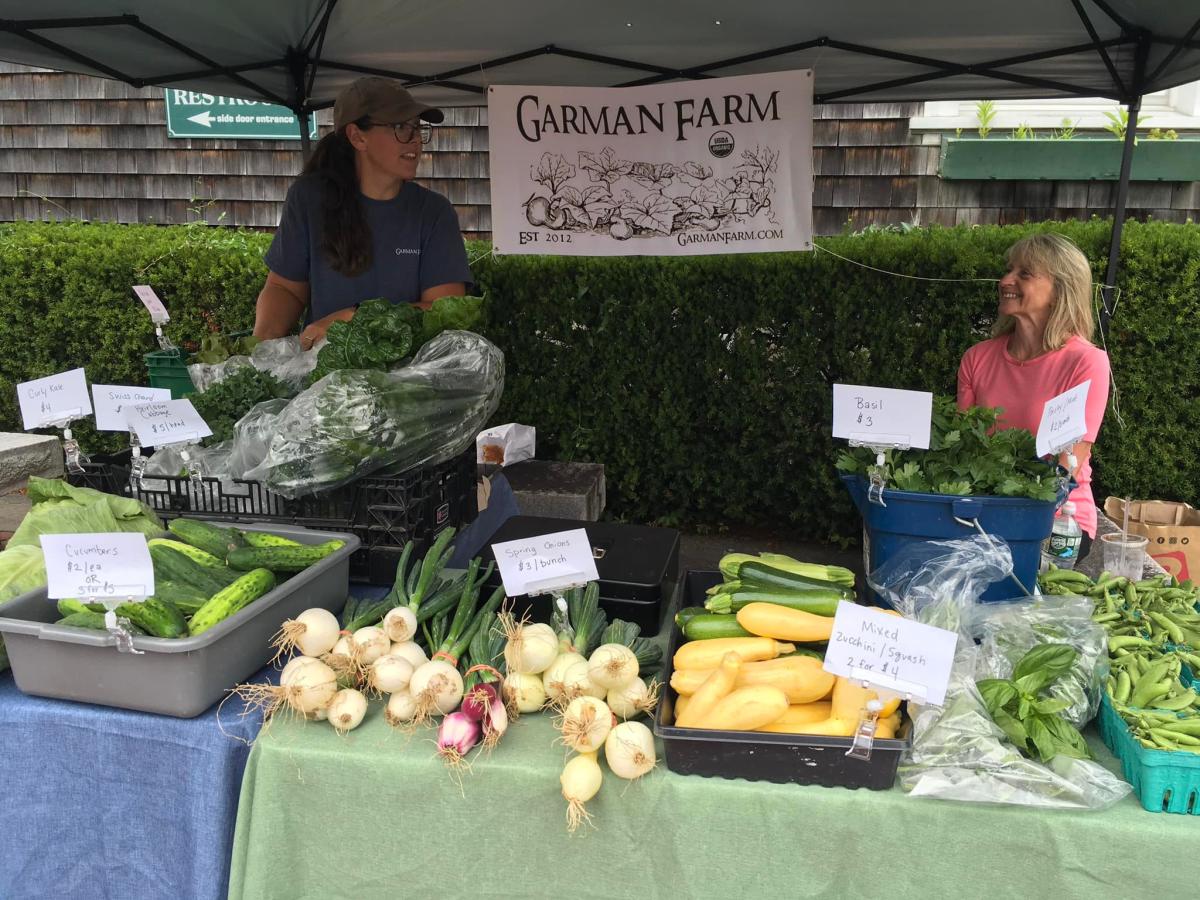 4
SCHOOLYARD MARKET
Wednesdays: 691 Main Street, Warren
Developed by the operators of Hope & Main in Warren, the Schoolyard Market helps locally-based food and beverage businesses start up, scale and thrive. This year's markets feature approximately 30 vendors and is held outside a century-old converted school building with plenty of space for shopping, live music, workshops, live cooking demonstrations, garden talks and more.
DATES
HOURS
Wednesdays: 4:00 - 7:00 PM
SAMPLE OF OFFERINGS
Fresh product
Responsibly raised meats, fish and eggs
Artisanal baked goods
Coffee and cold beverages
James, sauces and fermented foods
Gluten-free offerings
Skin and body care
Local honey
HOW TO PAY:
Cash
Credit cards
Snap/EBT
WIC
Senior Farmers Market checks
5
TIVERTON FARMERS MARKET
Sundays (November - May): Tiverton Middle School Gymnasium, 10 Quintal Drive, Tiverton
Sundays (May - October): Town Farm Recreation Area, 3588 Main Road, Tiverton
 
The Tiverton Farmers Market is situated in the middle of quaint Tiverton and connects the community to fresh and local product, agriculture and workshops. 
DATES
HOURS
SAMPLE OF OFFERINGS
Fresh fruits and vegetables
Farm-raised meats
Fresh flowers and plants
Baked goods
Sauces, jams
Prepared foods
HOW TO PAY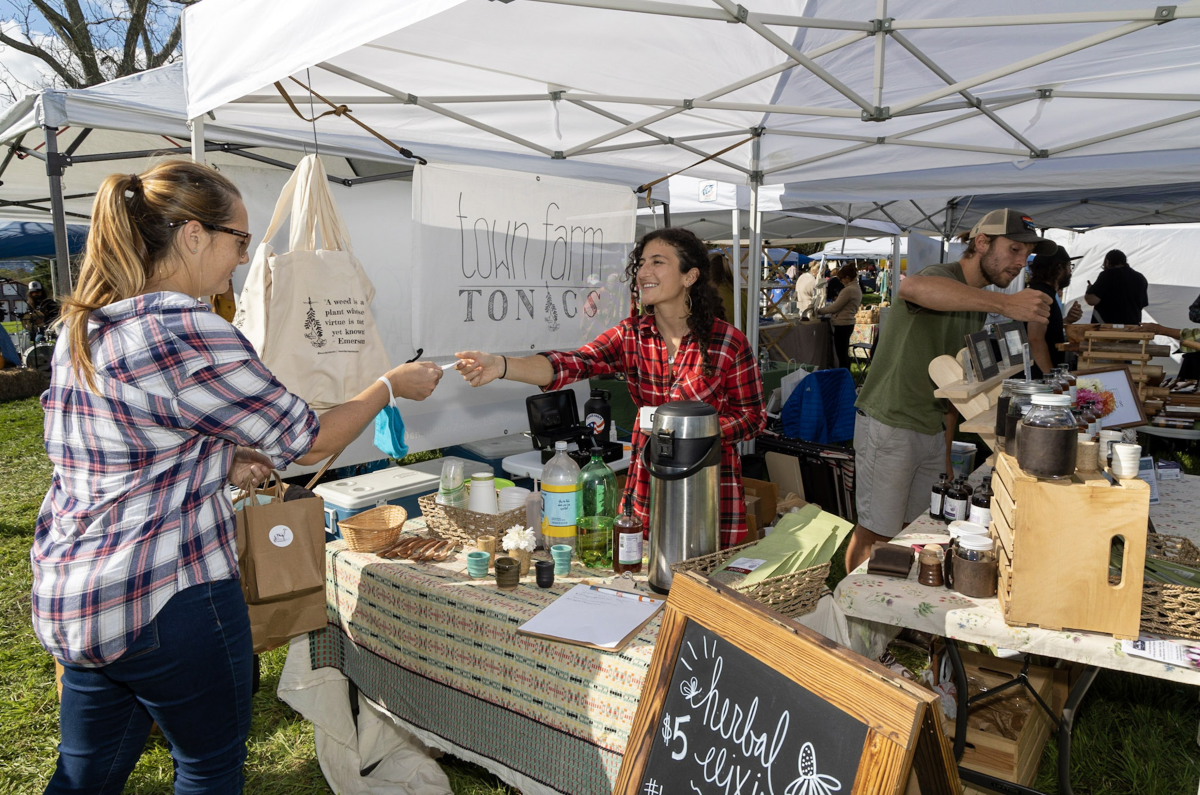 1
YOUNG FAMILY FARM STAND
261 West Main Road, Little Compton
Young Family Farm Stand in Little Compton offers a selection of fresh fruits, veggies, florals and bouquets, and an assortment of baked goods. 
OPERATIONS
July & August: Thursday - Tuesday: 9:30 AM - 5:00 PM
September: Thursday - Monday: 9:30 AM - 5:00 PM
October & November: Thursday - Sunday: 10:00 AM - 4:00 PM
GET SOCIAL
Tag your photos #TheClassicCoast for the chance to be featured on our accounts.