Newport is synonymous with seafood. Oysters? Our main food group. Clam cakes? Can't live without 'em. And then there's the crown jewel of seafood: the lobster roll. Chunks of fresh-from-the-ocean lobster meat drizzled with warm butter tossed with mayo—make that specialty aioli at some spots—and served on a crisp, buttery roll. It's poetry.
Piqued your interest? Good. Our favorite spots to grab one (or two!) below. 
1
BLOUNT CLAM SHACK
The menu at Blount Clam Shack may lack dollar signs, but nothing else. The claim to fame at this tiny shack on Warren's waterfront is their Giant Lobster Roll made with a 1/2 pound of lobster chunks served on an extra-long grilled roll and tossed in housemade dill mayo or served with warm butter.
Not that hungry? The Small Lobster Roll is served with a 1/4 pound of lobster on a 6' grilled roll. 

2
ANTHONY'S SEAFOOD
Assembly of the lobster roll at Anthony's Seafood is an art form. It starts with a piece of lettuce placed on a bun grilled to perfection to prevent sogginess—key to a lobster roll that's good until the last bite. Featured on Food Network's Diners, Drive In's and Dive's, and home to one of the best lobster rolls in New England according to Yankee Magazine, this renowned seafood market on Middletown's Aquidneck Avenue adds six-ounces of picked-fresh-daily knuckle, claw and tail meat tossed with celery, a hint of mayo and white pepper to their award-winning lobster rolls.
3
Newport Lobster Shack
Head down Long Wharf to the dockside oasis, Newport Lobster Shack for a fresh lobster roll paired with harbor views and classic coastal vibes. This iconic lobster shack offers an array of fresh caught seafood by the pound at their market, and cooked-to-perfection lobster, clam and fish dishes at their Fisherman's kitchen. But the claim to fame here—"Newport's FRESHEST Lobster Roll", sold with 6oz or 3oz of fresh caught lobster meat, you choose the size.
 
Pro-tip: Ship a lobster home (or buy one to-go) for you to enjoy whenever.
4
KNOT NORM'S
Nothing was rushed during the inception of the Knot Norm's lobster roll. In fact, it took owner Jay LeBlanc over a week just to find right bun— a split-top New England hot dog roll with both sides buttered and toasted on the flattop. The highlight here, of course, is the lobster: steamed, then poached in house made lobster butter and topped with micro celery, lemon juice and just a hint of Old Bay. Served with Cape Cod potato chips and house made pickles, it's been described as the best in the state (we won't deny it.)
5
THE LOBSTER BAR
Unobstructed views of Newport Harbor and Narragansett Bay compliment your experience at The Lobster Bar on Bowen's Wharf. When it comes to their lobster roll, take your pick: hot and braised in butter or cold and tossed with dill, lemon, celery, and light mayo. 
6
EASTON'S BEACH SNACK BAR
No, you're not seeing double. Easton's Beach Snack Bar really does serve up two lobster rolls for the price of one. The twin lobster rolls come one of two ways—lobster-salad style with mayo or plain & simple served with drawn butter. No matter your pick, you'll savor 1/3 pound of lobster meat with a heaping pile of fries for $19.97. Kick up your feet with oceanfront views and a Del's Lemonade to wash it down.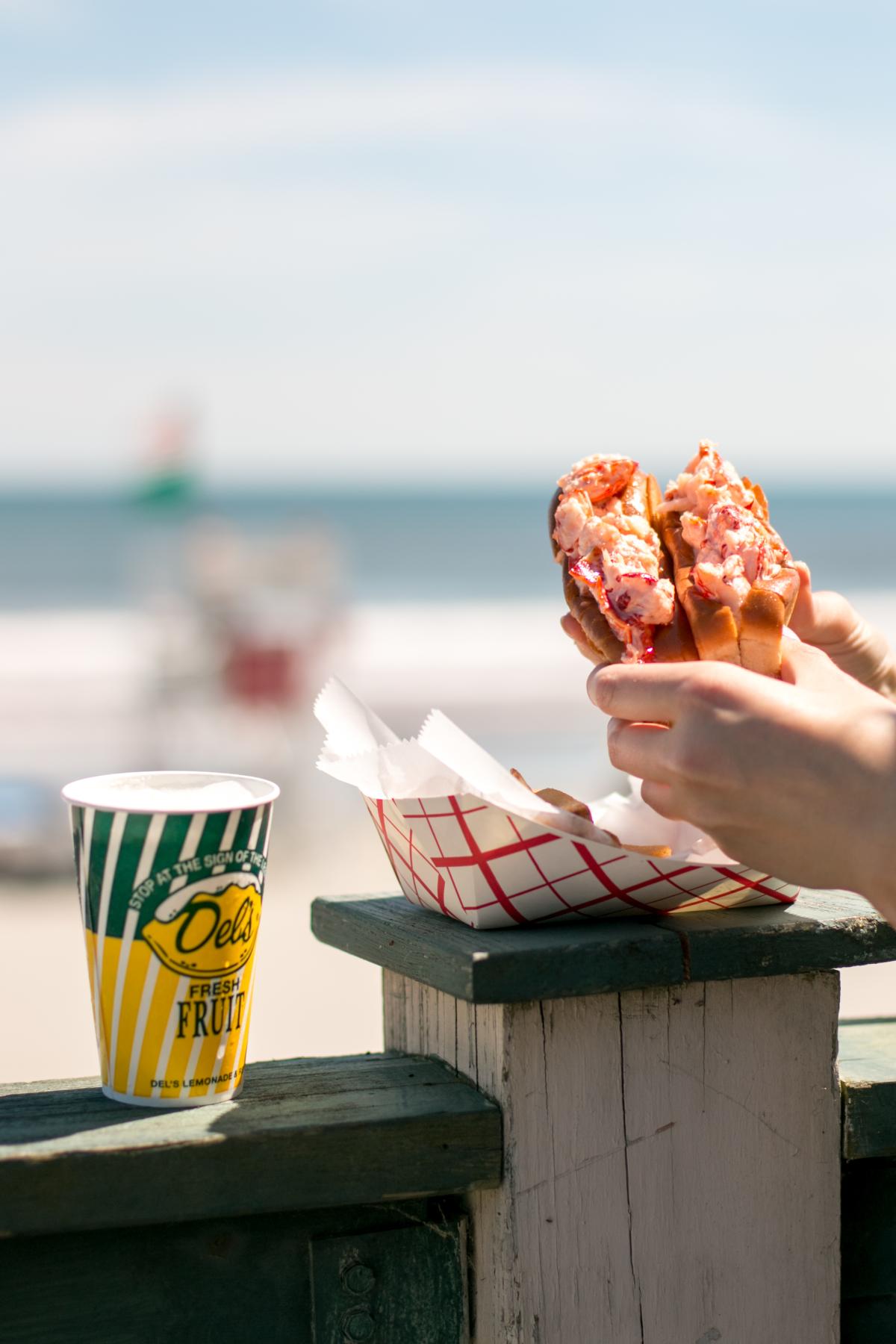 7
The Mooring
Okay, so this one is actually a Lobster Croissant, but we doubt we'll get a complaint from this buttery staple that's held its place on The Mooring menu for 15 years. One bite is all it takes to understand why. Chilled, lightly dressed lobster meat is served on a warm, flaky croissant with a hint of tarragon. 
8
BELLE'S CAFE
This dockside cafe tucked away in Newport Shipyard (yes, an actual working shipyard) is often referred to as one of Newport's hidden gems, and with good reason. The menu has just about everything, including twin lobster rolls served with fresh lobster meat lightly dressed with citrus aioli for $36. 
9
CASTLE HILL INN
Make your way down scenic Ocean Drive where you'll find Castle Hill Inn peacefully tucked away. Their upscale, elegant dining room offers 180 degree views of the bay while their lawn dotted with Adirondack chairs overlooking the bay remains a summer staple for cocktails and light bites. The signature lobster roll is crafted with 5 ounces of fresh, chilled lobster meat tossed with crème fraîche and tarragon crème topped with onion strings. 
10
BRICK ALLEY PUB
This overstuffed (in the right kinda way) lobster roll from Brick Alley Pub arrives with a heaping portion of fresh lobster meat—the way it should be—mixed with mayo and a secret seasoning we're still trying to get our hands on. Served on a buttery bun with a side of coleslaw and steak fries. 
11
BENJAMIN'S RAW BAR
This three-story neighborhood restaurant has it all: a casual working raw bar on the first floor, classic dining on the second floor, and an open-air bar known as The Crow's Nest on the third floor. The menu here offers both hot lobster rolls sautéed in butter and traditional lobster salad rolls tossed with mayo on a grilled roll. Served with a side of fries.
Pro Tip: Benjamin's kitchen is open until midnight, just in case that lobster roll hankering hits you late at night. 
12
THE REEF
The Reef is your spot for tropical paradise without leaving New England. Set on the harbor overlooking an impressive collection of boats, their outdoor patios are outfitted with palm trees, lounge seating, three bars and a collection of fire pits. The menu here is offers a little bit of everything from around the world, including two choices of lobster rolls: The Newport Lobster Roll served cold with Reef lobster Aioli and the Connecticut Lobster Roll made with warm garlic butter. 
GET SOCIAL
Tag your photos #TheClassicCoast for the chance to be featured on our accounts.