During the Gilded Age, America's wealthiest families flocked to Newport, turning the area into their summertime playground. The popular HBO series, The Gilded Age, has peaked the public's curiosity about this era of high society.
From the creators of Downton Abbey,  The Gilded Age follows the story of "old" and "new money" in New York's and Newport's high society, set in 1882. This Julian Fellowes masterpiece was filmed at and features many Newport Mansion properties; The Breakers, Marble House, The Breakers, Marble House, The Elms, Rosecliff, Chateau-sur-Mer and Hunter House.
Today, visitors can experience how America's elites, and their staff lived with behind-the-scenes mansion tours, historic lectures, access to the breathtaking grounds and cliffside vantage points, all without those pesky corsets!
COVID-19 NOTE:
When you're ready, we can't wait to welcome you back to The Classic Coast. Rest assured, the safety and well-being of both visitors and locals remains our top priority.  All we ask when you land on these shores is that you play your part in keeping everyone safe. Please be kind and adhere to local guidelines. 
Gilded Age Experiences
These upcoming events allow visitors a chance to step back in time and experience the grandeur of The Gilded Age.
1
Coaching Weekend Recreates 19th-century Travel
Where:

The streets of Newport including Bellevue Ave.

When:

Friday, August 19th – Sunday, August 21st, 2022

Cost:

Free
This unique event takes place every three years in Newport and this summer it runs August 19 through August 21. A Weekend of Coaching  steps back in time as authentic 19th-century coaches, pulled by teams of horses, drive through the streets of Newport and the grounds of the Newport Mansions. The Coaching Weekend is hosted by The Preservation Society of Newport County.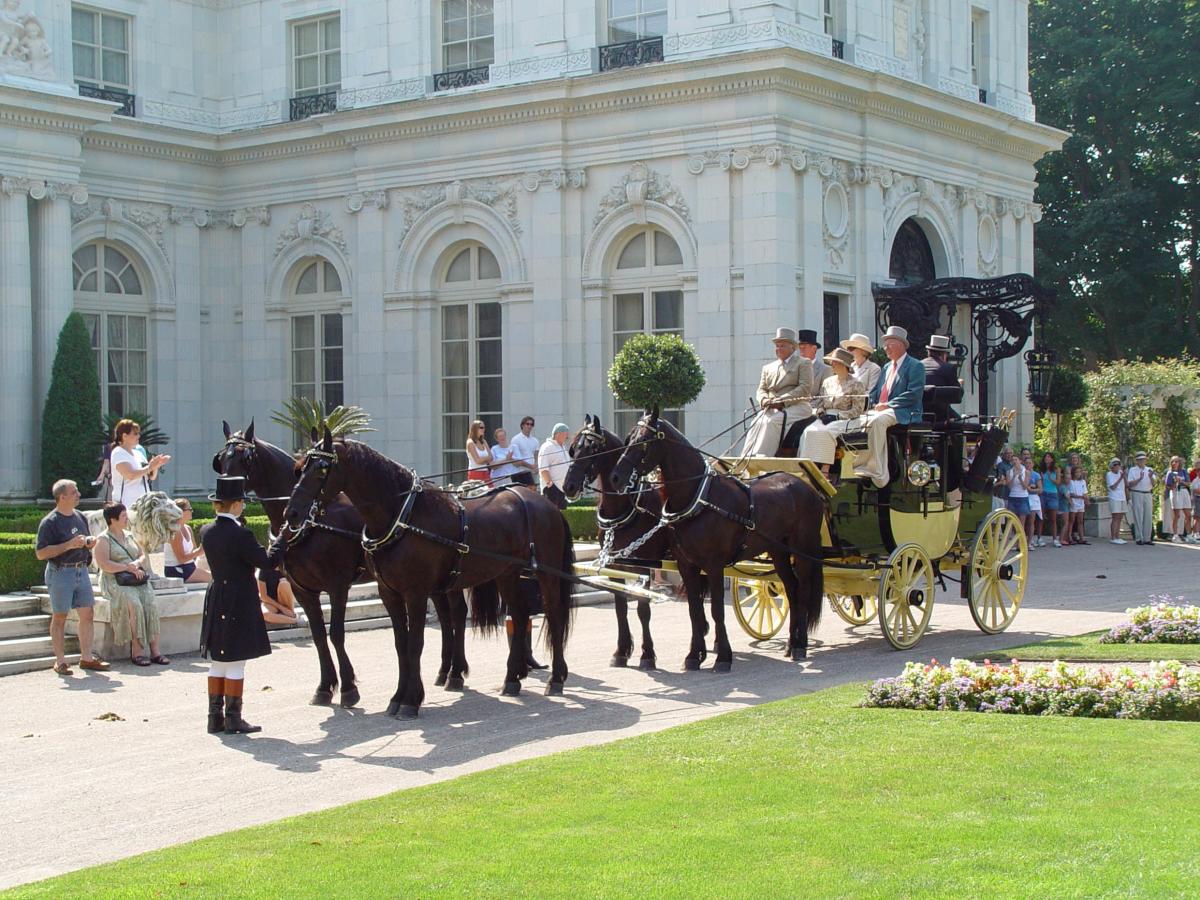 2
The Blue Garden
Where:

The address, directions, and information about parking will be emailed to you when tickets are purchased

When:

Every Thursday from Now to October 6, Tours at 11:00 AM, 12:30 PM, and 2:00 PM

Cost:

$15
Nothing says Gilded Age like beautiful, vast, and private gardens.  The Blue Garden is open to the public once a week - every Thursday from June 9 - October 6. The Olmsted Brothers firm designed the property, it fell into disrepair and was restored in 2014 to its original glory.
The garden incorporates a palette of blues and purples and has something in bloom each month the garden is open. The Blue Garden is known today as a classic example of American landscape art and a triumph of historic preservation. There are three tours a day, only on Thursday's and costs $15.
3
A Gilded Age Punch Bowl
Where:

The Vanderbilt

When:

Available daily, from 11:00am - 11:00pm

Cost:

$80 per bowl, serves 4-6 guests
Step into the parlor or the library at the sophisticated Vanderbilt Hotel and order one of The Vanderbilt's specialty cocktails. Choose from a signature punch bowl or a seasonal bubbly large-format aperitif, which pay homage to cocktails from the Gilded Age infused with The Vanderbilt's playful spirit.
4
Gilded Age Treasures
Where:

Rosecliff Mansion

When:

Now - Oct. 30, 2022

Cost:

Included with regular admission
The Newport Mansions feature some of the greatest collections of fine and decorative arts of the Gilded Age.
The Preservation Society of Newport County shines a spotlight on important Gilded Age artifacts with "Anything You Want: A Closer Look at Treasures from Newport's Gilded Age." Visiting Curator Ulysses Grant Dietz chose more than 100 treasures from across the Preservation Society's properties. The collection is included in a mansion ticket and runs until October 30, 2022.
5
Book Smart: Enjoy the library visited by Gilded Age Greats
Where:

The Redwood Library and Athenaeum

When:

Monday, Wednesday, Friday, Saturday from 11:00 AM – 4:00 PM

Cost:

Free
Enjoy reading in a library visited by Gilded Age greats.
The Redwood Library and Athenaeum celebrates its 275th birthday this year. Literary legends like Edith Wharton, Henry James and poet Julia Ward, who also co-founded the American Woman Suffrage Association, visited the library. Today the library is free to the public and offers lectures, exhibitions, fine arts displays and other educational activities.
6
Stay at the Hotel Viking
Where:

Hotel Viking

When:

Based on Availability
Gilded Age Getaway
Visit the Hotel Viking and enjoy a Gilded Age package, which includes a specialty suite and Newport Mansion tickets.
Gilded Girls Getaway
Escape to the Gilded Age and walk in the steps of the ladies of Bellevue avenue. This package includes Breakfast at One Bellevue, $50 Credit to Spa Fjör, and  Newport Mansion tickets.
 
7
A Proper Proposal
Where:

The Breakers

When:

Ongoing

Cost:

$300
The Newport Mansions offers a unique experience in one of the most magnificent houses in America: An opportunity to propose marriage in a setting of elegance and beauty. 
Make your proposal at The Breakers under the serene sky painted on the 50-foot-high ceiling of the opulent Great Hall, or in the intimate Breakfast Room with its exquisite French decor. It's a romantic place to share one of life's most memorable moments. The fee includes either Great Hall or Breakfast Room at The Breakers for proposal location, a personal tour of the first floor of The Breakers and membership in The Preservation Society of Newport County.
8
Inside the Gilded Age Tour
This tour is designed for guests at the Newport Marriott, The Vanderbilt and The Chanler hotels. The $250 tour, which runs every Friday, includes transportation and a guided tour of four mansions. If the tour is not fully booked it will open to the public. The tour runs from now through September 23 and must be reserved through a hotel concierge.
9
Picnic at a Gilded Age Mansion
Enjoy a three-hour picnic provided by Stoneacre at The Elms for 8-14 guests ranging from $1800 to $2600. Stretch out in one of their two, early 20th-century, majestic marble and glass pavilions overlooking the Sunken Garden, grand allée, and whimsical fountains. The setting is a moment, frozen in time, created for the Gilded Age but timeless in its design.
A perfect place for celebration on a storied summer estate with a proper croquet set up and fanciful picnic to boot.
10
Gilded Age Scandals
Get the Gilded Age scoop while being driven around in a Jaguar. Your guide and driver will share some of the more scandalous stories surrounding Newport families during this era. The Newport Jaguar Tours' fleet of classic British motorcars offers guided, private tours in what the Brits call a large "Saloon" (4-Doors), or a stylish Jag convertible. Tours can be personalized - there are a dozen different themes or highlights to choose - and add requested stops. The local Newport guides have extensive knowledge about the area and era.
Newport Jaguar Tours can also connect multiple motorcars that will hear the same live guided private tour. Pets and cocktails are welcome. Sample the Newport Jaguar Tours' Gourmet Champagne Picnic. Ride in style and comfort, in a three-hour or six-hour private tour in your own Jaguar.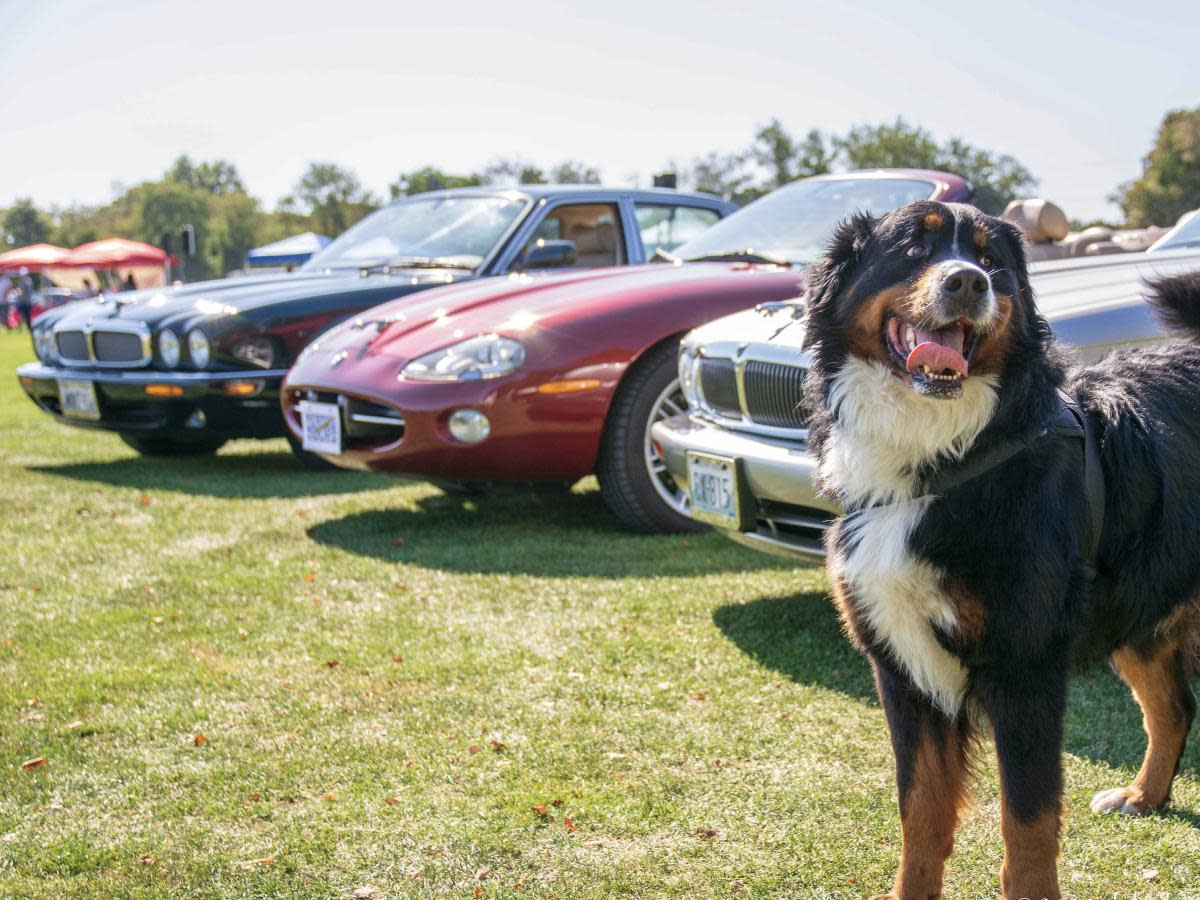 11
Croquet anyone? Tennis?
Don't miss a chance to experience a sport most people have only read about or seen on television. Visit The International Tennis Hall of Fame for some friendly competition. Step back in time on the grass grounds where croquet enthusiasts have been playing since the late 19th century.
A croquet pro will oversee this classic lawn game played on the property's historic grass courts. Also, take the opportunity to play tennis on three grass courts open to the public.
12
Gilded Age Boating
Get out on the water with a restored Elco motor yacht with Classic Cruises of Newport.
The Rum Runner II boat style was so popular that John Jacob Astor owned four of them. Grand Duke Alexander of Russia, attending a naval review in New York in 1893, saw one of Astor's launches and wanted one so badly he insisted on buying the one already ordered by the captain of the newly launched cruiser USS New York, who then had to wait for a new one. When the Grand Duke's cousin, Czar Nicholas II, saw Alexander's launch, he liked it so much he bought one too. Admiral Dewey owned one, and so did Baron Nathaniel de Rothschild. Charles Lindbergh had one customized for his honeymoon. Henry Ford and Thomas Edison kept theirs at adjoining Florida estates. John F. Kennedy got his "used" and it nearly cost him his life. Lt. John Bulkeley saved the hide of General Douglas MacArthur in one, and later won the Congressional Medal of Honor with it.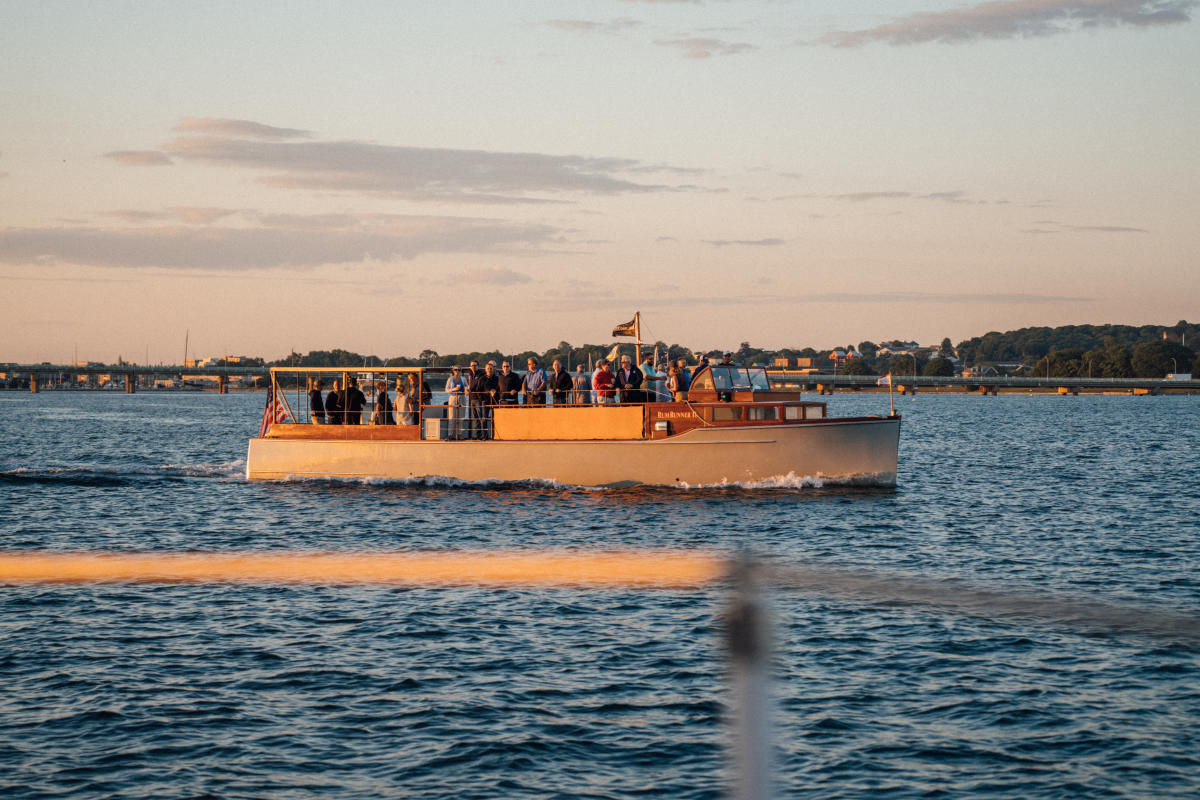 13
Walk and Talk
The Newport Historical Society offers a variety of tours including one about Newport's Gilded age summer colony and how the city transformed socially and economically during that period. Learn how Newport supported and encouraged religious freedom. See where rum trade flourished and the scoundrels lived.
Find out about the early history of Newport's people of color, enslaved and free. You can pack in a lot of history in these tours that range from 60 to 90 minutes. Step outside and learn about Newport's rich and storied history.
14
Behind the Scenes at HBO
Award-winning production designer, Bob Shaw, shares what it means to bring 19th century splendor to life in HBO's The Gilded Age in this free lecture on August 11th at 6:00 PM Shaw will speak about the process of recreating this period for film and television. He will focus on the Brook and Russell family houses and discuss the process of collaboration with directors, producers, writers, and the HBO network. 
Shaw is an Academy Award-nominated art director and production designer known for his work on The Irishman (2019), The Wolf of Wall Street (2013), and The Sopranos (2000-2007). His career in film, television, and theater spans 30 years and includes winning two Emmy's for his work on Mad Men (2008) and Boardwalk Empire (2011). During the past two years he has worked in Newport as production designer for HBO's The Gilded Age.
15
Film Events
After the Gilded Age: An Afternoon Society Series at the Jane Pickens Film + Event Center
The Gilded Age era was ripe for cinema. While the era may have ended in the early 20th century, the quest for wealth and power did not. The Society Series at the James Pickens offers a glimpse into that world with four films that have Newport roots. The Great Gatsby (filmed at Rosecliff Mansion) captures a slice of the rich and famous. High Society follows socialites during the Newport Jazz Fest. Reversal of Fortune covers a scandal that rocked Newport society in 1980 and Grey Gardens shares the true story of a family's fall from wealth. 
Prosecco will be sold and complimentary treats will be provided at each screening. It's a summer bargain at $12 a ticket. Tickets are available at The JPT box office.
The Lineup:
Friday, August 5 at 4:30 PM:  Reversal of Fortune (1990)
Saturday, August 6 at 4:30 PM:  Great Gatsby (1974)
Friday August 12 at 4:30 PM:  Grey Gardens (1975)
Saturday August 13 at 4:30 PM:  High Society (1956)
16
Gilded Strings at Blithewold
The Community String Project is hosting Gilded Strings at the Blithewold Gardens and Arboretum for an evening of Glitz, Glamour, Gold, Music and Fun. This fundraiser is themed around the Gilded Age era with dancing and drinks under the stars. The event takes place on September 8, 2022 from 6:30 PM to 9:30 PM.
"The Gilded Age" on HBO
From the creators of Downton Abbey, HBO's The Gilded Age premiered in Winter of 2022, and follows the story of "old" and "new money" in New York's high society, set in 1882. This Julian Fellowes masterpiece was filmed at and features many Newport Mansion properties;  The Breakers, Marble House, The Elms, Rosecliff, Chateau-sur-Mer and Hunter House. Stream the first season of The Gilded Age now on HBO Max. Season 2 is already in production and filming has started in Newport.
*Please note: some Newport Mansions properties will be closed during the filming of this show, please check their operating schedule before purchasing tickets. 
Watch the Official Trailer
Explore the Newport Mansions
From a 70-room Italian-renaissance style palazzo to the first home run on electricity without a back-up, the Newport Mansions are like nothing you've ever seen – we promise.
The Breakers
The Breakers is the grandest of Newport's summer "cottages" and a symbol of the Vanderbilt family's social and financial preeminence in turn of the century America.
Today, visitors can experience both mansion and ground tours, special events, and a small cafe at the Welcome center located on site. 
Location:

44 Ochre Point Avenue

Hours:

Open Daily, 10:00 AM - 5:00 PM

Cost:

Adult: $29, Youth (6-12): $10, Member: Free
The Elms
Welcome to the summer retreat of Philadelphia coal magnate Mr. and Mrs. Edward Julius Berwind who made his fortune in the coal industry. The Elms, a 48-room mansion on historic Bellevue Avenue, was modeled after the mid-18th-century French chateau d'Asnieres (c.1750) outside Paris. 
The Elms offers both a mansion tour, with access to the grounds, and a servant life tour for visitors. 
Location:

367 Bellevue Ave

Hours:

Starting May 27, 2022: Open Daily, 10:00 AM - 5:00 PM

Cost:

Adult: $25, Youth (6-12): $10, Member: Free
Marble House
Marble House was a social and architectural landmark that set the pace for Newport's subsequent transformation from a quiet summer colony of wooden houses to the legendary resort of opulent stone palaces at the time it was built between 1888 and 1892.
Visitors can experience tours, special events, and afternoon tea in the Chinese Tea House at Marble House.
Location:

596 Bellevue Avenue

Hours:

Open Daily, 10:00 AM - 5:00 PM

Cost:

Adult: $25, Youth (6-12): $10, Member: Free
Rosecliff
Commissioned by Nevada silver heiress Theresa Fair Oelrichs in 1899, architect Stanford White modeled Rosecliff after the Grand Trianon, the garden retreat of French kings at Versailles. Scenes from several films have been shot on location at Rosecliff, including The Great Gatsby, True Lies, Amistad and 27 Dresses. 
Today, visitors can experience tours, special exhibits, private events, and the iconic Newport Flower Show at this wondrous mansion. 
Location:

548 Bellevue Ave

Hours:

Open Daily, 10:00 AM - 3:00 PM, *September 16-18, Rosecliff open only to Newport Mansions Wine & Food Festival ticket holders.

Cost:

Adult: $25, Youth (6-12): $10, Member: Free
474 Bellevue Avenue

Newport, RI 02840

(401) 847-1000
Read More
54 Washington Street

Newport, RI 02840

(401) 847-1000
Read More
70 Perry Street

Newport, RI 02840

(401) 847-1000
Read More
380 Cory's Lane

Portsmouth, RI 02871

(401) 847-1000
Read More
680 Bellevue Avenue

Newport, RI 02840

(401) 847-8344
Read More
Virtual Mansion Tours
We're grateful the Newport Mansions expanded their exhibits and experiences into the digital space with virtual tours of these following properties.
GET SOCIAL
Tag your photos #TheClassicCoast for the chance to be featured on our accounts.