Summer on The Classic Coast is here and while the ocean breeze might help beat the heat, ice cream certainly does it better. These local shops, some of which have been staples since the 1950s, offer the best scoops around. From classic flavors to funky experiments, your sugary, summery bliss starts right here. 
COVID-19 NOTE:
When you're ready, we can't wait to welcome you back to The Classic Coast. Rest assured, the safety and well-being of both visitors and locals remains our top priority.  All we ask when you land on these shores is that you play your part in keeping everyone safe. Please be kind and adhere to local guidelines. 
1
Kilwin's Chocolates and Ice Cream
The ice cream at Kilwins is handmade from premium ingredients and served with a side of nostalgia. The c. 1947 shop started perfecting their recipe from small batches and gradually expanded to include more than 35 flavors like the All-American Two Berry Pie, New Orleans Praline Pecan and Dulce De Leche. Kids in tow? Opt for the Superman flavor swirled with a mix of fruity pink, yellow and blue ice cream.
Visit either of their two locations on Thames Street in downtown Newport. 
2
Sprinkles
Moose tracks. Deer Tracks. Black Bear. Name a flavor and there's a good chance it's on the menu at Sprinkles. This local shop has been serving up Gifford's Ice Cream from its outpost on Bowen's Wharf for 15 years. Choose from fat free, dairy free, Italian ice, soft serve and more, place your order at the walk-up window and grab a seat overlooking the harbor for a classic summer in Newport experience.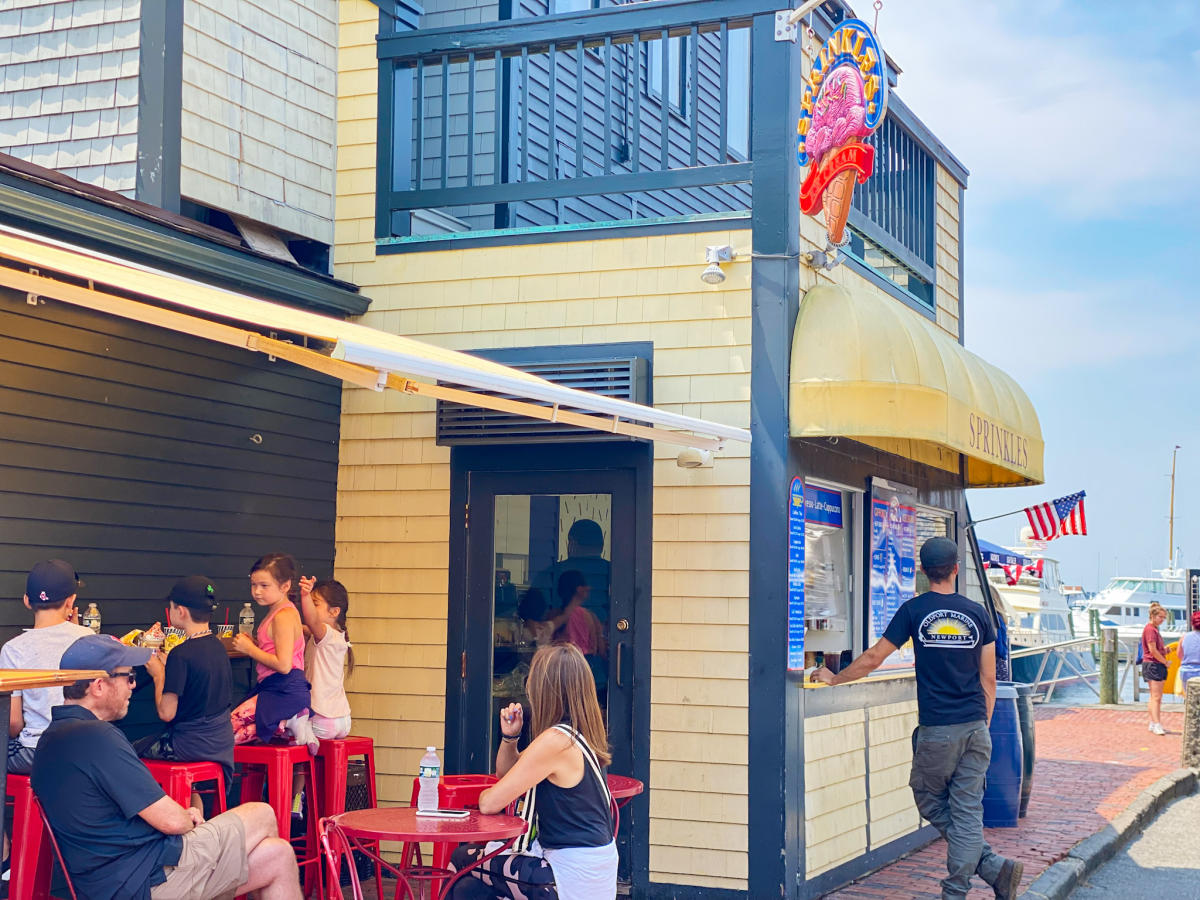 3
Newport Sticks & Cones
On Memorial Boulevard in the former Nana's Ice Cream & Gelato next to Red Parrot is Newport Sticks & Cones where waffles and ice cream combine for a harmonious union. Options here include gelato, ice cream sandwiches, soft serve, milkshakes, ice cream and waffles on a stick dipped, drizzled and topped with a variety of flavors.
4
Cold Fusion Gelato
The gelato at Cold Fusion Gelato is made the way it is in Italy: handmade with all-natural ingredients sourced locally. Choose from 34 different flavors alongside sorbet, gelato pies, chocolates and more.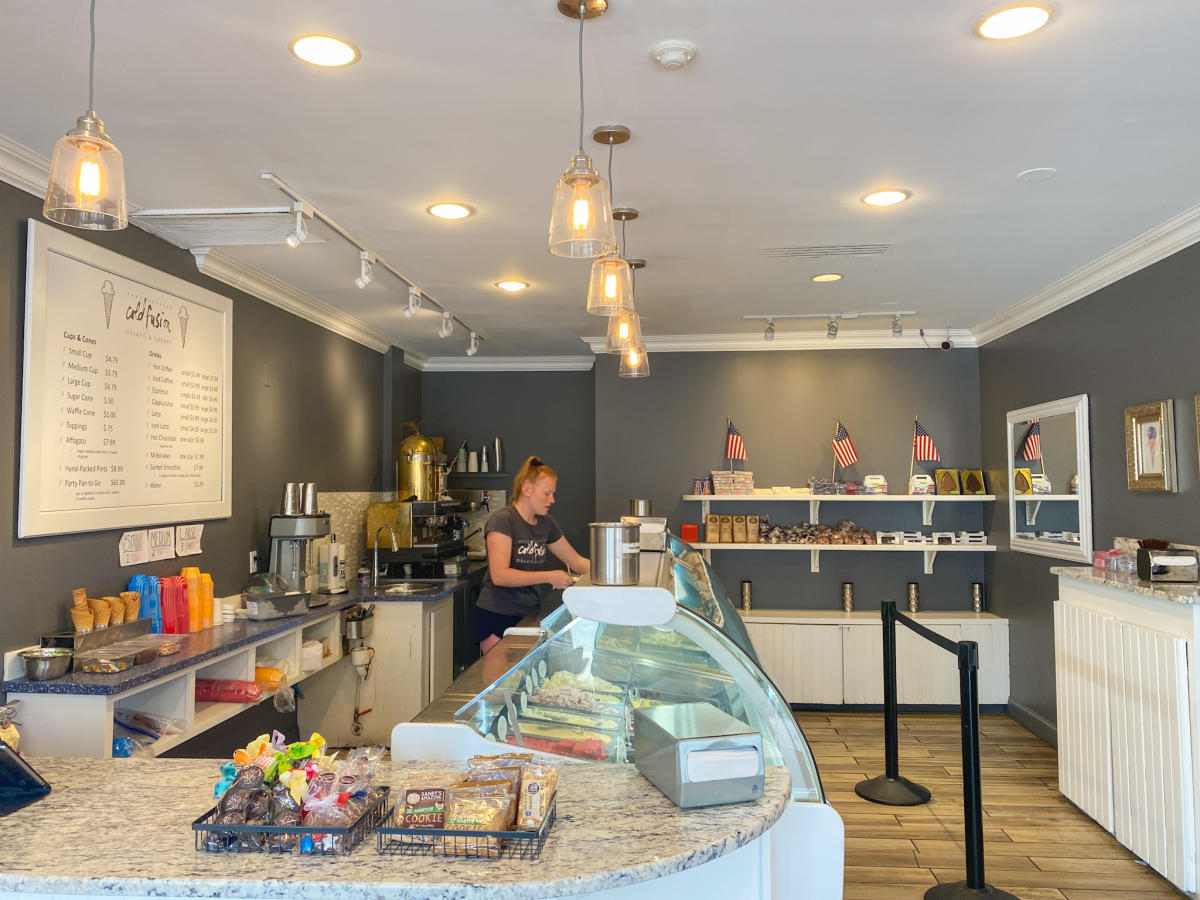 5
Twist on Thames
When nothing will do but soft-serve, Twist on Thames is your spot. Choose from 24 flavors with your option of toppings.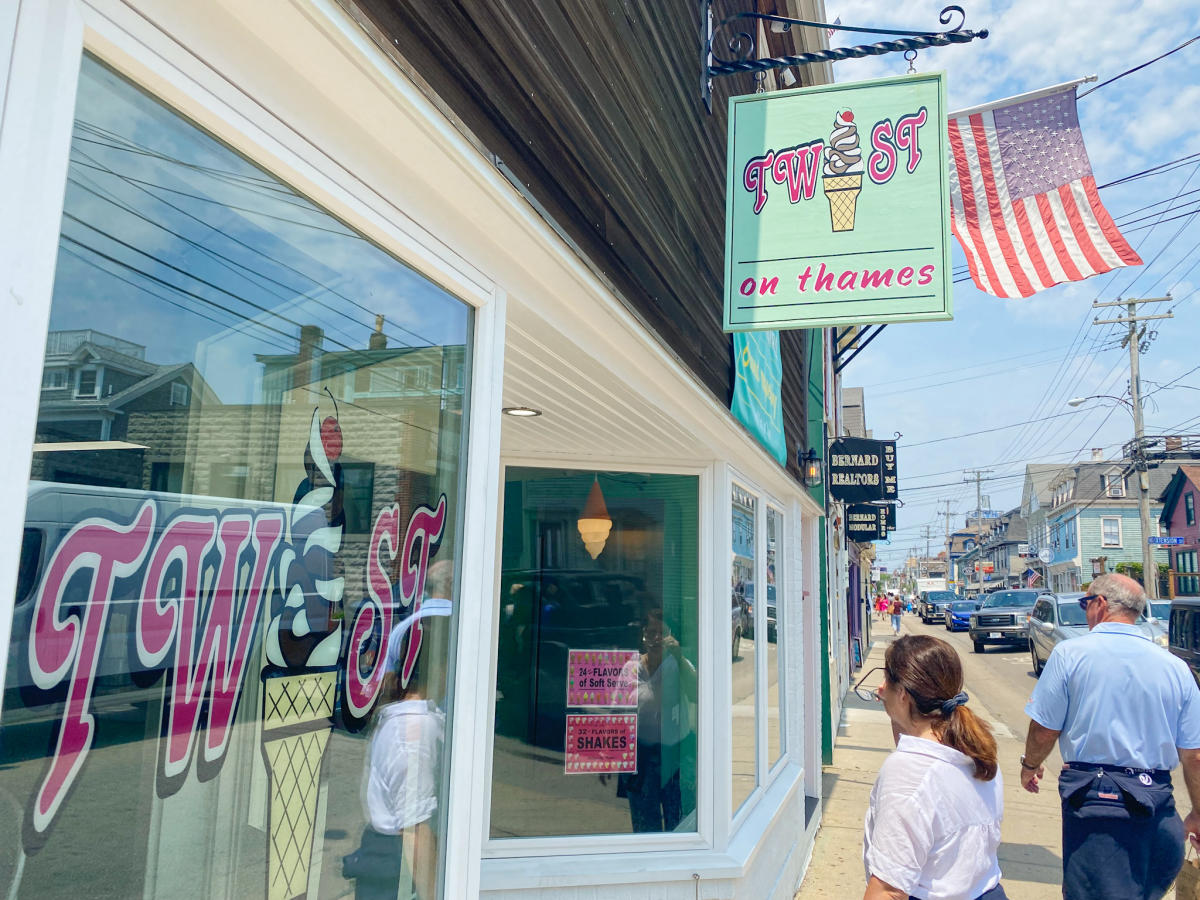 6
Sandcastles Sundaes & Shakes
This brand new Ice Cream Shop, Sandcastles Sundaes & Shakes, opened its doors at 225 Goddard Row in Brick Market Place in Spring of 2022. From Serendipity style sundaes; like the Nana's Hot Apple Pie Sundae, legendary milkshakes; like the Magic Unicorn, to classic ice cream floats and cones, there is something for everyone at Sandcastles. 
Pro-tip: Bring your camera, these sweet treats are rumored to be instagram-worthy.
1
Frosty Freez
You can bet you'll find a line snaked around the building at this classic Americana ice cream shop anytime after April 1's opening day. And if the crowds at Frosty Freez aren't an indicator of how good the ice cream is, perhaps the fact that they've been serving up ice cream from their old-fashioned walk-up window since 1956 when they opened as the 'Tastee Freez' will do it for you. The menu here is comprised of all the standard favorites— cups and cones, sundaes, shakes, floats and banana splits— alongside the shop's Nor'Easters: a cup of any soft ice cream or soft yogurt with your choice of topping mixed in. 
2
Clementine's Homemade Ice Cream
When you catch a whiff of waffle cones, you know you're close. Clementine's Homemade Ice Cream opened doors in 2017 with a commitment to serving ice cream made from high-quality ingredients. Their 25 flavors are all homemade onsite and include favorites like chocolate chip and creamy oatmeal cookie alongside unexpected options like bubblegum, butter brickle and peach. They also offer dog-friendly ice cream as a nod to the store's namesake, Clementine. 
Pro Tip: Food Network Magazine dubbed their oatmeal cookie flavor the best in Rhode Island. 
1
Anna D's Cafe & Ice Cream
Anna D's Ice Cream, located in the previous Shiver Me Timbers ice cream parlor, is owned, loved and operated by Anna D's Cafe. Every April 1st they open up their ice cream shop to serve up Bliss Brothers Dairy to all their loyal customers. With over 50 different flavors of ice cream, sherbert, and frozen yogurt to choose, from classic vanilla to the most perfect Coffee Cabinet, there is something for everyone.
2
Schultzy's Snack Shack
Located in Portsmouth's Island Park, this casual eatery serves up soft serve ice cream, hand-dipped hard serve, shakes, sundaes and more for you to indulge in. Bringing your furry family member? Grab a doggie dish for your BFF, soft serve vanilla ice cream complete with a dog bone treat on top. 
1
Gray's Ice Cream
Anchoring the crossroads of historic Tiverton Four Corners village is Gray's Ice Cream where the ice cream has been homemade since 1923. This iconic shop is open everyday serving up a lengthy list of flavors including their most popular: cherry vanilla and butter krunch, alongside out-of-the-ordinary offerings like orange pineapple, frozen pudding and ginger. 
Note: Gray's also operates out of a second location in Bristol at 259 Thames Street.
2
Helger's Ice Cream Shoppe
Another family-owned shop in Tiverton, Helger's Ice Cream Shoppe has been in operation since 1989 on historic Main Road. Opt for soft serve or choose from their list of popular and sometimes unusual flavors including peanut butter Oreo, s'mores, and chocolate walnut fudge.
1
The Wicked Whisk Rhody
The Wicked Whisk Rhody opened last year in the former home of the Island Scoop in Jamestown. Savor milkshakes, sundaes, ice cream and treats during the summer season at this adorable new Jamestown spot. Vegan and dairy free options are also available. Follow their website and social for updates and when they open for the season.
1
Jules Ice Cream
Jules Ice Cream opened in June 2020 on Bristol's historic Thames Street. Savor frozen yogurt, vegan and plant-based ice cream, dairy-free sorbet, sherbet, milkshakes, sundaes, and more alongside homemade waffle cones.
1
The Wright Scoop
The Wright Scoop is Rhode Island's only Cow to Cone ice cream. Located in their "The Empress" trailer at Blount Clam Shack in Warren, choose from a variety of classic Wright's Dairy flavors, after devouring your Giant Lobster Roll from Blount. The Wright Scoop trailer is open seasonally, check their website for their schedule. 
1
The Daily Scoop
The Daily Scoop is known for their collection of eclectic homemade flavors including peach, banana chip, lemon custard, and coconut almond joy.
GET SOCIAL
Tag your photos #TheClassicCoast for the chance to be featured on our accounts.