There's just something about a humble, dine-in-the-rough clam shack after a day at the beach, the Atlantic still drying on your skin and a paper plate spotted with grease on the rickety picnic table before you. 
Below are three clam shacks whose reputation proceeds them with decades of experience and an iron-clad commitment to fresh, local seafood. What they lack in ritz and glamour they make up for in character and some of the best seafood of your life served up from their enviable outposts on the oceanfront. 
Named the best cheap eats in RI by Travel & Leisure, Blount Clam Shack's menu may lack dollar signs, but nothing else. The award-winning, waterfront seafood shack opened back in 1943 and has since been serving up seafood favorites with a twist, like clambake chowder crafted with all the best parts of a clambake in a delicious soup; or their giant lobster roll made with 1/2 lb. lobster chunks. Not to mention, the quaint shack is located right on Warren's scenic waterfront.
This family-owned seafood shack open seasonally is located on Nanaquaket Pond in quaint Tiverton and has been a fixture of Rhode Island since its inception more than 40 years ago. Aside from scenic views, you'll find all your seafood favorites, like fried clams and traditional RI clam chowder; plus a few items with a twist, like lobster chow mein.  Reservations Monday - Thursday only (must be made same day as dining experience). All parties limited to 5 or less guests.
Pro tip: Keep an eye out for Evelyn's BIOBUG, a diesel VW Bug powered by clam cakes and Newport Biodiesel. Newport Biodiesel picks up the used fry oil produced by Evelyn's fried offerings, processes it, and then fills the BIOBUG with biodiesel. In 2010, Evelyn's recycled 27,000 lbs of fry oil!
Featured on Food Network's Best of Rhode Island, Flo's Clam Shack has been a staple for life-changing seafood in Newport since 1936. Grab a menu and place your order at the counter—we recommend the award-winning clam cakes—then grab a seat on either floor of this casual, oceanfront shack. For a worthwhile view, head upstairs to the front sun room overlooking Newport's First Beach.
Pro tip: Food Network's Chris Cosentino named the fried clam roll the best thing he's ever eaten. Don't skip it.
Welcome to the OG Flo's Clam Shack. Originally opened in Portsmouth in 1936, the renowned shack started as a chicken coop moved from Flo's farm to Island Park. The drive-in location serves most of the favorites from the Middletown location, including award-winning clam cakes, homemade 'chowda,' stuffed quahogs (a Rhode Island staple), and combo plates.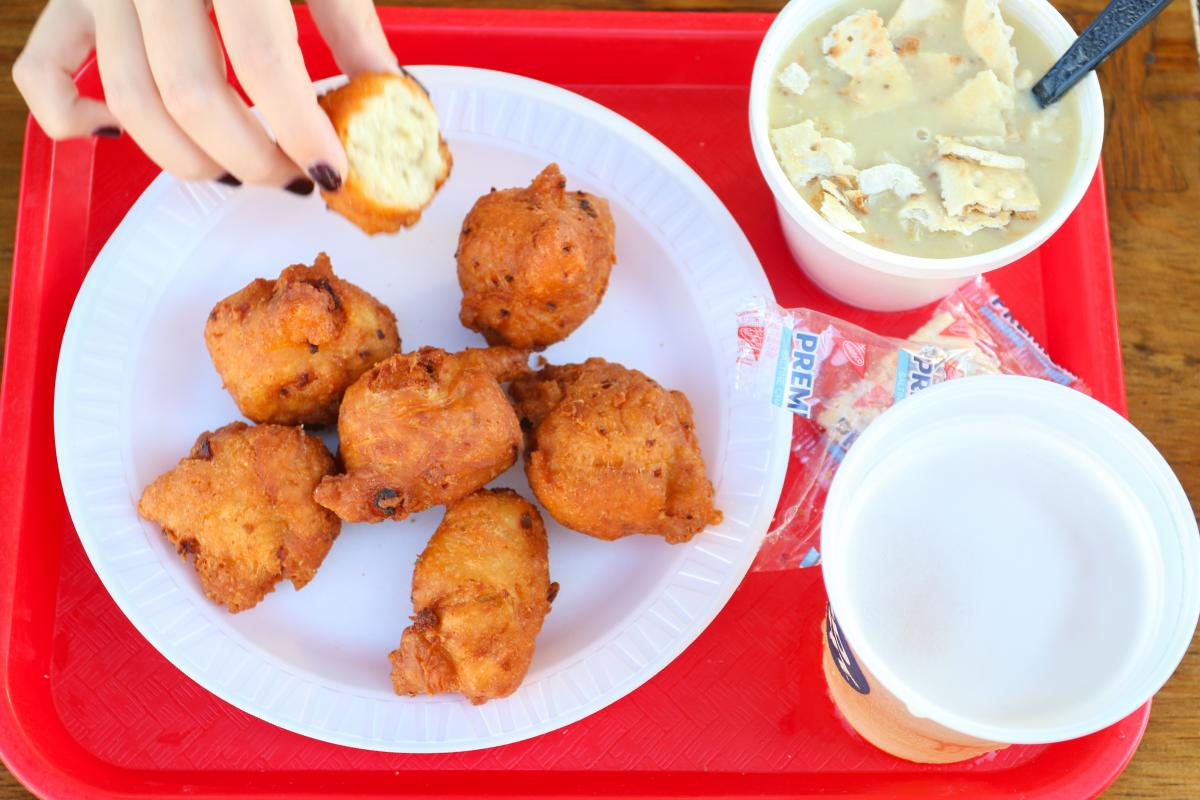 GET SOCIAL
Tag your photos #TheClassicCoast for the chance to be featured on our accounts.