"In Spring, I have counted 136 different kinds of weather inside of 24 hours." - Mark Twain
No matter the weather, Newport and its surrounding communities are packed with so much to do come April. From Daffodil Days that bloom throughout Newport and Bristol bringing more than a million daffodils to the city's parks and fields, to the return of Newport Restaurant Week, where area restaurants will offer an assortment of crave-worthy discounts and deals for you to choose from, April on The Coast is nothing short of wondrous.
hotel deals
Revel in relaxation with these exceptional experiences at unbeatable rates.
EVENTS
Get ready to shake off winter's cobwebs, spring is here. Our picks for the month below.
1
Newport Restaurant Week
Where:

Across Newport and Bristol Counties

When:

April 14th - 23rd
Join us for another season of Newport Restaurant Week where area restaurants will offer an assortment of crave-worthy discounts and deals for you to choose from. Think: BOGO deals, prix-fixe offerings, gift cards promotions and more. 
2
NEWPORT DAFFODIL DAYS
Where:

ACROSS NEWPORT, RI

When:

ALL APRIL
Newport's Daffodil Days celebrates the arrival of over 1,350,000 bright yellow daffodils throughout the area with decorated store windows heralding their arrival. More information and a locator map to the largest fields of daffodils can be found on the Daffodil Days website.  

Opening Ceremony
On April 2nd at 12:00 PM, Historic Clarke Cooke House on Bannister's Wharf will be the scene for a dazzling daffy musket salute by the Artillery Company of Newport that signals the beginning of Newport's Daffodil Days. Newport's Mayor and our 2023 Daffodil Queen and family will then cut the Daffodil Garland and proclaim the official start to this month's festivities.
3
BLITHEWOLD: DAFFODIL DAYS
Where:

BLITHEWOLD MANSION, BRISTOL

When:

APRIL 8th - 23rd
Each April, Blithewold opens its gates to welcome visitors just as springtime begins. The famous display, covers the 33-acre seaside estate with over 50,000 daffodils that delight visitors for nearly a month.
The first week, timed to the annual school vacation week, is filled not only with flowers, but lots of fun-for-the-whole-family programming that celebrate our favorite yellow-flower friends.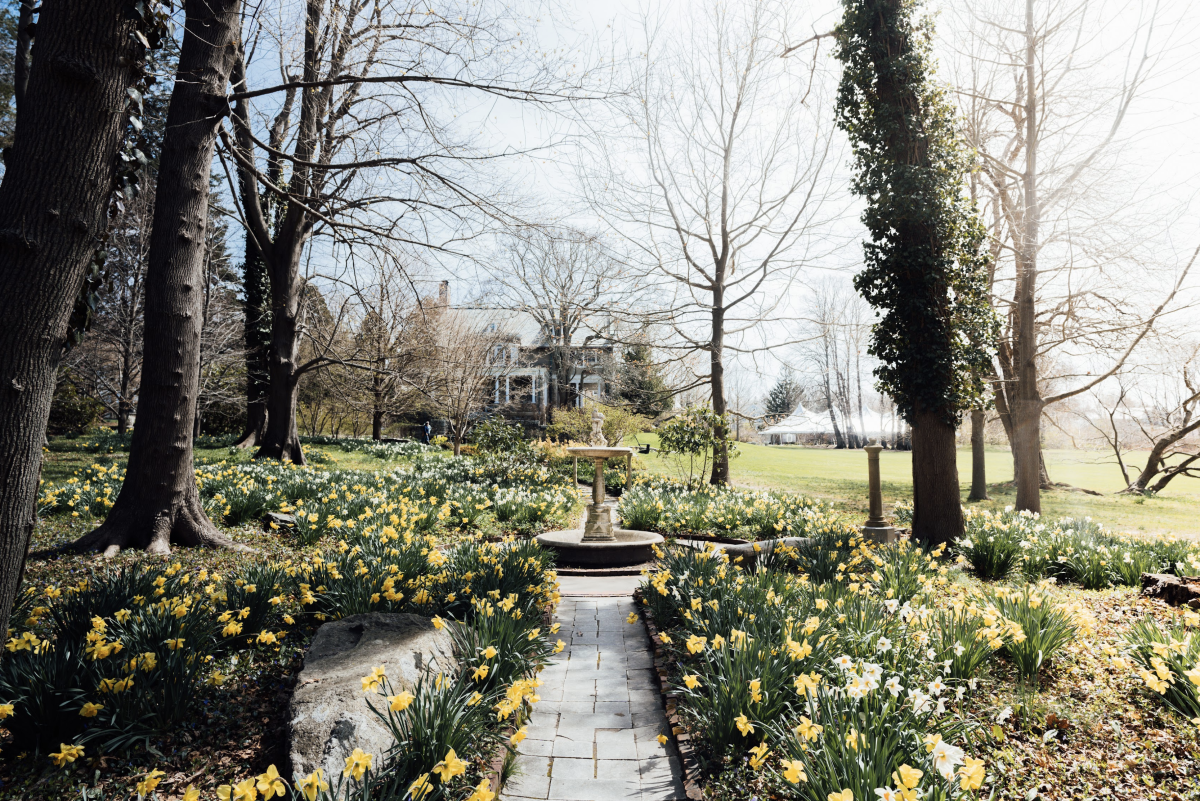 4
Coastal Queen Cruises
Event Cruises aboard the Coastal Queen allow you to see the sights of Newport Harbor from the water, while enjoying added fun! Events Cruises include wine and cheese pairings, live music, and much more!
5
Newport Night Run - A Race for Education
Where:

Newport

When:

April 1st starting at 7:30 PM
The Newport Night Run is a Race for Education that benefits the Newport Public Education Foundation. Newport's only after-hours Road Race!
Headlamps, bright colors, and glow sticks are strongly encouraged!
More Details
6
McCurdy Sailing Opens for the Season
Where:

McCurdy Sailing

When:

Starting April 1st

Cost:

Varies
Itching to get your sea legs out on the water? You are in luck—McCurdy Sailing begins their sailing season starting April 1st. Take the helm or just enjoy the ride as your trip takes you through Newport Harbor to enjoy the crisp spring breeze and start the season strong.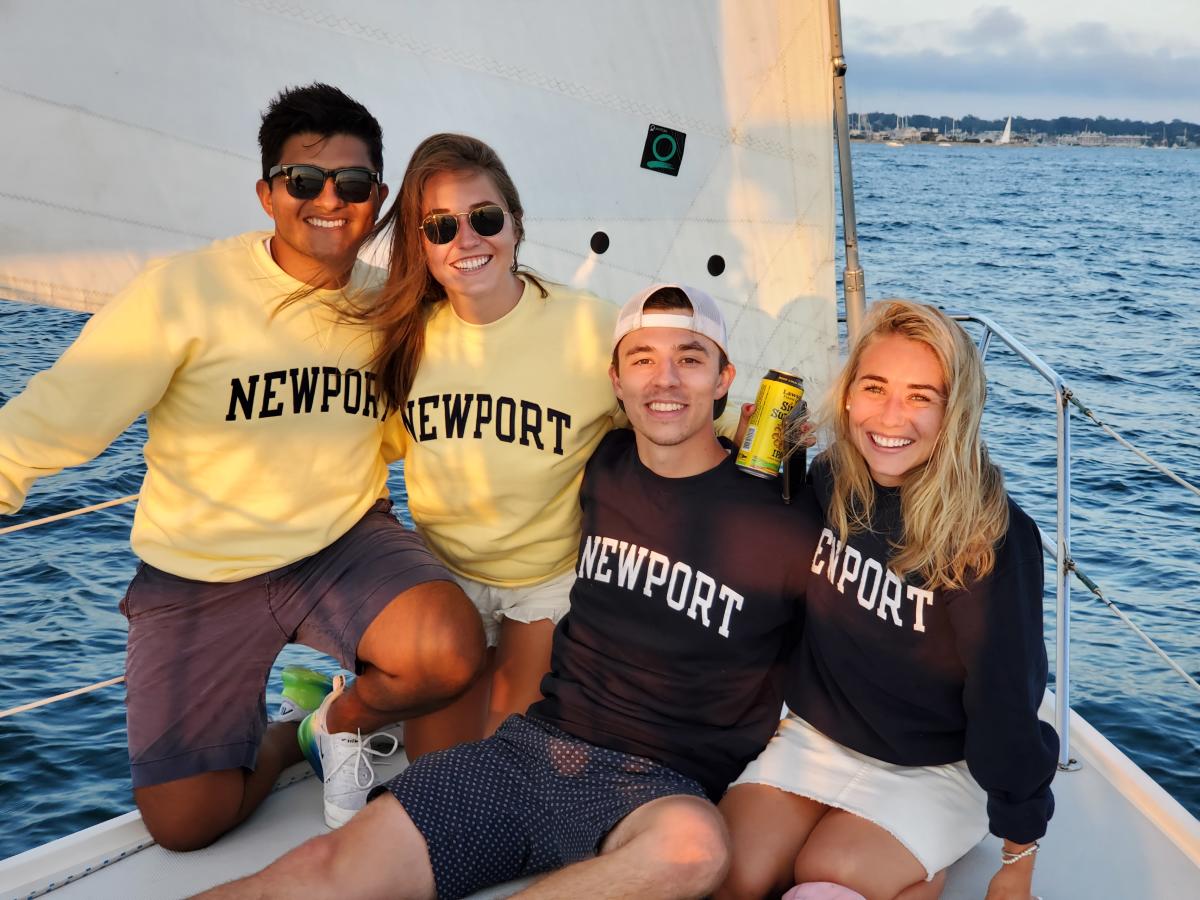 7
Afternoon Tea at Hotel Viking
Where:

One Bellevue Restaurant at the Hotel Viking

When:

Sunday's & Saturday's in April from 2:30 PM to 4:30 PM

Cost:

$49 per person, tax and gratuity not included
Celebrate the art of tea while choosing from a selection of loose leaf tea prepared tableside all while enjoying culinary classics in the Garden Room at Hotel Viking. 
More Details
8
Annual Daffy Dog Paw-Rade
Where:

Downtown Newport

When:

APRIL 2 at 12:15
Dress your dog in daffy attire (then have Fido dress you!) and to Bannisters Wharf at 12:12pm. The paw-rade then steps off, marching to historic Queen Anne Square where the daffiest dressed dog and daffiest dressed human(s) will receive awards and prizes. FREE! 
Brought to you by Bannister's Wharf, The Black Dog and Lucky Dog Resort
MORE DETALS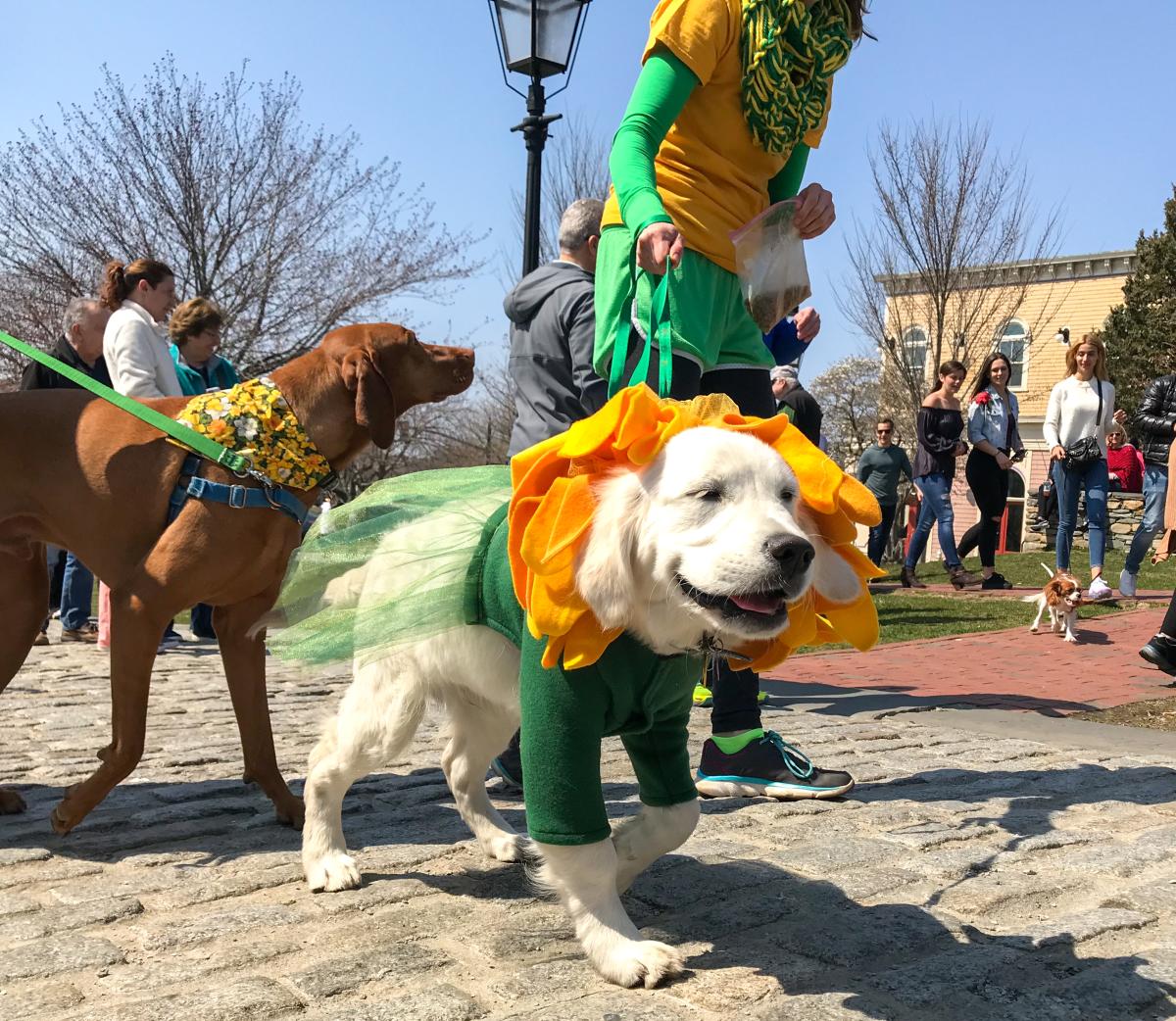 9
Events at Newport Vineyards
From weekly specials, taproot beer nights, live music and seasonal festivals, there is always something fun happening at Newport Vineyards. 
10
Spring Tea in the Dining Room
Where:

Blithewold Mansion, Gardens & Arboretum

When:

Tuesday - Friday, starting April 4th

Cost:

$35 Members | $50 Non-Members
We invite you for Tea in Blithewold's Dining Room, a place where fine meals have always been served to cherished guests. Gather with friends and exchange stories while delighting in a cup of tea, freshly baked scones with sweet cream, and a 3-tiered tray filled with sweet and savory treats. Simply luxurious! Come in, sit down, relax, and enjoy the moment. The price for Tea includes admission to the Mansion and Grounds, so be sure to leave time for strolling!
MORE DETALS
11
Fermentation Class
Where:

Forty 1° North

When:

Wednesdays in April at 6:30 PM

Cost:

$45
Featuring five wine tastings with a special theme or from a particular region accompanied by five small food pairings, Fermentation Class is held at the Oval Bar every Wednesday at 6:30. Reservations are required and this class often sells out.
12
Bike Newport Full Moon Ride
Where:

Equality Park on Broadway

When:

April 6th from 6:45 - 8:45 PM

Cost:

Free
Join us for a lovely evening bike ride along a coastal route that will bring us past scenic harbor, bay, and ocean views – lit first by the setting sun, and then by the rising full moon.
 
MORE DETAILS
13
Blooming Bulbs Workshop with Quintessential Gardens
Where:

Mount Hope Farm

When:

April 6th

Cost:

$70: Mount Hope Members, $75: Non-members
True beauty comes from within; check out the engines on more than 85 maCreate a lovely spring centerpiece with some local blooms!

Enjoy an evening out with friends and Jessica Cook of Quintessential Gardens for, flower arranging, and tasty cocktails from Two Gals Cocktails.
MORE DETAILS
14
The Cocktail Club: One Bellevue at Hotel Viking
Join the One Bellevue Bar team as we guide you through the in's and out's of your favorite spirits and cocktails!
15
Daffodil Bike Ride
Where:

Downtown Newport, Meet at Touro Park

When:

April 8th from 9:30 - 11:00 AM

Cost:

Register for free. Donations encouraged. $5 pp suggested to help plant more bulbs in the fall.
Decorate your bike, wear yellow and join other daffy riders for an easy 4-mile ride to view over 1,350,000 daffodils that will be in bloom throughout Newport, ending at Ballard Park where over 20,000 will greet us. Prize for the best decorated bike and daffiest outfit!
MORE DETAILS
16
Rock & Roll Sushi
Where:

Stoneacre Garden

When:

Thursdays in April
Head to Stoneacre Garden for a night of sushi specials with music—name a better pair. 
MORE DETAILS
17
Easter Egg Hunt at Castle Hill Inn
Where:

Castle Hill Inn

When:

April 8th at 11:00 AM
Search high and low for a variety of prizes hidden all across The Lawn at Castle Hill Inn; one lucky grand prize-winner will receive an overnight stay. Enjoy refreshments and a visit by the Easter Bunny. All proceeds benefit FabNewport.
MORE DETAILS
18
Easter Brunches
Prepared-for-you fetes are just what you need to celebrate Easter Sunday. For more Easter activities, click here. 
19
Stop, Sip, Shop and Go Daffy!
Where:

J McLaughlin, Bbellevue Ave

When:

April 14 from 9:30 AM - 5:30 PM
J. Mclaughlin on historic Bellevue Avenue, pays homage to Daffodil Days today. Have a glass of champagne then shop men's and women's classic clothes with a current relevance – and thank them for giving back to our Newport community. A percentage of all sales will go to Newport in Bloom!
MORE DETAILS
20
The Gilded Age Lecture Series
Where:

The Breakers

Cost:

Price Varies
In this six-part series at The Breakers – a place that epitomizes the Gilded Age – we will journey through an era that gave shape to the country we know today. Our distinguished guest speakers will illuminate the period between the Civil War and the dawn of the 20th century, examining the people, events and inventions that forever shaped our nation's cultural fabric.
21
Green Animals Topiary Garden Opens
Where:

Green Animals Topiary Garden

When:

April 15th
Home to more than 80 topiary animals and other figures for more than a century, Green Animals also blazes with colorful flowers from mid-April through mid-October. See this 7-acre beauty for yourself starting April 15th.
Go Daffy at Green Animals Topiary Garden
Where:

Green Animals Topiary Garden

When:

April 25th & 27th from 2:00 - 3:00 PM
Overlooking Narragansett Bay, this grand estate and gardens feature daffodils galore, plus a collection of topiaries including teddy bears, a camel, a giraffe, an ostrich, and an elephant! At 2:00 PM, join the chief horticulturist for a special tour as he describes the over 19,000 daffodils in bloom, featuring 58 different varieties representing all of the 13 official Daffodil divisions. 380 Cory's Lane, Portsmouth, RI.
Tour included with regular paid admission. Wear your Daffy Pin for discounts!
MORE DETAILS
22
Newport Classical presents Thomas Mesa and Ilya Yakushev
Where:

Emmanuel Church

When:

April 21 at 7:30 PM

Cost:

$45
Powerhouse duo Thomas Mesa, hailed as one of the most charismatic cellists of his generation, and Ilya Yakushev, known for his pyrotechnics on the piano, give a concert featuring music by J.S. Bach and Rachmaninoff, alongside contemporary works by Lera Auerbach and Kevin Day
MORE DETAILS
23
Daffodil Days Spring Fling at the Audrain Automotive Museum
Where:

Audrain Automobile Museum

When:

April 21 from 6:00 - 7:30 PM

Cost:

$50
The enchanting evening among the automotive collection of historic automobiles includes silent and live auctions, raffle, live entertainment and a champagne toast to our Daffodil Day Queen and family.
MORE DETAILS
24
Driving Miss Daffofil Classic Car Parade
Where:

Easton's Beach (First Beach)

When:

April 24, 2022 from 8:00 AM to 11:00 AM
The Audrain Automobile Museum partners with Newport's Daffodil Days to host the 9th Annual Audrain Automobile Museum's "Driving Miss Daffodil." This is your opportunity to cruise past thousands of the over 1,300,000 daffodils planted throughout Newport.
MORE DETAILS
25
Rail Explorers Opens for the Season
Based in Portsmouth, Rail Explorers offers you the chance to ride tandem or quad, custom-built, pedal-powered rail bikes along railroad tracks journeying alongside Narragansett Bay.
Rail bike tours return for the season on April 29th, book your pedal-powered tour here.
GET SOCIAL
Tag your photos #TheClassicCoast for the chance to be featured on our accounts.