Just as 1.2 million hibernating daffodils prepare to make their debut along the city's cobblestone paths and sun-drenched shores, Newport and Bristol counties prepare to celebrate with two annual celebrations.
COVID-19 NOTE:
When you're ready, we can't wait to welcome you back to The Classic Coast! Rest assured, local restaurants, shops, and businesses are doing everything they can to ensure the safety of all. This includes wearing mandatory face coverings, following guidelines put in place by health and government officials, and implementing stringent cleaning practices.
All we ask when you land on these shores is that you play your part in keeping everyone safe. Please be kind, wear a mask, wash your hands, and maintain six feet of social distancing from others.
NEWPORT DAFFODIL DAYS
APRIL 2021
Thanks to the Newport Daffodillion project, Newport is home to 1.2 million daffodils come spring. The city typically celebrates with nine days of events to commemorate the annual Newport Daffodil Days Festival, however this year will look a little different. In keeping with COVID-19 safety restrictions and guidelines on gatherings, the festival has been canceled for the 2021 season. In its place will be a month-long celebration, including socially-distanced celebrations and family-friendly happenings. 
For more information the Newport Daffodil Days Festival, visit NewportDaffyDays.com
DOWNLOAD THE MAP: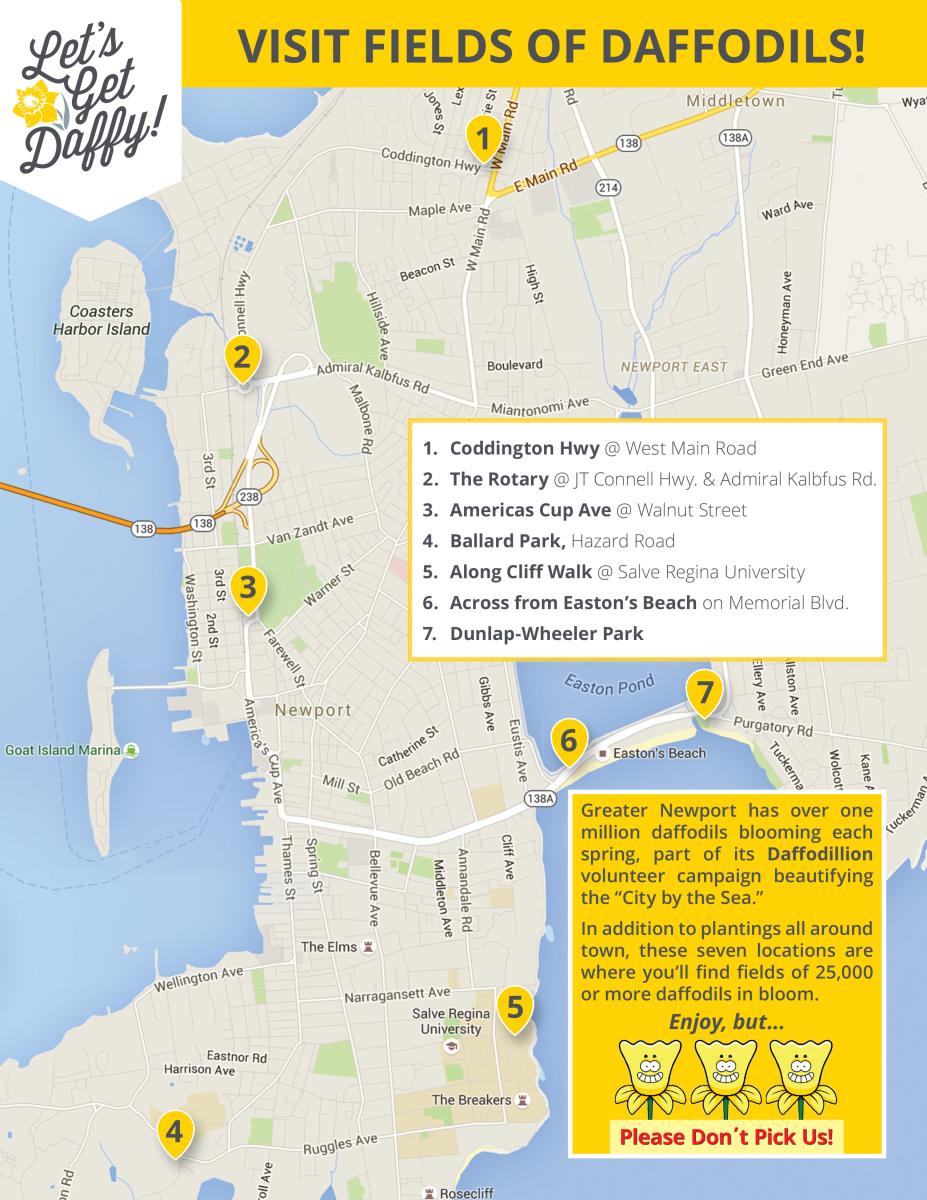 DAFFODIL DAYS AT BLITHEWOLD MANSION
APRIL 9 - MAY 16, 2021
Each April, tens of thousands of daffodils blanket the 33-acres at Blithewold Mansion in Bristol. The well-known daffodil display known as Daffodil Days, welcomes fifty thousand daffodils. Meander the blossom-filled mansion grounds, and keep an eye out for Blithewold's "Don't Miss Moments" featuring photos of the gardens and grounds displaying Mother Nature's bounty on any given day on Facebook and Instagram.
GET SOCIAL
Tag your photos #TheClassicCoast for the chance to be featured on our accounts.