Traveling is about creating unforgettable memories, and when you travel to The Classic Coast, that's exactly what you get. Renowned eateries, some of the oldest sites in the country, miles of sandy beaches and salty air that'll reawaken your soul are just the beginning. When you're looking for a place to rest your head that's out of the ordinary, these unique places to stay have it all. 
Whether you're hoping for a serene stay in a historic lighthouse or an exciting night on a rooftop deck right next to Newport's collegiate baseball field, we've got you covered with some of the most noteworthy spots in town.
1
Rose Island Lighthouse B&B
Ever dreamed of being a lighthouse keeper? Here's your chance. Check-in to Rose Island Lighthouse B&B, a working lighthouse built in 1870 just one-mile off the coast on Rose Island in Narragansett Bay. During the day, the decades-old structure operates as a living museum where you can explore the interior rooms that feel untouched by time, or head outdoors to beach-comb, fish off the rocks, picnic, and wander the 18-acre island and its walking trails. (Note: During the summer months, the hiking trails are off limits to protect nesting birds). 
Come nighttime, experience life away from the buzz of the city as a lighthouse keeper would. Settle into an Adirondack chair and enjoy the night sky without city lights hindering your view of the stars. In the morning, change the linens and have the room back in order before the museum opens. 
2
Moore House
Everything at Moore House looks like it was designed straight from an ethereal dream. This family-run business restores forgotten homes into perfectly-appointed guest stay spaces, each touting its own unique ambiance. This is where the comforts of home meet the amenities of a hotel—only better. Explore their line up of spaces set in Tiverton, including The Quonset Hut, a one-of-a-kind property built to entertain with a hot tub, ping pong table, outdoor bar and even a secret kids room. 
3
Francis Malbone House
Named after Colonel Francis Malbone, a shipping merchant during a time when Newport Harbor was among the busiest harbors in the new world, the Francis Malbone House was built in 1760. Malbone is believed to have smuggled merchandise into the house to avoid taxes, with subterranean passages in the cellar leading to the pier nearly confirming this notion. During the American Revolution, the mansion was seized by the British and used to store looted gold and treasures. In the early 1800s, before the famed Newport Mansions were constructed, Francis Malbone House was said to have been one of the most opulent houses in Newport. Today, the historic house operates as an inn, boasting Queen Anne style furnishings for a nostalgic feeling.
First Timer's Note: Don't miss their afternoon tea, a mid-day tradition of cookies, cakes, tarts, pizza, cheeses, and more sweet and savory delights all baked daily. Served 3:00 - 6:00 PM.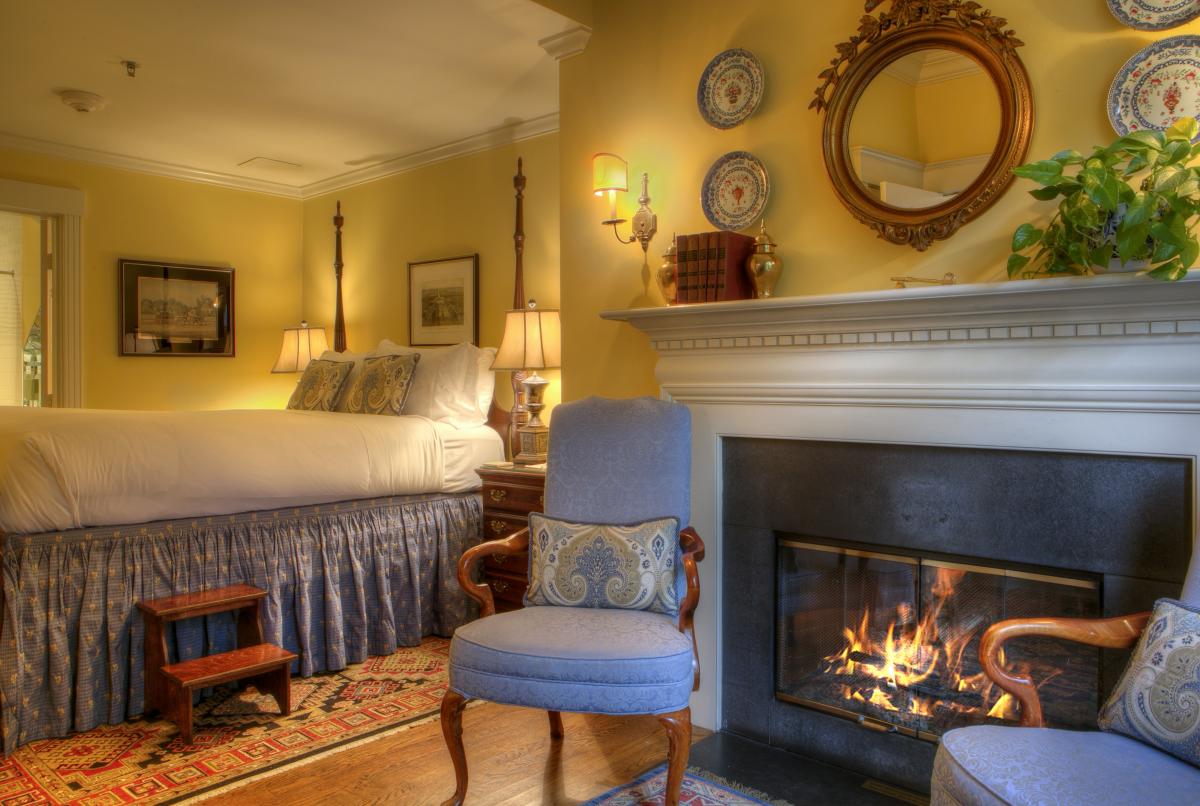 4
Gilded
Enter through the vibrant Brinley Street doors into this 17-room manor house awash in bold hues and whimsical touches. A Lark Hotels property, Gilded—aptly named after Newport's most noteworthy era— fuses the decadence of the Gilded Age with quaint, modern-day charm. Visit the billiards room boasting a black velvet and white lacquer pool table, or enjoy a tranquil afternoon in the secluded courtyard complete with a croquet practice court. In the morning, savor a tapas-style breakfast buffet from the kitchen adorned in bright wallpaper and rich hues for a radiant start to your day.
5
The Clubhouse Suites
For an overnight stay sure to hit it out of the park, head to The Clubhouse Suites. Taking over the former Mudville Pub, this two-unit rental overlooks historic Cardines Field, home to the Newport Gulls (Newport's collegiate baseball league), for an overnight stay full of action. When the game is over, make the short walk to downtown or stay in and enjoy the suite's game room and outdoor deck.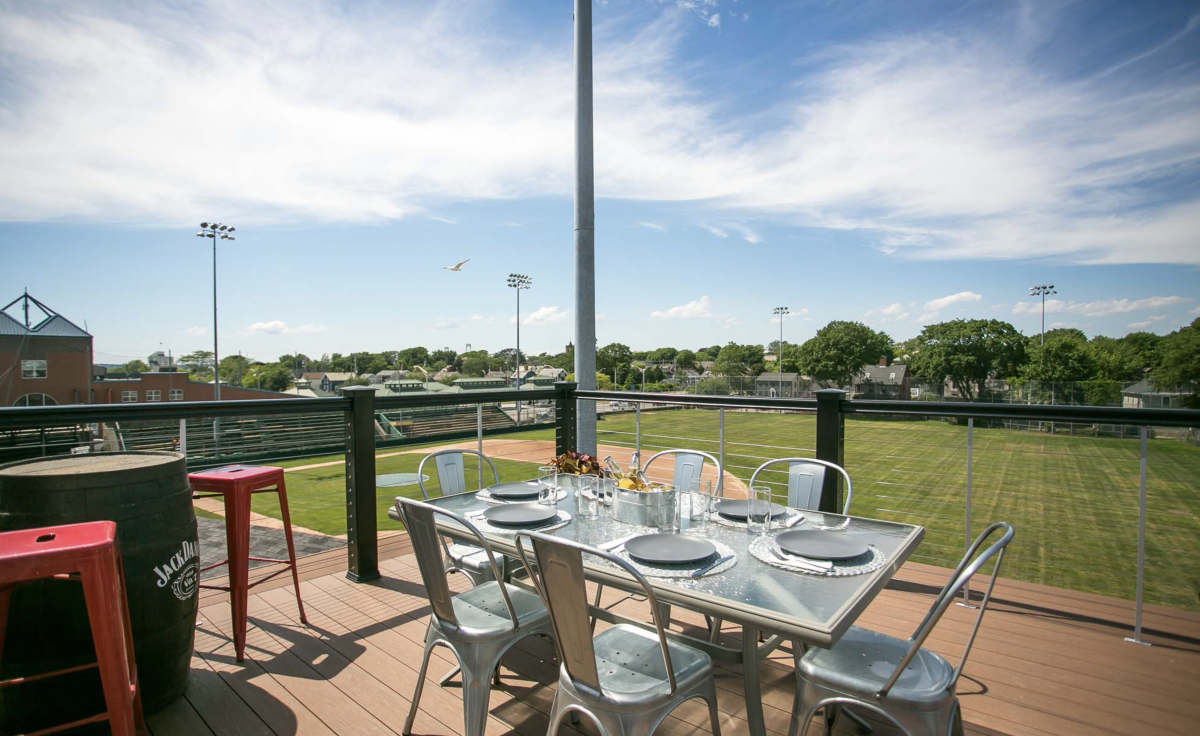 6
Jailhouse Inn
Built in 1772 as Newport's colonial jail and police station, a stay at the Jailhouse Inn today is far more desirable than it was back then. Playful decor touches at this 24-room hotel like the original cell door and bars on the common area windows might conjure the feeling that you're one of building's inmates, but don't worry—you're free to come and go as you please. Listed on the National Register of Historic Landmarks, Jailhouse Inn is conveniently situated steps from some of Newport's most popular districts including Washington Square, Thames Street and Broadway. With comfortable rooms and complimentary breakfast, it would be a crime not to stay here.
7
Hydrangea House Inn
Welcome home! Well, it will feel like it anyway at this quaint inn where old-world charm comes in the form of elegant trims, a warm welcome and thoughtful extras (hint: homemade chocolate chip cookies nightly). Twelve rooms make up the Hydrangea House Inn on Newport's historic Bellevue Avenue, each equipped with a fireplace. Looking for an indulgent experience? Upgrade to premiere accommodations boasting spa tubs for two and steam baths. Plus, there's complimentary wine and cheese served daily in the parlor (we told you, old-world charm.) For a moment away from the hustle and bustle, escape onto one of the inn's porches.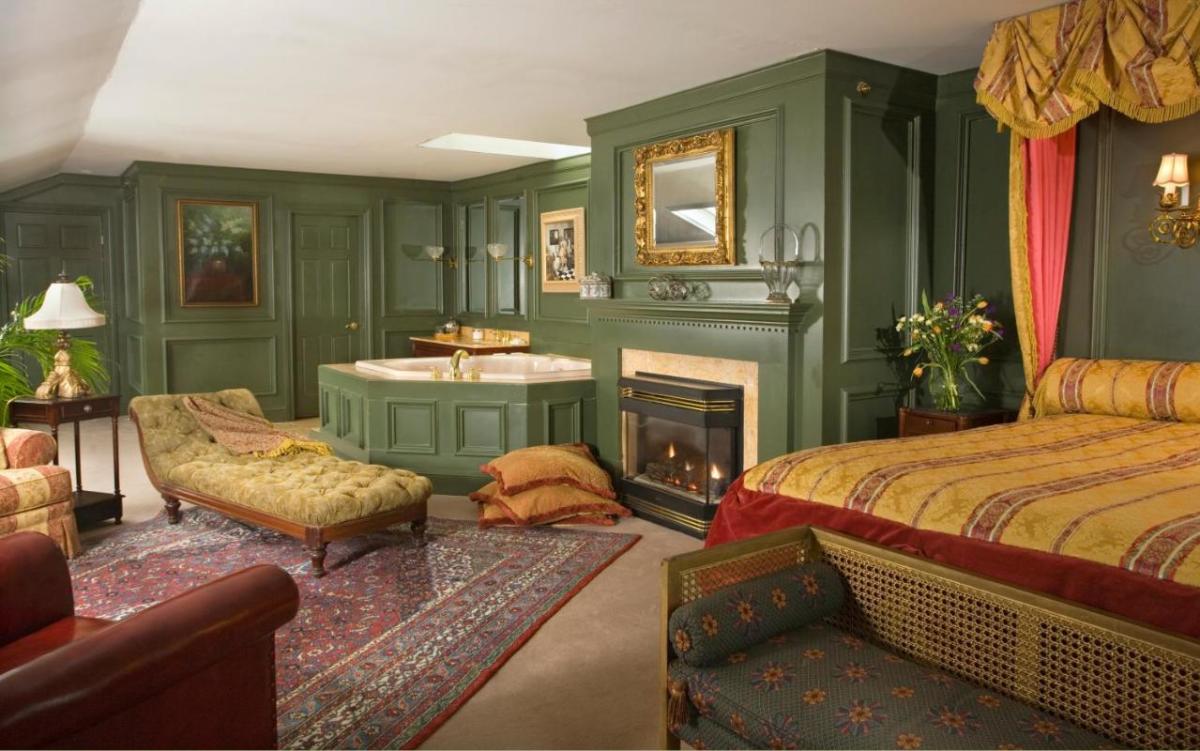 8
The Firehouse Vacation Rental
Taking over the Queen-Anne style building that once housed the Newport Fire Department's Hose Co. 6 in 1892, The Firehouse offers a six-bedroom stay situated on lower Thames Street just steps from one of Newport's most popular shopping and dining scenes. Each of the bedrooms within the main building offers a private bathroom with spa-like offerings alongside a gourmet kitchen and lounge area on the first floor. Head outside around the corner to find the Firehouse Studio—a private space with its own entrance featuring a king-sized bed, private bathroom and kitchenette. The Firehouse is part of The Newport Lofts collection of luxury vacation rentals.
9
Cliffside Inn
Nestled in between Newport's famed 40 Steps at Cliff Walk and First Beach is The Cliffside Inn, a Lark Hotels property and Second Empire Victorian Manor House with 16 well-appointed rooms and suites. A boisterous palette of jewel tones, rich textures and eclectic patterns compliment your experience at this c. 1876 property that used to be Maryland Governor Thomas Swann's summer residence—hence the "Swan Villa" nickname. With gas fireplaces in every room, private outdoor spaces, a wrap-around front porch, parlor and library, Cliffside Inn is an unexpected breath of fresh air tucked away from the buzzing downtown area. Plus, it's no secret their gourmet breakfast is one of the best in town.
GET SOCIAL
Tag your photos #TheClassicCoast for the chance to be featured on our accounts.