They say every day you should do something for the first time. When you visit Newport, your possibilities are truly endless. Whether you're looking for a day of family-fun adventures or a romantic escape for two by the sea, this small but memorable coastal haven has just what you need.
Savor classic New England flavors at a number of award-winning eateries, experience life in the Gilded Age when you visit the summer "cottages" (you know, those opulent, seaside mansions) of America's wealthiest families, or wander the 3.5-mile cliff walk for one of the most scenic walks of your life, guaranteed. 
The perfect-for-you journey awaits just over the bridge.
COVID-19 NOTE:
When you're ready, we can't wait to welcome you back to The Classic Coast! Rest assured, local restaurants, shops and businesses are doing everything they can to ensure the safety of all. This includes wearing mandatory face coverings, following guidelines put in place by health and government officials, and implementing stringent cleaning practices.
All we ask when you land on these shores is that you play your part in keeping everyone safe. Please be kind, wear a mask, wash your hands and maintain six feet of social distancing from others.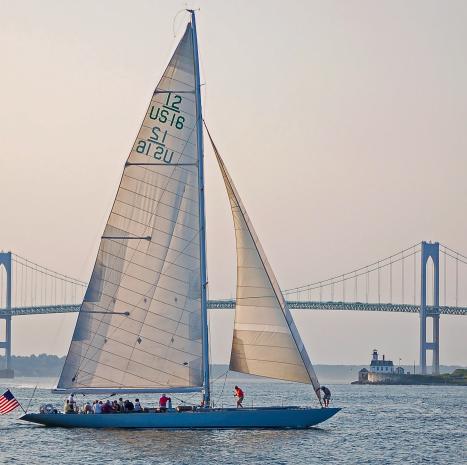 Earn Your Sea Legs
You didn't think we'd let you visit the Sailing Capital of the World for the first time without earning your sea legs, did you? Climb aboard a legendary America's Cup 12 meter & help raise the sails as you head out through the harbor. (Open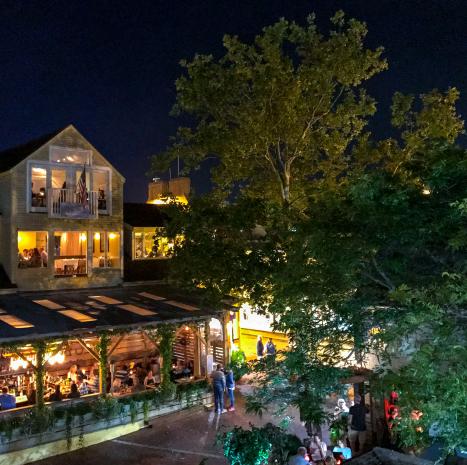 Bowen's & Bannister's Wharves
Cobblestone paths lined with unique boutiques, cozy eateries, exquisite galleries right on the harbor make these bustling wharves a must-visit.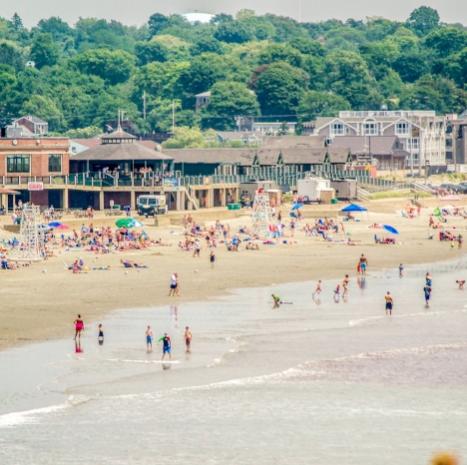 Beach Days
More than 400 miles of coastline affords beautiful beaches and sprawling seasides on the Classic Coast. Whether you're looking to bask in the water, or sink into a beach chair with your toes in the sand, our beaches have just what you need.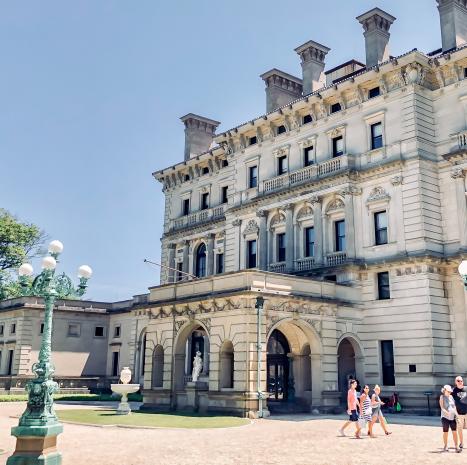 Gilded Age Mansion Tours
Experience life of high society in turn of the century America inside the former summer "cottages" of America's wealthiest.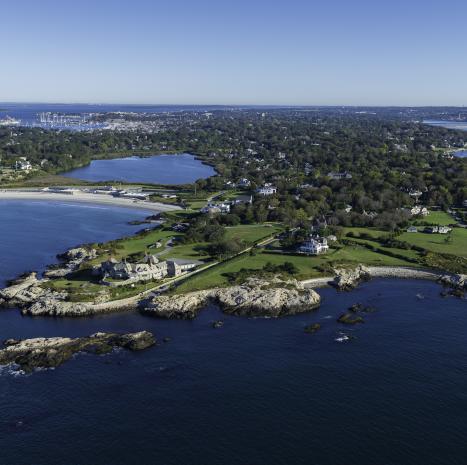 Newport from Above
A little perspective never hurt anyone, and the same rings true when you visit Newport. Your visit here just might take you to new heights. Because that's where some of the best views are, after all.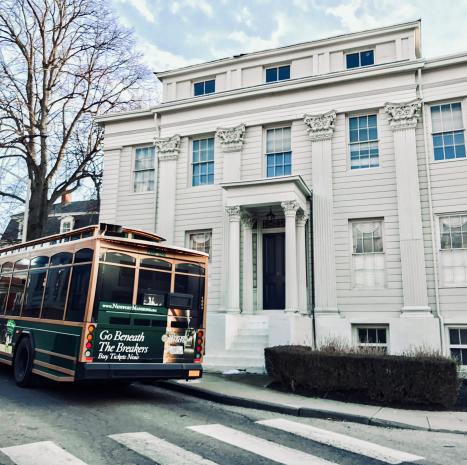 Trolley Tours
With so much to see and do, you might need a little help. Hop aboard a Trolley Tour for a 1.5-hour journey through the city hitting all the major sights.
ICONIC SIGHTS
CLIFF WALK
One of Newport's most famed attractions, Cliff Walk affords breathtaking scenery with 3.5 miles of rocky coastline and crashing waves on one side, and stunning Gilded Age mansions on the other. It's unlike anything else in the world. 
OCEAN DRIVE
Think: 10 miles of breathtaking coastline meets one winding road. Start your journey just off of historic Bellevue Avenue and continue traveling for a serene journey. Along the way, park the car at Brenton Point State Park to admire the scenery. Warning: May cause severe relaxation.
INTERNATIONAL TENNIS HALL OF FAME
Step foot on the historic grass courts at the International Tennis Hall of Fame where legends have played. Wander inside the museum where nearly 2,000 objects are displayed from the International Tennis Hall of Fame's collection of more than 25,000 tennis artifacts. Experience interactive exhibits, test your knowledge of the sport on a five-foot touch table, and get up close to tennis legend Roger Federer's hologram. You don't have to be a tennis lover to be blown away.
REDWOOD LIBRARY & ATHENAEUM 
History hides behind every corner here. Take a stroll down Bellevue Avenue past Redwood Library, established in 1747 and the oldest lending library in continuous operation in the country. During the Revolutionary War, the library served as an officer's club for the occupying army. 
NEWPORT VINEYARDS
Newport Vineyards boasts an extensive vineyard, a 100% from-scratch menu at Brix Restaurant overlooking the vineyard and barrels, an extensive tasting room, and a newly opened brewery all on their 60-acres of land in Middletown. Savor locally crafted beer and wine, plus live music on the weekends.
FORT ADAMS
The largest, most sophisticated fortress in the country, Fort Adams is nestled in Fort Adams State Park, offering panoramic views of Newport Harbor and Narragansett Bay. View the quarters where officers lived, ascend to the scenic overlook for aerial views of the harbor, or explore the underground network of tunnels buried deep beneath the Fortress's defenses.
LOCAL FLAVORS
A bowl of killer clam chowder after a day in the sun. A platter of oysters hauled from local waters. Catch of the day served over a menagerie of fresh, straight-from-the-farm offerings. Our Classic Coast is nothing if not a culinary oasis.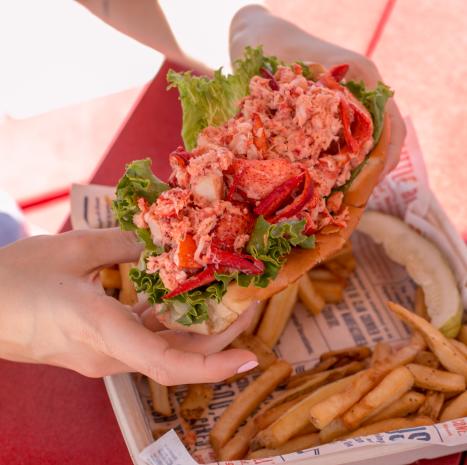 Classic Lobster Roll
Blount Clam Shack's menu may lack dollar signs, but nothing else. Their giant lobster roll is made with 1/2 pound lobster chunks and served anyway you choose -- tossed in housemade dill mayo or served with warm butter.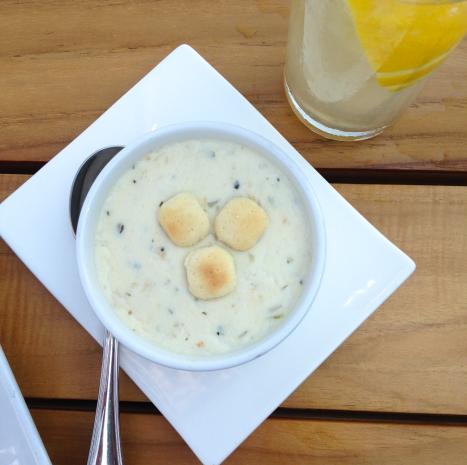 New England Clam Chowder
Nestled in the heart of historic downtown Newport you'll find The Black Pearl, home to world-famous, creamy, authentic New England Clam Chowder. This house recipe has been the same for four decades. Why mess with success?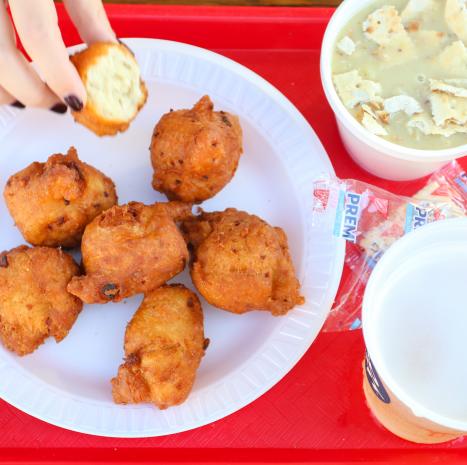 Clam Cakes
Think: clam doughnut. Deep fried batter meets chunks of chopped clam in this Rhode Island staple. Head to Flo's Clam Shack for an award-winning batch.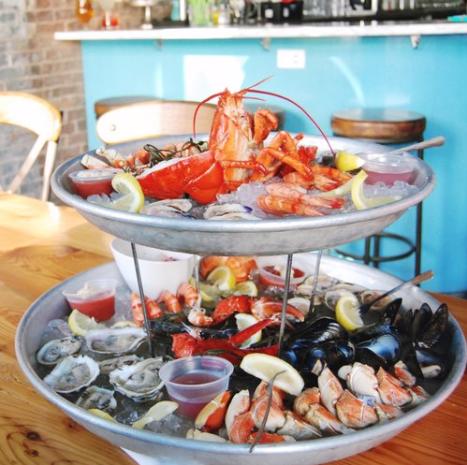 Seafood Tower
This breathtaking display at Scales and Shells in Fifth Ward is brimming with oysters, shrimp, littlenecks, cherrystones, calamari salad, poached mussels, crab legs, lobster and more.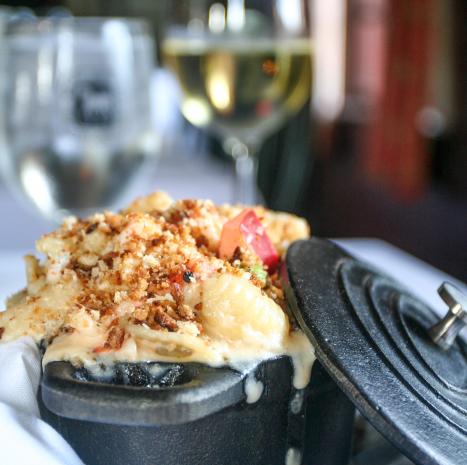 Lobster Mac & Cheese
Settle into America's oldest tavern, White Horse Tavern, for a serving of decadent Lobster Mac & Cheese bursting with native lobster, and three varieties of cheeses all served in a personal-sized cast iron pot.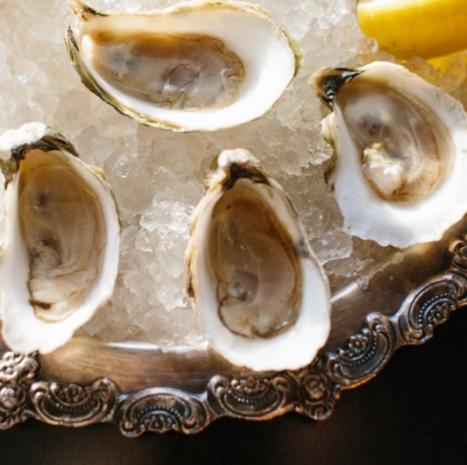 Oysters on the Half Shell
Few things can top a freshly shucked, perfectly chilled oyster. Luckily, you won't be hard-pressed to find a whole lot of that around here. Being an island, local seafood is kind of our thing.
GET SOCIAL
Tag your photos #TheClassicCoast for the chance to be featured on our accounts.