As foodie tradition dictates, oysters are best when harvested in months with the letter 'r'—September to April—when cool temperatures signal them to plump and sweeten for winter hibernation. That being said, this rule may have had some notoriety in the past and still might bring the most flavor to the bivalves, but now in the days of refrigeration, oysters are always in season. 
Where better to get your fill than right here in the Ocean State, where more than 50 farms along the coastline are growing bivalves. As always, please follow food safety guidelines when consuming raw oysters. 
Here are the best spots to slurp in and around Newport. 
22 BOWEN'S WINE BAR & GRILLE
A classic harbor-side restaurant with indulgent food, sophisticated charm, and al fresco seating in the warmer months, 22 Bowen's is situated amid the buzz of Bowen's Wharf. Order from the raw bar where options include oysters, chilled shrimp, littleneck clams, the Grand Shellfish Tower and more. 
@ THE DECK
Located at the end of Waite's Wharf, @ The Deck offers premium waterfront views from both inside the restaurant and when dining al fresco. Sip on a cocktail and choose from a selection of Oysters for market price, served during lunch and dinner. 
BAR AND BOARD BISTRO
From the owner of Alex and Ani and Carolyn's Sakonnet Vineyard comes Bar and Board Bistro, an upscale, chic restaurant located in a former bank and known for New England cuisine with a Mediterranean twist. Make your way past the historic vault (we told you, it's an old bank) to the back of the first floor to find yourself at the raw bar. When you've had your fill of oysters, head upstairs to the Leopard Lounge boasting Bellevue Avenue inspired decor and Newport-themed cocktails.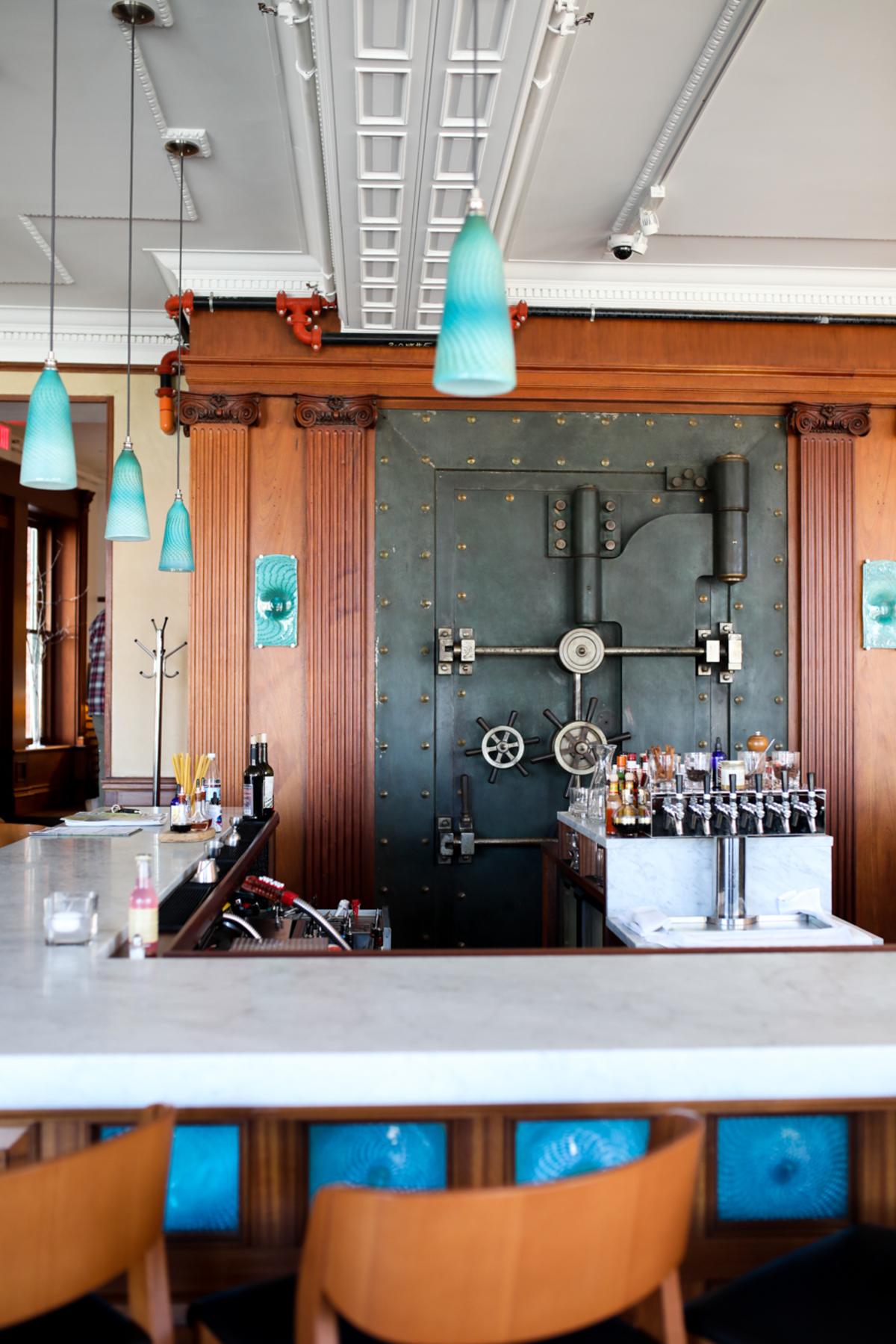 BENJAMIN'S RAW BAR
This three-story neighborhood restaurant has it all: a casual working raw bar on the first floor, classic dining on the second floor, and an open-air bar and dining room known as the "Crow's Nest" on the third floor. When nothing but oysters will do, find a seat on the first floor and get ready to indulge.
SPECIALS
THE BLACK PEARL
The Black Pearl is kind of a Newport icon. It opened in the 1970s and still maintains its dark interior and creaking floorboards. Aside from world famous, award-winning clam chowder, you can order native oysters on the half shell in their Commodore Room, tavern and waterside patio located smack dab in the middle of Newport's historic Bannister's Wharf.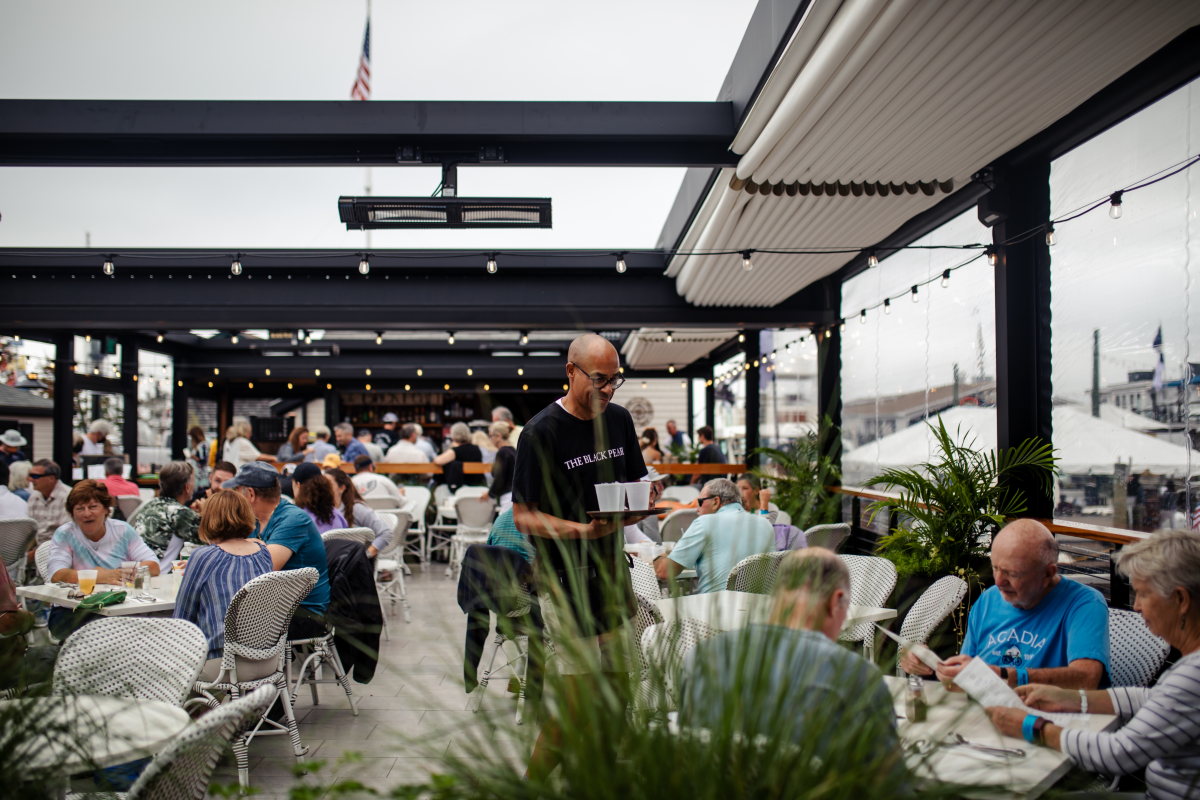 THE DINING ROOM AT CASTLE HILL INN
It's almost like you're escaping to a remote island when you make your way over to Castle Hill Inn. Their upscale, elegant dining room offers 180 degree views of the bay and overlooks a 42-foot high flagpole built to replicate the mast and rigging used on the 1905 Herreshoff NY-30 class sailing yachts. Essentially, you feel like you're dining on an exclusive ship. 
Pro tip: In the warmer months, head outside to The Lawn—a Newport icon. Spotted with Adirondack chairs overlooking the bay, you can order raw bar offerings, charcuterie and small bites.
CLARKE COOKE HOUSE
Few things scream Newport quite like oysters on the half shell at Clarke Cooke House. This Newport staple adorned in America's Cup prints and sailing memorabilia on Bannister's Wharf overlooks the Newport Harbor and evokes classic coastal vibes. With a full working oyster bar, oysters here are more of an experience than simply a dining option. At the end of the evening, make your way upstairs to the sky bar for unparalleled views and dancing.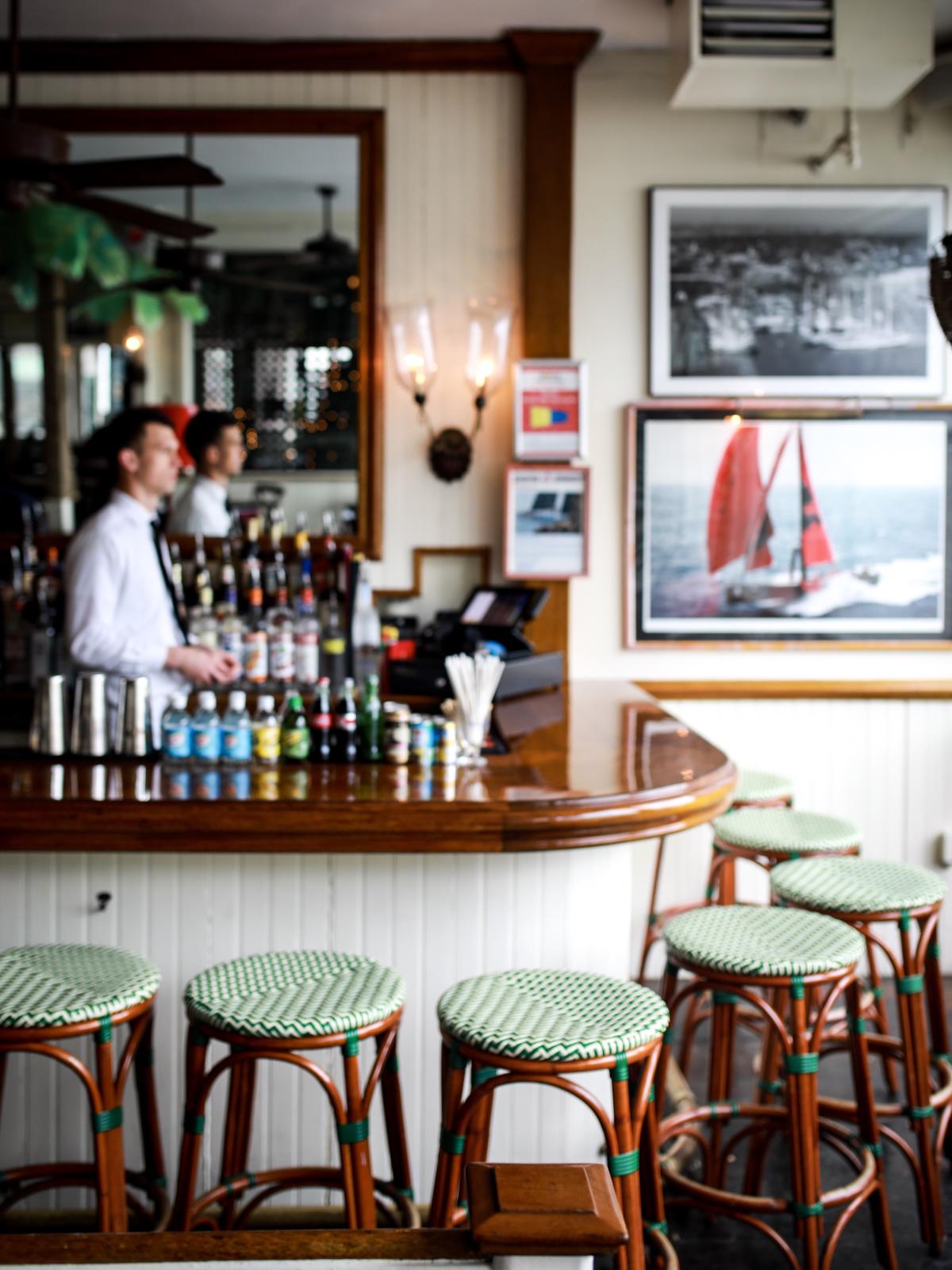 GIUSTO NEWPORT
Located at the new Hammett's Hotel on the waterfront in downtown Newport, this freestyle Italian restaurant is the first solo venture from renowned Executive Chef and Rhode Island native Kevin O'Donnell. His original take on Italian dining comes complimented by a carefully crafted bar program offering a mix of classic and reinvented cocktails, beer from local breweries and a predominantly Italian wine list. As for the menu, think small but robust, with offerings including rotating varieties of local oysters, mafaldine, polenta, beef Milanese and more.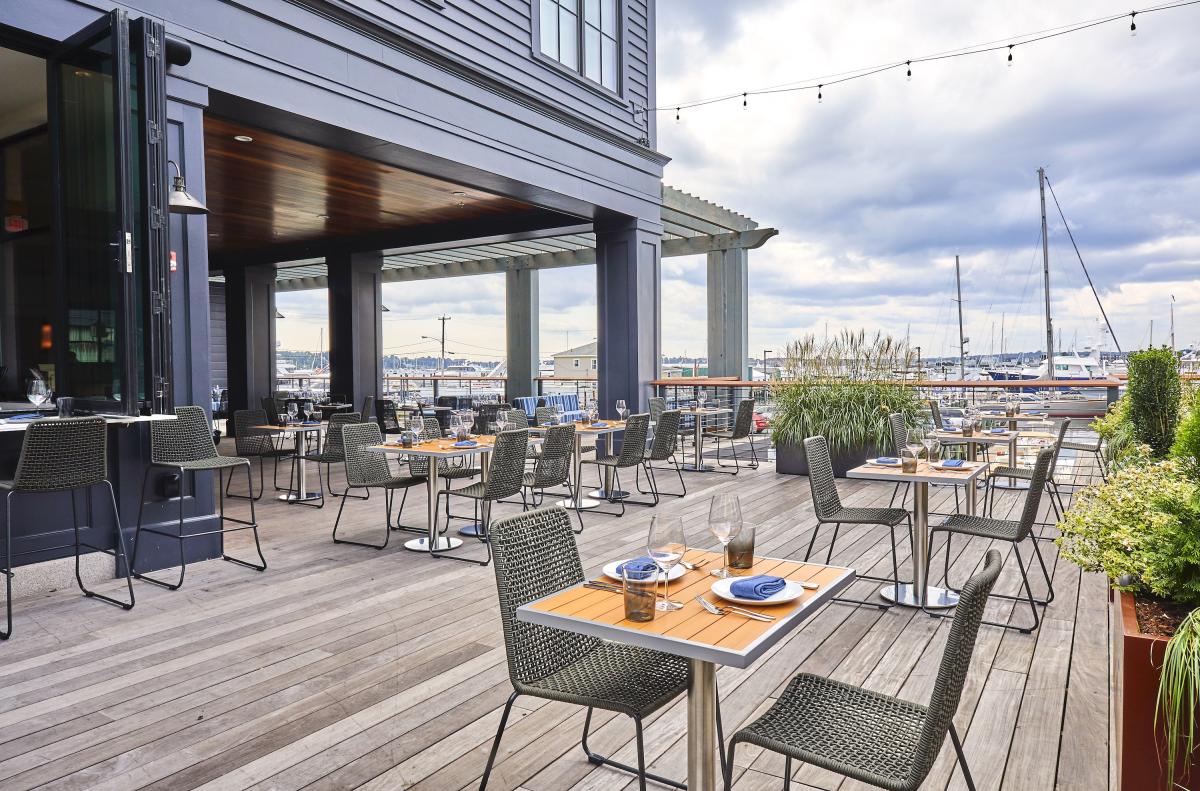 THE GRILL AT FORTY 1 NORTH
Enjoy a moment of respite from the bustling downtown wharves at The Grill at Forty 1 North. This elegant restaurant located inside an award-winning hotel offers upscale dining and an intimate experience. Oysters here are served by the half dozen, alongside other raw bar options including littleneck clams, half Maine lobster, colossal shrimp cocktail and more.
In the warmer months, head outside to The Pavilion, a modern outdoor bar situated on Newport Harbor overlooking the iconic Newport Bridge with area sofas and armchairs.
KNOT NORM'S
Seafood lovers, this is your spot. Knot Norms originally opened doors in Norwalk, CT and recently expanded to a second location on Newport's Thames Street in the former Vieste location. The menu at this neighborhood eatery is full of staples from the sea, including one of the most popular lobster rolls around. The oyster selection varies, but always features fresh, local varieties.
THE LANDING
Go for the oysters, stay for the views. Located dockside at the end of Bowen's Wharf, The Landing dishes out commanding views of Newport Harbor and plenty of fresh seafood and raw bar options. Note: The Landing is open seasonally.
MIDTOWN OYSTER BAR
Midtown Oyster Bar is the area's largest working raw bar with three floors of dining space and two outdoor decks: one overlooking bustling Thames Street and the other overlooking Newport Harbor. The chef's corner tucked away in the back on the first floor is your spot for local catch and freshly shucked oysters.
THE MOORING
A lively atmosphere, 180° harbor views and locally sourced cuisine compliment your experience at this Newport staple. Raw bar options here include your choice of three oyster varieties, littlenecks, chilled white Mexican shrimp, lobster claw and more.
In the warmer months, head outdoors to their mahogany deck with pristine water views.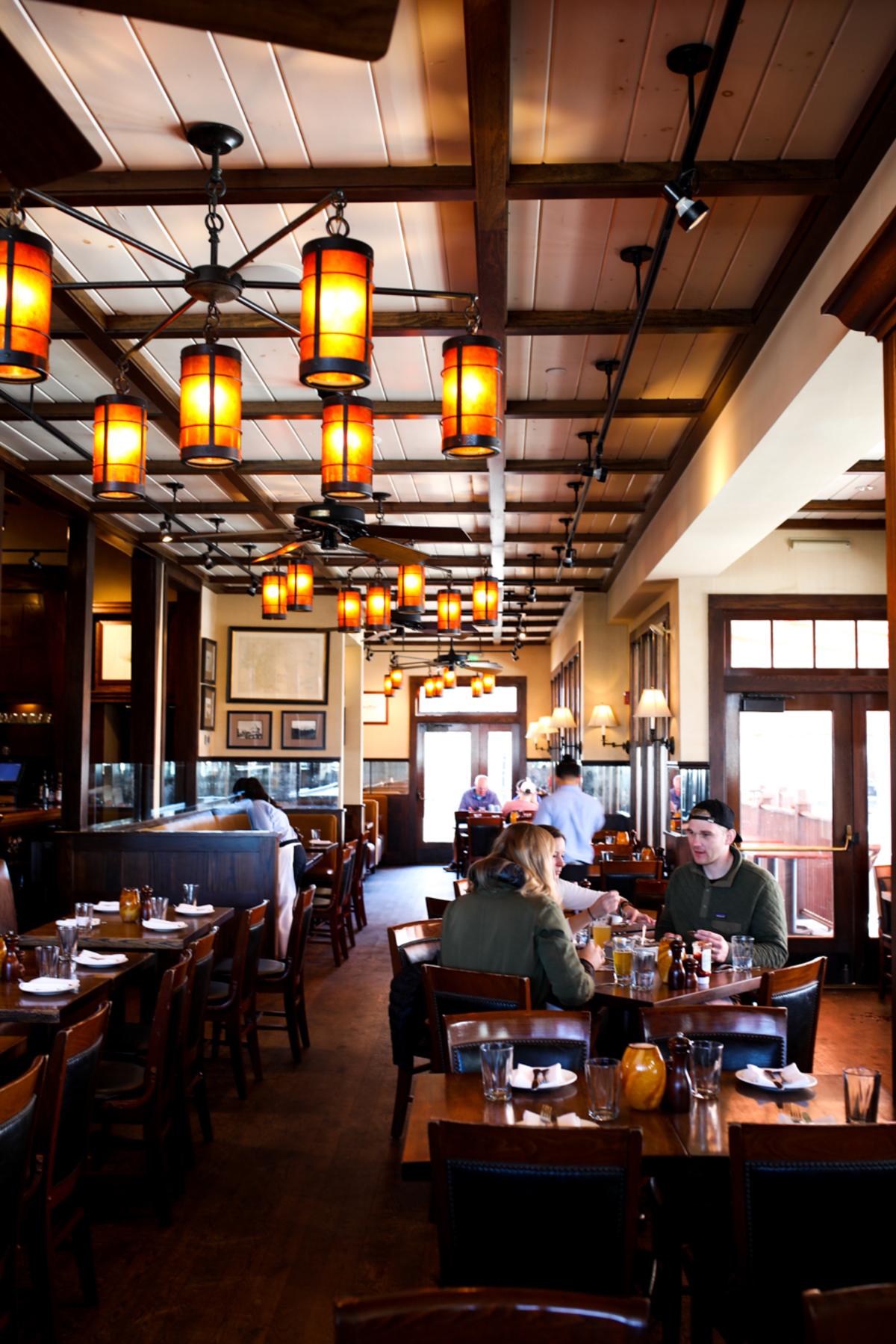 NOREY'S
What started as a breakfast and lunch spot in 2000 quickly transformed into a culinary haven of craft beer and modern American fare nestled in Newport's Broadway district. The craft beer offerings at Norey's are constantly in rotation, while the menu remains consistently crave worthy, offering shared plates, salads and sandwiches alongside a collection of unexpected entrees like seared soft shell crabs and Asian lettuce wraps. Oyster options here vary. 
SCALES AND SHELLS
With a name like Scales and Shells, expectations for the best seafood around are high—and they never fall short. This fairly casual restaurant has an open kitchen concept and a menu filled with robust, top of the catch offerings. High tops and plenty of bar seating make this the perfect place to slurp back some fresh oysters.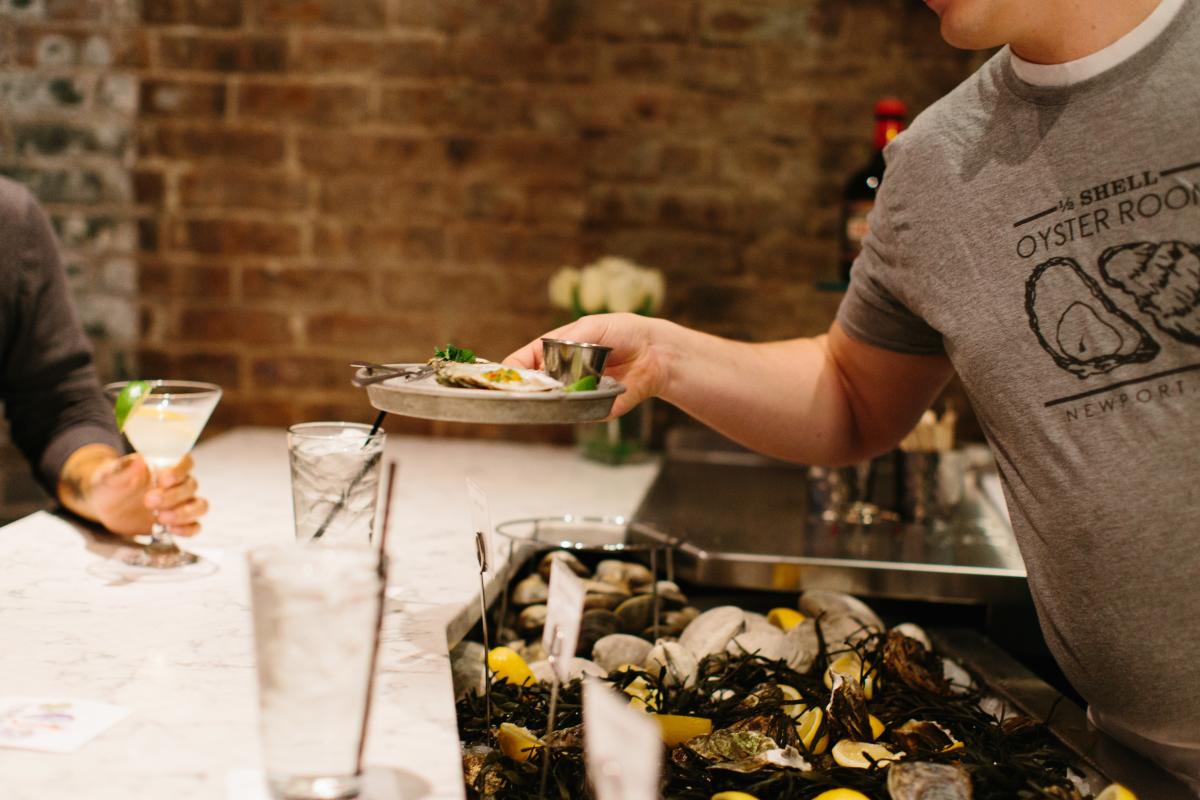 SKIFF BAR
Located inside the Newport Marriott, Skiff Bar offers a menu of craft and local brews, specialty cocktails, and savory appetizers like flatbread pizzas, signature wings and more.
In the summer months, head outside to their outdoor deck overlooking the harbor for comfy seating and sea breeze. 
TAVERN ON BROADWAY
Inside a recently renovated 200-year-old Colonial building on Broadway is Tavern on Broadway. A menu of locally sourced American fare, wings with 14 different flavor options, pizza and tavern classics round out your experience here. When it comes to oysters, order up varieties of your choosing and get crazy and opt for the oyster shooters. 
SPECIALS
Wednesdays 4:00 - 9:00 PM: $1 oysters and clams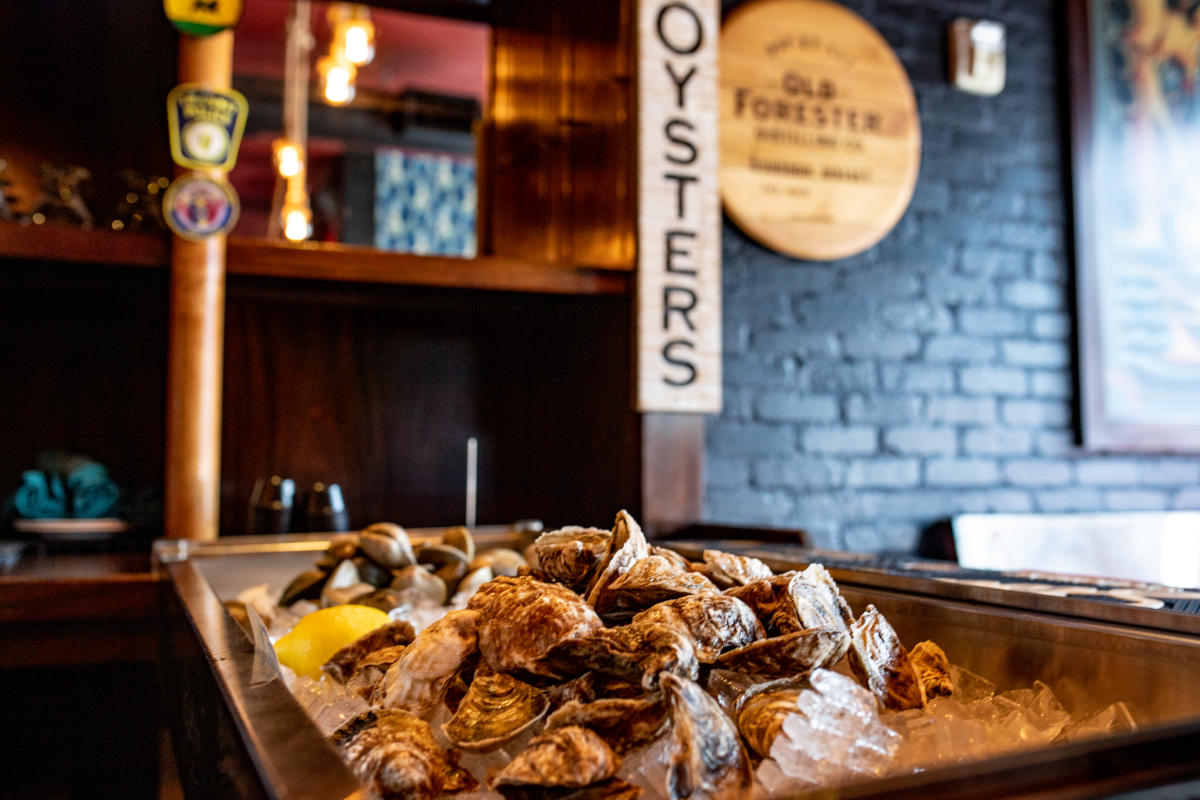 THE WHARF SOUTHERN KITCHEN
This eclectic restaurant nestled on Bowen's Wharf in downtown Newport serves up southern style cuisine with New England ingredients. Think: fried oyster po-boys and seafood jambalaya. The oyster varieties here rotate, and can be ordered by the half dozen or dozen alongside your choice of traditional cocktail or pickled watermelon mignonette. 
WHITE HORSE TAVERN
White Horse Tavern opened in 1673 and to this day maintains its distinctly Colonial clapboard walls and gambrel roof. For more than 100 years, the building served as the meeting place of the colony's General Assembly, Criminal Court, and City Council. Savor a seasonal menu of classics with a modern twist, all alongside cavernous fireplaces and some tales of haunted history. Raw bar offerings include local New England oysters served by the half dozen or by the dozen. 
FLO'S CLAM SHACK
Featured on Food Network's Best of Rhode Island, Flo's Clam Shack has been a staple for life-changing seafood in Newport since 1936. Grab a menu and place your order at the counter. Their fresh raw bar has everything you're craving from a raw bar: littlenecks, clams casino, crab legs, jumbo shrimp, and of course, oysters. For a worthwhile view, head upstairs to the front sun room overlooking Newport's First Beach.
Note: Flo's is open seasonally.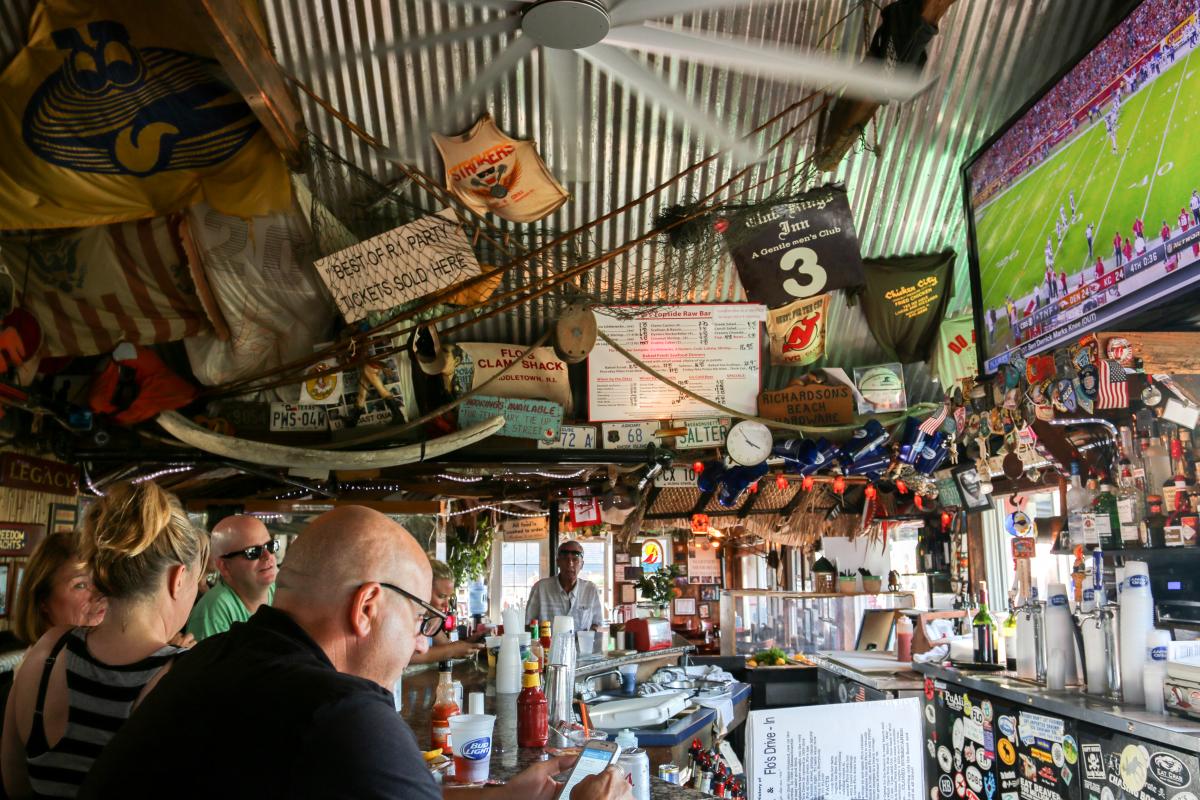 JOHNNY'S 
Johnny's is located on the historic grounds once owned by John Clarke, the founder of Newport. Part of the Wyndham Newport Hotel in Middletown, the restaurant is an homage to the iconic beachfront restaurant that was opened in 1938 at the Atlantic Beach Club. The menu is eclectic with offerings ranging from seafood to pasta and sandwiches, and their outdoor patio comes equipped with scenic views of the reservoir. Oyster options here rotate and are served with cocktail sauce and horseradish. 
FLO'S DRIVE-IN
Welcome to the OG Flo's Clam Shack. Originally opened in Portsmouth in 1936, the renowned shack started as a chicken coop moved from Flo's farm to Island Park. The drive-in location serves most of the favorites from the Middletown location, including award-winning clam cakes, homemade 'chowda,' stuffed quahogs (a Rhode Island staple), and combo plates.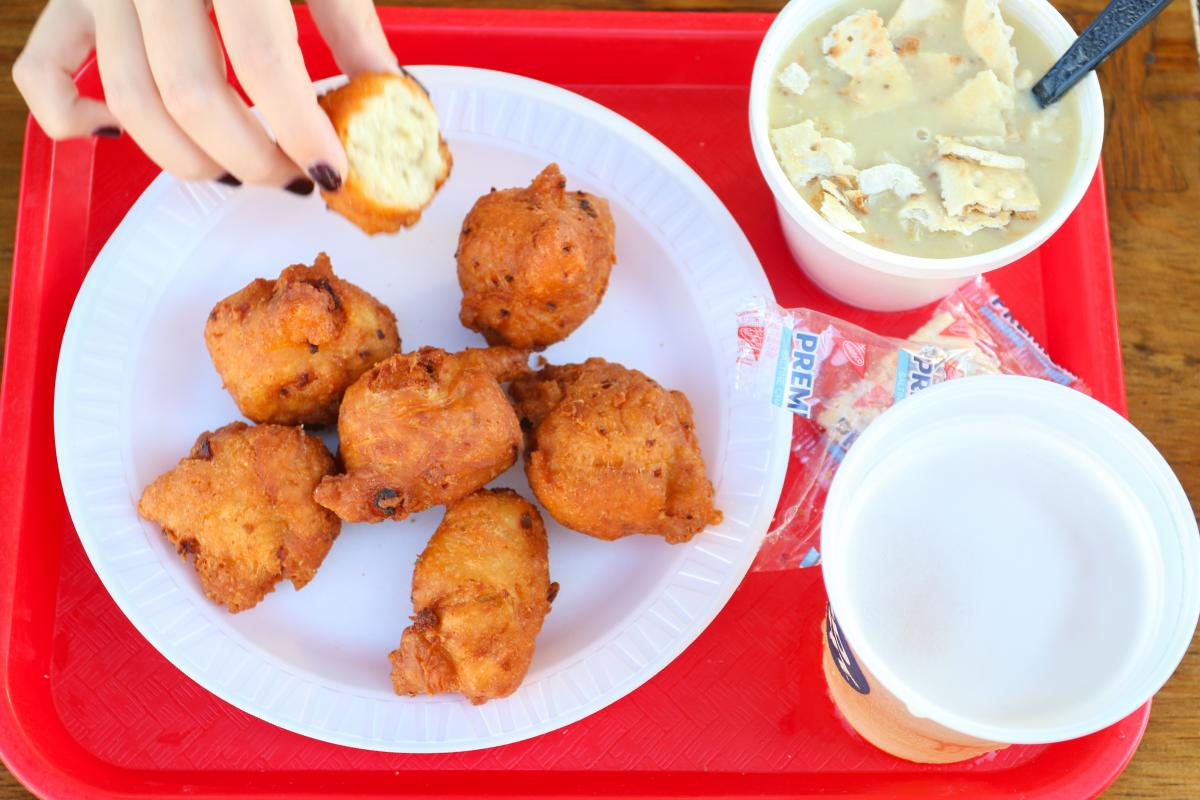 GULF STREAM BAR & GRILLE
Locally sourced ingredients take on an innovative twist at Gulf Stream Bar & Grille where the menu fuses New England flavors with recipes from regions along the Gulf Stream. Located in Narragansett Bay's largest marina, this is your spot for comfortable, casual dining with a water view. Choose from local oyster varieties including Walrus and Carpenter Oysters out of Jamestown, Aquidneck Island Oyster Co.'s Aquidneck Cups out of Portsmouth, and American Mussel Harvesters' Harvest Moon variety out of East Passage.
PORTSMOUTH PUBLICK HOUSE
This neighborhood restaurant located in Portsmouth's Clock Tower Square offers up a menu filled with a little bit of everything: soups and salads, robust sandwiches, wings, burgers, and a variety of entrees including turkey dinner, multiple variations of mac & cheese, shrimp scampi and more. The raw bar features a daily selection of local oysters alongside shrimp cocktail, littlenecks, and platters. 
WALRUS & CARPENTER OYSTER BAR
Nothing like enjoying oysters on the day they're harvested overlooking the ocean where they're grown. The farmstand located at Dutch Harbor overlooking the harbor in Jamestown is home to Walrus & Carpenter Oyster Bar, serving up fresh oysters from WCO's two oyster farms in Jamestown and Charlestown. While it's a take-out operation, there's plenty of picnic tables to indulge at while enjoying the view. 
Note: Walrus & Carpenter Oyster Bar is open seasonally. 
BOAT HOUSE
Voted among the 100 best al fresco restaurants in America by OpenTable, Boat House in Tiverton resides on a bluff over the foot of the Mount Hope Bridge offering seriously relaxing views of the bay. In the warmer months, head to the outside patio to savor their selection of local oysters. 
EVELYN'S DRIVE-IN
This family-owned seafood shack is located on Nanaquaket Pond in quaint Tiverton and has been a fixture of Rhode Island since its inception more than 40 years ago. Aside from scenic views, you'll find all your seafood favorites, like fried clams and traditional RI clam chowder, plus a few items with a twist, like lobster chow mein. 
Note: Evelyn's is open seasonally.
THE RED DORY
Specializing in Mediterranean inspired farm-coast cuisine, The Red Dory in Tiverton is highlighting the freshest ingredients sourced from local farms and fishermen. With views of the Sakonnet River, and al fresco seating in the warmer months, enjoy selections from their raw bar where options include oysters, shrimp cocktail, fluke ceviche, yellowfin tuna poke and more.
BRISTOL
BRISTOL OYSTER BAR
Bristol Oyster Bar is nestled in downtown Bristol in an 1857 brick building that was previously used as a Customs House, Post Office and YMCA. Its inviting atmosphere (think: open kitchen and massive windows for lots of light) and charming outdoor patio overlooking historic Main Street are the perfect scene for the classic New England fare that spans their menu.
SPECIALS:
Monday - Wednesday: $1 oysters
DEWOLF TAVERN
Located in what was previously the 1818 DeWolf Rum Distillery on Thames Street Landing is DeWolf Tavern, a harborside restaurant with entrees you would expect of a restaurant located on the bay: stuffed lobster, swordfish, and salmon, to name a few; but you'll also see a good deal of Indian influence thanks to Chef Sai Viswanath. Raw bar offerings here include oysters, jumbo shrimp, and littlenecks. 
THE LOBSTER POT
Make your way over to The Lobster Pot for a taste of classic New England flavor. Opened in 1929, this seaside eatery offers traditional New England fare with a menu largely based on what's fresh from the market. Seafood lovers, feel free to build your own raw bar plate complete with oysters, littlenecks, shrimp and lobster cocktail to your heart's content.
QUITO'S
A family-owned restaurant in Bristol known for seafood and stunning water views, Quito's started as a fish market in 1954 and has since grown into a cozy harbor front restaurant with the same mission since it began: locally sourced seafood that's simple but modern. Savor a selection of Atlantic oysters overlooking the harbor. 
THE WHARF
This recently renovated waterfront restaurant was established in 1955, but the building and surrounding wharf date all the way back to the 1700s. You'll be hard-pressed to find a seat closer to the water than here, where the menu maintains a focus on fresh-from-the-sea offerings alongside a collection of boards, sandwiches, tacos and specialty cocktails. Make your way to the rooftop bar (seating available first come, first serve) and order up a helping of oysters on the half shelf by the half or full dozen.
BLUEWATER BAR & GRILL
With more than two decades of experience, Chef Brian Thimme combines a passion for locally sourced ingredients with his love of family to bring a unique style of contemporary cuisine to his newest restaurant concept, Bluewater Bar & Grill. The family-friendly restaurant offers a lively outdoor patio and an approachable menu with a contemporary flair.
EAST BAY OYSTER BAR
When it comes to oysters, you may have guessed this local oyster bar in Barrington should top your list. With over 20 years of experience, the owners of East Bay Oyster Bar select only the freshest meats, produce, and seafood as the main ingredients of their classic yet innovative menu that focuses on diversity, trends and affordability. Oyster varieties vary daily and come with cocktail sauce, mignonette and lemon.
GET SOCIAL
Tag your photos #TheClassicCoast for the chance to be featured on our accounts.