When you think of Newport, you probably think of mansions, eclectic shops, life changing seafood and the best ocean views around (Did we take that a little too far?) While all that's true, it's also true that this island is home to some of the most stunning hiking and walking trails in New England. 
From light and leisurely scenic walks along the coastline to moderately intense trails in picturesque New England forests, here are our favorite spots to get outdoors in and around Newport.
1
NORMAN BIRD SANCTUARY
This wildlife sanctuary and environmental education center in Middletown is home to 325 acres of diverse habitats and 7 miles of scenic, marked hiking trails.
Trail descriptions:
Universal Trail: A wide, even surface ending at Red Maple Pond where wildlife is abundant year-round.
Quarry Trail: This .4-mile trail passes through open fields and forest and is maintained for grassland nesting birds like Tree Swallows, Bobolinks and Sparrows.
Woodcock Trail: This half-mile level and grassy trail journeys through old field habitat, small clearings and forest stands of black cherry and black locust. 
Hanging Rock Trail: A one-mile rocky trail providing scenic ocean views, Gardiner pond to the south, the Sakonnet River to the east and St. Georges School to the west. 
Red Fox Trail: Travel along 1.2 miles of stony ridge with oak, red cedar and hickory trees alongside stone walls and small patches of grass that remain from when it was used as a pasture. 
Nelson Pond Trail: This 1.4-mile trail travels along the east side of Nelson Pond with views from the cliffs, stone walls below the surface of the pond, and a vermal pool where frogs and salamanders lay their eggs.
Valley Trail: A 1.2-mile dead-end, shady and secluded trail passing through mature forest.
Shady Glade Trail: .25 miles crossing over a picturesque woodland stream with a boardwalk and footbridge.
Indian Rock Trail: .1 miles passing over an outcropping of puddingstone. 
DETAILS
Rating: Light & Leisurely
Hours: 9:00 AM - 5:00 PM
Fee: $7 adults, $6 senior/military, $3 students and children 3-18
Dogs: Not permitted
2
SACHUEST POINT NATIONAL WILDLIFE REFUGE
One of five national wildlife refuges in Rhode Island, Sachuest Point National Wildlife Refuge is home to 242 acres that offer an important stopover and wintering area for migratory birds in Middletown. Situated on the coast overlooking the ocean, a hike at Sachuest Point is relatively flat and easy, and offers scenic views without having to climb.
Trails: 
Flint Point: 1.4 miles of mild terrain 
Ocean View Loop: 1.5 miles of medium terrain
Price Neck Overlook: .1 miles of rugged terrain
DETAILS
Rating: Light & leisurely
Hours: Sunrise to sunset
Fee: Free
Dogs: Not permitted
3
EAST BAY BIKE PATH
The East Bay Bike Path is a 14.5-mile trail that begins in Providence at India Point Park, travels across the Seekonk River and continues southeast to Bristol along the shoreline of Narragansett Bay. This lengthy trail is paved and flat, offering a leisurely journey traveling through scenic sights, marshes and state parks including Haines Memorial State Park in Barrington and Colt State Park in Bristol.
DETAILS
Rating: Light & leisurely
Hours: Sunrise to sunset
Fee: Free
Dogs: Permitted, must be leashed
4
CLIFF WALK
There's a reason people travel from all over the world to step foot on Newport's 3.5-mile Cliff Walk: It's because it's remarkably unlike anything else. It's where the serenity of salt air and the familiar sound of crashing waves meets with the awe of Gilded Age architecture. And when it comes to walking/hiking its serene paths, you have your pick of intensity. 
MEMORIAL BOULEVARD TO BELMONT BEACH: LIGHT + LEISURELY 
The northern half of Cliff Walk begins at Memorial Boulevard just before Easton's Beach and continues south with entrances at Narragansett Avenue by Forty Steps, Webster Street, Sheppard Avenue and Ruggles Avenue. This is often considered the easiest portion to traverse, with paved pathways and a flat terrain making a walk, jog or run feel attainable to the average person.
*Please note due to structural damage to a section of the Cliff Walk, detours will be in place between Narragansett Avenue and Webster Street for the foreseeable future. The remainder of the walk will be open for all those walkers who make use of this iconic coastal trail. 
BELMONT BEACH TO REJECT'S BEACH: MODERATE INTENSITY
This segment of Cliff Walk is more challenging, with uneven trails and certain segments requiring moderate rock climbing. As with most things though, the harder you work, the bigger the reward. Make your way across seaside rocks and uneven terrain for coastal views unlike anywhere else.
DETAILS
Rating: Light & leisurely - Moderate intensity
Hours: Sunrise to sunset
Fee: Free
Dogs: Permitted, must be leashed
5
FORT ADAMS BAY WALK
The Fort Adams Bay Walk is a 2.5-mile loop around the perimeter of historic Fort Adams State Park and along Narragansett Bay. The trail is flat and offers unobstructed views of many landmarks on both the west and east side. Travel along the west side for views of a number of lighthouses including Castle Hill Light, Rose Island Light and Beavertail Light. Along the east side, find views of Idea Lewis Yacht Club, Goat Island and more. 
DETAILS
Rating: Light & leisurely
Hours: Sunrise to sunset
Fee: Free
Dogs: Permitted, must be leashed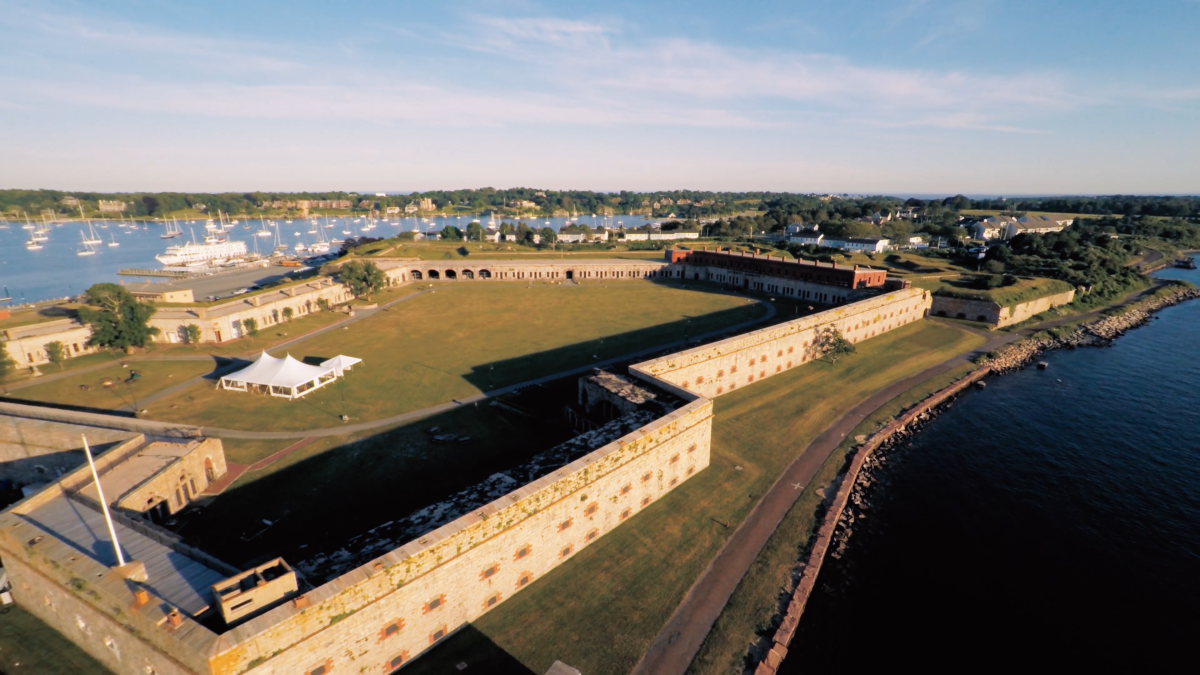 6
SAKONNET GREENWAY TRAIL 
DETAILS
Rating: Light & leisurely
Hours: Sunrise to sunset
Fee: Free
Dogs: Permitted, must be leashed
7
AUDUBON NATURE CENTER
The Audubon Nature Center and Aquarium in Bristol is situated on the Claire D. McIntosh Wildlife Refuge, making in the perfect, quiet place to hike with the sound of nature as your background music. Follow the easy walking trails and quarter-mile boardwalk through meadows, and fresh and saltwater marshes all overlooking Narragansett Bay. Bonus: It's located along the East Bay Bike Path.
DETAILS
Rating: Light and leisurely
Hours: Wednesday - Saturday:  9:00 AM - 5:00 PM; Sunday: 12:00 - 5:00 PM
Fee: Adults: $6; Seniors: $5; Children ages 4-12: $4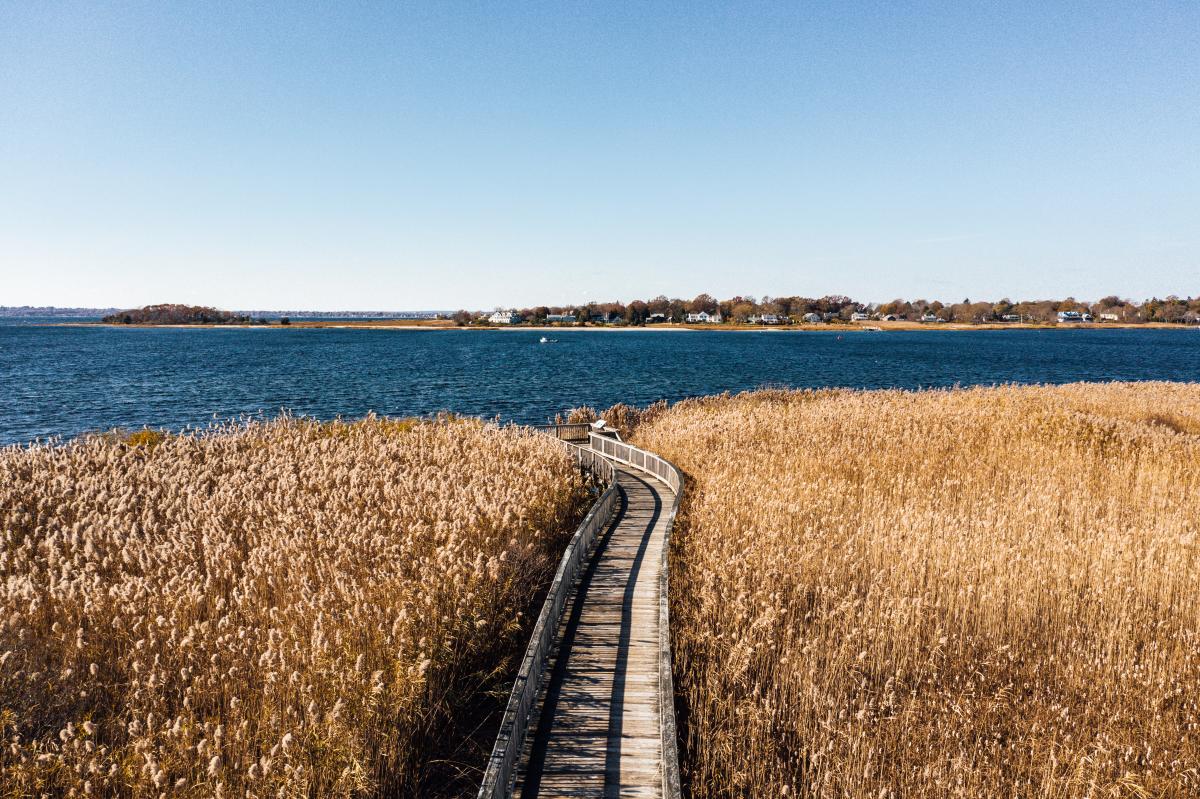 8
WEETAMOO WOODS
Seven miles of picturesque New England forest await within Weetamoo Woods in Tiverton, with another 2 miles in the neighboring Pardon Gray Preserve. The journey is comprised of gentle slopes and is a fit for hikers of all skill levels. 
DETAILS
Rating: Moderate Intensity due to uneven terrain
Hours: Sunrise to sunset
Fee: Free
Dogs: Permitted, must be leashed
GET SOCIAL
Tag your photos #TheClassicCoast for the chance to be featured on our accounts.