To incoming sailors in treacherous waters, a lighthouse is an understated beauty. The guiding light and resounding fog horn are a confirmation that safety lies ahead. Not to mention, they're pretty easy on the eyes.
The Classic Coast is home to nine beacons; all with a storied history, and some still guiding sailors to safe harbor.
BEAVERTAIL LIGHTHOUSE & MUSEUM
Jamestown, RI
Located at the southernmost tip of Conanicut Island in neighboring Jamestown, Beavertail Lighthouse offers panoramic views of Narragansett Bay, plus a museum brimming with artifacts. Built in 1753, it is the third oldest in North America. The light provides navigation for boats and ships entering Narragansett Bay in the East Passage between Conanicut Island and Newport.
Pro Tip: The tower remains open through Columbus Day, and invites visitors to climb to the top for sweeping views of the bay.
CASTLE HILL LIGHTHOUSE
Newport, RI
This granite tower, first lit in 1890, stands thirty-four feet tall and has previously featured a 1,300-pound fog bell. In addition to guiding ships through Narragansett Bay, Castle Hill Light has also served as the start and finish line for a handful of Newport's famous yacht races. Make the short trek through a few footpaths on the grounds of Castle Hill Inn to see it up close.

Pro Tip: Visit at sunset for an Instagram-worthy experience.
DUTCH ISLAND LIGHTHOUSE
Jamestown, RI
Dutch Island is a small, rocky island off the coast of Conanicut Island in the West Passage of Narragansett Bay. The thirty-foot lighthouse that resides there was built in 1826 using stone and slate found on the island. In 1856, the lighthouse was rebuilt with a two-story brick keeper's dwelling attached to the tower. The lighthouse was nearly destroyed by fire in 1923 and deactivated by the coast guard in 1972. In 2007, it was reactivated with a battery-powered, solar-charged light. Unfortunately, it is not open to the public, but you can get a great view of it from the water.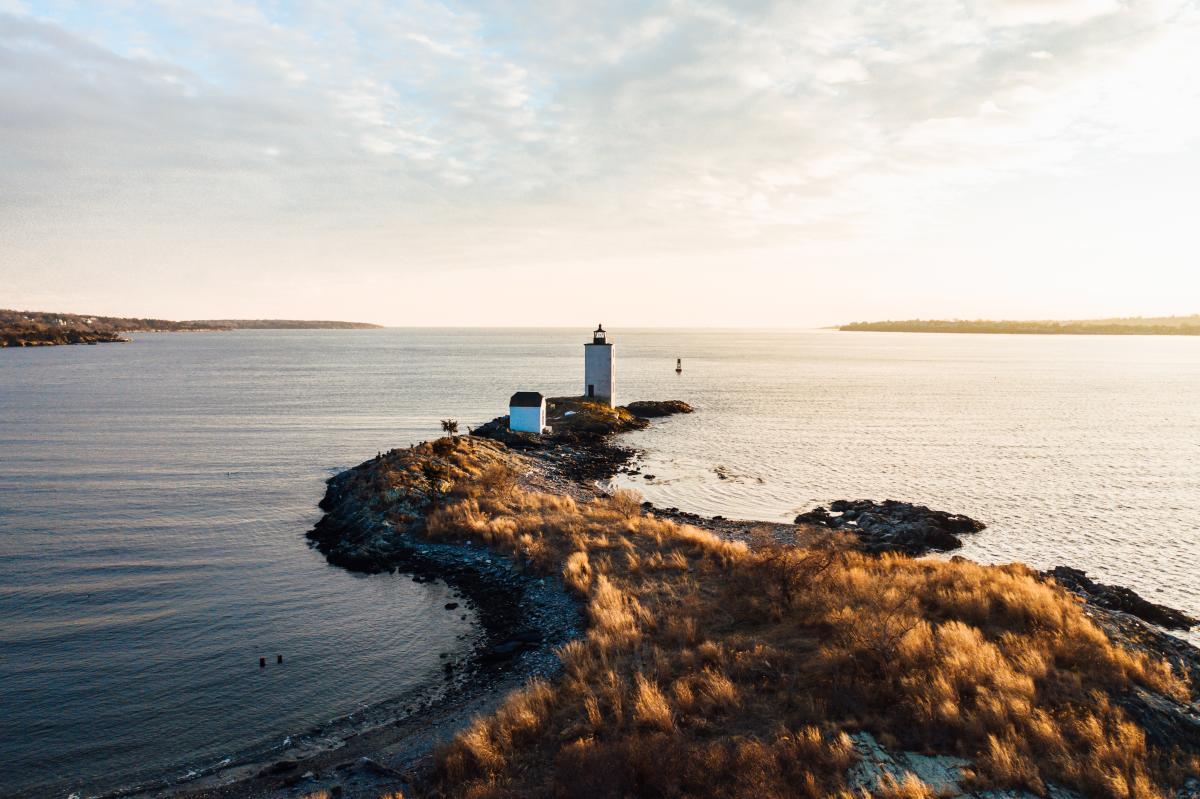 ROSE ISLAND LIGHTHOUSE
Newport, RI
Rose Island Lighthouse was built in 1870 on Rose Island, located in Narragansett Bay. In 1970, after the Newport Bridge was built, the lighthouse was neglected and abandoned for fourteen years until the Rose Island Lighthouse Foundation was founded to restore this treasure on behalf of the city. Rose Island is only accessible by boat and is now a historic living museum and environmental education center.
Pro Tip: The lighthouse operates as a living museum where you can stay overnight and become a lighthouse keeper. Stay in one of the available rooms where you'll enjoy the crashing of the waves and peaceful tranquility. In the morning, change the linens and have the room back in order before the museum opens. 
HOG ISLAND SHOAL LIGHTHOUSE
Portsmouth, RI
This unique spark plug lighthouse (a lighthouse that has a three-story living area, with the lantern on top completely placed on a concrete or metal caisson) was built in 1901. It is located just off the southeast shore of Hog Island at the beginning of the Mount Hope Bay. The lighthouse was automated in 1964, and today is privately owned and not open to the public.
Pro Tip: Take the Prudence Island or Bristol Ferry to pass right by this treasure. The lighthouse is privately owned. It is not open to the public and is best seen by boat.
IDA LEWIS ROCK LIGHTHOUSE
Newport, RI
The square granite tower that comprises Ida Lewis Rock Lighthouse, also known as Lime Rock Light, was built in 1854. To reach it, the original keeper, Hosea Lewis, had to row 200 yards, which eventually proved to be nearly impossible during winter storms and poor weather. One year later, a permanent dwelling was attached to the building, which today stands as the Ida Lewis Yacht Club, named after Hosea's daughter, Ida, who took over as lighthouse keeper in 1879 and saved more than a dozen people from drowning.
This beauty is not open to the general public but can be clearly seen on many different Newport harbor cruises or from land on Wellington Avenue.
NEWPORT HARBOR LIGHT (GOAT ISLAND LIGHT)
Newport, RI
Located on the Newport Harbor Island Resort property on Goat Island, Newport Harbor Light was built in 1842 and is known for its green light visible from across the bay at night. Entrance into the lighthouse is not permitted, but feel free to get up close for a photo opp.
Fun Fact: The first structure built in this location was constructed in 1824, but later transported to Prudence Island in 1851 where it is known today as the Prudence Island Light 
PRUDENCE ISLAND LIGHTHOUSE
Portsmouth, RI
Prudence Island Lighthouse, also known as Sandy Point Lighthouse, is located a little over one mile off the shore of Prudence Island. This lighthouse was built in the location of the Newport Harbor Lighthouse in 1823 and then moved to its current location on Prudence Island in 1851. The tower is not open to the public, but you can walk about a mile from the ferry landing to see this old-time beacon.
SAKONNET POINT LIGHT
Little Compton, RI
Similar to the Hog Island Lighthouse, the Sakonnet Point Light is a spark plug lighthouse. It was built in 1884 near Sakonnet Point in Little Compton, but unfortunately destroyed by Hurricane Carol in 1954. After many years, the lighthouse was relit in 1997 by the U.S. Coast Guard and restored in 2012 by the Friends of the Sakonnet Light. This lighthouse is not open to the public, but can be seen from the beach at Sakonnet Point or even from the Sachuest Point National Wildlife Refuge in Middletown.
GET SOCIAL
Tag your photos #TheClassicCoast for the chance to be featured on our accounts.