With most events on hiatus and restaurants at limited capacity, there's one thing that COVID can't take from us this season: the pure bliss that comes from drinking on a rooftop. Whether you're looking for an elevated experience with chic ambiance and a killer view, or you're hoping to kick it back with some oysters and a cocktail, these rooftop bars have you covered. 
COVID-19 NOTE:
When you're ready, we can't wait to welcome you back to The Classic Coast. Rest assured, the safety and well-being of both visitors and locals remains our top priority. The mask mandate requiring face coverings in Rhode Island has been lifted, however local businesses may ask you to wear a mask when visiting their establishments. Please be prepared for individual business mask policies. Additionally, shops, attractions and tours are monitoring the number of guests at any given time and may ask you to socially distance to enter. 
All we ask when you land on these shores is that you play your part in keeping everyone safe. Please be kind, adhere to guidelines and maintain social distancing. 
THE ROOF DECK AT THE VANDERBILT
You can count on the weight of the world falling off your shoulders once the elevator doors open to the rooftop at The Vanderbilt. The luxury boutique hotel was once the private mansion residence of Alfred Gwynne Vanderbilt, scion of the acclaimed Vanderbilt family, and today offers a quiet 33-room retreat in the center of downtown. The roof deck offers one of the most stunning views in town, overlooking Newport's historic neighborhoods with an unobstructed glance at the harbor. Lounge in an Adirondack chair with a craft cocktail and enjoy one of the highlights of a summer in Newport. 
BENJAMIN'S RAW BAR
This three-story neighborhood restaurant has it all: a casual working raw bar on the first floor and classic dining on the second floor. The third floor, though, is where Benjamin's shines. It's a hike up the stairs to what's known among locals as the Crow's Next, an open-air bar and dining room designed to mimic the crow's next on a ship, but the snapshot views of the harbor are worth it. 
Pro Tip: Make your way to the raw bar for $1 oysters served all day on Tuesdays.
MIDTOWN OYSTER BAR
A Newport classic, Midtown Oyster Bar is the area's largest working raw bar with two bars, two decks, a marble raw bar and oyster stout on draft. The atmosphere here is Colonial casual: high-ceilings, dim lighting and massive slabs of wood fixed above community tables. The restaurant spans three floors, each with its own vibe and collection of nautical trinkets adorning the walls. The second and third floor are where you'll catch the restaurant's al fresco dining. Two decks overlooking Newport's downtown, outfitted with heat lamps for outdoor hangs well into the chillier months. 
STONEACRE GARDEN
Make your way through the open garage doors at Stoneacre Garden, past the collection of eccentric furnishings, and up to the rooftop bar overlooking America's Cup Avenue. Located in Swineburne Row, this extension of sister restaurant Stoneacre Brasserie features a cheerful yellow and red awning reminiscent of a circus tent from days gone by. Your whimsical al fresco experience comes adorned in lush greenery hung from the outdoor awning.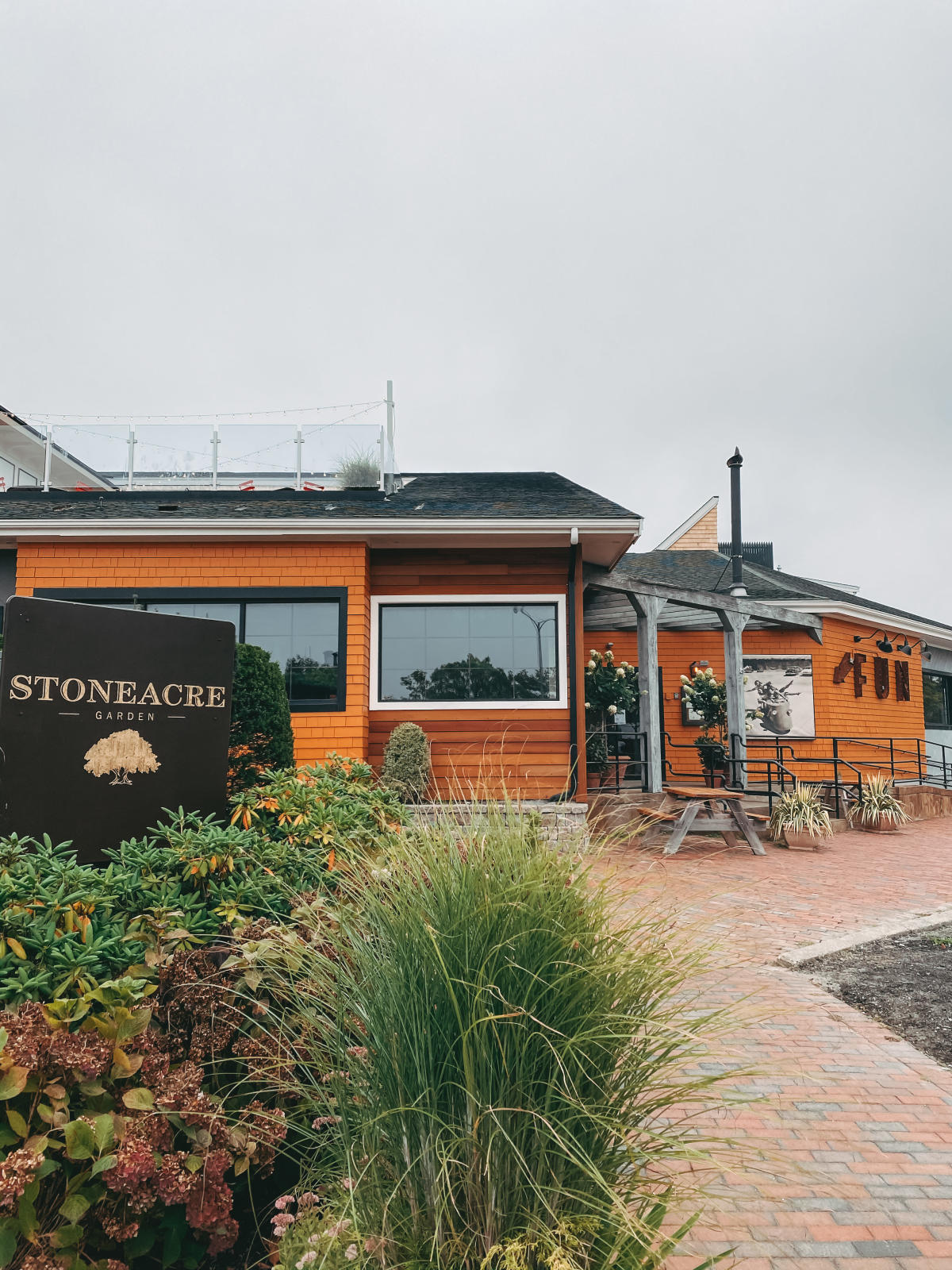 TOP OF NEWPORT AT HOTEL VIKING
A good thing got even better when Hotel Viking revamped their rooftop bar + kitchen, Top of Newport. Located in the heart of Newport with sweeping views of historic Bellevue Avenue, TON is decked out with stylish plush seating, nautical accents and iconic coastal sunset views.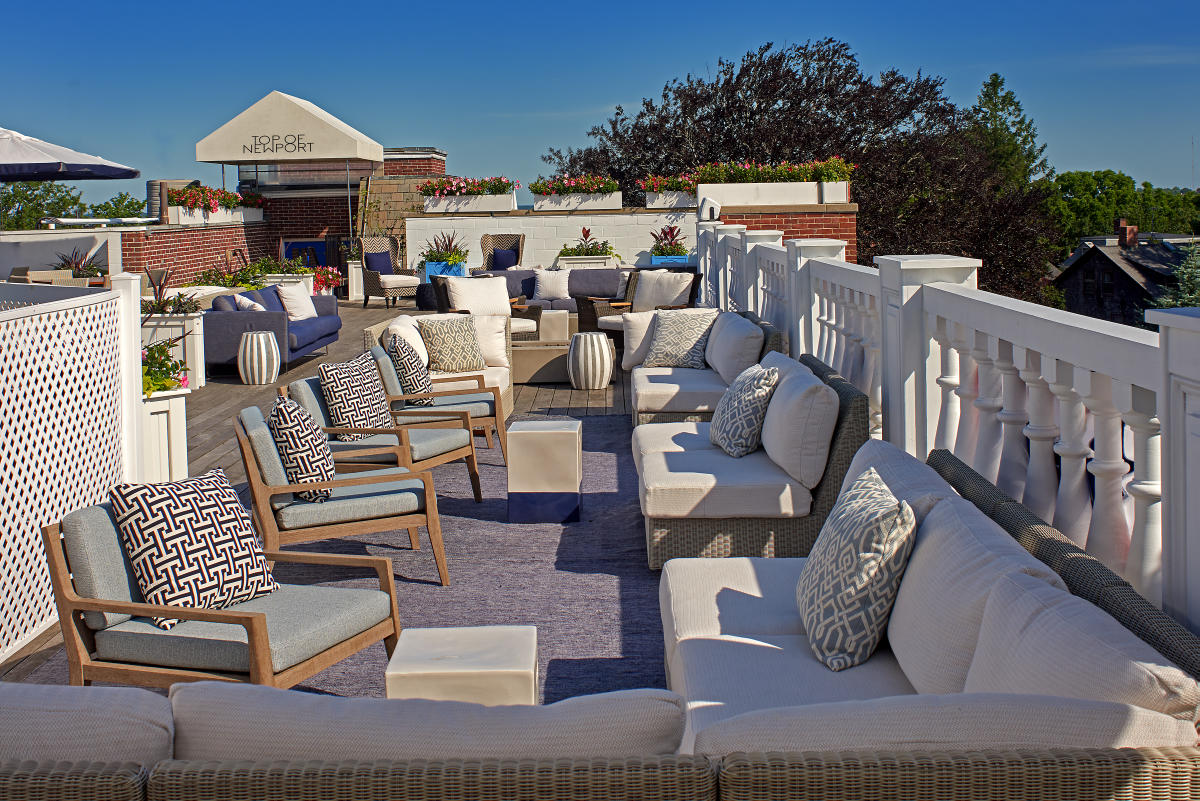 THE ROOFTOP AT BRENTON HOTEL
Located on the waterfront in downtown Newport, Brenton Hotel is one of Newport's newest hotels. Alongside luxurious furnishings and a distinctly nautical contemporary design comes a handful of exclusive perks, like private boat rentals aboard the hotel's 36-foot Hinkley Picnic Boat, the Brenton One, and Peloton bikes delivered to your room. Their rooftop bar is slated to open in the fall of 2020 and is set to offer unobstructed views of Newport's historic neighborhoods and Newport Harbor overlooking Perotti Park, alongside lush greenery and plush seating. 
GET SOCIAL
Tag your photos #TheClassicCoast for the chance to be featured on our accounts.