Two summers ago, Newport, RI was festooned with street banners proclaiming "Newport Waves!" Posters around town and screens from Goat Island to the Jane Pickens Theater and the Folk Festival at Fort Adams shared the message. Familiar Newport faces reminded people everywhere to Stop. Look. and Wave!
The campaign was the result of attention drawn to Newport by the federal Safe States Alliance after three pedestrians lost their lives on downtown streets. The City partnered with local advocacy group Bike Newport to create a campaign that would improve safety for people walking, biking and otherwise vulnerable to serious injury on our roads.
That summer, the City of Newport launched "Newport Waves" and by the end of the summer, the buzz was palpable as residents and visitors agreed that this friendly, intuitive, common gesture – a wave of acknowledgement - could be used more often and with more intention to reduce distraction and confirm that one has been seen before entering or proceeding at intersections and crosswalks.
Thanks to the popularity of that campaign, funding was repeated by the Rhode Island Department of Health to bring back Newport Waves. The 2017 version will launch on Wednesday, July 26, at 2:30 PM at Newport City Hall. Bolder and brighter, the refreshed campaign will be introduced by Mayor Harry Winthrop, Discover Newport CEO Evan Smith, and Bike Newport Executive Director, Bari Freeman. Simultaneously it will launch on the main website NewportWaves.org, at Discover Newport, Engage Newport, the Jane Pickens Theater, the Newport Festivals Foundation, Bike Newport and other locations and websites citywide – continuing to grow as more businesses, agencies, and schools join on.
At the center of the campaign is a one-minute video featuring numerous people and places – recognizable to many -  all "doing the wave." The voice-over announces "Newport Rhode Island. Tens of thousands of people. Everyone's on the move. In cars, on bikes, on foot, scooters, strollers and skateboards; they get to wherever they're going because whenever they cross paths, they stop. look. and do the wave." 
The video is supported by giant 3'x5' posters to be installed citywide as window and wall clings. As the campaign progresses, more locations and elements will be added.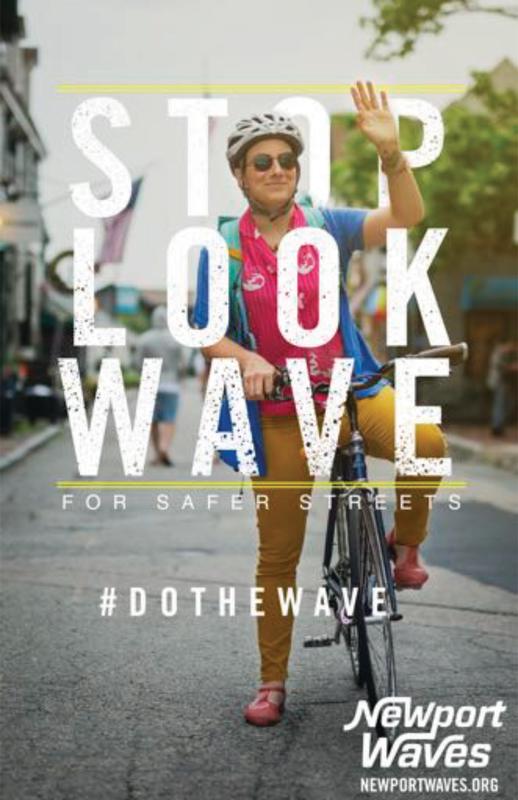 "We want everyone on our roads to behave safely," explains Winthrop. "With this campaign, we can help that happen – with a wave and a smile. Folks can look up, signal 'I see you', and proceed when it's safe to do so. Do the wave," the Mayor adds, "and we'll all be that much safer."
Generous production and management support is provided by Bike Newport, JaiCG, Standard Modern Printing and Mat Coes Design. Early partnership by Discover Newport, Jane Pickens Theater, and the Festivals Foundation demonstrates what is possible for this community-wide endeavor.
For more information, contact info@newportwaves.org 
GET SOCIAL
Twitter: @Newport_Waves
Instagram: @StopLookWave
Facebook: /newportriwaves
 
#dothewave #newportwaves #stoplookwave