Welcome to Bristol! Named among the prettiest small towns in America and home to the oldest continuous Fourth of July celebration in the country, this proverbial all-American waterfront town (a red, white and blue strip literally runs down the middle of its tree-lined Main Street) was established in 1681 and has since maintained its charm as a sailing port rich in history. Your day ahead is filled with tales of a legendary past, classic New England fare, enchanting shops and some of the most scenic sights around.
COVID-19 NOTE:
When you're ready, we can't wait to welcome you back to The Classic Coast. Rest assured, the safety and well-being of both visitors and locals remains our top priority.  All we ask when you land on these shores is that you play your part in keeping everyone safe. Please be kind and adhere to local guidelines. 
START YOUR DAY
9:30 AM:
Start your day by diving into local flavor. Located in downtown and overlooking Independence Park and Bristol harbor, the Beehive Cafe is a small, two-story cafe with cozy seating and an upstairs balcony for al fresco eating. Order from their menu of sweet and savory farm-to-table treats like the Beehive Biscuits and orange ricotta pancakes, then make your way outside to the patio or upstairs to the balcony for scenic bites. Open for breakfast, lunch and dinner.
EXPLORE THE SITES
11:00 AM: TRAVELER'S CHOICE
This 33-acre estate with striking views of Narragansett Bay was purchased and transformed in 1894 by the Van Wickle family. A 45-room English-style summer manor, the mansion now houses family heirlooms and original furnishings from when the Van Wickles resided there, while the outside is surrounded by seven (yes, seven) award-winning gardens filled with local and exotic plants, shrubs and trees.
Opt to wander the estate at your own pace or enjoy a guided tour followed by a Q&A with iced tea served on the Northwest Porch.
Built in 1810, Linden Place Mansion was once the residence of one of the wealthiest slave traders in the U.S. Today, you can tour the mansion and gardens on a guided tour (60 minutes) or a self-guided tour where you'll learn about tales of DeWolf family exploits, from their privateering and slave trading to their financial ruin and triumphant return to prosperity during Victorian times. 
12:30 PM:
Make your way to Herreshoff Marine Museum where the restoration of some of the most magnificent wooden boats in history takes place. The Herreshoff Manufacturing Company was established in 1878 when John Brown Herreshoff, a blind boatbuilder from Bristol teamed up with his brother Nathaniel Greene Hereshoff, a naval architect and steam engineer. Together, the two built some of the world's fastest steam yachts and torpedo boats, including the largest America's Cup boat, the first U.S. Navy torpedo boats, and eight consecutive successful defenders of the America's Cup between 1893 and 1934.
Head inside to the museum and America's Cup Hall of Fame for a look at hundreds of artifacts and memorabilia significant to the Herreshoff legacy, including more than 60 significant boats.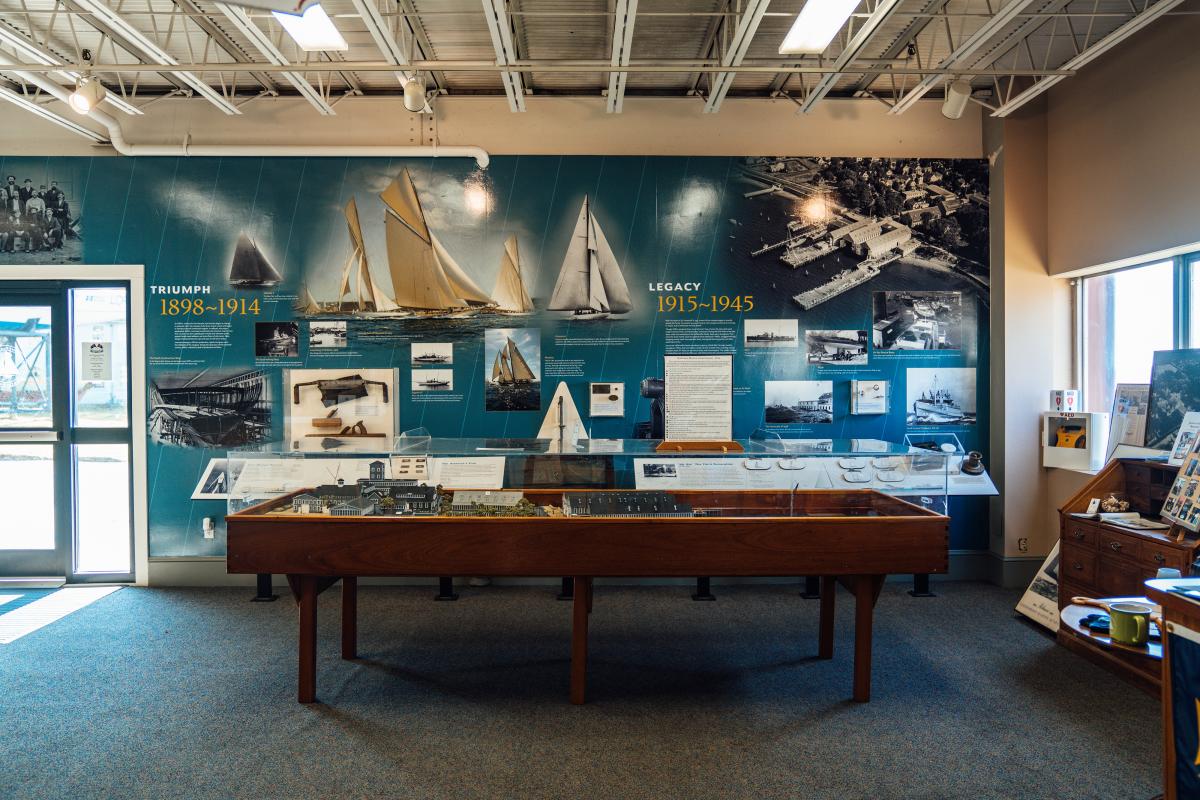 1:30 PM:
Walk across the street for a taste of classic New England flavor at The Lobster Pot. Opened in 1929, this seaside eatery offers traditional New England fare and their menu is largely based on what's fresh from the market. Seafood lovers, feel free to build your own raw bar plate complete with oysters, littlenecks, shrimp and lobster cocktail to your heart's content. Did we mention its located right on the harbor? Grab a seat on the back patio, a bowl of quahog clam chowder (it'll change your life) and watch the boats bobble along the bay.
SHOP + STROLL
3:00 PM:
Take your time and stroll along the historic streets in the center of town. Dotted along the main routes on Hope Street and Thames Street you'll find quaint local shops, galleries and charming boutiques. Head into Grasmere, a local fixture since 1995 known for preserved floral arrangements, antiques and handcrafted items; or Sea Rose Cottage for paintings and vintage finds. 
5:00 PM: 
Not for nothing but Bristol has been repeatedly named among the prettiest small towns in America, so for that reason it's time to head out into nature! Make your way to Colt State Park for 464 acres of lush lawn, stone walls, and winding drives along the shoreline. Open year-round, this "gem" of state parks offers four miles of bike trails alongside the bay and through acres of fruit trees, flowering bushes and manicured lawns. While you're there, catch a peek at the historical museum or the open air Chapel-By-The-Sea.
LOCAL FLAVOR
7:00 PM: TRAVELER'S CHOICE
Located in what was previously the 1818 DeWolf Rum Distillery on Thames Street Landing is DeWolf Tavern, a harborside restaurant boasting entrees you would expect of a restaurant located on the bay: stuffed lobster, swordfish, and salmon, to name a few; but you'll also see a good deal of Indian influence thanks to Chef Sai Viswanath. Think: Lobster cooked in a tandoor oven (a cylindrical clay or metal oven), chickpea battered shrimp pakora with sweet chili sauce and pakora battered cauliflower manchurian. 
White linens and a French-inspired menu comprise your dining experience at Le Central, where local produce and fresh ingredients remain at the forefront of their menu. Start things off with a French staple of duck liver mousse served with a seasonal fruit compote. 
Statesman Tavern
Relatively new to the Bristol dining scene is Statesman Tavern, a modern, intimate restaurant that pays homage to the classic American taverns that resided in small towns like Bristol over the past 250 years. The menu, crafted by chef and owner Chris Kleyla, celebrates local growers, farmers and fishermen by focusing on heirloom vegetables, grains and responsibly raised meat, poultry and fresh seafood.
GET SOCIAL
Tag your photos #TheClassicCoast for the chance to be featured on our accounts.