Newport does a lot of things right—lobster rolls, harbor tours, oysters, ocean views—not to brag or anything. Then, there's dessert. Whether you're just visiting, or you're a local here, you may have heard of the iconic Snowball In Hell from Clarke Cooke House, served with homemade roulade and a sparkler on top. Or it's possible you've had your share of BOGO Awful Awfuls. No matter your sweet tooth, these iconic desserts are a must-try. 
 

THE BAM BAM MILKSHAKE
Established in 2017, this coffee shop and cafe located on lower Thames Street in the heart of downtown Newport offers a unique menu of coffee and teas alongside nostalgic childhood treats and over-the-top milkshakes. Indulge your sweet tooth in The Bam Bam: a fruity pebble milkshake with a vanilla frosted rim, topped with cotton candy, 1/2 of a frosted Pop Tart, gummy rings and whipped cream.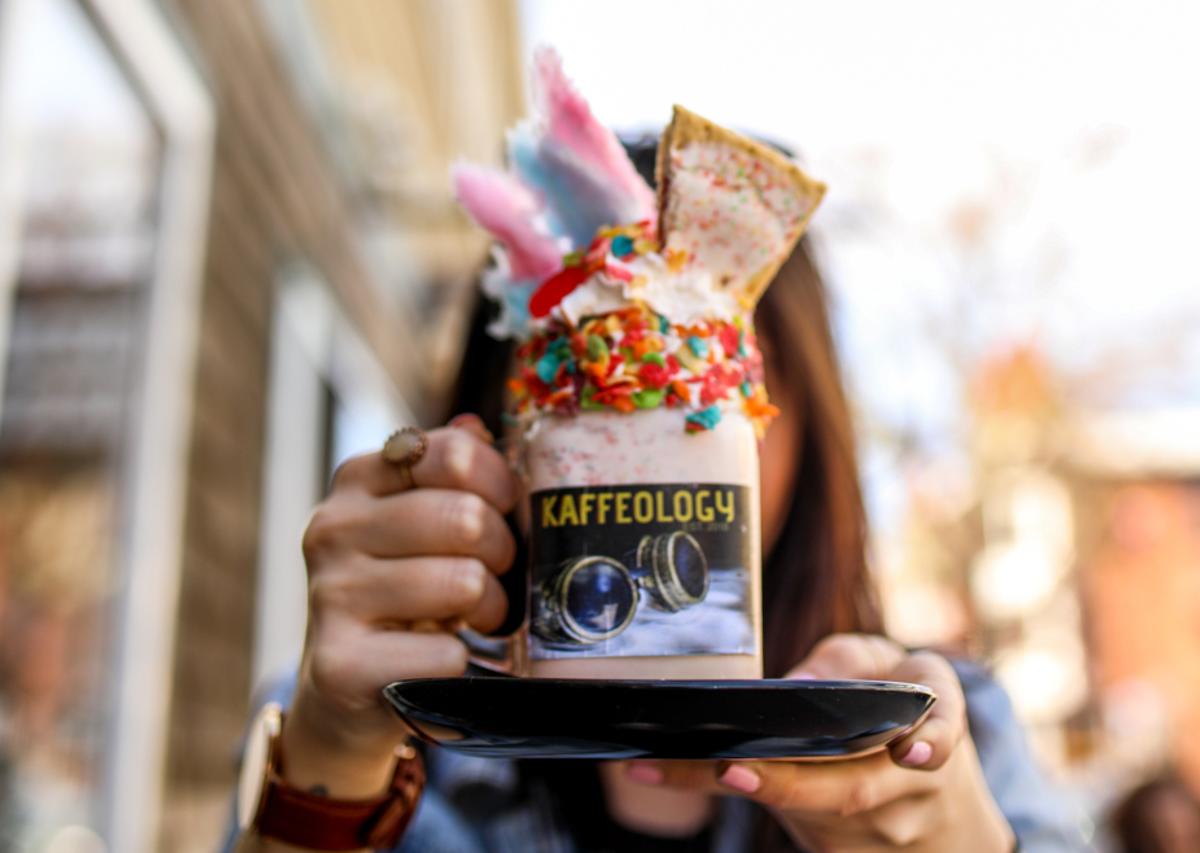 STICKY TOFFEE PUDDING
A Fifth Element menu staple of 18 years, the Sticky Toffee Puffing is based off the dessert Madonna served at her wedding (naturally). Crafted with warm toffee sauce & fresh whipped cream, people describe this as the best dessert in the world. Who are we to argue? 
SNOWBALL IN HELL
We asked our Instagram followers to tell us their favorite dessert as part of a giveaway. We didn't specify that it had to be served in Newport, we just wanted to know what everyone was craving. We would say we were shocked when 30 responses filtered in for the Snowball in Hell from Clarke Cooke House, but that would be a lie. This iconic dessert consists of chocolate roulade and vanilla ice cream served in a goblet glass coated with Callebaut chocolate and coconut flakes.
Aside from short stints of trying to flambee it, the Snowball in Hell has remained the same since its introduction to the CCH menu back in 1973 - the chocolate roulade is made in house: a sponge-like cake that's rolled with chocolate mousse and cut into circles. The vanilla ice cream has been sourced from Buck's Ice Creams for 30 years. And the Callebaut chocolate is imported from Belgium.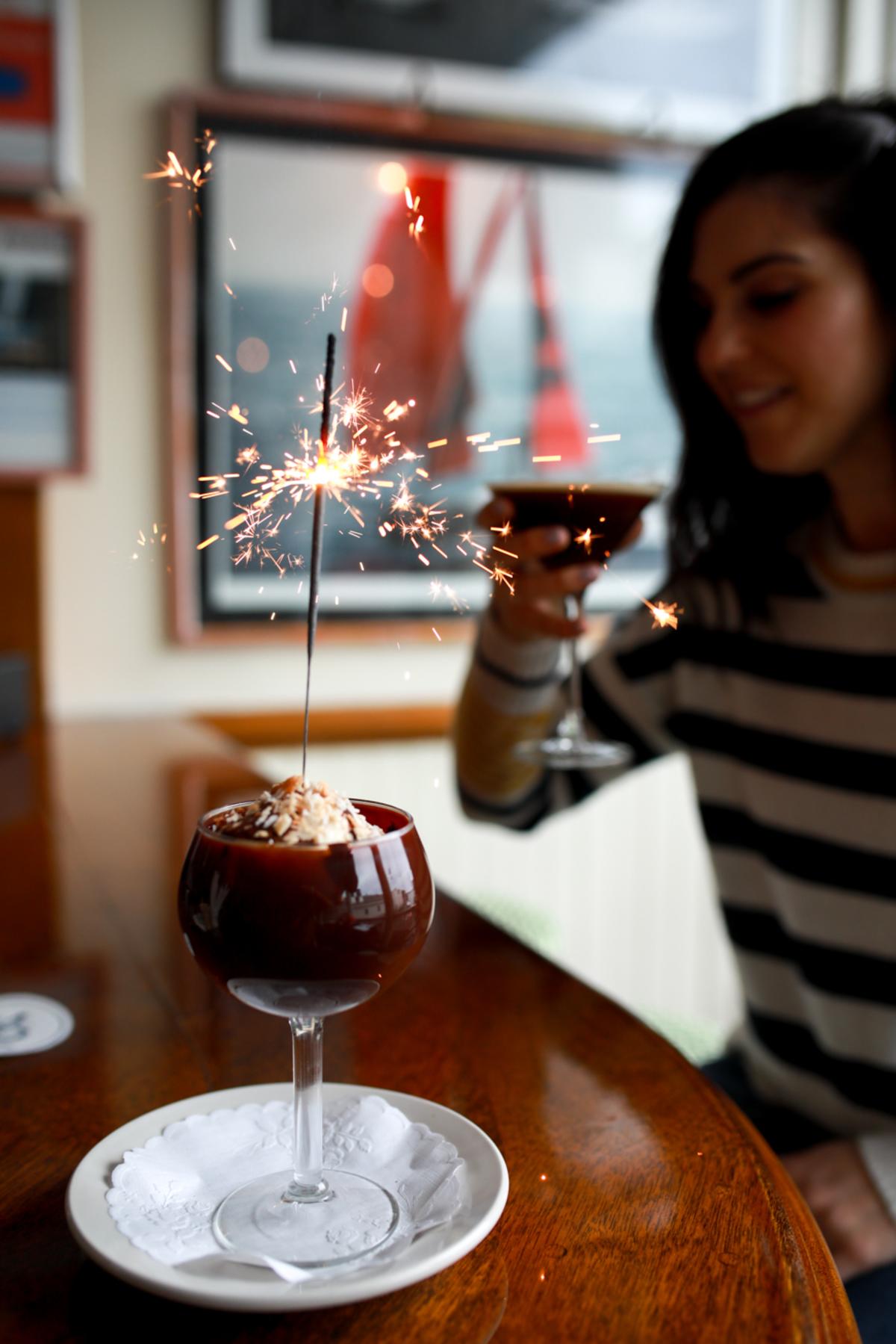 LLAMA-LICIOUS ICE CREAM CONE
This family-owned and operated ice cream shop in Middletown is so beloved that April 1, opening day, is accompanied by a line of applause each year. Flavors range from the standard chocolate chip, cookie dough and peanut butter to the cult-favorite "Play-doh" flavor, which has recently been replaced with the comparable "Llama-licious" flavor: rainbow cake batter with a sugar cookie dough and frosting swirl. But perhaps the best part about Frosty Freez is the old-fashioned nostalgia it emits with its walk-up window, sundaes doused in hot fudge and ice cream floats.
Pro Tip: Frosty Freez is cash only.
AWFUL AWFUL
There are milkshakes, and then there are Awful Awfuls. If you know, you know. And if you don't know, you should probably get your hands on one. Unlike ordinary milkshakes made with ice cream, the Awful Awful is created with ice milk and syrup.
The Awful Awful was first created back in the 1940s by a popular New England chain named Bond's. Soon after its creation, the Awful Awful was adopted by Friendly (at the time, it had no 's) and Newport Creamery where it was spread throughout New England, all under the agreement that if either chain spread into New Jersey (Bond's territory) the name would have to be changed. All was well and good until the 1960s when Friendly (still no 's) expanded into New Jersey, at which point they renamed the Awful Awful as a Fribble. Over time, the Fribble transformed into a milkshake, while Newport Creamery continues to make Awful Awfuls the thick, rich, old fashioned way: with ice milk, syrup, and ice cream. 

GRAND MARNIER SOUFFLE
The perfect soufflé is like magic. The "epitome and triumph of the art of French cooking," as Julia child described it. Over-whip the egg whites and your soufflé will inevitably sink into itself. Whip the egg whites just enough and fold just right, and you'll have yourself a puffy, browned-to-perfection soufflé. Perhaps that's why the Grand Marnier soufflé at Bouchard's, named one of the most romantic restaurants in the country, has been highly sought after for years. This sweet treat is created with Grand Marnier, baked until golden brown, and topped with powdered sugar. 
RED VELVET WAFFLE ON A STICK
On Memorial Boulevard in the former Nana's Ice Cream & Gelato location and next to the well-known Red Parrot is Sticks and Cones, a sweet treat shop offering all the same ice cream and gelato from the former Nana's, alongside Belgian waffles on a stick dipped, drizzled and topped with a variety of flavors. Opt for the red velvet waffle drizzled dipped in chocolate and topped with sprinkles, or the chocolate waffle dipped in chocolate and topped with M&Ms. 
GET SOCIAL
Tag your photos #TheClassicCoast for the chance to be featured on our accounts.