Dubbed the Second Most Romantic City in America by OpenTable, and home to America's Most Romantic Hotel, our City by the Sea has romance down pat. From a table for two next to the roaring fire, a serene water journey to the most lustful craft cocktails you ever did dream of, Newport has everything you need for a Valentine's Day full of enchantment.
Celebrating this weekend? Glance our full guide to Valentine's Day romancing. 
INDULGE
Specially crafted menus full of decadent dishes with a hint of romance. 
BRIX AT NEWPORT VINEYARDS
Celebrate your love in front of the fireplace at Brix at Newport Vineyards with special Valentine's Day additions that are sure to make you blush. From specialty cocktails including Crazy Stupid Love, and French Kiss to small plates like Mushrooms, Actually and Pretty Woman Oysters, to large plates of When Harry Met the Lobster, you're sure to heighten the romance. 
CHOMP KITCHEN & DRINKS
Valentine's Day gets kicked up at notch at Chomp with a burger crafted specially for a day of love: The Lobster & White Truffle Mac & Cheeseburger. Served today only.
VANDERBILT GRACE
Start the night off with your sweetheart and a specially crafted list of Romance Cocktails inspired by the greatest love stories including Casablanca, A Streetcar Named Desire and Romeo & Juliet Forbidden Love and many more. Romance cocktails served throughout the month of February. Full cocktail list. 
Following a romantic cocktail hour, indulge in a decadent three-course prix-fixe menu featuring festive offerings including chocolate mint and Dijon crusted lamp chop lollipops, baked brie in puff pastry, chocolate fondue for two, red velvet cheesecake and more. 
$75 per person, $103 with wine pairings. Full menu. 
CASTLE HILL INN
Savor a four-course prix-fixe dinner on Valentine's Day with your sweetheart and a panoramic ocean view. Indulge in decadent dishes including roasted pink beet carpaccio; "soulmates" featuring Yellowfin tuna, hamachi, seabean, citrus, and miso-brown butter sauce; buttered poached lobster tail and many more. Plus, end a sweet note with a selection of desserts. 
$92 per person. Reservations required. 5:45 - 10:00 PM. Full menu. 
15 POINT ROAD
Cozy up at 15 Point Road with an ocean view and a specially crafted three-course menu including New England clam chowder, shrimp cocktail, baked stuffed shrimp, slow roasted prime rib, three cheese lobster ravioli, beignets and more. 
$45 per person. Full menu. 
THE GRILL AT FORTY 1 NORTH
Savor a Valentine's Day fete at The Grill at Forty 1 North featuring two-pound baked stuffed lobster, chilled seafood platter with oysters, clams, shrimp, scallop ceviche in the shell, tuna tartare and a chocolate dessert plate for two with flourless chocolate cake, truffles, gelato.
SAFARI ROOM AT OCEANCLIFF
Chef Bradley Coil of The Safari Room at OceanCliff Resort has curated an eclectic five-course menu to cater to all your Valentine's Day culinary desires. Begin with options of Seared Georges Bank sea scallops, baby kale salad with truffle goat cheese and roasted winter beets, Foie Grad Torchon or RI oysters on the half shell. Cleanse your palette with pomegranate sorbert before moving onto entrees of roasted native lobster tails, five spiced rubbed Venison chop, filet mignon, Mirin glazed seabass, and roasted baby vegetable and mushroom "lasagna". Close the evening with double chocolate mousse, creme brulle or strawberry cheesecake.
$65 per guest. Full menu.
WHITE HORSE TAVERN
The oldest tavern in the United States is the perfect place to cozy up next to your love if you're looking for historic charm. Enjoy a special five-course menu including Kenyon's cornmeal fried Bluff Hill Cove oysters, cast-iron seared filet mignon, truffle-stuffed scallops, double chocolate torte and more. 
$70 per person, plus tax and gratuity. Full menu. 
SPICED PEAR AT THE CHANLER
Celebrate with your loved one at The Spiced Pear and indulge in a decadent six course tasting menu which pairs perfectly with wine. Offerings include oyster and crab chowder, veal cheek ravioli, butter poached Maine lobster, chocolate petit fours and more. 
$105 per person, $160 with wine. Tasting menus are available until 9:30 PM. Full menu. 
EXPERIENCE
From cooking classes to helicopter tours and massages for two, these experiences are perfect for a little romancing.
WATER JOURNEY
Begin your year with the art of healing. Known as hydrotherapy, the experience through applies water in the form of hot, cold, steam and ice to help stimulate the circulatory system and detoxify the body. This system has been used by cultures around the world for thousands of years and can be embraced at Newport's Bodhi Spa. Known as the Water Journey, you'll travel through various pools and saunas for ultimate healing and cleansing. Your journey will include:
Epsom Salt Pool – 104 degrees
Dead Sea Salt Pool – 98 degrees
Cold Plunge Pool – 55 degrees
Aromatherapy Steam Room
Full Spectrum Infrared Sauna
Traditional Dry Sauna
Relaxation Room
SNOWBALL COCKTAILS
Have a little fun with your sweetheart when you head to Vanderbilt Grace for snowball cocktails. You'll receive a silver bucket and snowball maker to gather the perfect snowballs together. Then, head inside where your mixologist will shake up your favorite romantic cocktails and pour them over fresh snowballs so you can drink up the winter fun.
HELICOPTER & VINEYARD TOUR
Helicopter and vineyard packages include a helicopter tour, tasting and logo wine glass starting at $165 per couple. Upgrade to the Island Helicopter Tour plus the Vineyard Tour and Tasting for $235 per couple or the Lighthouse Helicopter Tour and Vineyard for $315. More information.
COOKING CLASS
Newport Cooks
Put a little spice in your Valentine's Day during this hands-on cooking class taught by Chef Miles Chandler, a connoisseur of NOLA cuisines & former catering Chef. Chef Miles will share his best time honed recipes and culinary knowledge of Creole & Cajun cooking. Menu: NOLA-Style Shrimp & Crab Stew, Butter Pecan topped Crispy Pan Seared Fish with Meuniere Sauce & Bananas Foster drizzled with Deep Dark Chocolate Sauce. You'll taste wines to compliment the menu. February 14, 6:00 - 8:00 PM. More information. 
S'MORES ON THE PATIO
Cuddle up next to the fire and your sweetheart on Hotel Viking's patio. You'll be provided with a s'mores kit, the perfect ingredients to make your evening even sweeter. 
HEAVEN TO EARTH COUPLES MASSAGE
The Spa at Newport Marriott
From your head down to your toes, this chakra-balancing treatment will leave you feeling stress free and light on your feet again. Your personalized therapist begins your session with a face, scalp, neck and shoulder massage, moves to your hands and arms to relieve tension, and finishes with a foot retreat massage. This specialized service uses Himalayan Salt Stones to help rebalance your central nervous system, reduce inflammation, and improve sleep for an all-over sense of well-being. More information.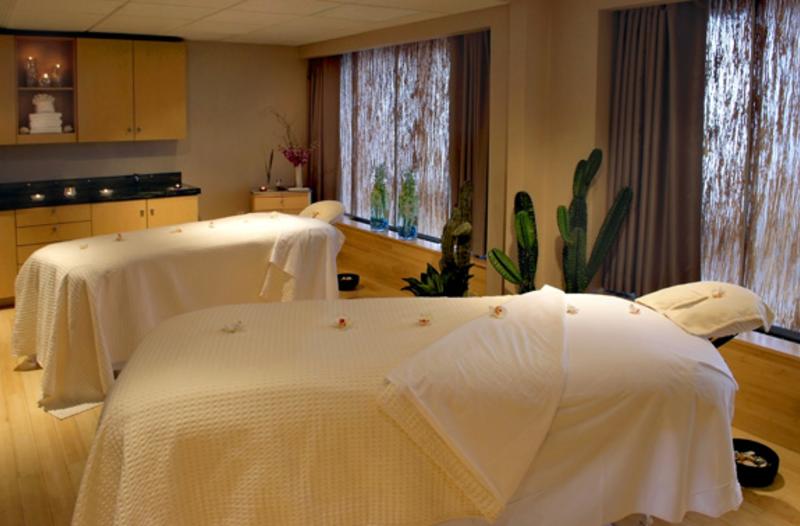 LIVE MUSIC AT ONE BELLEVUE LOUNGE
Date: Tuesday, February 14, 2017
Time: 7:00 - 11:00 PM
Location: One Bellevue at Hotel Viking
Details: Head to One Bellevue Lounge at Hotel Viking to enjoy the talented sounds of Chris Vallaincourt live.