A little rain never hurt anyone, and it sure won't spoil your time in and around Newport. Even on the dreariest of days, you can still savor some of the best New England flavors around, explore the city's museums, or sit back and relax at one of many scenic vineyards and breweries.
Trust us, you won't mind staying indoors for this list of rain-proof activities.
INDOOR ACTION
Just because it's raining outside doesn't mean an action-packed day is out the window. Head over to Newport Indoor Golf to try your hand at a round of virtual golf, or learn how to blow glass from an experienced glass blower at Thames Glass. Whichever you choose, these local destination have just the thrill you're looking for. 
1
Newport Indoor Golf
When the weather just isn't on your side but your golf craving is alive and well, head over to Newport Indoor Golf, a state-of-the-art facility featuring Trackman golf simulators which monitor club and ball speed, launch angle, spin rate and shot path, among other things (hint: it's what Tiger Woods uses to train). Choose from 30 courses including PGA National, Florida; Olympic Golf Course, Rio de Janeiro, Brazil, The Grove, Hertsfordshire, England and more. 
2
Tiverton Casino
Tiverton Casino offers 33,600 sq. ft. of gaming space including 1,000 of the newest video slots alongside classic favorites like Wheel of Fortune Cash Link, Dragon Link, and more. Try your hand at any of their 32 table games, then head over to one of the onsite restaurants including The Casino Cafe + Grille, Express Dining, Jackie's Galaxie and more. 
3
Glassblowing at Thames Glass
Learn how to make your own ornament or paperweight alongside a skilled glassblower during this hands-on experience at Thames Glass.
Newport Vineyards includes a 60-acre vineyard, restaurant, cafe, marketplace, tasting room and tank room. The vineyard was originally established in 1977 with the goal of producing fine wines as a way of preserving agricultural land from rapid development. Today, they produce a variety of quality, award winning wines.
Greenvale Farm, located along scenic Sakonnet River, has been in the same family since 1863. The vineyard, which has been family operated since 1982, serves 100% estate grown, award-winning wines created from 27 acres of grapes and nurtured by rich history and a commitment to the preservation of open space.
Carolyn's Sakonnet Vineyard opened in 1975 in Little Compton on the notion that the micro climate and soil conditions found along the Southeastern New England coast closely resemble some of the great wine regions of the world (Think: France). The vineyard sits on 163 acres of land and produces 19 wines.
Newport Craft Brewing Co. was originally founded in 1909 by four college friends. It was the original production craft brewery in Rhode Island, and has since created more than 100 distinctive beers while keeping things local and authentic. From a large selection of brews made with Rhode Island grown ingredients, to beers aged in rum barrels, the brewery has been in the vanguard of craft brewing for nearly 20 years. *image courtesy of Newport Craft Brewing Co.
ON THE WATER
Rainy day? No problem, Coastal Queen's weatherproof, heated salon is the perfect place to explore the harbor while staying dry. Climb aboard for panoramic views.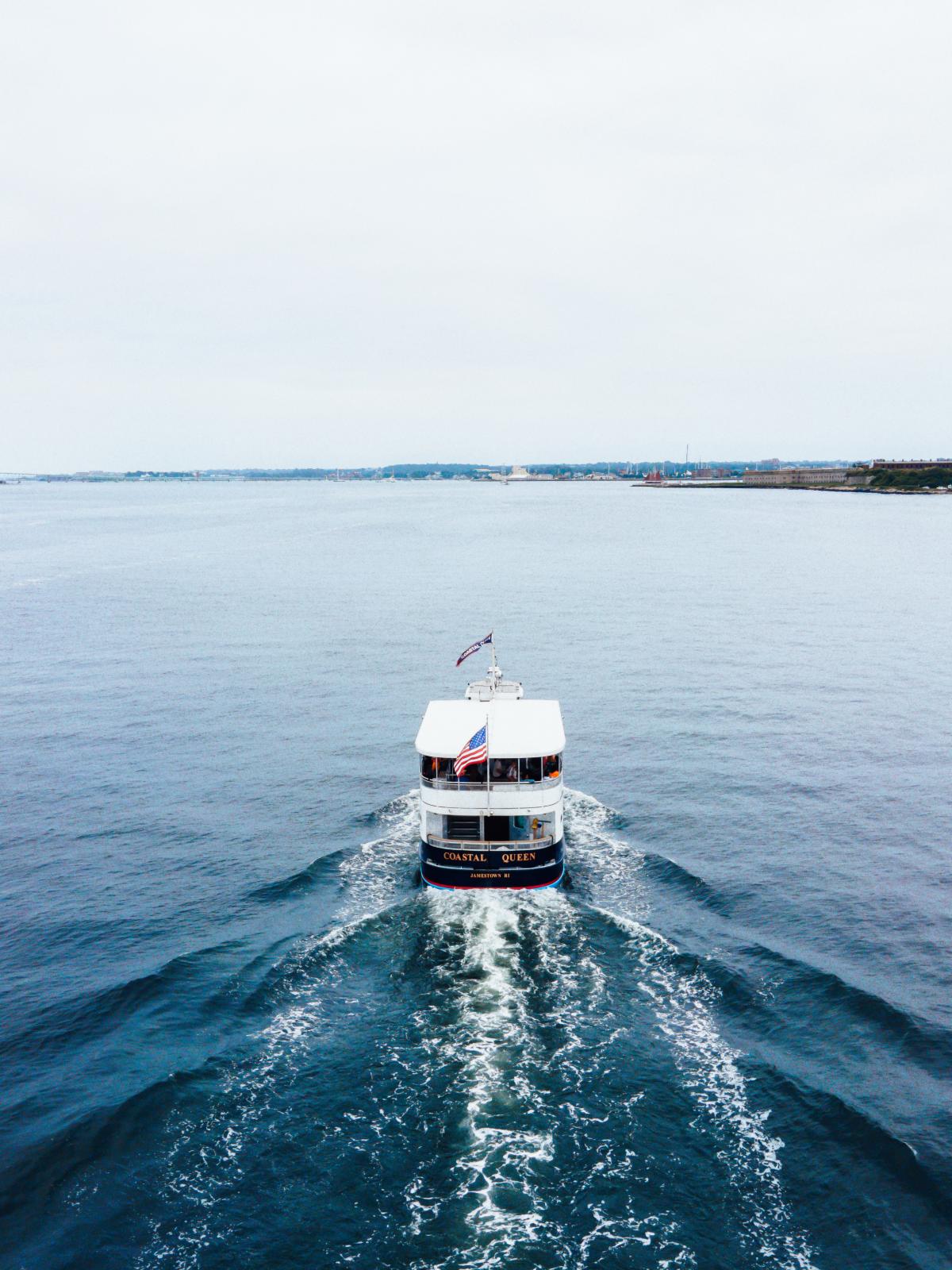 GET SOCIAL
Tag your photos #TheClassicCoast for the chance to be featured on our accounts.