Before America's elite transformed Newport into their summertime resort, the city was infused with Irish heritage. In the early 1800's, Irish immigrants migrated to Newport in large numbers to embrace a number of jobs, like working the coal mines in nearby Portsmouth and building Fort Adams State Park. Their presence shaped the city we know today in more ways than most realize; St. Mary's Church, Fort Adams, and many more to name a few. Today, the city celebrates this heritage with a month-long roster of events in March for Newport Irish Heritage Month. 
Below are our favorite picks for embracing Irish culture in and around Newport. Sláinte!
INDULGE IN TRADITIONAL CUISINE
Traditional Irish food contains a lot of meat and potatoes, but that's not all there is to the Emerald Isle's cuisine. Make your way to one of Newport's Irish pubs for a taste of these classic Irish entrees. 
1
IRISH BREAKFAST
Where:

Buskers Pub And Restaurant

Address:

178 Thames St, Newport, RI 02840
Ah, black and white pudding. Is any traditional Irish breakfast complete without it? This sausage made with pork meat, fat and blood (sans blood for the white pudding) is served with eggs, rashers, bangers, Irish baked beans and grilled tomatoes.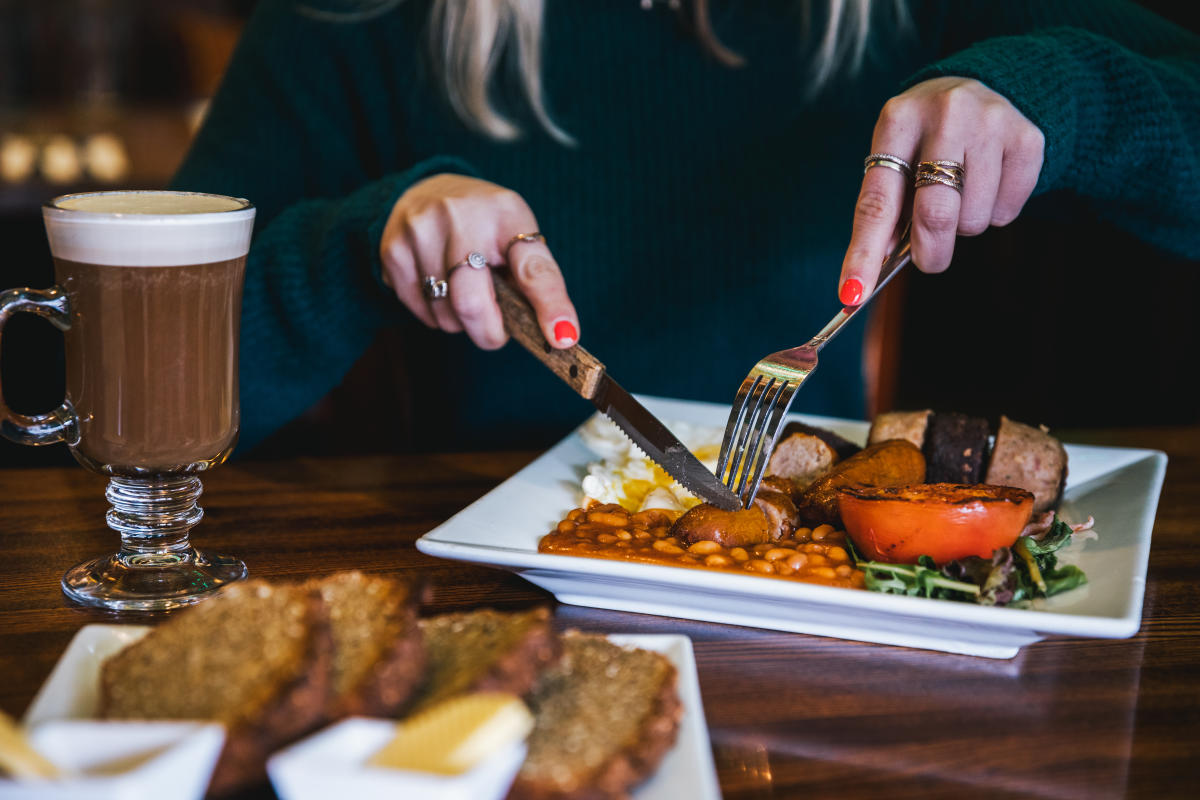 2
FITZY'S IRISH FRY UP
Where:

Corner Café

Address:

110 Broadway, Newport, RI 02840
Enjoy 2 eggs, bangers, rashers, black & white pudding, grilled tomato, Irish brown bread all for $13.95. Craving an omelette instead? Opt for the Irishman, an omelette served with sautéed mushrooms, onions, potatoes, rashers, fresh herbs and cheddar. 
MORE IRISH MENU HIGHLIGHTS:
Irish Brown Bread
Bangers and Rashers
3
SMOKED IRISH SALMON
Where:

Aidan's Pub

Address:

5 John St, Bristol, RI 02809
Indulge in the classic Smoked Irish Salmon appetizer from Aidan's, which features smoked salmon on toast, topped with horseradish cream, capers, and red onion. 
CLASSIC IRISH-AMERICAN FAVORITES:
Dublin Pot Pie
Shepherd's Pie
Aidan's Irish Breakfast
Bangers & Mash
Aidan's Famers Stew
Traditional Reuben
4
IRISH BENNY
Where:

Atlantic Grille

Address:

91 Aquidneck Avenue, Middletown
Savor poached eggs and corned beef hash with hollandaise sauce on top of an english muffin, served with home fries. They serve breakfast all day, so you are in good hands.
5
Bangers and Mash
Where:

Buskers Pub And Restaurant

Address:

178 Thames St, Newport, RI 02840
Jumbo Irish sausages (bangers) with homemade mashed potatoes; served with Irish baked beans and Bistro gravy complete this popular Irish dish.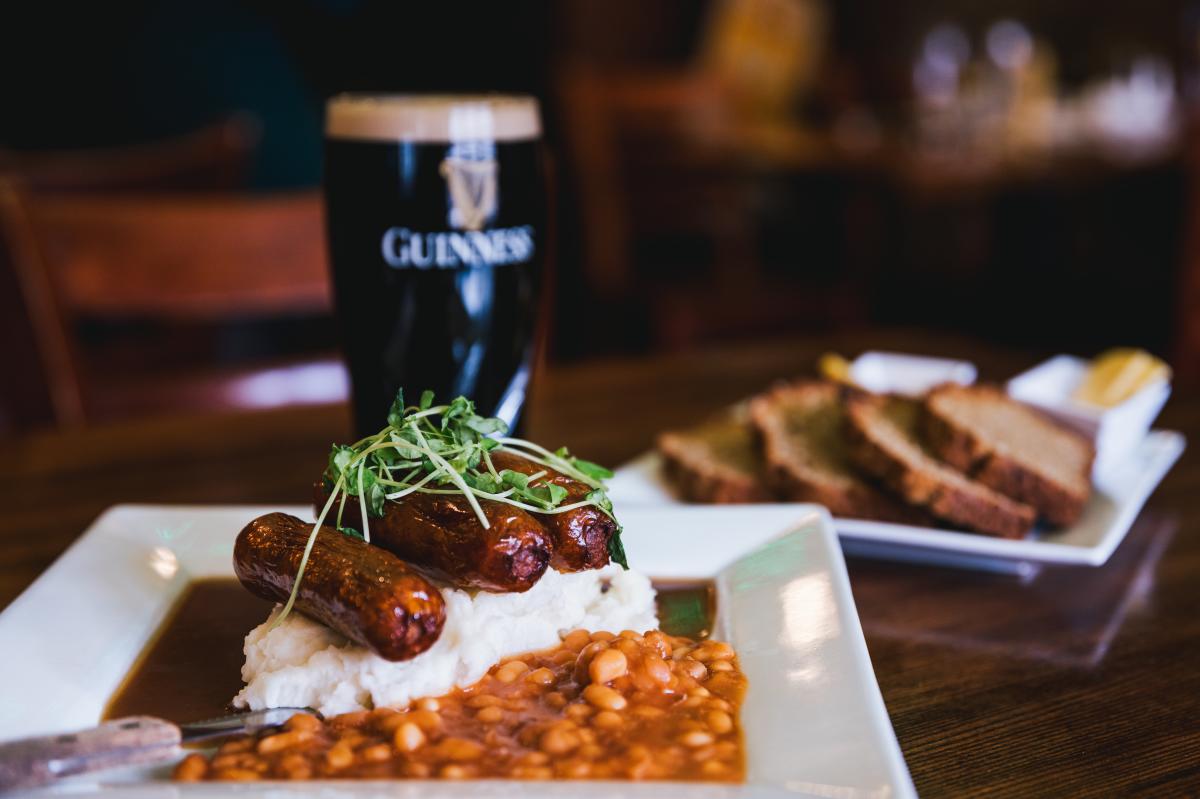 6
Cottage Pie
Where:

Buskers Pub And Restaurant

Address:

178 Thames St, Newport, RI 02840
A standard comfort meal, Cottage Pie combines house ground beef, carrots, onions, peas and mushrooms simmered in gravy and topped with mashed potatoes.
MORE IRISH MENU HIGHLIGHTS:
Irish Homemade Chili
Irish Mixed Grill
Burdock's Fish & Chips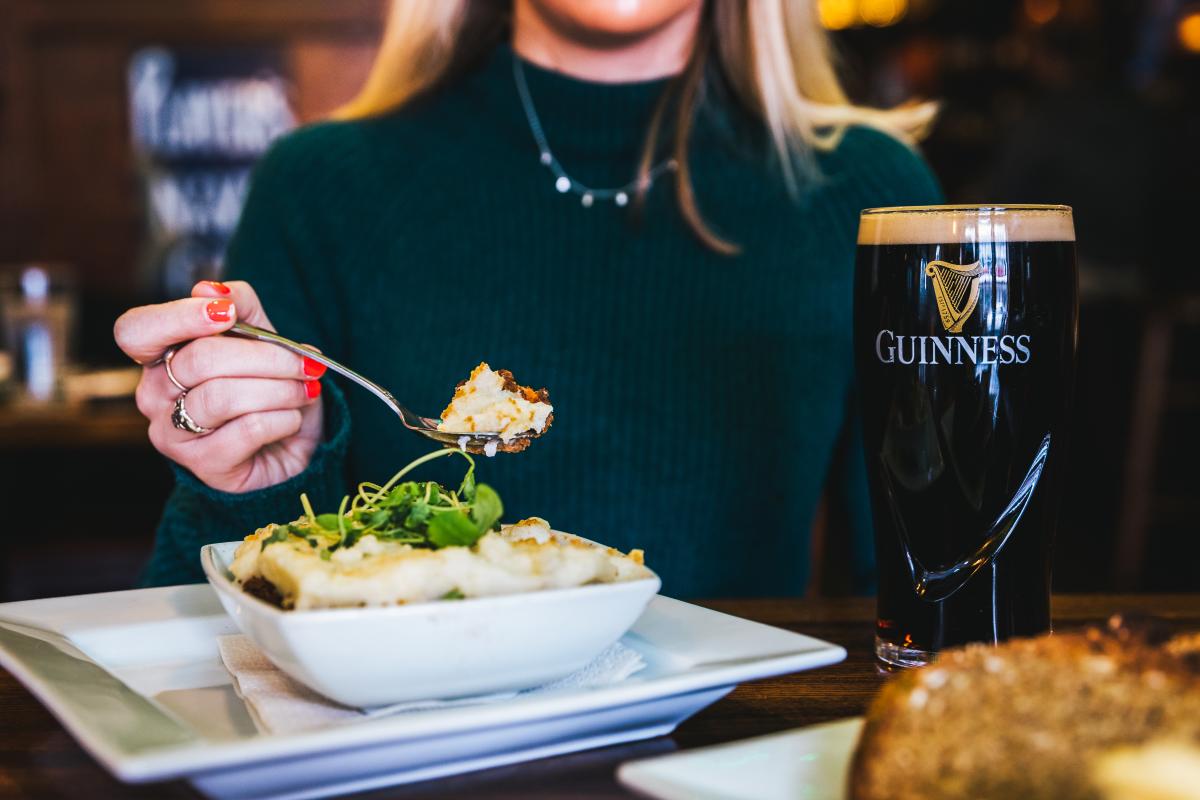 7
O'BRIEN'S BEEF STEW
Where:

O'Brien's Pub

Address:

501 Thames St, Newport, RI 02840
Stew is an Irish staple in the colder months. This one-pot meal is crafted with tender pieces of beef, slow cooked and simmered with potatoes and carrots, served with dinner rolls.
8
Bangers, Beans & Fries
Where:

The Fastnet Pub

Address:

1 Broadway, Newport, RI 02840
In the mood for a Fastnet favorite instead? Try the Bangers, Beans & Fries, which consists of 2 traditional Irish sausages, baked beans and pub fries.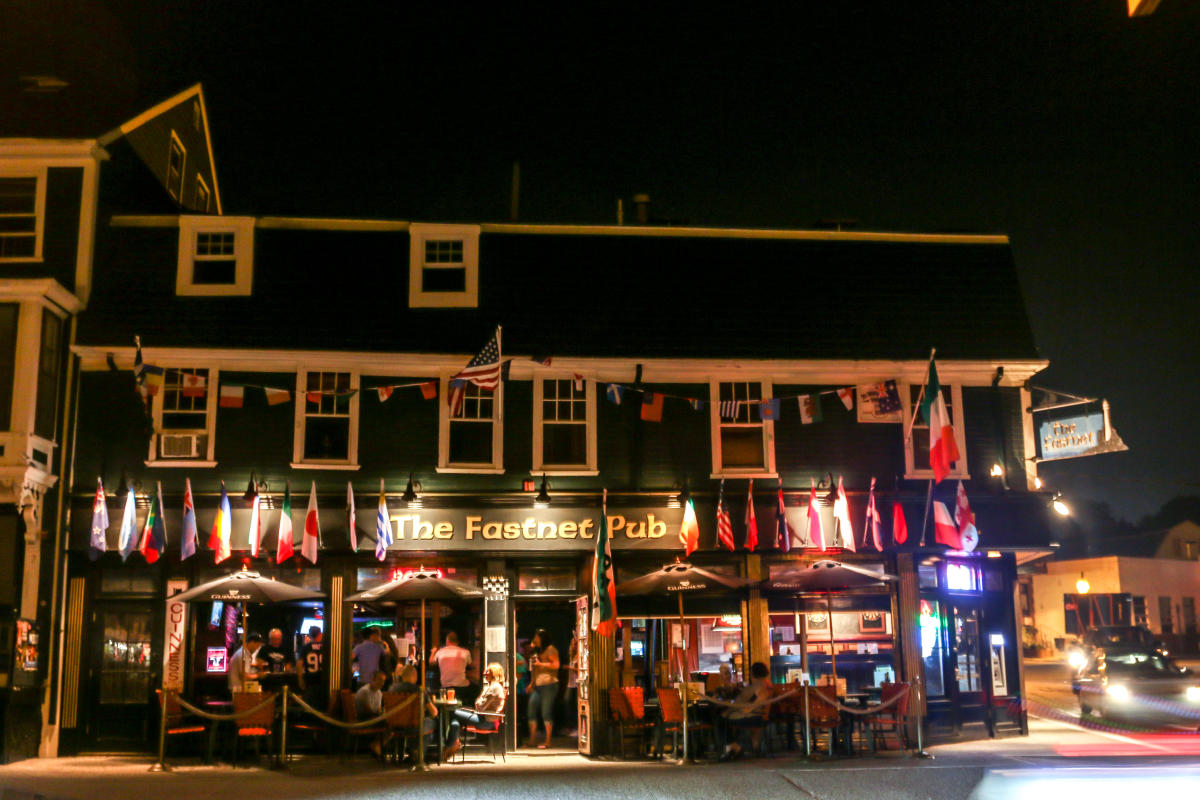 9
Irish Raisin Bread Pudding
Where:

La Forge Casino Restaurant

Address:

186 Bellevue Ave, Newport, RI 02840
What better way to end your meal than with an Irish Raisin Bread Pudding served with a caramel rum sauce at La Forge. Pairs well with a Guinness, which gives good reason to order another round. 
IRISH DRINKS AROUND TOWN
So you don't like Guinness. We won't judge. After all, thick heavy beer isn't for everyone. Celebrate the month with these festively Irish cocktails around town instead.  If whiskey is more your speed, make your way over to Buskers Irish Pub where you'll find more than 40 Irish whiskeys alongside a hearty collection of single malt scotches, or Tavern on Broadway who has over 20 Irish whiskeys to choose from.
1
NUTTY IRISHMAN
Where:

O'Brien's Pub

Address:

501 Thames Street Newport, RI 02840
The ingredients: Hazelnut liqueur and Irish cream with freshly brewed coffee
MORE IRISH DRINKS AT O'BRIENS:
Irish Coffee
Guinness Stout
Peppermint Patty
2
Irish Draft Beers
Where:

The Fastnet Pub

Address:

1 Broadway, Newport, RI 02840
Fastnet, an Irish gathering place where rugby is on the TV and Guinness is ready to pour, has both drafts and bottles that are directly from Ireland.
Featured Irish Drafts:
Harp Lager, Ireland
Kilkenny, Ireland
Smithwicks Ale, Ireland
Guinness Stout, Ireland
Magners Cider, Ireland
Bottled Irish Beer:
Magners Pear Cider, Ireland
3
Slane Iced Irish Coffee
Where:

The Tavern on Broadway

Address:

16 Broadway, Newport, RI 02840
The ingredients: Slane Whiskey, Downeast nitro cold brew, coffee liqueur, topped with fresh cream.
MORE DRINKS AT TAVERN:
20+ Irish Whiskeys
Slane Old Fashioned
Espresso Martini with Irish Cream
More Details
GET SOCIAL
Tag your photos #TheClassicCoast for the chance to be featured on our accounts.