Step back to the 19th century history and watch as horse-drawn coaches parade through the streets of Newport and the grounds of Newport Mansions. This unique event takes place every three years in Newport and this summer it runs Friday, August 19 through Sunday, August 21.
A Weekend of Coaching, hosted by The Preservation Society of Newport County, is a must-see event for the entire family.
COVID-19 NOTE:
When you're ready, we can't wait to welcome you back to The Classic Coast. Rest assured, the safety and well-being of both visitors and locals remains our top priority.  All we ask when you land on these shores is that you play your part in keeping everyone safe. Please be kind and adhere to local guidelines. 
SPECIAL EVENTS
FRIDAY EVENTS
Get ready to smile and wave as horse-drawn coaches leave Chateau Sur Mer at 10:15 AM and drive down Bellevue Avenue, past First Beach on Memorial Avenue and make their final stop at Greenvale Vineyards in Portsmouth around 12:45 PM.
Friday evening, the horse-drawn coaches will leave Chateau Sur Mer at 5:00 PM and head past the entrance to Fort Adams State Park, stop at Brenton Point State Park at 6:10 PM and continue to Rosecliff arriving at 7:30 PM.
SATURDAY EVENTS
Morning Drive
The coaches will leave Chateau Sur Mer at 10:05 AM and drive on Ruggles Avenue to Orche Point Avenue, to Narragansett Avenue, to Bellevue Avenue and arrive at The Elms at 10:30 AM.
Free Driving Exhibitions
The public is welcome to this free driving exhibition on the grounds of The Elms, beginning at 10:30 AM and ending at 11:30 AM. This is the only opportunity for the public to get close to each of the teams and learn about the horses and the history of each coach.
Note: Dogs are not permitted on the grounds, except for certified service animals.  There will be no parking at The Elms during the exhibition.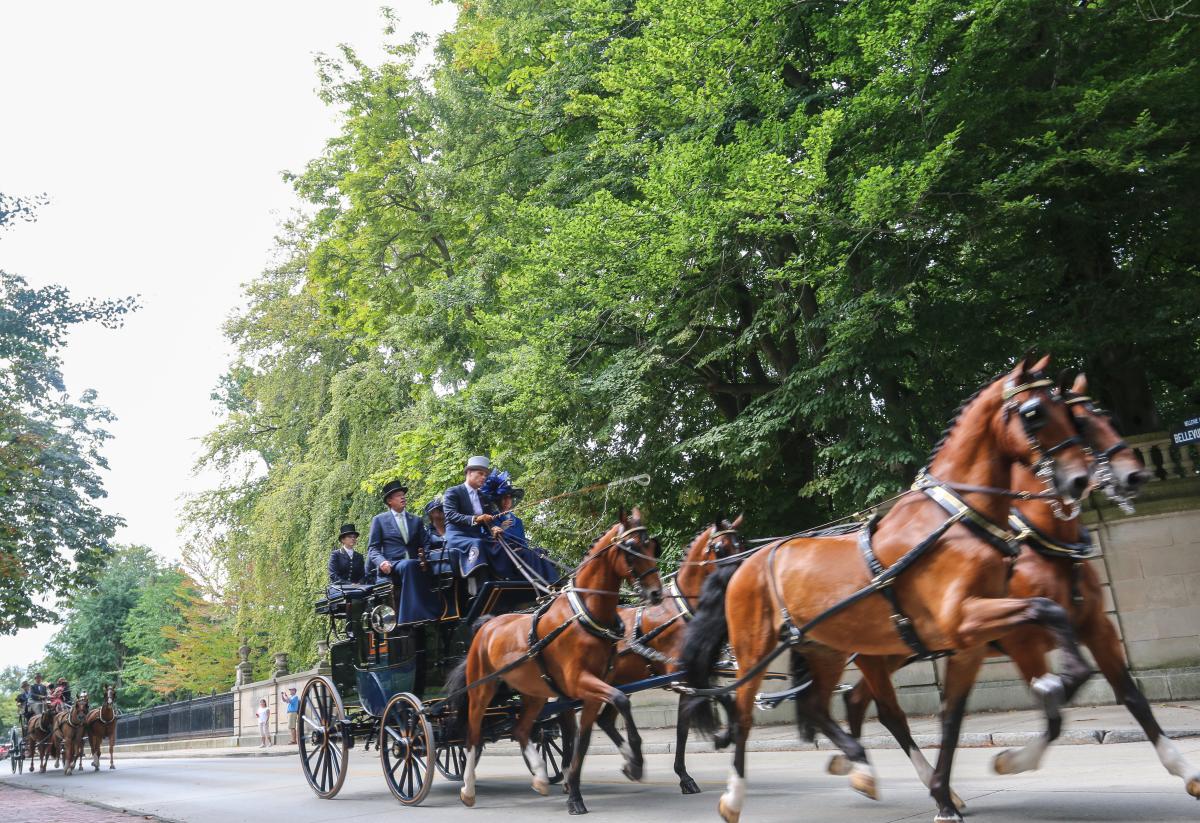 Afternoon Drive
After the free driving exhibition, the coaches will leave The Elms at 11:30 AM, and drive past Harbour Court New York Yacht Club on Harrison Avenue, then past Brenton Point State Park on Ocean Drive at 12:25 PM and end their route at a private event.
Coaching Dinner Dance
Enjoy cocktails, dinner and dancing in Newport's grandest Gilded Age Mansion. This Black Tie evening includes music provided by Bob Hardwick Sound. Contact the Special Events Office to inquire about reservations for the Coaching Dinner Dance.
SUNDAY EVENTS
The weekend event concludes with a photo opportunity at Chateau Sur Mer at 10:30 AM to 10:45 AM. Afterwards, the coaches will drive through The Breakers property at 10:50 AM and then take Ruggles Avenue, to Wickham Road, to Harrison Ave to Ocean Drive. They will make a private stop from 11:50 AM to 12:15 PM and arrive at Marble House at 1:00 PM.
THE HISTORY AND TRADITION OF COACHING
The tradition of coaching grew out of the 18th and 19th century mail runs in England, which later made their way across the Atlantic to the United States. The horse-drawn mail coaches were eventually replaced by railroads, but nostalgia led to the development of coaching as a sport.
The two types of open-air vehicles used in the sport of coaching—a Road Coach and the slightly smaller Park Drag—employ a team of four horses. All seating is outside, with the driver, known as a "whip," sitting in the slightly elevated right front seat. The whip's wife or female relative sat in the "box seat" on the left. The rear bench of the coach holds at least two specialized footmen called grooms. Two center benches can hold up to 10 passengers.
GET SOCIAL
Tag your photos #TheClassicCoast for the chance to be featured on our accounts.