Freedom of expression is the foundation on which Newport was originally founded back in 1639, when colonists like Anne Hutchinson and Roger Williams were banned from their settlements for their religious beliefs. It was a central way of life then, and remains so today as local artists use the city's blank walls as their canvas for artistic expression.
From nondescript walls and empty parking lots to wood siding on neighborhood homes, here's 6 spots local artists have transformed in and around Newport.
COVID-19 NOTE:
When you're ready, we can't wait to welcome you back to The Classic Coast. Rest assured, the safety and well-being of both visitors and locals remains our top priority.  All we ask when you land on these shores is that you play your part in keeping everyone safe. Please be kind and adhere to local guidelines. 
1
Parlor Bar + Kitchen
In August 2020, artist Chris Wyllie met Kristin Mashaw, owner of The Parlor on Broadway. When she learned he was the artist who had painted the mural outside Newport Wine Cellar, she decided to commission him to build one on the side of her building. Wyllie got to work, and what resulted was a 90-by-27-foot vibrant painting that reflects the vibe of the eatery: lively, upbeat and bright.
Artist:
Chris Wyllie
Location:
200 Broadway, Newport
2
Salvation Cafe—Southside Wall
A nondescript gray wall bordering the parking lot of Newport Family & Cosmetic Dentistry and Salvation Cafe on Broadway is now home to a vibrant, loose interpretation of John Frederick Kensett's 1857 painting, "Beacon Rock, Newport Harbor." Painted by local artist Sue McNally, the 30' x 25' mural is the first project of Newport Public Art, an initiative to bring more art into the city's public spaces. 
Artist:
Sue McNally
Location:
136 Broadway, Newport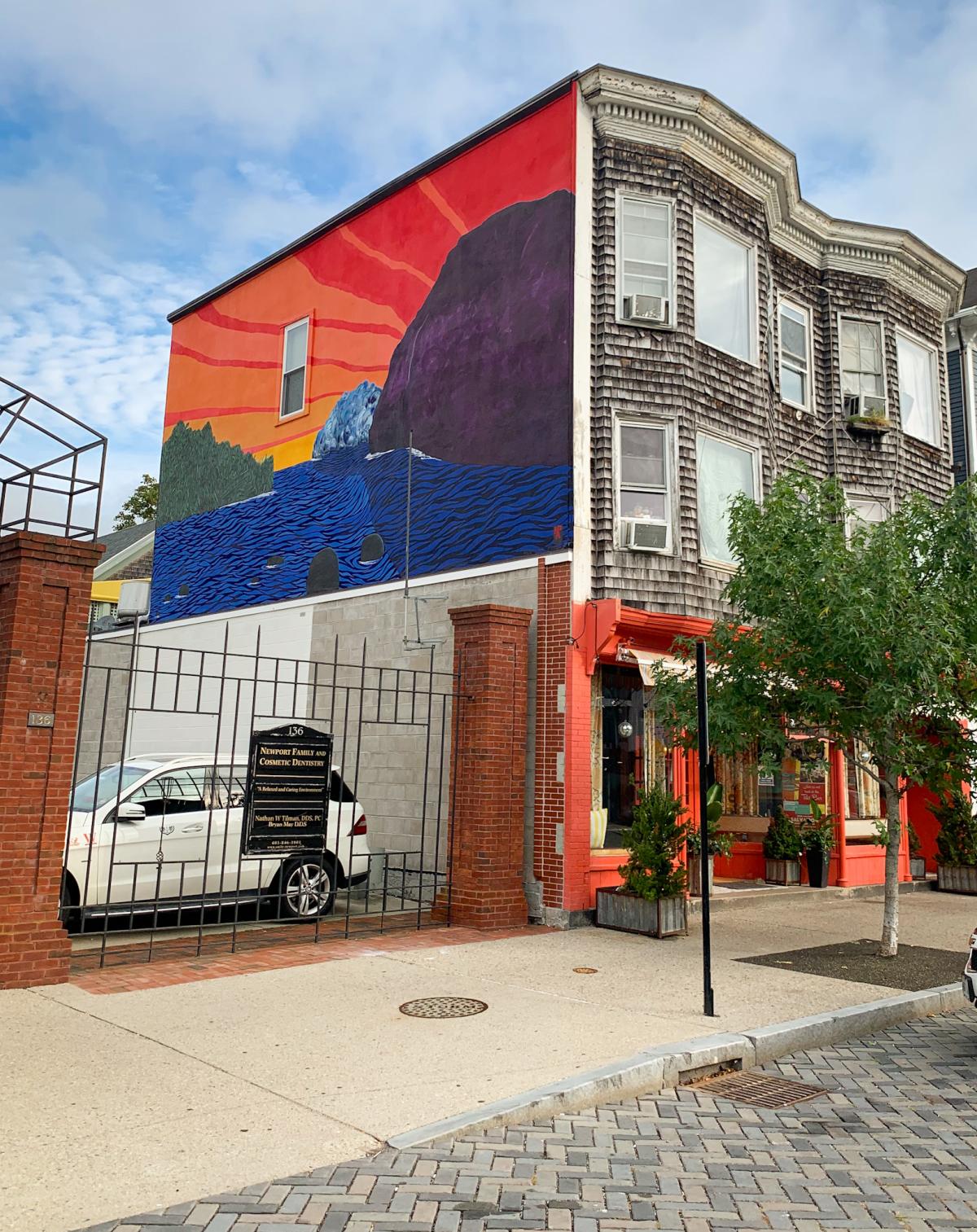 3
Nitro Bar
The Nitro Bar originated as a coffee cart hand-made from scrap wood, and eventually evolved from high-demand into 3 carts, 50 Nitro taps and 2 shops throughout the state. Outside their Newport location at 2 Pond Avenue resides an eye-catching, hand-painted mural created by local artist Lizz Kelley.
Artist:
Lizz Kelley
Location:
2 Pond Avenue, Newport
4
26 Bacheller Street
Commissioned by a local couple looking to "funk up" their neighborhood, the mural at 26 Bacheller Street is what came to life when local artist Sun Quest met some borrowed ladders and a bucket of old paint brushes. The 10' x 18' mural, titled "Liquid Summer" is the combination of acrylic paint and wood siding. 
Artist:
Sun Quest
Location:
26 Bacheller Street, Newport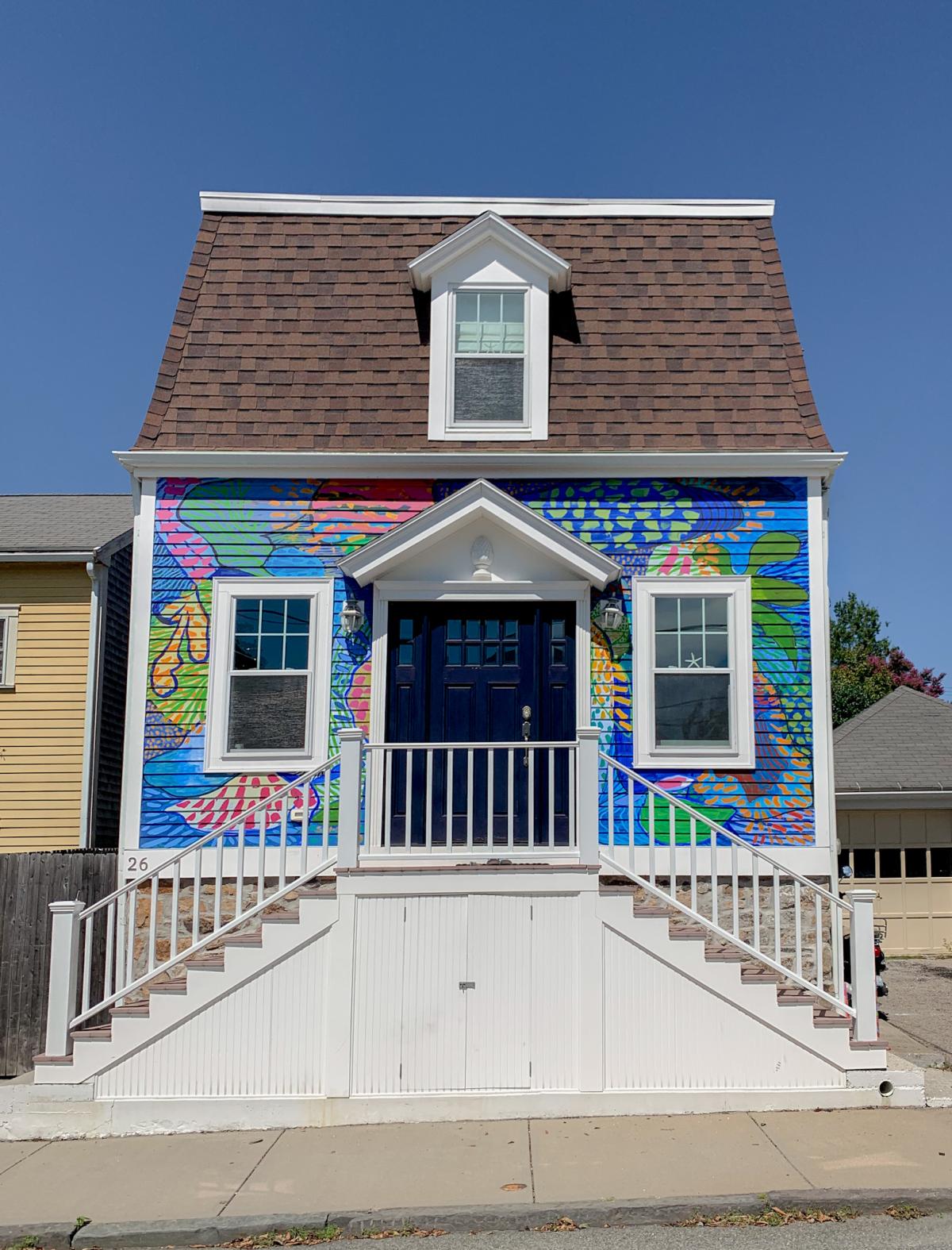 5
Caleb + Broad
Head inside this funky, creative eatery on Broadway to catch a thought-provoking interior mural hand-drawn with black ink and paint markers by local artist Ryan Smith. The 7' x 21' piece of art is a pop culture tribute to all things Rhode Island: film references, landmarks, historical figures and nautical nuances. 
Artist:
Ryan Smith
Location:
162 Broadway, Newport
Bonus: Peek around the front door onto Caleb Street for a look at the restaurant's vibrant sidewall, a perfect backdrop for photos.
6
THE FIFTH ELEMENT
Outside Broadway's Fifth Element resides a dormant parking lot turned outdoor beer-garden-esque dining area. Adorned in potted plants and vibrant picnic tables under a canopy of Edison-bulb string lights, Outer Element, which was constructed in response to COVID-19 dining restrictions, is tied together by a mural that reads out "HOPE" on the back wall created by local artist and Newport native Phillip Easton. 
Artist:
Phillip Easton
Location:
111 Broadway, Newport
7
River Lane
Another Newport Public Art project, the River Lane mural resides in between Boru and the former Mission Newport location at the corner of River Lane and Marlborough Street. A conglomerate of seascape meets outer space, the wall was painted by spray paint artist and muralist Jy-Tique Harris.
Artist:
Jy-Tique Harris
Location:
River Lane x Marlborough Street
8
Newport Wine Cellar + Gourmet
Another Chris Wyllie masterpiece, this 60-by-20-foot mural ironically titled "Social Distancing," depicts a group of friends gathered at a cocktail party—appropriate for its location outside Newport Wine Cellar + Gourmet. The theme here is inclusivity and harks on the notion that wine has a way of bringing people together. 
Artist:
Chris Wyllie
Location:
5 Merton Rd, Newport
GET SOCIAL
Tag your photos #TheClassicCoast for the chance to be featured on our accounts.