While frosty winter days have us cozying up indoors with a steaming mug of hot chocolate and perhaps all the comfort food we can get our hands on, we're still embracing the great outdoors like it's sunny and 75. From toasty cocktails sipped under a blanket next to a roaring fire to winter bird walks and even some horseback beach trails, there's no shortage of opportunities for outdoor wanderlusting. 
Below are your fresh-air picks. 
SPECIAL EVENTS
GUIDED BIRD WALK
Lace up your boots and grab your binoculars for Sunday Bird Walks at the Norman Bird Sanctuary. Birding masters and beginners alike are welcome to join experts as they prowl the best bird watching spots that NBS has to offer. No registration required, just meet in the parking lot at 8:00 AM. 
Dates: March 11; 8:00 - 10:00 AM
Where: 8:00 - 10:00 AM
Admission: Free
JAMESTOWN ARTS CENTER LANTERN PARADE
The Jamestown Arts Center Lantern Parade begins and ends at the Jamestown Arts Center followed by a spectacular Festival in the gallery. Stroll the streets of quaint Jamestown as handcrafted lanterns light the way. All lanterns are welcome at the parade and festival, especially lanterns from previous parades.
When: Friday, March 2
Time: 6:00 PM
Admission: Free
SAINT PATRICK'S DAY PARADE
Find your best green attire, keep your eyes open for leprechauns, and join in the revelry to celebrate St. Patrick's Day in Newport! The parade kicks off from the Newport City Hall and runs through Washington Square, down Thames Street, and ends at St. Augustine's Church. Parade will be held rain or shine.
When: Saturday, March 17
Time: 11:00 AM
Admission: Free
SPRING EQUINOX HIKE
Celebrate the first Saturday of spring with a hike at Ballard Park. Learn about the thirteen acre site's history while exploring the mile+ of trails. Meet at the Hazard Road entrance.
Date: Saturday, March 24
Time: 10:00 - 11:00 AM
Admission: $5 suggested donation. $15 per group
EAST EGG HUNT & BRUNCH
Join the Easter Bunny to share lots of eggs, candy, prizes and scrumptious seated brunch for everyone in the family. Space is limited and reservations are required. Rain or Shine.
Date: Saturday, March 31
Time: 10:00 AM
Admission: $10 - $55. Tickets.
NEWPORT NIGHT RUN
Rogers High School
The city-by-the-sea's annual after-hours 5K starts and finishes at Rogers High School and benefits the Newport Public Education Foundation. The course showcases some of Newport's most beautiful rural roads, including parts of Ocean Avenue and Hazard Road. Walkers and runners of all ages and paces are welcome to participate.
Date: Saturday, April 7
Time: 7:30 - 9:00 PM
Admission: $25 - $29 
Featuring nine days of fun, free, family activities throughout Newport, the Festival allows visitors to revel in Mother Nature's beauty while "going daffy" at twenty different events
Date: April 14 - 22
Time: Times vary. Schedule here.
Admission: Free
Brought to you by Newport Storm Brewery and Pour Judgement Bar & Grill, at the Great Friends Meeting House in downtown Newport, RI. Proceeds benefit the Rhode Island Brewers Guild. Enjoy hand-crafted beers poured by the people who make them,
Date: Saturday, April 28
Time: 12:00 - 7:00 PM
Admission: $35 - $45
WALKING TOURS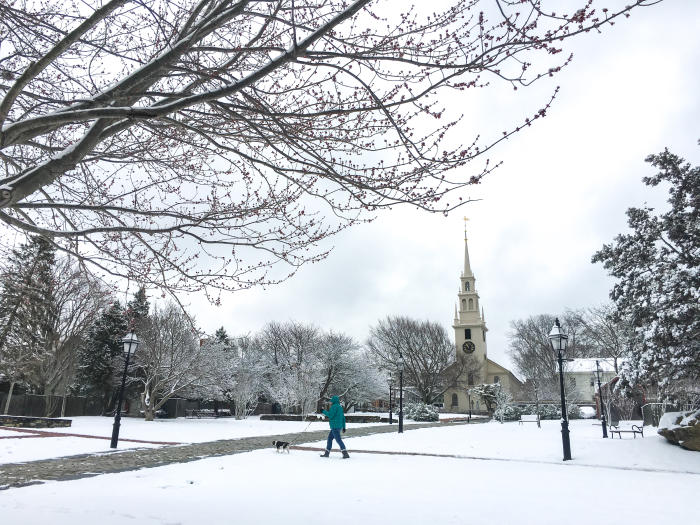 All tours begin at the Brick Market Museum & Shop.
Rogues and Scoundrels
See where scoundrels lived, pirates profited and criminals were punished.
Dates: Tuesdays and Fridays starting February 20,
Time: 11:00 AM
 
Discover Colonial Newport
Hear stories of revolution and ruin, struggles for religious liberty and remarkable entrepreneurship among Newport's diverse people.
Dates: Sundays starting February 18
Time: 11:00 AM
Road to Independence
Riots and rebellion, enemies and allies! Learn about Newport's role in the American Revolution.
Dates: Mondays and Thursdays starting February 19
Time: 11:00 AM
GET SOCIAL
Tag your photos #NPTrightnow for the chance to be featured in our accounts.