February is known as Black History Month, an annual time that celebrates the history, heritage and diversity of the Black community with special virtual events, lectures and walking tours throughout The Classic Coast. 
COVID-19 NOTE:
When you're ready, we can't wait to welcome you back to The Classic Coast. Rest assured, the safety and well-being of both visitors and locals remains our top priority.  All we ask when you land on these shores is that you play your part in keeping everyone safe. Please be kind and adhere to local guidelines. 
Black History Month Events
1
NEWPORT GILDED AGE IN COLOR
Where:

Newport Art Musuem

When:

February 8, 2022, from 5:30 pm - 7:00 pm

Cost:

Free
The Newport Art Museum presents, Newport Gilded Age in Color, a talk by Keith Stokes, of the Rhode Island Black Heritage Society, at the Griswald House. from 5:30-7:00pm.
This talk focuses on the persons and families that lived, worked, and worshipped in 19th and early 20th century Newport during the Gilded Age sharing cultural, social, educational, political, and personal discourse with fellow families of color and means. Presenting biographies of many of the most interesting men and women along with artifacts and primary source documents that illustrate the African heritage social, religious, and political life during that era, Stokes will explore the untold and sometimes mis-told stories of life in the historic city by the sea. These include images of people taking part in civic events, bike riding along Bellevue Avenue, bathing at Easton's Beach, fishing on Cliff Walk, and meeting in some of America's earliest African heritage tennis and literary clubs.
The lecture will also reconstruct the significant African heritage neighborhoods in Newport with historic names including Top of the Hill, Historic Hill, and West Broadway. This event is FREE and In-person seating is limited. Live streaming via Zoom is available. Reservations are required to receive Zoom link. The lecture will be followed by audience Q&A and reception.
PLEASE NOTE: Proof of vaccination will be required at check-in for all in-person guests. Masks must also be worn inside.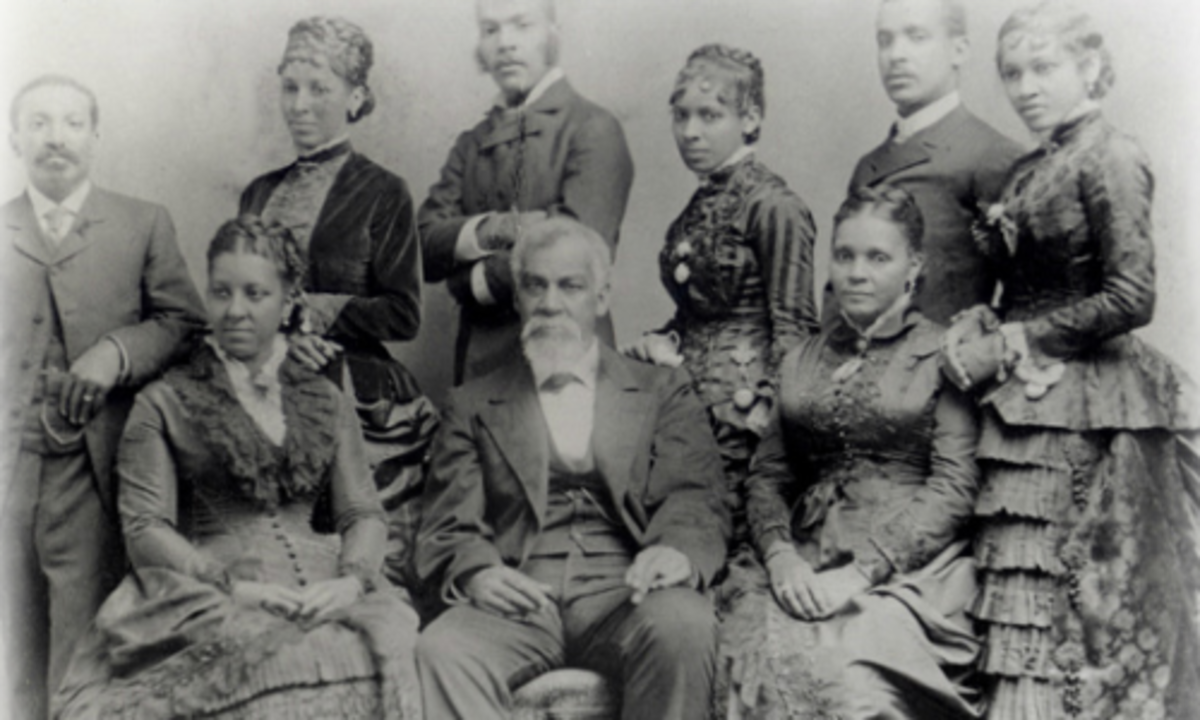 Image courtesy of The Rhode Island Black Heritage Society
2
IN CELEBRATION OF BLACK HISTORY MONTH VIRTUAL EVENT SERIES
Where:

Virtual Events by Redwood Library & Athenæum

When:

February 9th, 16th, 17th, 23rd, and 24th from 6:00 PM to 7:00 PM

Cost:

Free
In celebration of Black History Month, the Redwood Library and Athenaeum presents five virtual lectures honoring the history, writings, and artistry of the Black community:
February 9th: "Disappearing Ink: Rhode Island Black Literature & the Black Press in Rhode Island" A Conversation With Robb Dimmick and Ray Rickman on Stages of Freedom's Latest Project Virtual Lecture. For more information and to register, click here. 
February 16th: Music Appreciation Series with Dr. Markward: Black Composers and their Contributions to American Classical Music. For more information and to register, click here. 
February 17th: Black History Month and the Perils of Symbolic Blackness with Dr. Brenna Wynn Greer, Associate Professor Wellesley College. For more information and to register, click here. 
February 23rd: A Brief Exploration into the Life and Work of Lorenzo Johnston Greene with Dr. Christopher Roberts, Assistant Professor Rhode Island School of Design. For more information and to register, click here. 
February 24th: Rev. Glen S. Leverette, Pastor Community Baptist Church will present: Dr Martin Luther King Jr. "The Destiny of a Dream" With Introductory Remarks by Rev. Paul Hoffman, Pastor EFC Newport. For more information and to register, click here. 
3
Toni!Toni!Toni!
Where:

Curiosity Store, 14 Narragansett Avenue, Jamestown, RI 02835

When:

Saturday, February 19, 2022 at 2:00 PM

Cost:

$0 - 40
A one-day, multi-sensory birthday celebration of Toni Morrison, one of the true jewels of the American literary tradition.
On Saturday, February 19th, Curiosity & Co. is hosting an incredible birthday experience in the Curiosity & Co. Store featuring lively conversation, a catered menu, and a dynamic and immersive live reading of Song of Solomon by luminaries of Rhode Island's arts and civic communities.
5
FROM SLAVE TO SOLDIERS, A LOOK AT THE 1ST RHODE ISLAND REGIMENT IN THE AMERICAN REVOLUTION
Where:

Virtual Event By Linden Place

When:

February 24, 2022 from 7:00 PM - 8:00 PM

Cost:

Donation's Start at $5
Public historian, Robert A. Geake, will present a virtual lecture on zoom at 7:00pm, entitled "From Slave to soldiers, a Look at the First Rhode Island Regiment in the American Revolution" focused on the 1st Rhode Island Regiment of the American Revolution, later known as the "Black Regiment", which was composed of indentured servants, Narragansett Indians, and former slaves.
The talk will include from formation to the Battle of Rhode Island, to the siege of Yorktown, to the legacy today of those who enlisted to fight for America's freedom – and their own. Robert A. Geake is a public historian who has written about Rhode Island and New England's history since he was seventeen and submitted stories for the local newspaper, and is the author of fourteen books, and resides in Coventry, Rhode Island. 
6
International Tennis Hall of Fame Launches Digital Exhibit Breaking Boundaries in Black Tennis
Where:

View Online at breakingboundaries.tennisfame.com

Cost:

Free
The International Tennis Hall of Fame has launched its newest digital exhibit, Breaking Boundaries in Black Tennis, which highlights the breakthroughs, evolution, and impact of Black tennis players and influential contributors to the sport globally.
The initial launch of Breaking Boundaries features 70 individuals representing 19 nations, and will continue to expand with many more inspiring stories to be added on an ongoing basis. Fans are also encouraged to submit their own suggestions of athletes and contributors for inclusion through a form included in the exhibit.
Visitors to the exhibit can browse athletes' and contributors' profiles by navigating an interactive map grouped by region. Breaking Boundaries features biographical information and interactive profiles that highlight the on-court achievements and the lasting impact of players' successes on the sport of tennis.
6
CREATIVE SURVIVAL WALKING TOUR
Where:

Tour departs outside of the Museum of Newport History

When:

Sunday February 20, 2022 at 1:00 PM

Cost:

Non-Members: $15, Members/Active & Retired Military: $10, Children: $5
Discover the early history of Newport's people of color, enslaved and free. Explore the places where enslaved people lived and labored, along with locations where free African Americans built their enterprises and supported a new local industry.
Tours depart outside of the Museum of Newport History at the Brick Market, located at the foot of Washington Square, 127 Thames Street, Newport RI. Attendees should look for a sign indicating where to check in with the guide and depart for the tour to the north of the building near the flagpoles. Space is limited, advance registration is required. 
Ongoing at the Newport Historical Society
The Newport Historical Society recently launched its Know Your History initiative, a hub for resources to connect audiences with historical information that is relevant to the history we are making now. Currently the hub is featuring resources on Newport and Rhode Island's history relative to people of African descent, Native Americans, the history of protest and suffrage, and religious toleration.
7
Benevolence and Success in the Era of Slavery: Duchess Quamino and William Ellery Channing
Where:

Channing Memorial Church, Newport and Live on YouTube

When:

February 26th, 2022 at 2:00 PM

Cost:

Free
The public is invited to attend an illustrated Black History Month lecture, "Benevolence and Success in the Era of Slavery: Duchess Quamino and William Ellery Channing," to be held February 26 at 2:00 p.m., presented by the Rhode Island Slave History Medallions, live at Channing Memorial Church, 135 Pelham St., Newport. and simulcast online on Channing's YouTube channel or go to YouTube and search "Channing Memorial Church, Newport RI".
The speaker is Akeia de Barros Gomes, Ph.D., anthropologist, senior curator of Maritime Social Histories at the Mystic Seaport Museum, and Visiting Scholar at the Center for Slavery and Justice at Brown University.  She will talk about the lives and relationship of formerly enslaved nanny and baker Duchess Quamino of Newport and the abolitionist William Ellery Channing, a renowned early leader and longtime minister of the Unitarian Church.   
Places to Visit during Black History Month
Come celebrate the rich cultural heritage and diversity of the Black community throughout our Coastal Communities. Learn the untold stories of Rhode Island's role as one of the first and pivotal slave states, as you visit authentic places from America's notorious past.
1
Bristol
The DeWolf Tavern is cloaked in a renovated 1818 coffee and sugar warehouse constructed from repurposed slave ship ballast. Bristol-based maritime merchants James and William DeWolf built the warehouse and attached distillery for their "Triangle Trade" enterprise. Remnants of wooden barrels used in making rum were unearthed during the building's restoration and one is on display on site.
Visit Lindon Place, the family home of the DeWolf's for a revealing look at the family's involvement in the Slave Trade. Tour highlights include tales of DeWolf family exploits, from their privateering and slave trading to their financial ruin and triumphant return to prosperity during Victorian times. Visitors are welcome to stroll the sculpture-filled gardens where they will find Greek bronzes and an 18th Century gazebo.
2
Newport
"God's Little Acre," a section of the Newport's Common Burying Ground is where you'll find the largest surviving collection of burial markers of enslaved and free Africans.  This historic burial ground is the final resting place of 17th and 18th Century African slaves and free persons of color who contributed greatly to the commerce, society, and religious life of Colonial Newport.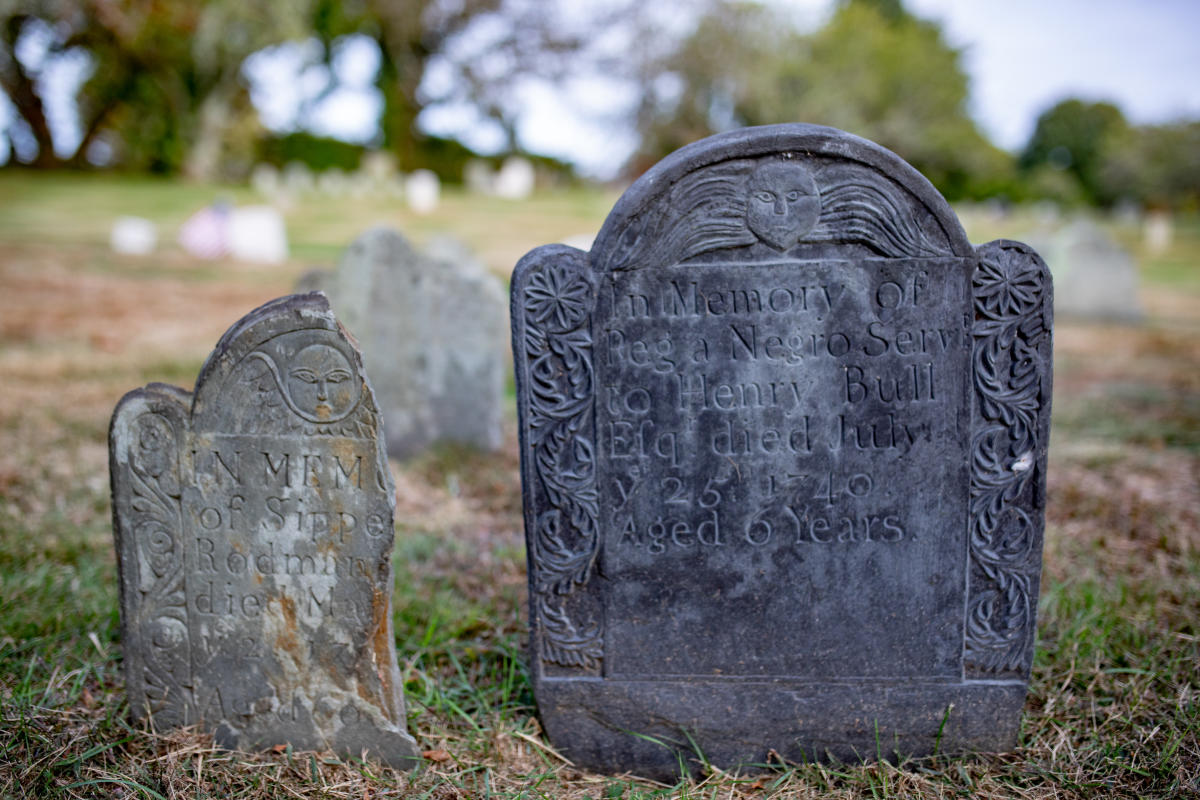 3
Portsmouth
Patriots Park, this park is the site of the Battle of Rhode Island and has been designated a National Historic Landmark, by the National Park Service, United States Department of the Interior.  It commemorates the historic battle of the Revolutionary War.  It has a memorial to the 1st Rhode Island Regiment, and The Battle of Rhode Island, August 29, 1778.  The Bloody Run Brook is where the First Black Militia fought, and the site honors the first Black slaves and freemen who fought in the Battle of Rhode Island as members of the First Rhode Island Regiment; The Black Regiment. Located at the intersection of West Main Road (Rhode Island Route 114) and Rhode Island Route 24 on West Main Road.
Rhode Island Slave History Medallion
The Rhode Island Slave History Medallion organization is a statewide public awareness program committed to marking those historic sites connected to the history of slavery in Rhode Island.
Slavery was the global economic engine prior to its abolition and Rhode Island's role in this business of slavery was significant. By marking sites throughout the state that are connected to that past, we hope to make that history easily accessible by telling a more complete story of the cultural and economic development of the State of Rhode Island.
In each city or town, a QR coded Medallion with the history of its designated locations will appear on the website. The QR code on the Medallion will provide a link to this website with historical content about each location.
GET SOCIAL
Tag your photos #TheClassicCoast for the chance to be featured on our accounts.