February is known as Black History Month, an annual time that celebrates the history, heritage and diversity of the Black community with special virtual events, lectures and walking tours throughout The Classic Coast. 
Black History Month Events
1
Black Heritage Month Speaker Series
Where:

Tall Ship Oliver Hazard Perry

When:

February 4th from 5:00 PM - 6:00 PM

Cost:

Donation Recommended
Oliver Hazard Perry Rhode Island in partnership with the Rhode Island Black Heritage Society host a Black Heritage Month Speaker Series. This particular one will be done by Dr. Timothy Walker and is titled "Sailing to Freedom: Maritime Dimensions of the Underground Railroad". 
Sailing to Freedom will highlight little-known stories and describe the less-understood maritime side of the Underground Railroad.
Where:

Tall Ship Oliver Hazard Perry

When:

February 15th from 6:00pm to 7:00 pm

Cost:

Donation Recommended
Oliver Hazard Perry Rhode Island in partnership with the Rhode Island Black Heritage Society host a Black Heritage Month Speaker Series. This particular one will be done by Keith Stokes and is titled "African Mariners". 
The peculiar institution of slavery in Newport, Rhode Island, had its start and evolution with the sea.
2
Music Appreciation Series with Dr. Edward Markward: William Grant Still
Where:

Virtual Lecture via Crowdcast

When:

February 15th from 6:00pm to 7:00 pm

Cost:

Free
Enjoy a virtual lecture via crowdcast as Dr. Markward continues his ever-popular series with Music Appreciation Series with Dr. Edward Markward: William Grant Still.
3
Creative Survival Walking Tour
Where:

TOUR DEPARTS OUTSIDE OF THE MUSEUM OF NEWPORT HISTORY

When:

February 19th from 11:00 am - 12:00 pm

Cost:

NON-MEMBERS: $15, MEMBERS/ACTIVE & RETIRED MILITARY: $10, CHILDREN: $5
Discover the early history of Newport's people of color, enslaved and free. Explore the places where enslaved people lived and labored, along with locations where free African Americans built their enterprises and supported a new local industry.
Tours depart outside of the Museum of Newport History at the Brick Market, located at the foot of Washington Square, 127 Thames Street, Newport RI. Attendees should look for a sign indicating where to check in with the guide and depart for the tour to the north of the building near the flagpoles. Space is limited, advance registration is required. 
ONGOING AT THE NEWPORT HISTORICAL SOCIETY
The Know Your History initiative at Newport Historical Society is a hub for resources to connect audiences with historical information that is relevant to the history we are making now. Currently the hub is featuring resources on Newport and Rhode Island's history relative to people of African descent, Native Americans, the history of protest and suffrage, and religious toleration.
4
Maureen D. Brady, "Sarah Parker Remond: A Black Abolitionist in Ireland, 1859"
Where:

Virtual Event via Zoom

When:

February 21st at 6:00 PM
In commemoration of Newport Black History Month, please join members and friends of the Museum of Newport Irish History for the fourth lecture of their 21st Annual Lecture Series. Guest speaker, Maureen D. Brady, will give a talk titled, "Sarah Parker Remond: A Black Abolitionist in Ireland, 1859."
The lecture will be presented virtually, via Zoom, at 6:00 pm. There is no fee, but reservations are required to receive the login information.
More Details
5
Pulitzer Prize-Winning Author, Dr. David W. Blight, Ph.D., Speaking at Linden Place Mansion
Where:

Linden Place

When:

February 26th at 3:00 PM

Cost:

Keynote: $35, $30 (Linden Place members) | Author reception & program: $55, $50 (Linden Place members)
Dr. Blight will talk about his 2019 biography titled Frederick Douglass: Prophet of Freedom and explain the relevance and resonance of Douglass' life and words, especially today. .
6
"Bonnie Blue" James Cotton's Life in the Blues Documentary
Where:

Newport Casino Theatre

When:

February 26th, doors open at 6:00 PM

Cost:

$40
RI Slave History Medallions presents "Bonnie Blue" James Cotton's Life in the Blues documentary film showing about the Blues Icon, James Cotton. Enjoy musical performances by the James Montgomery Blues Band, Chistine Ohman 'The Beehive Queen' and special guest Kara McKee. Doors open at 6:00 PM, at the Newport Casino Theatre. 
7
INTERNATIONAL TENNIS HALL OF FAME
DIGITAL EXHIBIT BREAKING BOUNDARIES IN BLACK TENNIS
Where:

VIEW ONLINE AT BREAKINGBOUNDARIES.TENNISFAME.COM

Cost:

FREE
The International Tennis Hall of Fame has launched its newest digital exhibit, Breaking Boundaries in Black Tennis, which highlights the breakthroughs, evolution, and impact of Black tennis players and influential contributors to the sport globally.
The initial launch of Breaking Boundaries features 70 individuals representing 19 nations, and will continue to expand with many more inspiring stories to be added on an ongoing basis. Fans are also encouraged to submit their own suggestions of athletes and contributors for inclusion through a form included in the exhibit.
Visitors to the exhibit can browse athletes' and contributors' profiles by navigating an interactive map grouped by region. Breaking Boundaries features biographical information and interactive profiles that highlight the on-court achievements and the lasting impact of players' successes on the sport of tennis.
Lecture and Book Signing with Author Ashley Brown
Where:

The International Tennis Hall of Fame

When:

February 27th from 6:00 PM - 8:30 PM

Cost:

$26 per ticket (incudes reception ahead of time) $15 per student ticket (valid student ID required)
The International Tennis Hall of Fame hosts professor Ashley Brown, to discuss her new book Serving Herself: The Life and Times of Althea Gibson. In this comprehensive biography, Brown narrates the public career and private struggles of tennis Hall of Famer Althea Gibson (1927-2003).

From her start playing paddle tennis on the streets of Harlem as a young teenager to her eleven Grand Slam tennis titles to her professional golf career, Althea Gibson became the most famous Black sportswoman of the mid-twentieth century. In her unprecedented athletic career, she was the first African American to win titles at the French Open, Wimbledon, and the US Open.
Doors will open at 6:00 PM for guests to explore the museum and enjoy a reception before the lecture beings at 7:00 PM. 
More Details
Rhode Island Slave History Medallion
The Rhode Island Slave History Medallion organization is a statewide public awareness program committed to marking those historic sites connected to the history of slavery in Rhode Island. Slavery was the global economic engine prior to its abolition and Rhode Island's role in this business of slavery was significant. By marking sites throughout the state that are connected to that past, we hope to make that history easily accessible by telling a more complete story of the cultural and economic development of the State of Rhode Island.
In each city or town, a QR coded Medallion with the history of its designated locations will appear on the website. The QR code on the Medallion will provide a link to this website with historical content about each location.
Learn the untold stories of Rhode Island's role as one of the first and pivotal slave states, as you visit authentic places from America's notorious past.
1
Newport
Bowen's Wharf, In the 18th century, the city of Newport was a major hub of the North American slave trade. During that time in present day Bowen's Wharf, slaves arrived and departed in sailing ships and labored in trades related to maritime commerce, including serving as shipbuilders, sailors, caulkers, sailmakers, carpenters, rope-makers, painters, barrel-makers and dock workers.
John Stevens Workshop, John Stevens II (1702-1778) was a skilled craftsman, cutter of gravestones, and stone and brick mason. Like all artisans in colonial Newport, he supplied the maritime traders, particularly the African and West Indies slave trade. The shop today houses the business of renowned stone carver Nicholas Benson.
"God's Little Acre," a section of the Newport's Common Burying Ground is where you'll find the largest surviving collection of burial markers of enslaved and free Africans.  This historic burial ground is the final resting place of 17th and 18th Century African slaves and free persons of color who contributed greatly to the commerce, society, and religious life of Colonial Newport.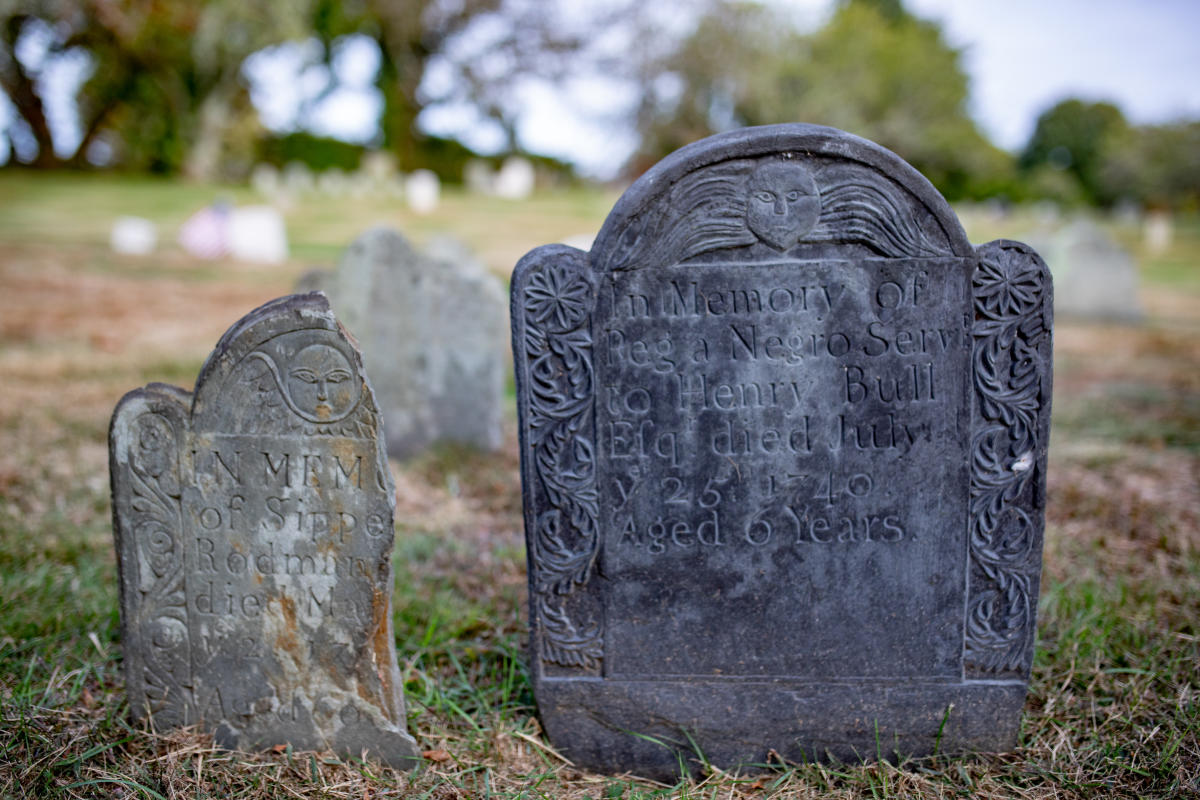 2
Jamestown
East Ferry Wharf, Jamestown Rhode Island was a special place for commerce and transit across southern New England. However, slavery also tread this path through Jamestown for almost two centuries. Jamestown is a neighbor to Newport, the originator of the largest number of American-owned slave voyages in the nation.
3
Portsmouth
Patriots Park, this park is the site of the Battle of Rhode Island and has been designated a National Historic Landmark, by the National Park Service, United States Department of the Interior.  It commemorates the historic battle of the Revolutionary War.  It has a memorial to the 1st Rhode Island Regiment, and The Battle of Rhode Island, August 29, 1778. 
The Bloody Run Brook is where the First Black Militia fought, and the site honors the first Black slaves and freemen who fought in the Battle of Rhode Island as members of the First Rhode Island Regiment; The Black Regiment. Located at the intersection of West Main Road (Rhode Island Route 114) and Rhode Island Route 24 on West Main Road.
4
Bristol
The DeWolf Tavern is cloaked in a renovated 1818 coffee and sugar warehouse constructed from repurposed slave ship ballast. Bristol-based maritime merchants James and William DeWolf built the warehouse and attached distillery for their "Triangle Trade" enterprise. Remnants of wooden barrels used in making rum were unearthed during the building's restoration and one is on display on site.
Visit Lindon Place, the family home of the DeWolf's for a revealing look at the family's involvement in the Slave Trade. Tour highlights include tales of DeWolf family exploits, from their privateering and slave trading to their financial ruin and triumphant return to prosperity during Victorian times. Visitors are welcome to stroll the sculpture-filled gardens where they will find Greek bronzes and an 18th Century gazebo.
5
Warren
The Eddy-Cutler House, 30 State Street, was built circa 1806-1812 by Warren merchant and slave trader Benjamin Eddy. Captain Eddy was an owner and captain of at least three slave voyages, the snow Eliza in 1801 and the ship Agent in 1806 and 1807.
Eddy purchased the property only months after delivering 139 captives to the Charleston docks in June 1806, and before leaving in September for another journey to Africa.
The James Driscoll House, 26 State Street, is a three story Federal Mansion built by James Maxwell for his daughter Hannah Maxwell Driscoll, traditionally said to have been a wedding present.  The property was sold to him by John Child in 1806.
James Maxwell was a sea captain and slave trader in the Triangle Trade and reputed to be one of the wealthiest men in Warren.
A large part of Maxwell's wealth may be attributable to the sale of enslaved captives, such as those aboard Maxwell's schooner Abigail, which left Warren in September 1789. The captain of the vessel, Charles Collins, purchased 64 slaves on the coast of Africa, and sold them in the Americas by June of 1790. Of the 64 captives embarked on the ship, only 53 survived the voyage.
6
Barrington
The history of slavery in Barrington spanned a period of nearly two hundred years and predates the establishment of the town itself. Slavery continued throughout the eighteenth century. The 1774 census documents a population of 601, with 57 enslaved peoples, including 18 people listed as "Indian." At least 12 enslaved people from Barrington, including Scipio Freeman, fought for their freedom during the Revolutionary War with the First Rhode Island Regiment.
GET SOCIAL
Tag your photos #TheClassicCoast for the chance to be featured on our accounts.