The thought of a trip to Newport typically conjures visions of clam chowder, tan lines and the Atlantic drying on your skin. It's true, Newport has always had that whole summer thing down pat. But believe it or not, winter is when the magic happens. Winter sunrises unobstructed and in full glory, snow-kissed seasides and a seat by the fire—it's a feeling unlike any other. Not to mention, winter is when all things cozy get kicked up a notch. Heated igloos with a bay view? Got it. A gourmet hot chocolate bar in a former private mansion? Got that too. So sure, Newport has summer down pat, but you better believe it nails winter too. 
Below are our favorite winter experiences in and around Newport. 
1
GOAT HIKES AT SIMMONS FARM
Where:

SIMMONS FARM, 1942 WEST MAIN ROAD, MIDDLETOWN

When:

Multiple Dates

Cost:

BETWEEN $10 - $40
There's nothing like a hike through the great outdoors to ease your winter blues, even if the temperatures may be a little chilly. When nature calls (literally), head over to Simmons Farm in Middletown for a two-hour goat hike around the historic family-owned farm. Led by farmer Karla and her crew of adventurous, spirited goats, you'll get your own goat to walk on a leash along the designated trail. Stop along the way to feed your goat a treat and to take in stunning views of the preserved farmland, and conclude your journey with a cup of hot chocolate.
2
Ice Skating at Newport Harbor Island Resort
Where:

Newport Harbor Island Resort

Hours:

Monday-Friday: 3:00 pm - 9:00 pm; Saturday-Sunday, Holidays: 10:00 am - 9:00 pm

Cost:

Adults: $15, Children 12 and under / Seniors 65 and older / Military: $8, Skate rentals: $15
As temperatures drop, Newport Harbor Island Resort transforms their North Lawn into a wintry wonderland complete with an ice skating rink and pop-up igloos. Glide across the ice with unobstructed views of the Newport Bridge, Goat Island Lighthouse and Newport Harbor as your backdrop from November 24th through February 26th, 2023.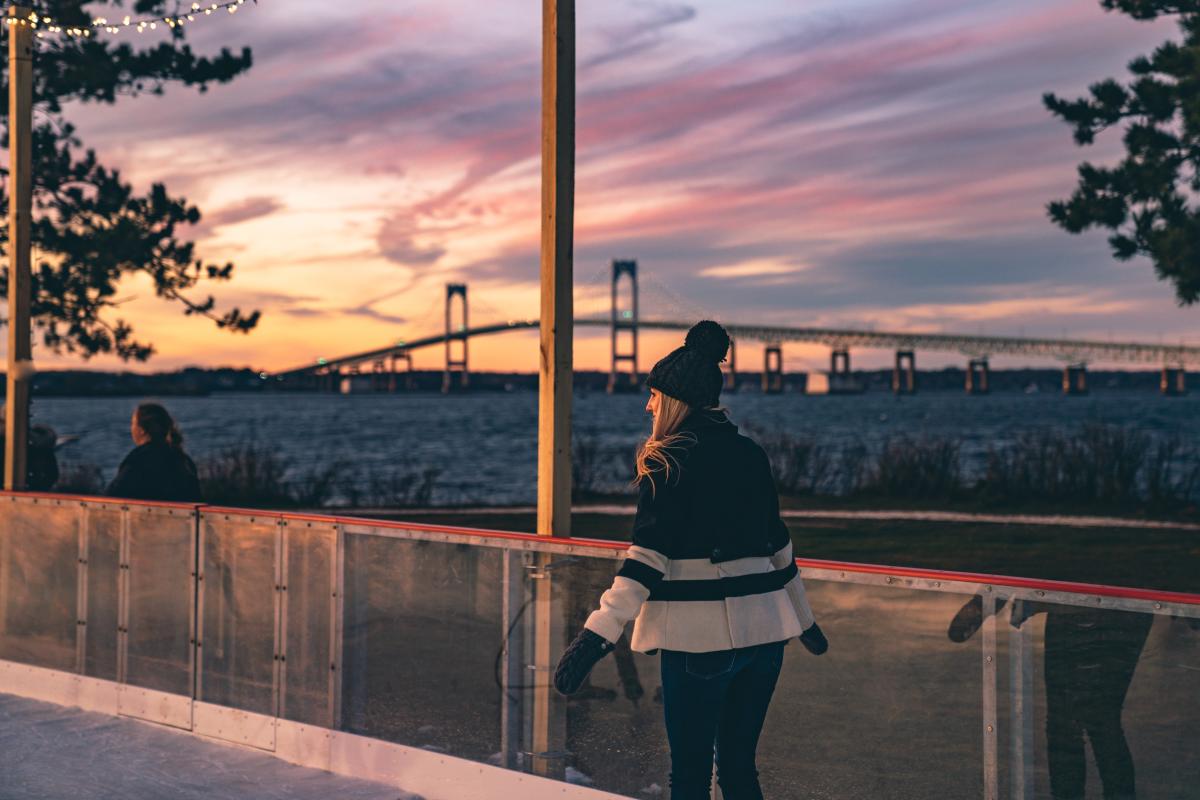 3
THE COCKTAIL CLUB: MIXOLOGY CLASS
Where:

One Bellevue

When:

Thursdays from February 2nd - March 31st

Cost:

$55/person (taxes and gratuities additional)
Learn to make the perfect cocktail(s) and "join" the cocktail club at Hotel Viking's Mixology Classes this winter. Each guest will receive a tasting of 3 spirits, followed by a full cocktail demonstration. Snacks that compliment the cocktail will be provided for each guest.
Pro-tip: Stay for dinner at One Bellevue for the full Hotel Viking experience.
4
SEAL TOURS
Where:

Departs Bowen's Ferry Landing, Market Square, Newport

When:

Multiple Dates

Cost:

$22 non-members, $17 members, seniors, children aged 3-12, $0 children under 3
Hop aboard Save the Bay's education vessel for 360-degree views of Narragansett Bay and the chance to catch harbor seals resting on Citing Rock off of Rose Island and the Newport Bridge. Tours are one-hour, or you can opt for a two-hour tour and hop off at Rose Island to tour the historic lighthouse and the grounds. 
January Date's

Saturday, January 21
Sunday, January 22
February Date's

Saturday, February 4
Sunday, February 5
Saturday, February 11
Sunday, February 12
Friday, February 17
Saturday, February 18
Sunday, February 19
Monday, February 20
Tuesday, February 21
Wednesday, February 22
Thursday, February 23
Friday, February 24
Saturday, February 25
Sunday, February 26
5
HEATED POP-UP IGLOOS
Just when we thought al fresco dining was closed up for the season in comes igloo dining—welcomed with open arms.
When it is a cold winter night—instead of staying indoors—enjoy a cozy, decorated, and heated igloo overlooking the bay with a prime view of sunset, paired with seasonal cocktails and creative menu. These cold-weather dining experience will keep you warm, and somewhat outside, until Spring.
Igloos for your choosing:
REOPENING IN FEBRUARY
Hot Chocolate Bar at The Chanler
Where:

THE CHANLER AT CLIFF WALK

When:

SATURDAY & SUNDAY'S FROM 2/11 - 4/2

Cost:

1:00 PM - 4:00 PM
Spend an afternoon in front of the roaring fire pit or take a winter stroll along the Cliff Walk with a decadent cup of hot chocolate in hand. Artisanal hot chocolate is crafted with either milk or dark chocolate and has the option to upgrade to an adult version.
GET SOCIAL
Tag your photos #TheClassicCoast for the chance to be featured on our accounts.