Hand-roasted beans. Artisanal aroma. Aesthetic atmosphere. When it comes to coffee shops, no matter your cup of joe, Newport and its surrounding areas have it brewing for you. Below are the top spots to start your day off on the right note. Rest assured, some of the best coffees of your life are ahead of you.
COVID-19 NOTE:
When you're ready, we can't wait to welcome you back to The Classic Coast. Rest assured, the safety and well-being of both visitors and locals remains our top priority. The mask mandate requiring face coverings in Rhode Island has been lifted, however local businesses may ask you to wear a mask when visiting their establishments. Please be prepared for individual business mask policies. Additionally, shops, attractions and tours are monitoring the number of guests at any given time and may ask you to socially distance to enter. 
All we ask when you land on these shores is that you play your part in keeping everyone safe. Please be kind, adhere to guidelines and maintain social distancing. 
The Nitro Bar is the coffee shop you'll dream of for days to come whenever the morning arrives a little too soon and the only thing that will do is a really good cup of coffee. Now with two Newport locations, they originated as a coffee cart hand-made from scrap wood, and eventually evolved from high-demand into 3 carts, 50 Nitro taps and 3 shops throughout the state. Their nitro cold brew is pretty much as smooth as your excuse for being late to work— roasted, brewed, and pressurized in a keg, the result is a creamy pour from the tap that some might compare to a Guinness. 
Pro tip: Don't miss the eye-catching, hand-painted mural created by local artist Lizz Kelley outside their 2 Pond Avenue location.
No, you haven't touched down in the Land Down Under, but it might feel like it once you step through the doors of this traditional-style Aussie milk bar on Bellevue Avenue. The menu serves up all the classic Australian offerings including flat whites, Vegemite on toast and Tim Tam Slams. For a time-honored experience, grab a toasty and an Aussie Iced Coffee—ice cream, double espresso, milk and whipped cream— to go, or opt for a table amid the cafe's quirky, trinket-adorned walls.
A classic with three locations throughout Newport and Bristol, Empire Tea and Coffee is your spot for a wide selection of coffee, teas and specialty drinks like their Mexican hot chocolate and Dirty Chai Latte. Voted "Best Coffeehouse in Newport County" in Rhode Island Magazine 2012, this dog-friendly spot is the largest coffee shop in Rhode Island with 5,000 sq. ft. of seating area. Go ahead, get comfy.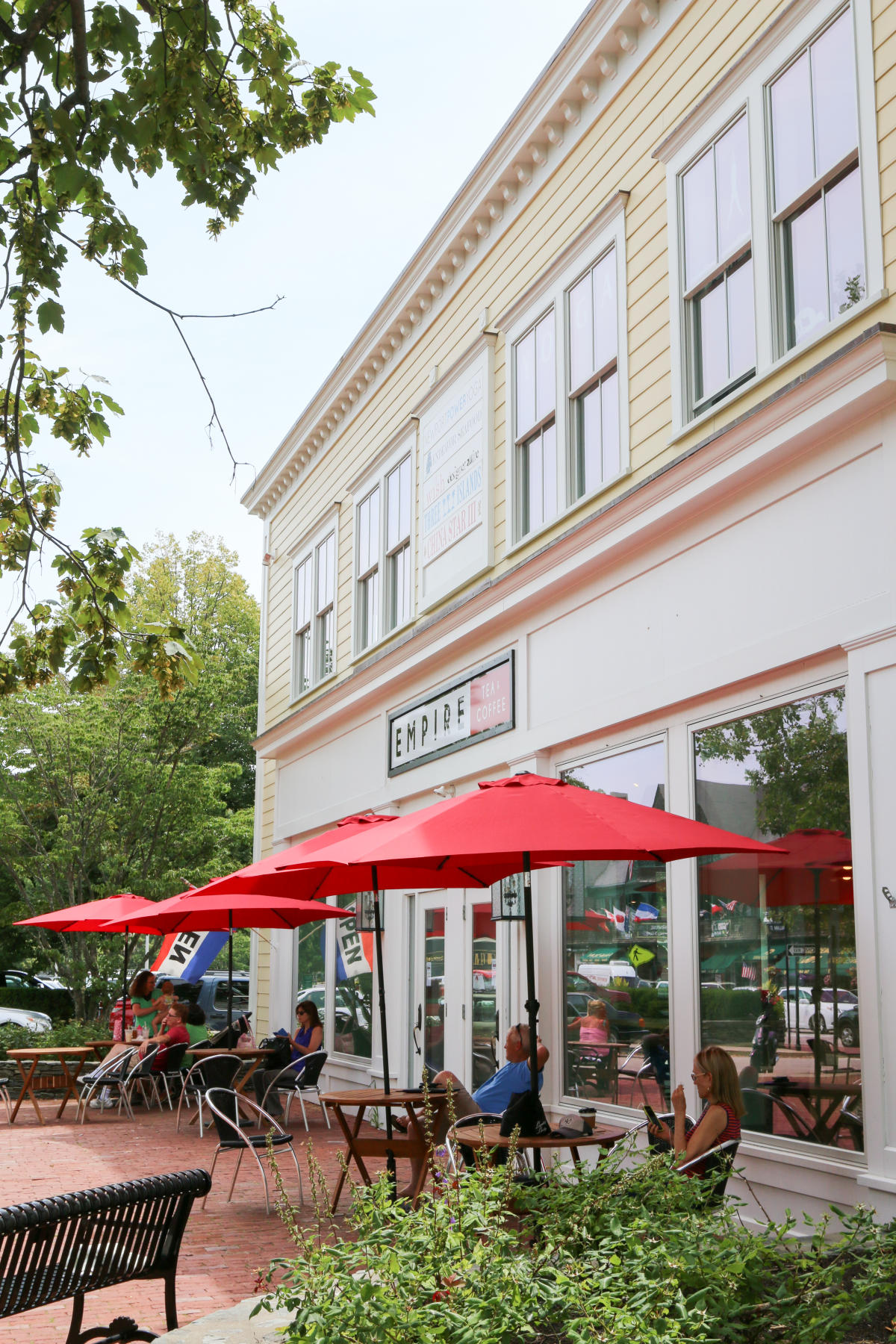 This no-frills coffee shop derives its name from the Arab word MAQKAH which literally translates to Where the coffee is. The coffee in this case is Fair Trade artisan and it's served alongside fresh pastries, light lunch, and an old-world style atmosphere. After you've ordered, peruse the artwork for sale inside, then head outdoors to the patio garden if the weather permits for a quiet moment to yourself.
You could easily miss Custom House Coffee if you weren't looking for it, but that would be a shame (especially for a coffee enthusiast.) Established in 2001, owner Bob Mastin roasts only the finest high-grown Arabica coffees every day in small batches to offer the freshest coffee possible. If that's not enough, the small shop on Middletown's Aquidneck Avenue has been voted Best of Newport ten times. When you need an extra kick, order The Zombie Killer: house-made cold brew sweetened with caramel and vanilla that might just leave you buzzing. 
While you're there, grab a pound (or several) of Veteran Coffee Roasters. Founded in 2014 by Bob as a way to give back to fellow veterans who have served the country, $1 of each pound sold is donated to veteran causes. 
OFF ISLAND
Located in the heart of Tiverton Four Corners in a circa 1876 landmark building, Groundswell Cafe + Bakery feels like it was transplanted from a charming corner in Paris; chic bistro seating lines the wrap-around porch entrance while inside, blue velvet curtains adorn the windows and gold accents add a hint of warmth. Overlooking historic Main Street, the fairly new coffee shop replacing the old Provender offers seasonal menus, grab + go options, and coffee shop staples including pastries made onsite from scratch and locally-roasted coffee.
Once you've gotten your fill of coffee (don't forget a croissant), head across the brick walkway to Groundswell Garden + Home to explore a curated selection of garden wares and home decor situated in the Arnold Smith House ca. 1754.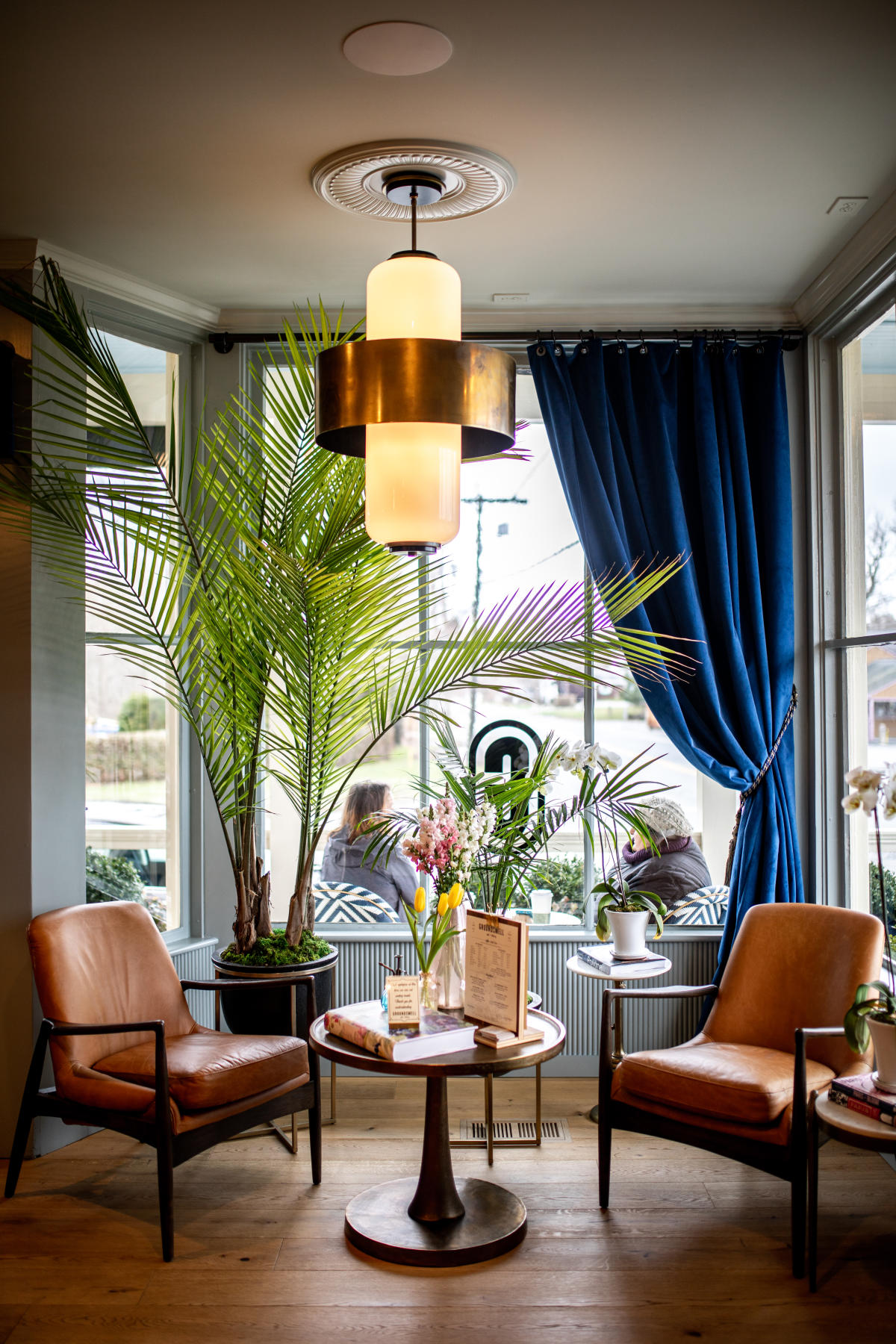 Some might say the atmosphere at Tiverton's Coastal Roasters is just as bold as the coffee. Buoys, stone sculptures, and a string of colored lights complete this whimsical coastal experience at one of the area's most highly-rated coffee shops. The menu offers a little bit of everything served over innovation. Think: Iced peanut butter honey latte, pistachio mojo and Iced uncranky yankee— coffee syrup (a Rhode Island classic) blended with their coastal gold espresso.
The Beehive Cafe has been a staple of the Bristol dining scene since opening in 2007. A small, two-story cafe with cozy seating and an upstairs balcony for al fresco eating, the intimate cafe overlooks Bristol's Independence Park from is home on Franklin Street. Order from their menu of locally sourced coffee alongside sweet and savory farm-to-table treats like the Beehive Biscuits and orange ricotta pancakes. Once it's ready, make your way outside to the patio or upstairs to the balcony for scenic bites.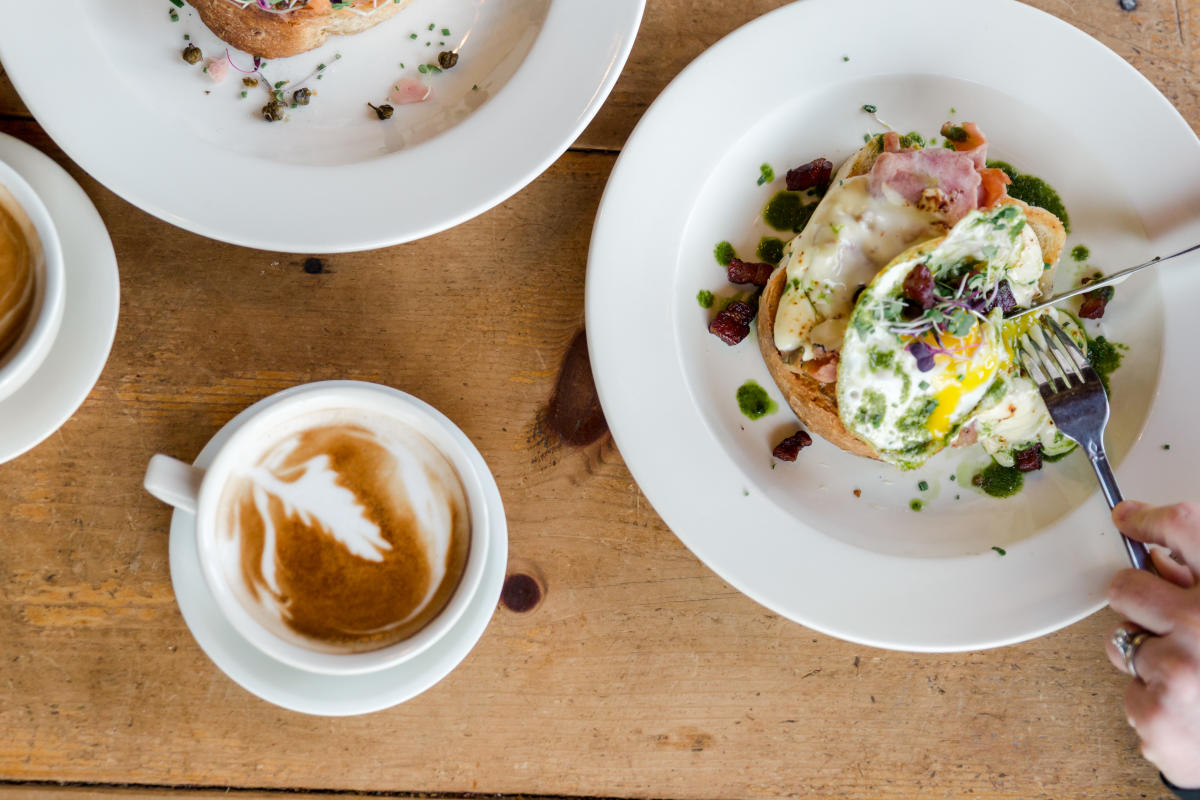 We've heard the coffee at Angelina's described as the best in East Bay. It's a bold statement, but then again, so is the coffee. Located on Bristol's historic Hope Street, Angelina's offers freshly ground, pour over coffee in addition to cold brew, espresso, a variety of smoothies, lunch fare and more. 
GET SOCIAL
Tag your photos #TheClassicCoast for the chance to be featured on our accounts.