From elegant brunches boasting carving stations and seasonal specials to traditional buffets with all the trimmings, these prepared-for-you fetes and sweet treats are just what you need to celebrate Easter Sunday. All weekend, delight in a handful of al fresco events to welcome spring, like a stroll through a blooming garden, or an easter egg hunt on the lawn of a Victorian mansion. 
Happy Easter from our family to yours. 
COVID-19 NOTE:
When you're ready, we can't wait to welcome you back to The Classic Coast. Rest assured, the safety and well-being of both visitors and locals remains our top priority.  All we ask when you land on these shores is that you play your part in keeping everyone safe. Please be kind and adhere to local guidelines. 
1
Easter Egg Hunt at Castle Hill Inn
Where:

Castle Hill Inn

When:

April 16, 2022

Cost:

$30 Per Child
On Saturday April 16th Castle Hill will be hosting our annual Easter Egg Hunt!
The day before Easter, over 1,000 Easter eggs will be spread throughout The Lawn area for children to collect! Eggs are filled with various candies and a handful of special "golden" eggs that will have extra special prizes including a voucher for an overnight stay! This event is recommended for children ages 0-12 and costs $30 per child with all proceeds going to FABNewport.
The Egg Hunt will officially begin at 11:00am when the Easter Bunny cuts the "start line". A sign-in/registration table will be open as early as 10:00am. Please note that guests are welcome to join us for LUNCH following this event, however, we are NOT serving Easter Brunch that afternoon. Easter Brunch will be served on Sunday, April 17th only. Tickets must be purchased in advance.
More Details
2
Daffodil Days Lighthouse Cruise
Where:

From Jamestown and Newport

When:

April 16, 2022, Jamestown: 2:50 PM and Newport: 2:05 PM & 3:55 PM

Cost:

Adults $35 - Seniors (65+) - $30 - Children (5-12) - $25 - Young Child (infant - age 4) - $20 - Military (with valid ID) - $30
Coastal Queen is ready for Daffodil Days in Newport—so let's celebrate spring's arrival and fresh blooms together! Join us on a special Daffodil Days Lighthouse Cruise in Newport Harbor and Narragansett Bay. This tour will be narrated by our local guides and our beautiful teak wood bar will be open for refreshments. The boat is spacious, warm and cozy and every seat has a panoramic view! There will be departures from Newport and Jamestown.
Also on the Coastal Queen
Coastal Queen Evening Cruise with Piped-In Motown Sounds, from Jamestown
Where:

From Jamestown

When:

April 16, 2022 from 6:00 PM to 7:30 PM

Cost:

All Ages: $38.00
Enjoy the piped-in sounds of Motown's Stevie Wonder, the Supremes and more while cruising through Narragansett Bay to view lighthouses, historic forts, harbor estates and more. The Coastal Queen's onboard bar will be stocked with favorite beverages. Coastal Queen is covered, warm, weatherproof and ready to cruise! Cruise is 90-minutes, tickets are $38 and the boat departs at 6:00 PM.
More Details
3
Opening of Green Animals Topiary Garden
Where:

380 Cory's Lane Portsmouth, RI 02871

When:

Opens April 15th
Green Animals Topiary Gardens in Portsmouth opens for the season on April 15th. Owned and maintained by The Preservation Society of Newport County, the property features more than 80 pieces of topiary throughout the gardens including bears, dogs, giraffes and elephants, birds, geometric figures and ornamental designs sculpted from California privet, yew, and English boxwood. Green Animals is the oldest and most northern topiary garden in the country. 
4
Newport Rhode Races
Where:

Easton's Beach (First Beach)

When:

April 16, 2022 from 7:30 AM to 1:30 PM

Cost:

$100 Marathon/$80 Half Marathon/$33 5k/$15 Beach Mile
Race through the Daffodils on this award winning, scenic, seaside course. Newport Rhode Races offers a full and half marathon, a 5K and a beach mile race. Note: The marathon course is USATF certified and is a Boston Marathon Qualifier. Register here. 
5
NEWPORT DAFFODIL DAYS
Where:

ACROSS NEWPORT, RI

When:

All Weekend
Newport's Daffodil Days celebrates the arrival of over 1,200,000 bright yellow daffodils throughout the area with decorated store windows heralding their arrival. 
More information and a locator map to the largest fields of daffodils can be found on the Daffodil Days website.  
6
BLITHEWOLD: DAFFODIL DAYS
Where:

BLITHEWOLD MANSION, BRISTOL

When:

April 16th & 17th
The first week, timed to the annual school vacation week, is filled not only with flowers, but lots of fun-for-the-whole-family programming that celebrate our favorite yellow-flower friends. 
Stay & Save
Revel in relaxation with these exceptional experiences at unbeatable rates.
1
Cadbury Egg Ice Cream at Clementine's
Where:

Clementine's Ice Cream, Middletown

When:

Available starting April 6th
Cadbury Eggs, the small bite-sized, candy coated chocolates that have dominated the Easter treat scene in recent years can now be enjoyed frozen and coated with vanilla ice cream. All thanks to our friends at Clementine's Ice Cream in Middletown, who are crafting up this drool worthy creation of Cadbury Egg Ice Cream; vanilla ice cream loaded with Cadbury Eggs. This thing of beauty will be available for ordering at their Middletown location in-store starting Wednesday, April 6th. Available while supplies last, run don't walk.
2
Easter Themed Charcuterie Boards from Bellevue Boards
Where:

Bellevue Boards, Newport

When:

Pre-order and pick-up Easter Weekend
According to Bellevue Boards, a brand new charcuterie shop located on Broadway, for Easter this year the kiddo's get baskets, and the adults get boards—and when they say boards—these are not your average grazing plate. You can choose from three limited edition charcuterie arrangements; an Easter Plaid Tray ($225) with a serving size of 12-15 people, an Easter Egg Board ($125) with a serving size of 6-10 people, and a Bellevue Bunny Board ($40) with a serving size of 2-4 people.
Each board is appropriately themed and can serve anywhere between 2 and 15 people as an appetizer. Pre-order your Easter themed charcuterie boards here. 
3
Easter Bakeshop at Newport Vineyards
Where:

Newport Vineyards, Middletown

When:

Orders must be placed by 5pm Tuesday, April 12th. Pick-up 11am – 5pm Saturday, April 16th.
Let the bakery team at Newport Vineyards help with the Easter treats this year. Pre-order and pickup baked goods from the pop-up Easter Bakeshop located on-site. Choose from a large selection of treats; house-made peeps, lemon bars, Portuguese egg bread, carrot Swiss rolls, and cinnamon buns to name a few. Pre-order your baked goods here. 
4
Easter Treats from Newport Sweet Shoppe
Where:

Newport Sweet Shoppe, Newport

When:

Pre-order until April 9th, Limited availability in the shoppe Easter Week
From bunny face cookies and bunny bait boxes, to buttercream eggs and jelly beans galore, your sugary, Easter bliss starts at Newport Sweet Shoppe. To guarantee your sweet treats, pre-order by April 9 and pick-up April 15 and 16, or visit the shoppe during Easter week for a limited selection of Easter themed goodies. Find the full Easter menu here.
Take It Outside
Get ready to shake off winter's cobwebs and breathe in the salt air, with these outdoor activities. 
1
Castle Hill Inn
Where:

Castle Hill Inn, Newport

When:

April 17, 2022

Cost:

$85 per person
On Easter Sunday, April 17th, visit Castle Hill for a delectable three-course meal at The Dining Room. Chef Lou's menu features holiday favorites like roasted loin of lamb as well as some welcome flavors of spring from the roasted asparagus starter to spring vegetable cavatelli. The menu will be $85 per person, with live music to accompany your celebration. 
Reservations are available for overnight guests immediately, and open to the public beginning March 17th via email to dining@castlehillinn.com. Online Open Table availability will be active on April 3rd.
They will be serving indoors only on Easter, however bar seating will also be available with a casual menu (no reservations needed or accepted for bar seating.)
More Details
2
White Horse Tavern
Where:

White Horse Tavern, Newport

When:

April 17, 2022
Spend Easter Sunday at White Horse Tavern with easter specials including; prime rib and smoked ham. Find the menu here. 
3
The Chanler
Where:

The Chanler, Newport

When:

April 17, 2022 from 11:00 am - 3:00 pm
Celebrate Easter with loved ones in a lavish gilded age setting while Executive Chef Jacob Jasinski and his culinary team prepare a four-course prix fixe lunch inspired by the awakening of spring. Menu highlights include seasonal favorites such as slow-roasted lamb loin, spring carrot soup, and a decadent selection of sweets from our Parisian inspired confiserie.
Menu Details
Four-course prix fixe menu $105 per person + tax and gratuity
Four-course children's menu $55 per child (ages 10 and under) + tax and gratuity
A deposit of $25 per person is required at the time of booking to hold the reservation, full refund if canceled by Thursday, April 14th at 5 pm. Any cancellations, no-shows, or reductions in party size after Thursday, April 14th at 5 pm will result in forfeit of the deposit and are non-refundable.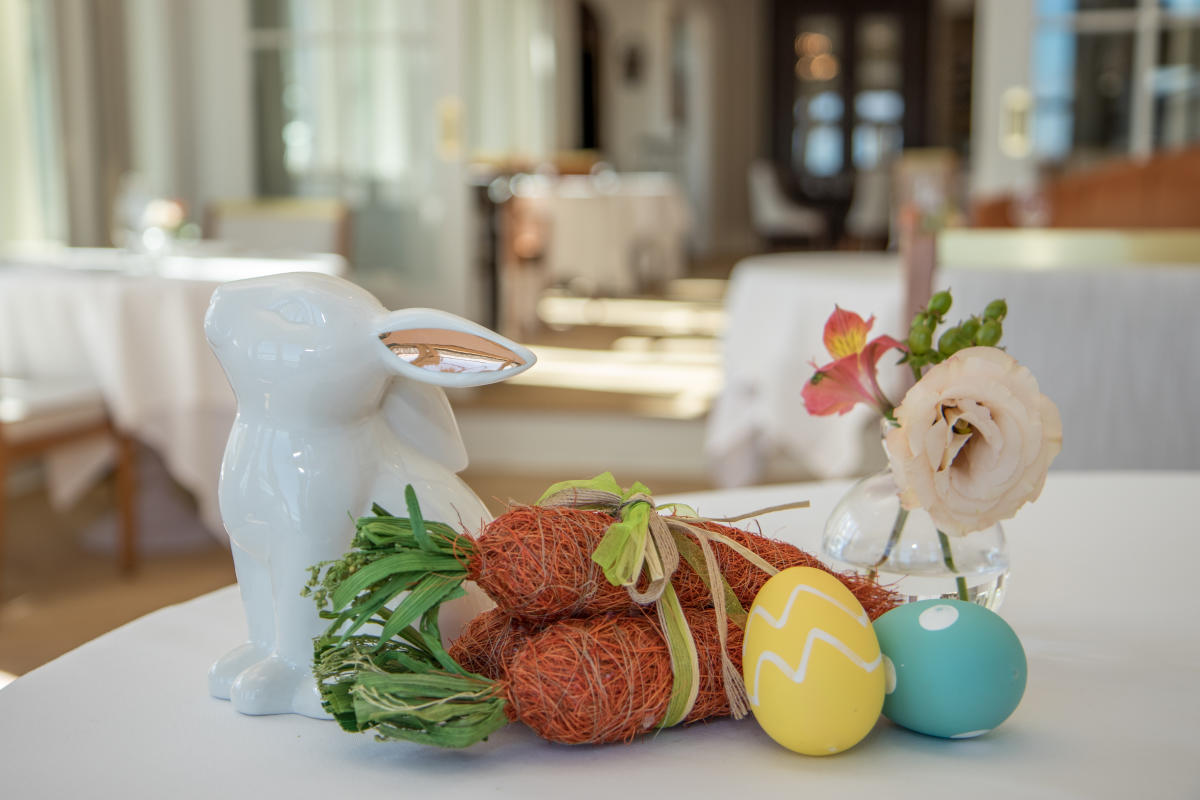 4
Green Valley Restaurant
Where:

Green Valley Restaurant, Portsmouth

When:

April 17, 2022 from 9:00 AM – 1:30 PM

Cost:

$32: adults, $12: children ages 5 and over
Make your way to Green Valley Country Club in Portsmouth for a special Easter Brunch from 9:00 AM to 1:30 PM. Reservations are required.
Menu Highlights
Carved Ham
Danish and Muffins
Waffles
Baked Haddock
Assortment of pies and mini pastries
5
Newport Vineyards
Where:

Newport Vineyards, Middletown

When:

April 17, 2022 from 10:00 AM – 3:00 PM
Held in the Overlook space, formerly known as Brix Restaurant, to enjoy a locally crafted Easter brunch prepared by executive Chef Andy Teixeira and the talented culinary cru at Newport Vineyards. Be sure to pair your meal with estate grown wine and fresh Taproot beer, crafted on site, and don't forget to save time, and room, to browse the curated marketplace for special treats to take home. 
Menu Highlights
Pecan Sticky Bun
Deep Dish Quiche
Chicken + Waffles
House Cured + Smoked Easter Ham
Hopkins Southdowns Easter Lamb
6
15 POINT ROAD
Where:

15 Point Road, Portsmouth

When:

April 17, 2022
Spend your Easter Sunday overlooking the Sakonnet River at 15 Point Road in Portsmouth. Enjoy a two course Easter menu, complete with a starter and main course, all entrees will be served with a choice of fresh vegetables and a starch. Take-out orders must be placed by Thursday April 14th.
Menu Highlights
Lobster Quesdilla
Wild Mushroom Ragout
Baked Stuffed 1/2 Lobster
Seafood Pasta
Pesto Crusted Salmon
7
La Forge Casino Restaurant
Where:

La Forge Casino Restaurant, Newport

When:

April 17, 2022

Cost:

$32 per person
Head to Bellevue where La Forge Restaurant is offering their iconic Easter Brunch for $32 a person, tables fill up quick, so be sure to make a reservation. 
Menu Highlights
Traditional Eggs Benedict
Assorted Quiche
Sliced Glazed Ham
Baked Salmon
Chicken Marsala
8
One Bellevue at Hotel Viking
Where:

Bellevue Ballroom, Hotel VIking, Newport

When:

April 17, 2022
Enjoy a festive, Easter Brunch in the Bellevue Ballroom at Hotel Viking complete with a signature raw bar and seasonal culinary delights.  A full bar will be available for A La Carte drinks.
Easter Eggs will be hidden throughout the hotel for young guests with an overnight stay to find and enjoy.
Menu highlights to come!
9
Giusto
Where:

Giusto, Newport

When:

April 17, 2022
On Easter Sunday, Giusto will feature a special spring tasting menu, in addition to its regular a la carte menu. The menu will be available all day for lunch and dinner. Lunch will be available from 11:00 AM – 4:00 PM and dinner from 4:30 PM – 9:30 PM.
10
Stoneacre Garden
Where:

Stoneacre Garden, Newport

When:

April 17, 2022
Make your way through the open garage doors at Stoneacre Garden and enjoy a whimsical dining experience this Easter with unique and creative brunch specials. Click here for reservations. 
BRUNCH HIGHLIGHTS
Strawberry Toast
Spring Asparagus & Merguez Sausage Hash
Early Spring Salad
 
GET SOCIAL
Tag your photos #TheClassicCoast for the chance to be featured on our accounts.