Nearly 400 years of downright monumental history comprise this small but mighty Classic Coast. Since 1639 when a group of English settlers separated from the settlement in Portsmouth and planted roots on the southern side of our island, dubbing it a haven of religious freedom and tolerance; to 1776 when Major John Handy read the Declaration of Independence on the steps of the Old Colony House in Washington Square (now the fourth oldest statehouse still standing in the country); to 1781 when General Rochambeau and 5,500 French troops landed in Newport to subsequently overthrow the British—you could say we have a history of making waves.
Newport was one of America's five leading seaports during Colonial times. It's where America's wealthiest built their grand "summer cottages" during the Gilded Age in the turn of the 20th century; Where John F. Kennedy and Jackie Onassis spent their summers and eventually said I do to forever together in 1953. It's where Bob Dylan went electric for the first time on the stage of Newport Folk Festival in 1965. It's where Americans mourned the loss of the renowned America's Cup to the Australians in 1983.
This city is constantly in motion, but you better believe we still hold true to our history. You can still walk these cobblestone streets and pass by the oldest synagogue in the country, or step foot in America's oldest tavern. When you're here, it's 1639 and 1892 and 2021. 
COVID-19 NOTE:
When you're ready, we can't wait to welcome you back to The Classic Coast. Rest assured, the safety and well-being of both visitors and locals remains our top priority. The mask mandate requiring face coverings in Rhode Island has been lifted, however local businesses may ask you to wear a mask when visiting their establishments. Please be prepared for individual business mask policies. Additionally, shops, attractions and tours are monitoring the number of guests at any given time and may ask you to socially distance to enter. 
All we ask when you land on these shores is that you play your part in keeping everyone safe. Please be kind, adhere to guidelines and maintain social distancing. 
DAY 1: MONUMENTAL SIGHTS
CHECK-IN:
Named after Colonel Francis Malbone, a shipping merchant during a time when Newport Harbor was among the busiest harbors in the new world, the Francis Malbone House was built in 1760. Malbone is believed to have smuggled merchandise into the house to avoid taxes, with subterranean passages in the cellar leading to the pier nearly confirming this notion. During the American Revolution, the house was seized by the British and used to store looted gold and treasures. In the early 1800s, before the famed Newport Mansions were constructed, Francis Malbone House was said to have been one of the most opulent houses in Newport. Today, the historic house operates as an inn, boasting Queen Anne style furnishings for a nostalgic feeling.
First Timer's Note: Don't miss their afternoon tea, a mid-day tradition of cookies, cakes, tarts, pizza, cheeses, and more sweet and savory delights all baked daily. Served 3:00 - 6:00 PM.
LAY OF THE LAND:
Nearly 400 years of history leaves a lot to look at in its wake. Climb aboard an iconic old-fashioned trolley for a guided tour past some of the oldest buildings in the country alongside breathtaking architecture and stunning ocean views. It's the best way to learn the lay of the land.
Pro Tip: Opt for Trolley Tour 2 aboard the Viking Trolley: It includes a tour of Newport's historic buildings and restored homes, a drive down Ocean Drive - Newport's 10-mile drive along the shore - and a visit to a Newport mansion of your choice.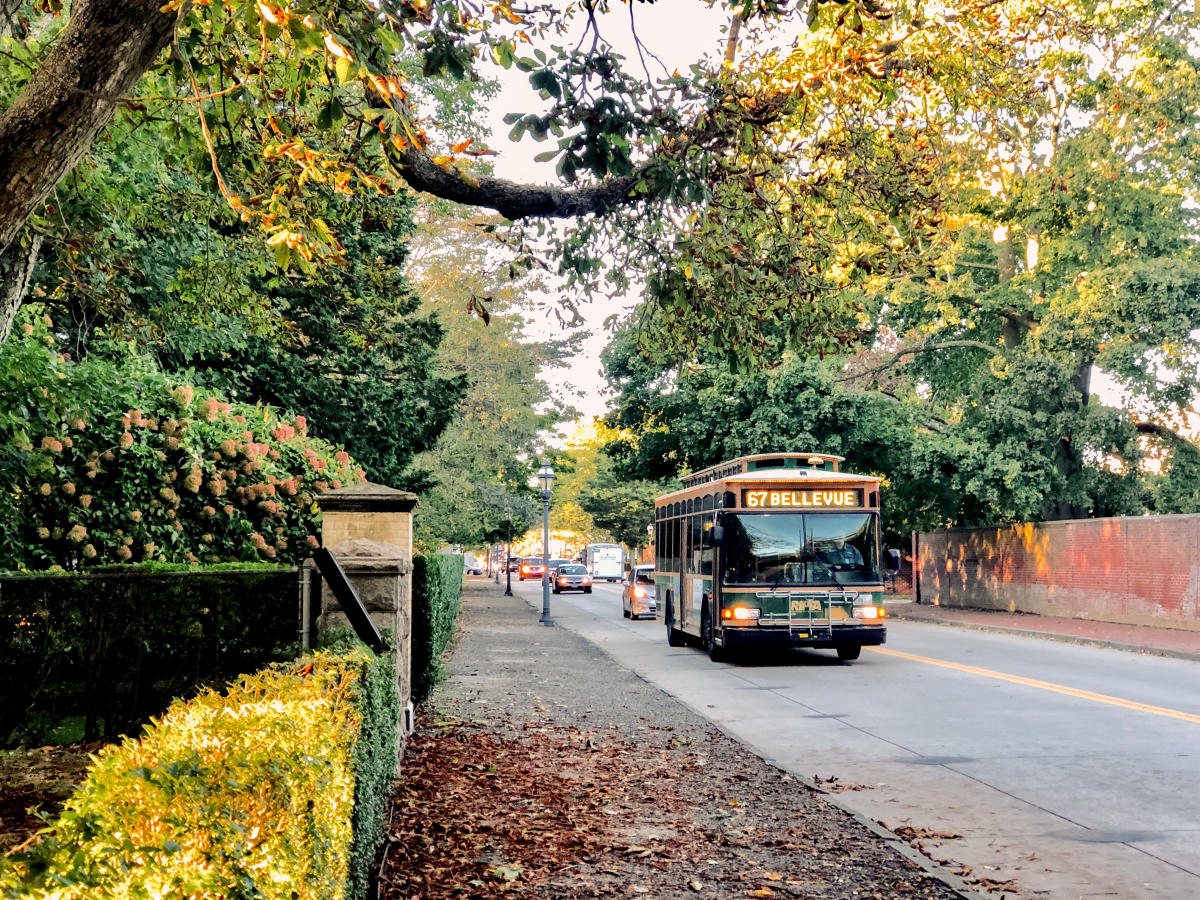 A GILDED AFFAIR:
Head to Rosecliff Mansion on Bellevue Avenue for a peek into life in the Gilded Age. Completed in 1902, Rosecliff was modeled after Grand Trianon, the garden retreat of French kings at Versailles, at an estimated cost of $2.5 million. The interior and exterior have appeared in multiple films including the 1974 version of The Great Gatsby along with High Society, True Lies, and Amistad.
Afterward, head down historic Bellevue Avenue and turn onto Ruggles Avenue to find yourself at The Breakers, a 70-room (yes, 70) Italian Renaissance-style palazzo and the largest of the Newport Mansions. The former summer "cottage" of the affluent Vanderbilt family, The Breakers started out as a wooden house purchased by Commodore Cornelius Vanderbilt's grandson, Cornelius Vanderbilt II, who at the time established his wealth through the New York railroad system. In 1893, Vanderbilt commissioned Richard Morris Hunt to design a villa to replace the original wooden house that was destroyed by a fire during the previous year. When it was completed, it was the largest and most opulent house in Newport.
CLASSIC FLAVOR:
The Black Pearl on the docks at Bannister's Wharf is often considered a Newport institution. Formerly used as a sail loft and machine shop when it first opened doors in the 1920s, this historic building maintains its dark interior and creaking floorboards to instantly conjure a notion of days gone by.
Savor pub-style food like sandwiches, chowder, and chili alongside a variety of seafood options in the tavern, or dine in the Commodore Room with a dimly lit ambiance alongside menu offerings like swordfish steak, almond crusted salmon, rack of lamb and more. 
Pro tip: Don't skip the clam chowder, it's kind of world-famous. 
DAY 2: HISTORIC SIGHTS
HEAD TO HISTORIC BELLEVUE AVENUE
Begin your day at Rough Point Mansion, the oceanfront summer estate of philanthropist and 20th-century heiress Doris Duke. The only child of James Buchanan Duke, the founder of the American Tobacco Company, Doris inherited the estate, estimated at $80 million, when she was 12 years old. Thus referred to as "the richest little girl in the world," she was known for her many interests including travel, the arts, historic preservation, and her two Bactrian camels, Princess and Baby who resided on the lawn of the mansion and are now commemorated by two camel topiaries. 
A SCENIC DRIVE
After departing Rough Point, make your way down Ocean Drive, a 10-mile stretch of winding road with commanding ocean views and some pretty jaw-dropping homes. In 1976, this undeniably tranquil road was designated a National Historic Landmark due to its distinctive landscape and surrounding architecture. Park at Brenton Point State Park, get out and relish in the endless ocean views
FUEL UP
Tucked away on Ocean Drive overlooking Narragansett Bay is Castle Hill Inn. The historic mansion was built in 1874 as the private summer home for marine biologist and naturalist Alexander Agassiz. During World War II, it housed Naval officers while operating as an impromptu base. Once the war ended, it became a summer hotel, hosting Hollywood royalty like Grace Kelly during the filming of High Society in the 1950s, and renowned novelist Thornton Wilder. Make your way to the hotel's iconic Lawn at Castle Hill for lunch (open seasonally) with offerings like soups, salads, sandwiches and more. Important Note: People often describe CHI's lobster roll as the best they've had. 
First Timer's Note: Before you leave (and if you're visiting in the warmer months), make your way to one of many Adirondack chairs on the lawn overlooking the bay, order a drink and kick your feet up for the full experience.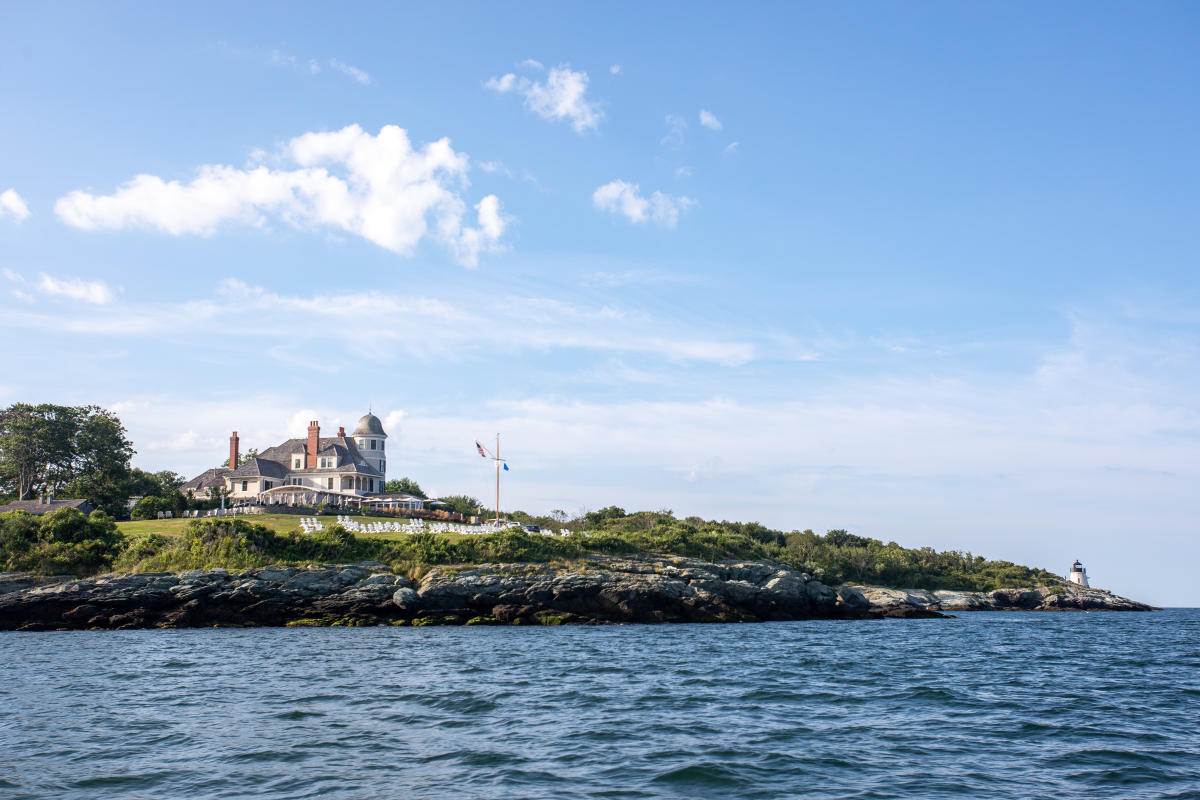 TO THE FORT
Continue your journey down the drive to the largest coastal fortification in the country. With nearly 200 years of history, it's no wonder you can practically feel the historic energy exuding from Fort Adams from the moment you step beyond its walls. Built between 1824 and 1857 and commissioned to defend Narragansett Bay against attack, Fort Adams was designed to mount 468 cannon and house 2,400 troops. Today, you can view the quarters where officers and their families lived, ascend to the scenic overlook for unparalleled views of the bay, travel beneath the walls into the underground tunnels, or even rent the barracks for an overnight stay. It's also the spot where some of Newport's most iconic festivals started and continue to take place, like the Newport Folk Festival and Newport Jazz Festival. 
ST. MARY'S CHURCH
The oldest Roman Catholic church in Rhode Island is also the place where John F. Kennedy and Jackie Bouvier said I do on September 12, 1953. The two wed at St. Mary's Church before 600 friends, family, diplomats, and senators, while outside, 2,000 society fans waited to greet the new Mr. and Mrs. Kennedy. Today, you can visit St. Mary's and relive that day while watching vintage film clips from the wedding alongside a live performance of music from their ceremony and reception. 
DAY 3: EXPLORE THE OLDEST OF THE OLD
1
THE OLDEST SYNAGOGUE IN NORTH AMERICA
Built in 1763, the Touro Synagogue is the oldest synagogue building still standing in the United States, the oldest surviving Jewish synagogue building in North America and the only surviving synagogue building in the U.S. dating to the colonial era. The building still operates as a functioning house of worship, so make sure to time your visit and tour accordingly.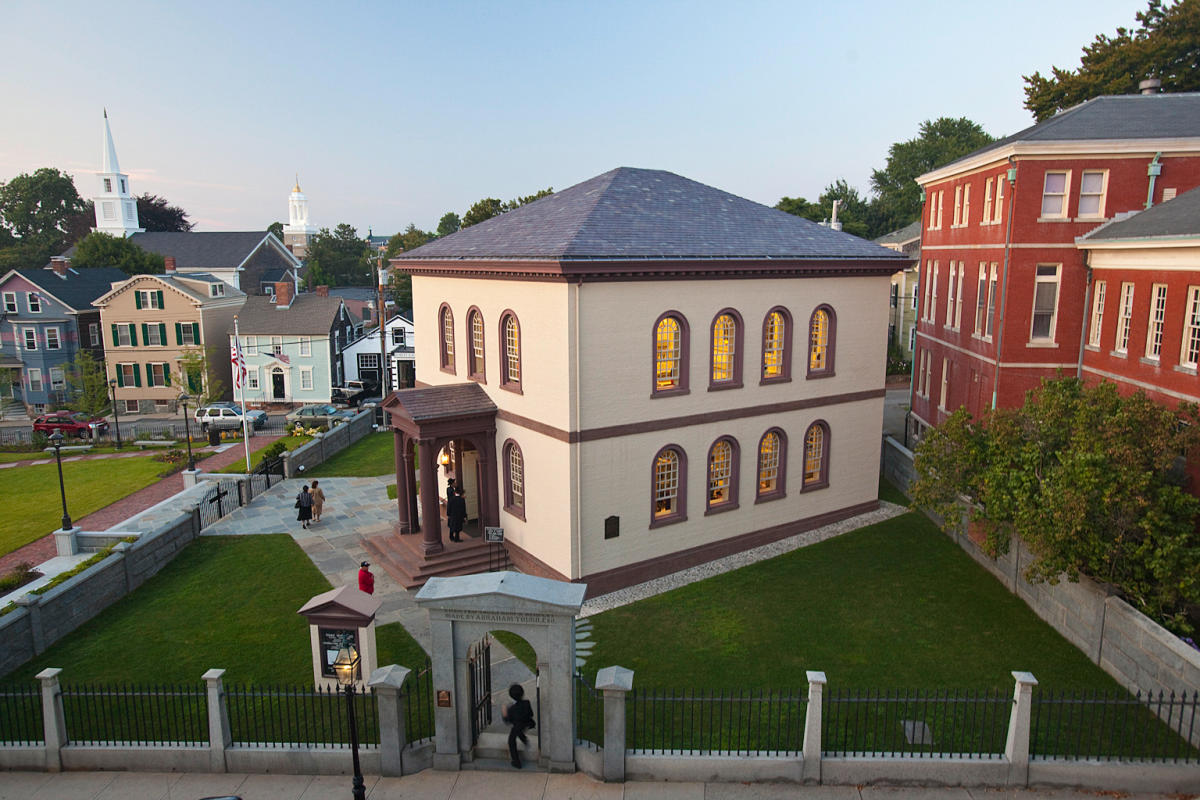 2
THE OLDEST CONTINUOUSLY OPERATING LENDING LIBRARY IN AMERICA
The Redwood Library was established in 1747 by Abraham Redwood and 45 colonists looking to make written knowledge more available. During the revolutionary war, the library was used as an officer's club for the British army. Unfortunately, during the war, many of the books went missing until 1947 when a concentrated effort was made to replace the editions of the original collection as closely as possible. Today, the library houses 92% of the volumes that were originally lost. 
3
THE OLDEST EPISCOPAL CHURCH IN RHODE ISLAND
Trinity Church has a long history of worship, dating back nearly 300 years to 1726 when it was originally built. It has since served as the place of worship for George Washington (commemorated by a plaque placed in his favorite pew), the filming location for Wes Anderson's Moonrise Kingdom, and today is home to the only center-aisle, freestanding, triple-decked pulpit left in America.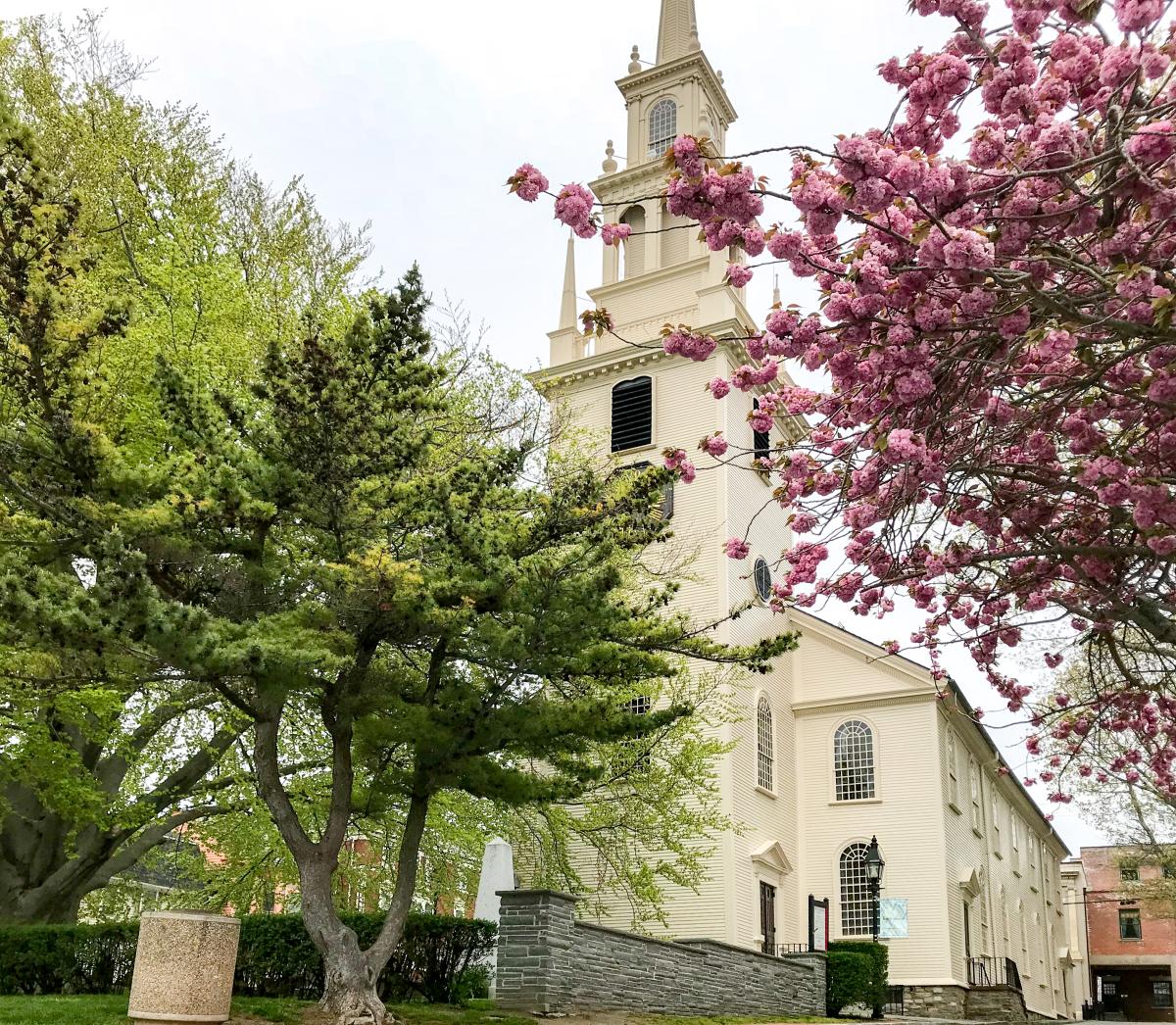 4
THE OLDEST TAVERN IN AMERICA
White Horse Tavern opened in 1673 and to this day maintains its distinctly Colonial clapboard walls and gambrel roof. For more than 100 years, the building served as the meeting place of the colony's General Assembly, Criminal Court, and City Council. Today, you'll find a seasonal menu of classics with a modern twist, all alongside cavernous fireplaces and some tales of haunted history.
NEWPORT HISTORY WALKING TOURS
Historic walking tours throughout the city are offered June through October by the Newport Historical Society. All tours depart from The Brick Market Museum & Shop and last approximately 75 minutes. Arrive early and head inside the award-winning museum housed in the 1763 Brick Market for an engaging introduction to Newport's rich history. 
Dates and times are subject to change, please visit Newport Historical Society's website for an up-to-date schedule and to purchase tickets.
GET SOCIAL
Tag your photos #TheClassicCoast for the chance to be featured on our accounts.