Temperatures are dropping here on The Classic Coast, but that's doesn't mean we won't continue indulging outdoors. From renovated patios and expanded decks, to brand new eateries constructed with outdoor dining in mind, check out these local spots with heaters and fire pits abound. 
COVID-19 NOTE:
When you're ready, we can't wait to welcome you back to The Classic Coast. Rest assured, the safety and well-being of both visitors and locals remains our top priority.  All we ask when you land on these shores is that you play your part in keeping everyone safe. Please be kind and adhere to local guidelines. 
BAR AND BOARD BISTRO
From the owner of Alex and Ani and Carolyn's Sakonnet Vineyard comes Bar and Board Bistro, an upscale, chic restaurant located in a former bank and known for New England cuisine with a Mediterranean twist. The restaurant's open-air pergola sits on bustling Thames Street in the heart of downtown and features electric heaters while the outdoor patio offers a collection of propane heaters.
As for the menu, think seaside staples: calamari, mussels, and raw bar offerings alongside burgers and sandwiches, pasta, and of course, a bistro board offering seasonal cheeses, cured meats, breads and spreads. 
BAR 'CINO
Bar 'Cino operates with an open kitchen concept and runs railroad-style, in single file, with banquette tables running parallel to stooled bar seating. The star of the show on their informal Italian menu is the grilled pizza, made extra, extra thin and served with whole shears for cutting. Their outdoor patio neighboring Washington Square and Newport's historic Colony House is outfitted with heaters for cozy outdoor dining.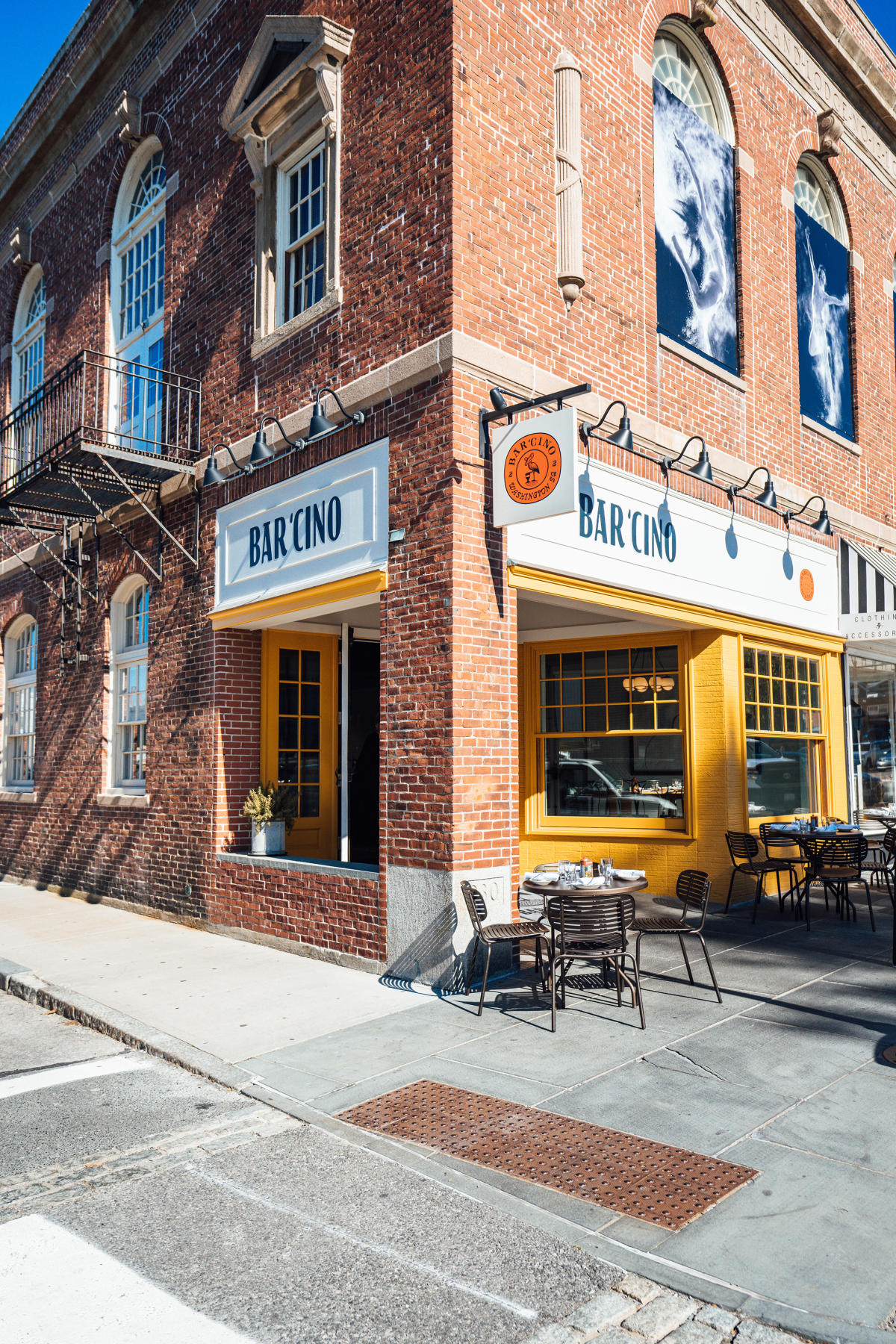 THE BLACK PEARL
The Black Pearl is somewhat of a Newport icon. It opened in the 1970s and has been serving award-winning chowder since. Their waterside patio is located smack dab in the middle of Newport's historic Bannister's Wharf and recently received a revamp, now outfitted with chic bistro seating and retractable pergola along with heaters. Savor harbor views and a new menu including raw bar options, sandwiches, soups, and more.
Pro tip: Don't skip the chowder. Like we said, it's kind of world-famous.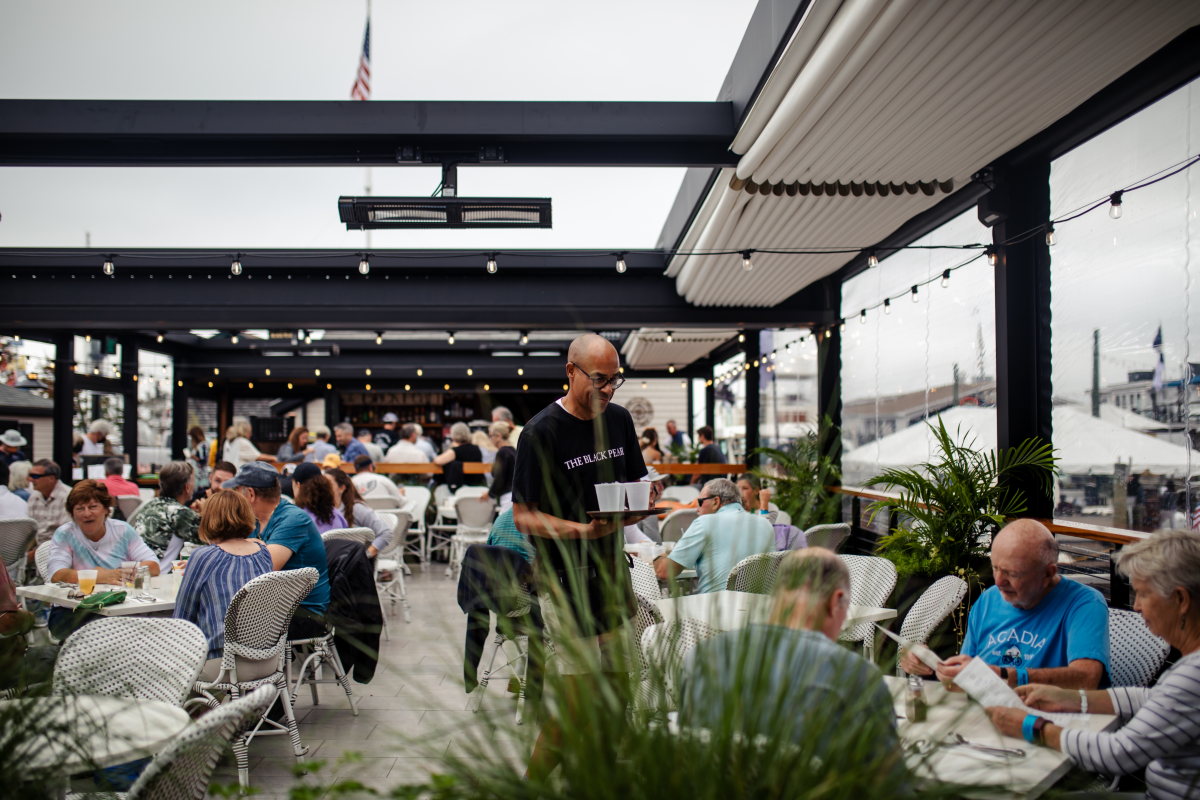 CALEB & BROAD
Local art and chill vibes are the centerpieces of Caleb & Broad, where everything you think about the Newport dining scene is eradicated. The eccentric eatery on Broadway recently underwent an extensive renovation, now boasting two murals by local artist Badway Creative and Ry Smith. They also recently expanded their outdoor dining area onto Broadway, which includes heaters and a canopy of Edison bulb string lights.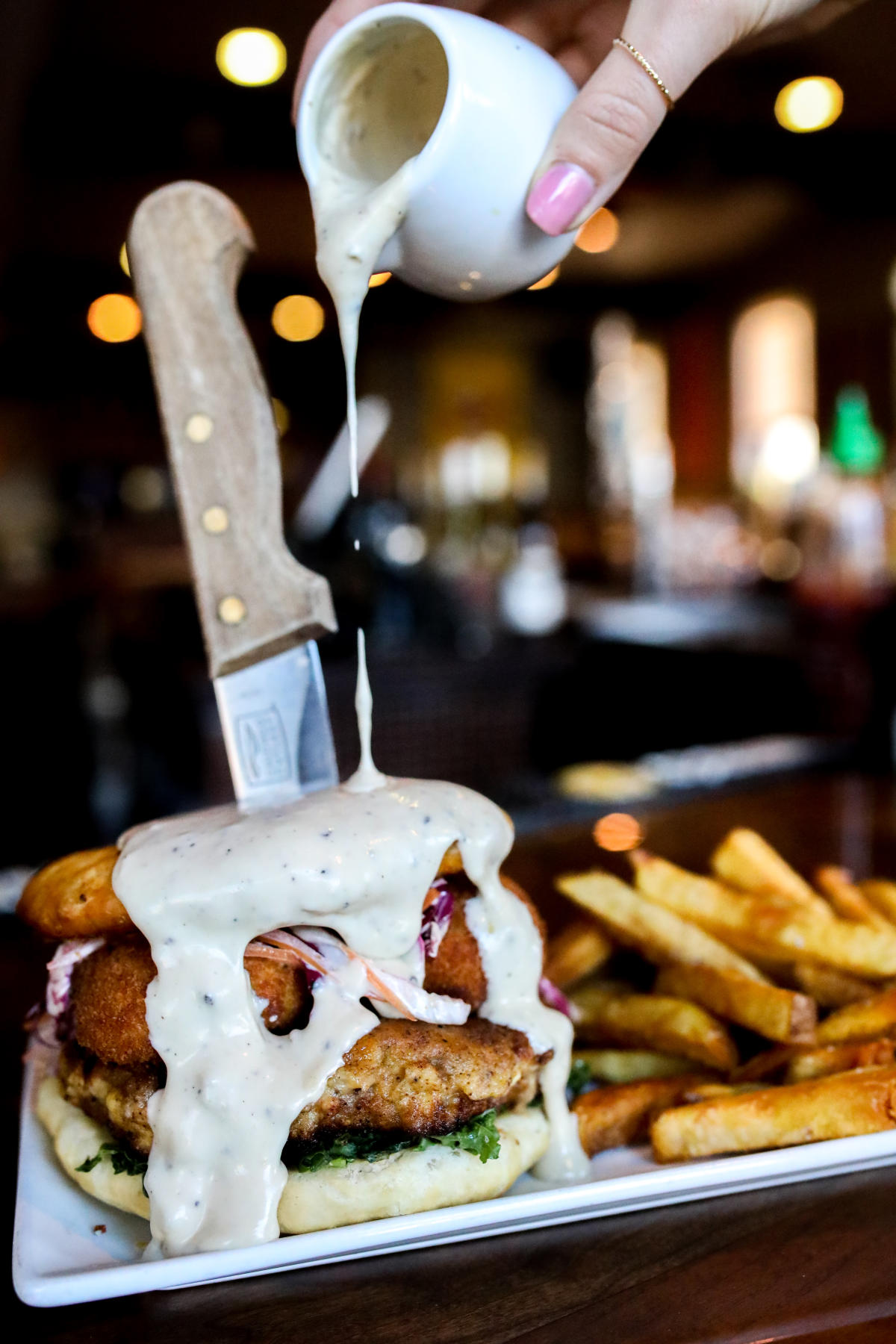 THE CORNER CAFE
If you've passed Corner Cafe on any given morning, chances are you've witnessed the eager crowds outside their door. This cozy, intimate cafe often comes with a wait, but believe us when we say their extensive menu loaded with crave-worthy offerings is worth every second. The intimate restaurant recently expanded its outdoor seating to accommodate COVID-19 restrictions and added heaters to keep warm into the chillier months. 
GURNEY'S NEWPORT RESORT & MARINA
A quick ride to Goat Island (don't worry, you can drive or walk) will land you at Gurney's Newport Resort. Head outside to their waterfront dining area equipped with plenty of fire pits, heated igloos and breathtaking views of the Newport Bridge.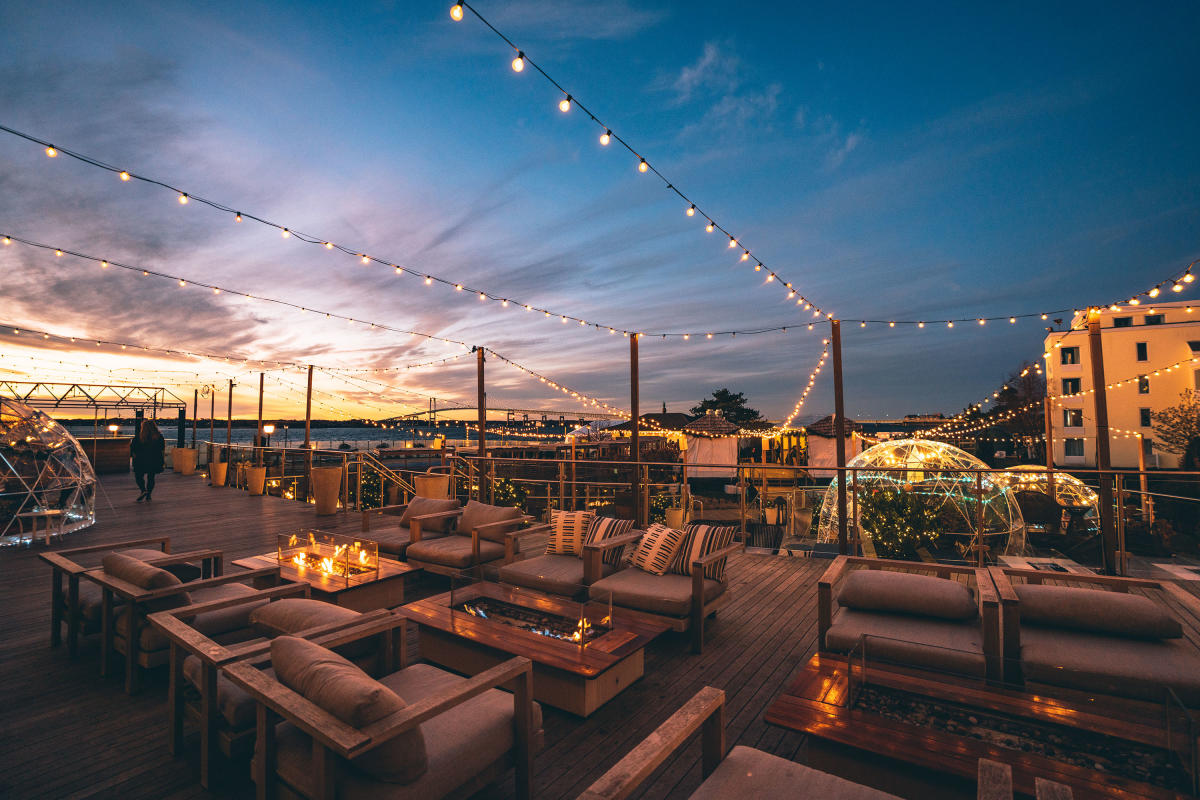 HUMMINGBIRD NEWPORT
Hummingbird on Broadway specializes in home-style Caribbean food and casual grub. Think: Jerk chicken, Oxtail hot plates, crispy fish wraps, and more. Their outdoor patio features high-top seating and heaters for comfortable dining into the cooler months. 
JO'S AMERICAN BISTRO
Welcome to Jo's American Bistro where the atmosphere is convivial and the food is an elevated casual. American cuisine is the highlight here, with items like the Jo's Burger and steak frites taking center stage. Their patio overlooking Memorial Boulevard in the center of downtown is outfitted with heaters for chilly-weather dining.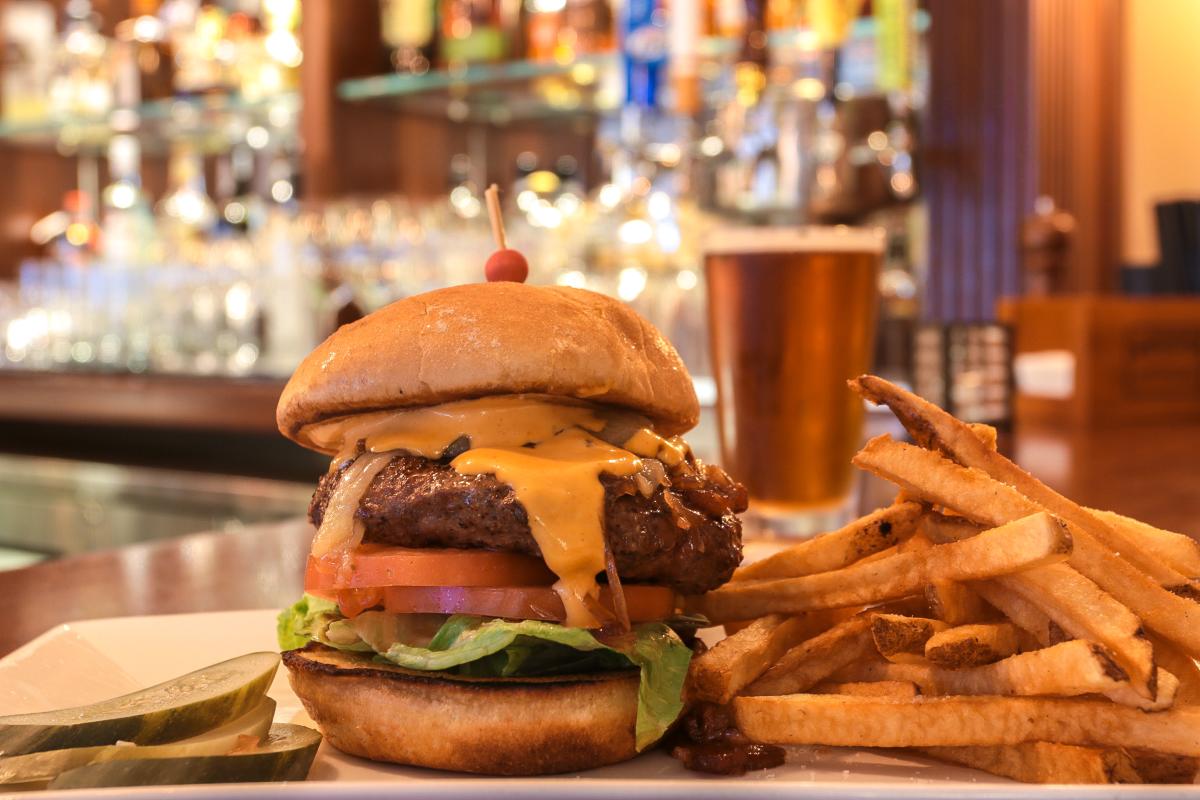 MALT ON BROADWAY
This family-owned restaurant nestled on Broadway opened in 2012 and is known for Irish-influenced fare alongside the 31 beers they offer on draft, single malts, and Irish whiskeys. In addition to an eccentric lineup of entrees, you'll find tapas-style selections. They recently constructed an outdoor dining area in response to COVID-19 which feels like you're eating on a bustling city street, but with proper social distancing in place. Cozy up inside one of their heated igloos underneath a canopy of string lights for a winter wonderland experience.
Pro tip: Order the Thai shrimp nachos. 
MIDTOWN OYSTER BAR
A Newport classic, Midtown Oyster Bar is the area's largest working raw bar with three floors of dining space and three outdoor decks for your pick of scenery: bustling Thames Street or Newport harbor. Each deck is outfitted with heat lamps for outdoor hangs well into the chillier months. 
THE MOORING
This classic Newport restaurant offers panoramic views of Narragansett Bay from every seat on their newly renovated outdoor Mahogany deck. Enjoy pristine water views and locally sourced seafood underneath a number of heaters to keep you toasty.
Pro tip: You won't regret ordering the bag of doughnuts as an appetizer: lobster and shrimp fritters with chipotle-maple aioli. 
O'BRIEN'S PUB
O'Brien's outdoor garden patio is a top-notch favorite among locals and visitors for chill vibes and casual grub located on Lower Thames in downtown Newport. Since its opening in 1979, the patio has grown to seat over 175 people and is the perfect place to meet for cocktails, lunch, or dinner.
PASTA BEACH
Welcome to Pasta Beach where the Spaghetti Pomodoro is piled high and the pizza is crafted with homemade dough by chef Gianluca who hails straight from Sardegna, Italy. The emphasis here is on simplistic, approachable Italian cuisine, with dishes that mimic those you might eat in Italy. The restaurant's outdoor patio offers both fire pits and outdoor heaters.
THE REEF RESTAURANT
The Reef is your spot for a piece of tropical paradise without leaving New England. Set on the harbor overlooking an impressive collection of boats, their outdoor patios are outfitted with palm trees, lounge seating, a collection of fire pits for chillier evenings. The menu here is all about celebrating international flavor, inspired by the travels of sailors to ports around the world. Think: lobster rolls, sea scallops, Moroccan crusted salmon and more.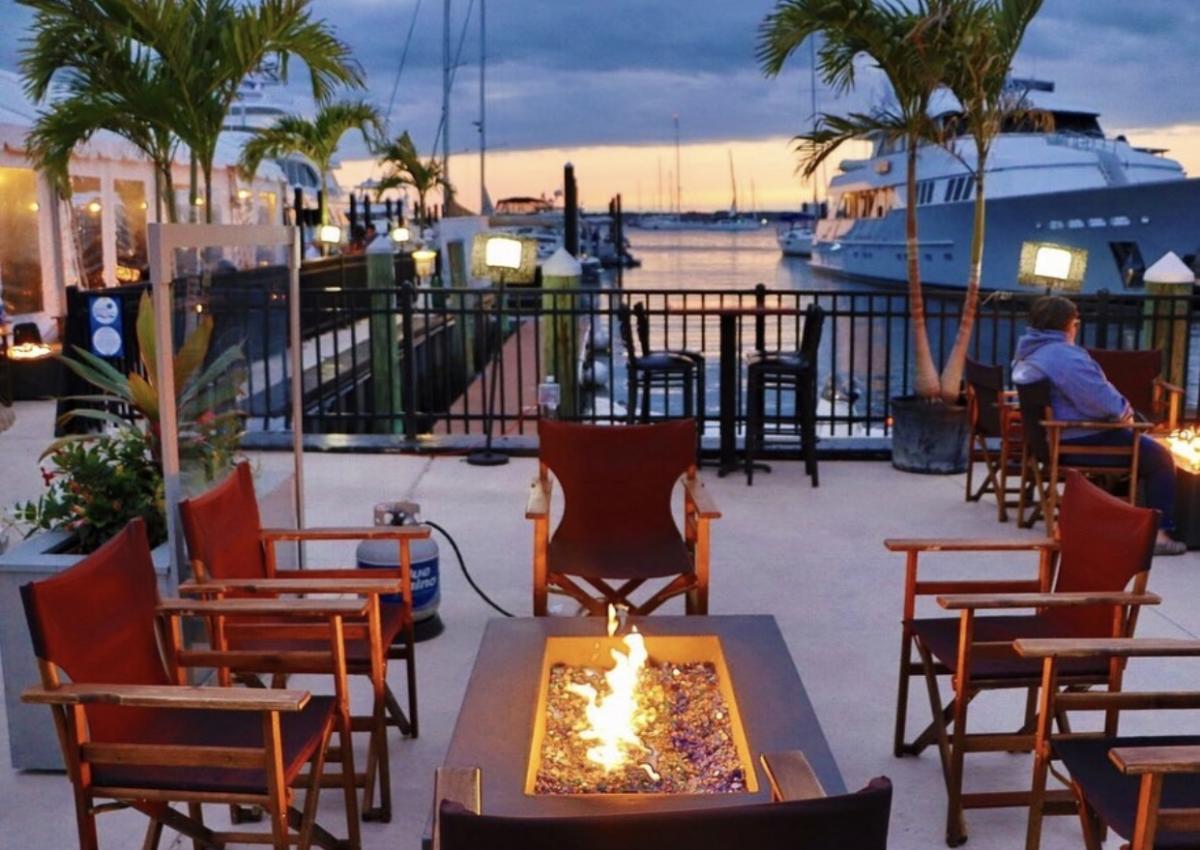 Photo credit: The Reef
SARDELLA'S ITALIAN RESTAURANT
Sardella's Restaurant, recognized as the best Italian restaurant by Rhode Island Monthly and Newport Life Magazine, was founded in 1980 by former Newport Mayor Richard Sardella. It specializes in Northern and Southern Italian cuisine, and recently made major renovations to their outdoor patio, amplifying the restaurant's outdoor dining scene on Memorial Boulevard.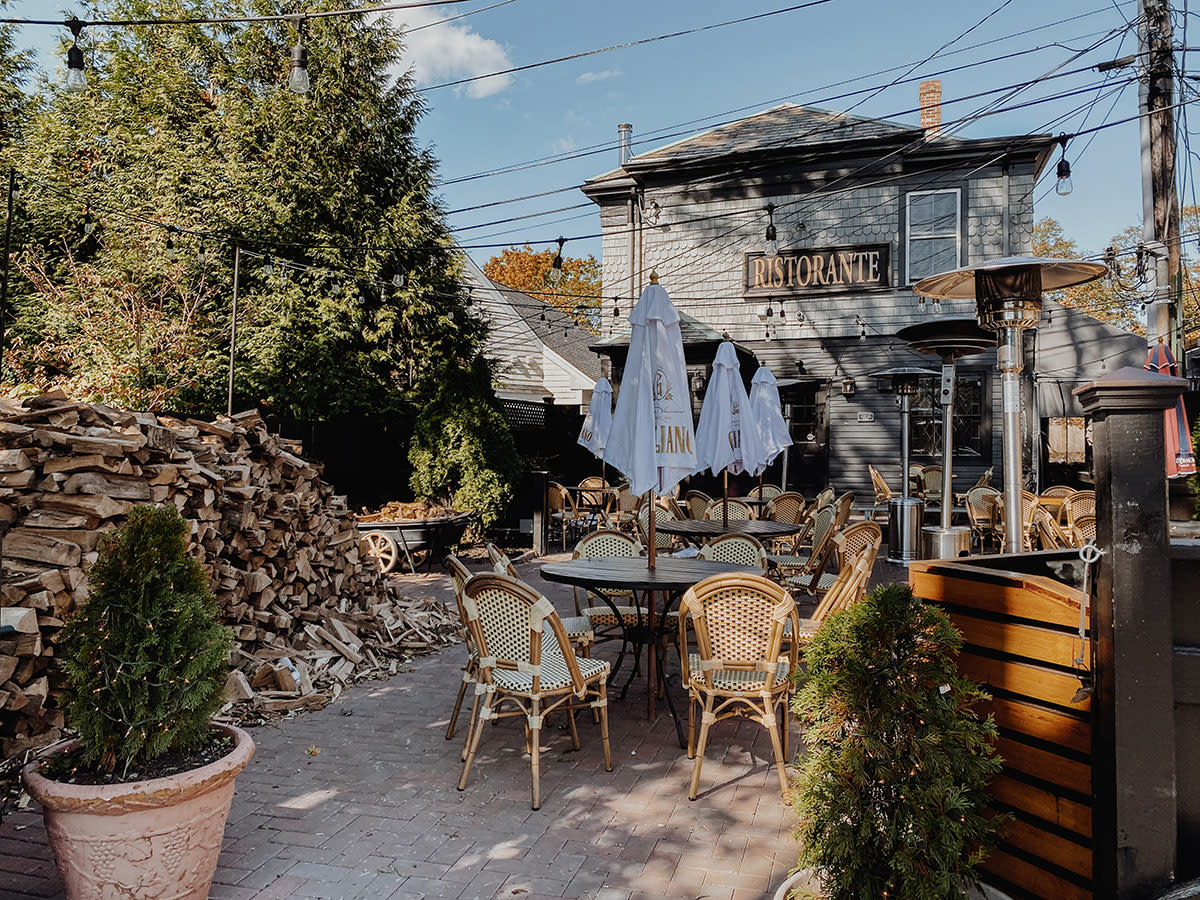 VIESTE SIMPLY ITALIAN
This Italian eatery previously located at 515 Thames Street moved down the block to open at 580 Thames Street, the location formerly occupied by Lorusso's Cafe, Reclaimed Cafe and Yagi Noodles. The interior is inspired by the coastal town of Viesté in the Apulia region of southeast Italy, the family home and the heritage of owner Anthony Lorusso. Their menu offers classic Italian dishes like eggplant rollatini, gnocchi al pomodoro and spaghetti and meatball while their outdoor courtyard is outfitted in heaters and string lights.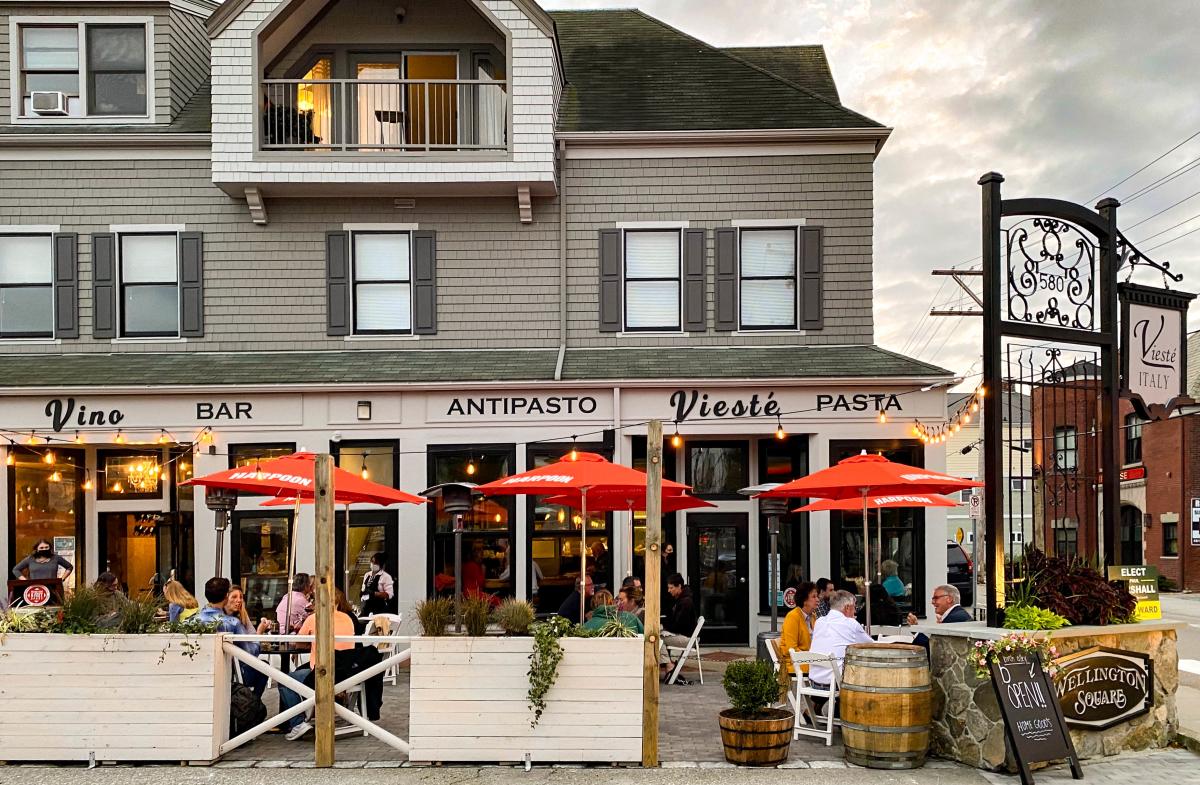 THE WHARF SOUTHERN KITCHEN
A stroll through Bowen's Wharf in downtown Newport will land you at The Wharf Southern Kitchen where Southern-style cuisine is served up with New England ingredients. Think: fried oyster po-boys and seafood jambalaya. Their patio area is outfitted with heaters and vinyl siding for outdoor dining well into the chillier months.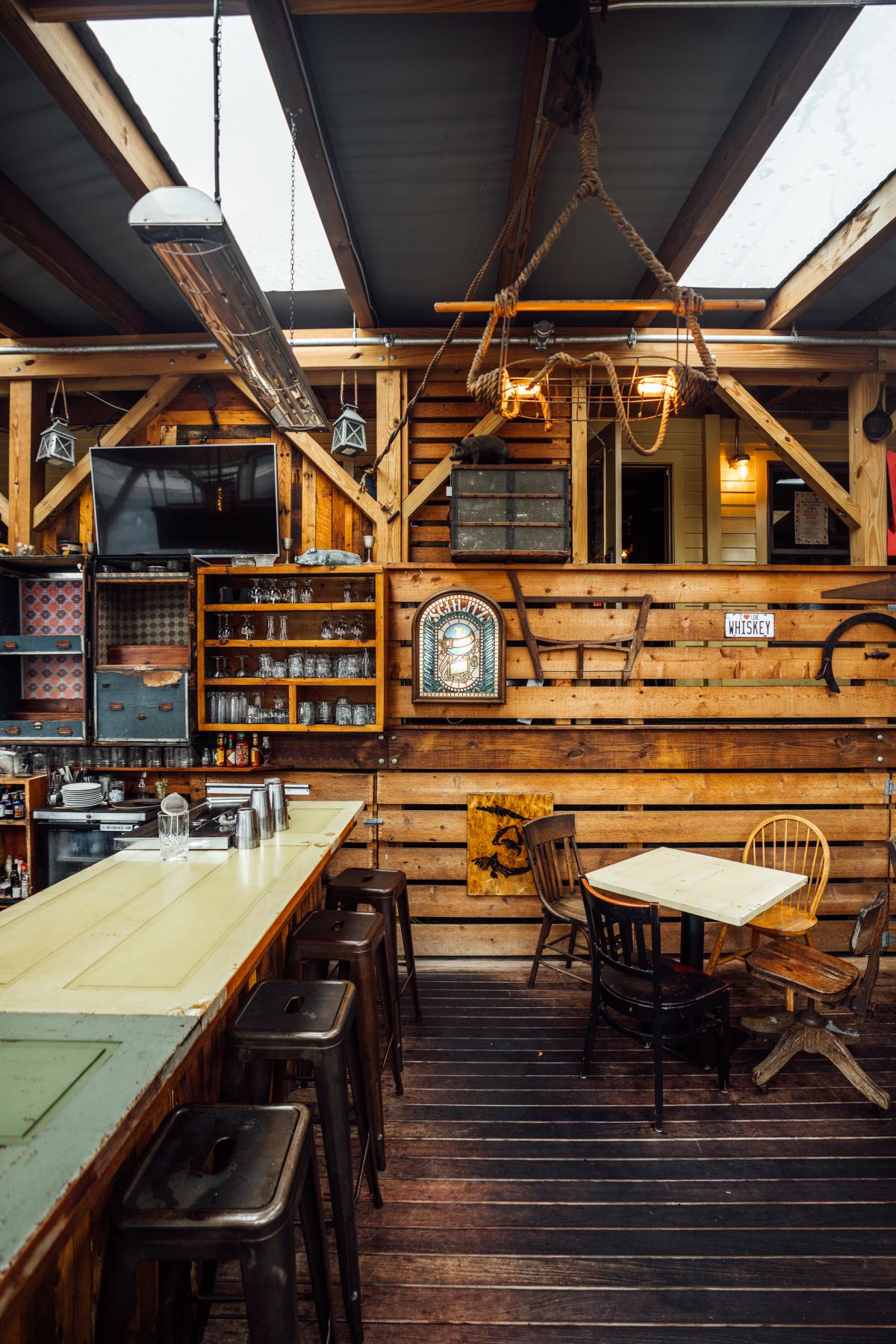 GET SOCIAL
Tag your photos #TheClassicCoast for the chance to be featured on our accounts.