Sure, this seaside city is home to Gilded Age mansions, extravagant 80' schooners, and some of the best galas around, but that doesn't mean you need deep pockets to experience the best of what we've got. From free outdoor concerts, films and festivals, to million dollar views at no charge, this city is packed with exciting things to do without reaching for your wallet.
ON-GOING THINGS TO DO
UMBRELLA SKY PROJECT
When: On display through October 5
Where: Brick Market Place
Can't rain on our parade this summer! Newport just got brighter with an extraordinary outdoor art installation at Brick Market Place. Admire Umbrella Sky Newport, produced by ArtScape, displaying over 500 colorful umbrellas magically suspended in the sky until October 5th. Expect live music and pop-up events throughout the summer under this dazzling display. 
MUSIC AT THE FORT
When: June 28, August 23 & 30, September 6, and October 1
Where: Fort Adams State Park
Sure, Newport Folk and Jazz Festivals make their live music mark at Fort Adams State Park during in the summer. But we have a hidden (free) gem for you live music lovers. Music at the Fort is back this summer for 5 exclusive evenings of free music, yes we said free, at Fort Adams State Park—all you need to do is sit back and watch the sunset. Food and drink vendors will be available on site. 
CLIMB THE TOWER OF THE THIRD OLDEST LIGHTHOUSE IN NORTH AMERICA
When: Schedule
Where: Beavertail Lighthouse
Located on the southernmost tip of Jamestown, the Beavertail Lighthouse museum features a collection of information, artifacts, and conversation about the history and site of the third-oldest lighthouse in North America. Lace up your sneakers and climb to the top of the tower for a panoramic view of Narragansett Bay. Free, $5 donation encouraged.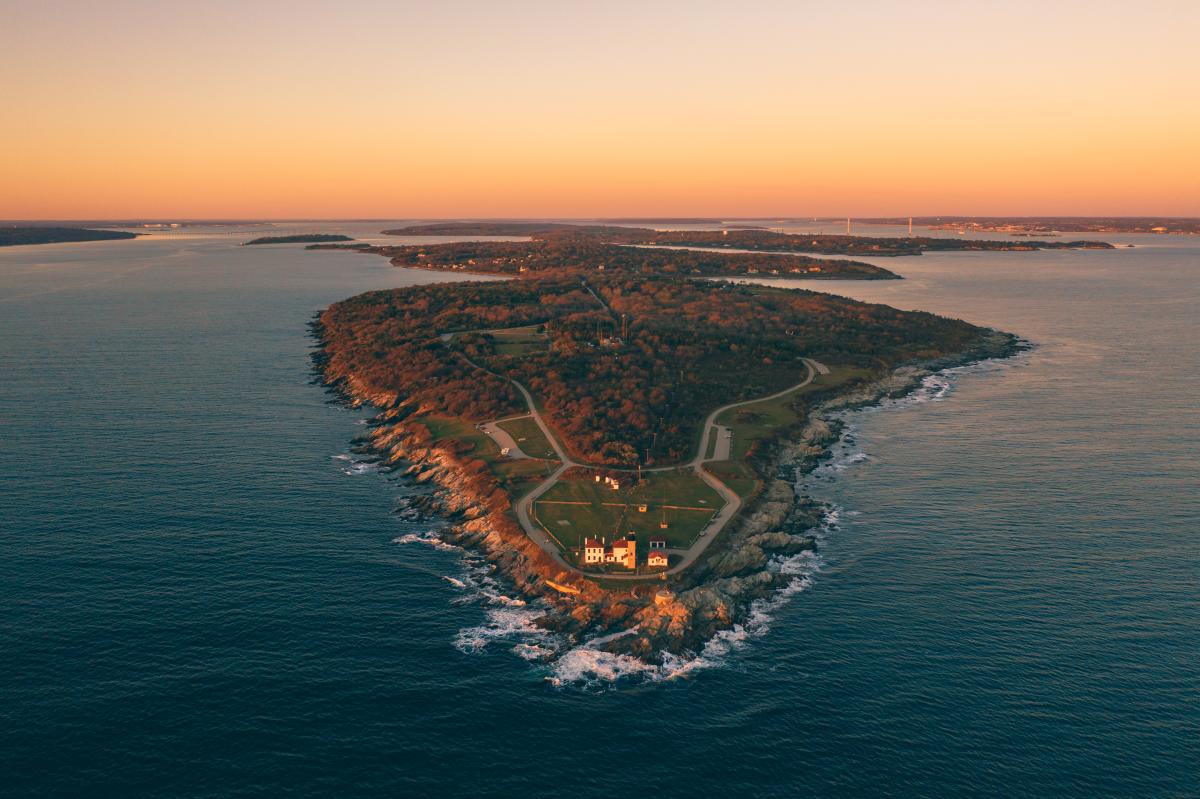 NIMFEST CONCERT SERIES AT KING PARK
When: Sunday afternoons from 3:00 - 6:00 PM starting July 9
Where: King Park
Picture this: Crowds of blankets and lawn chairs lining King Park, boats sailing by in the harbor, and the sound of live music and soothing waves filling the air—NIMFest is back. Enjoy high-energy live music performances every Sunday from 3:00 - 6:00 PM through August 27.
Presented by the City of Newport, all concerts are free of charge. Leashed pets are welcome.
AUDUBON SOCIETY'S CITIZEN BANK FREE FAMILY FUN DAY
When: Every first Saturday of the month
Where: The Audubon Environmental Education Center 
Thanks to Citizens Bank, the Audubon Environmental Education Center is open to the public the first Saturday of every month. Enjoy crafts, nature stories, animal discoveries, hikes and more. All are welcome, no need to register. 
FREE FILM SERIES
When: Every other Friday, June 16 - August 11; 2:30 PM
Where: Newport Public Library
Join Newport Public Library for free screenings every other Friday from June 16 through August 11. Enjoy a collection of Reese Witherspoon classics from Wild to Legally Blonde. Free and open to the public, registration is not required.
EISENHOWER HOUSE TOURS
When: Mondays, June 26 - September 4, and October 9, 10:00 AM - 2:00 PM
Where: Eisenhower House
Enjoy a free self-guided tour of Eisenhower House on Mondays through September. Built in 1873, this iconic yellow home was once the summer White House of President Dwight D. Eisenhower, hence the name. 
NEWPORT GALLERY NIGHT
When: The second Thursday of each month; 5:00 - 8:00 PM
Where: Throughout Newport
On the second Thursday of every month, art aficionados of all kinds stroll the streets of our bustling wharves and eclectic neighborhoods to experience the work of 25+ galleries. 
EASTON'S BEACH FAMILY NIGHT CONCERT SERIES
When: Every Tuesday and Thursday at 6:00 PM
Where: Easton's Beach
Interactive live bands, magicians and story tellers complete your child's experience at the Family Night Concert Series at Easton's Beach on select Tuesdays and Thursdays this summer. Festivities begin at 6:00 PM, parking is free after 4:00 PM on show nights!
JAMESTOWN EVENING MUSIC CONCERT SERIES
When: Every Sunday at 6:30 PM starting July 9
Where: East Ferry Memorial Square
Make your way to East Ferry Memorial Square in Jamestown for free evening music overlooking Narragansett Bay. Concerts are held on Sundays from 6:30 - 8:00 PM from July 9 through August 20, and 6:00 - 7:30 PM on August 27. 
BRISTOL FOURTH CONCERT SERIES
When: Daily, from June 20 - July 2
Where: Independence Park, Bristol
Bristol and July 4th—name a better combo. Kicking off the July 4th celebration, Bristol Fourth of July Concert Series returns to Independence Park nightly from June 20 - July 2, 2023. 
SHOPS AT LONG WHARF FREE SUMMER CONCERT SERIES
When: Various Dates
Where: Shops at Long Wharf Mall
Free music in downtown Newport? Count us in. Make your way to Long Wharf Mall for an outdoor concert series on Saturdays throughout the summer. 
NEWPORTFILM OUTDOOR FILM SERIES
When: Thursdays
Where: Venues change weekly
Experience award-winning documentaries, live music, interviews with film makers and subjects, fabulous food, and loads of community spirit amongst Aquidneck Island's beautiful outdoor spaces. Screenings begin at sunset every Thursday through August 31. $5 donations encouraged.
JAZZ SERIES AT HERRESHOFF MARINE MUSUEM
When: Weekly on Thursdays, July 13 - August 31, 6:00 - 8:00 PM
Where: Herreshoff Marine Museum Waterfront
Experience an unforgettable summer of music at the Jazz Summer Concert Series on the Herreshoff Marine Museum waterfront. Performances happen every Thursday from July 13 to August 31. 
Presented by BankNewport.
WARREN SUMMER CONCERT & MOVIE SERIES
When: Thursdays & Sunday starting July 6
Where: Burr's Hill Park
Enjoy a night of entertainment at Warren's iconic Band Shell. Pack a blanket and chairs and settle in on the lawn at Burr's Hill Park for live performances from some of the area's most talented artists and bands. Concerts are Sundays through August 31 from 6:00 - 8:00 PM, happening rain or shine.
Presented by Bank Newport. Leashed dogs are welcome.
FREE "HOP-ON HOP-OFF" TROLLEY
When: Route 67: Daily through October 31, 2023, and Route 68: Daily, through October 31, 2023
Routes: Route 67 & Route 68
The Rhode Island Public Transit Authority launched a free "Hop-On Hop-Off" bus service promotion in Newport. The service offers transportation around Newport to tourist destinations and beaches. This includes all service on Route 67 (Bellevue/Salve Regina Univ.) and Route 68 (Middletown/Newport Beach Shuttle). The service will be free through Monday, October 31, 2023.
Route 67 (Bellevue/Salve Regina Univ.) Passengers can ride Route 67 to popular attractions such as the Newport Mansions, Cliff Walk, Audrain Automobile Museum, International Tennis Hall of Fame and more.
Route 68 – The new route will connect neighborhoods in the north end of Newport to local beaches. 
Passengers can hop on and off at RIPTA bus stops along the route. Schedules will be available online and at the Newport Visitor Information Center located at 21 Long Wharf Mall. For more information visit RIPTA.com or call 401-781-9400. Detailed Route 67 schedule at RIPTA.com/route/ 67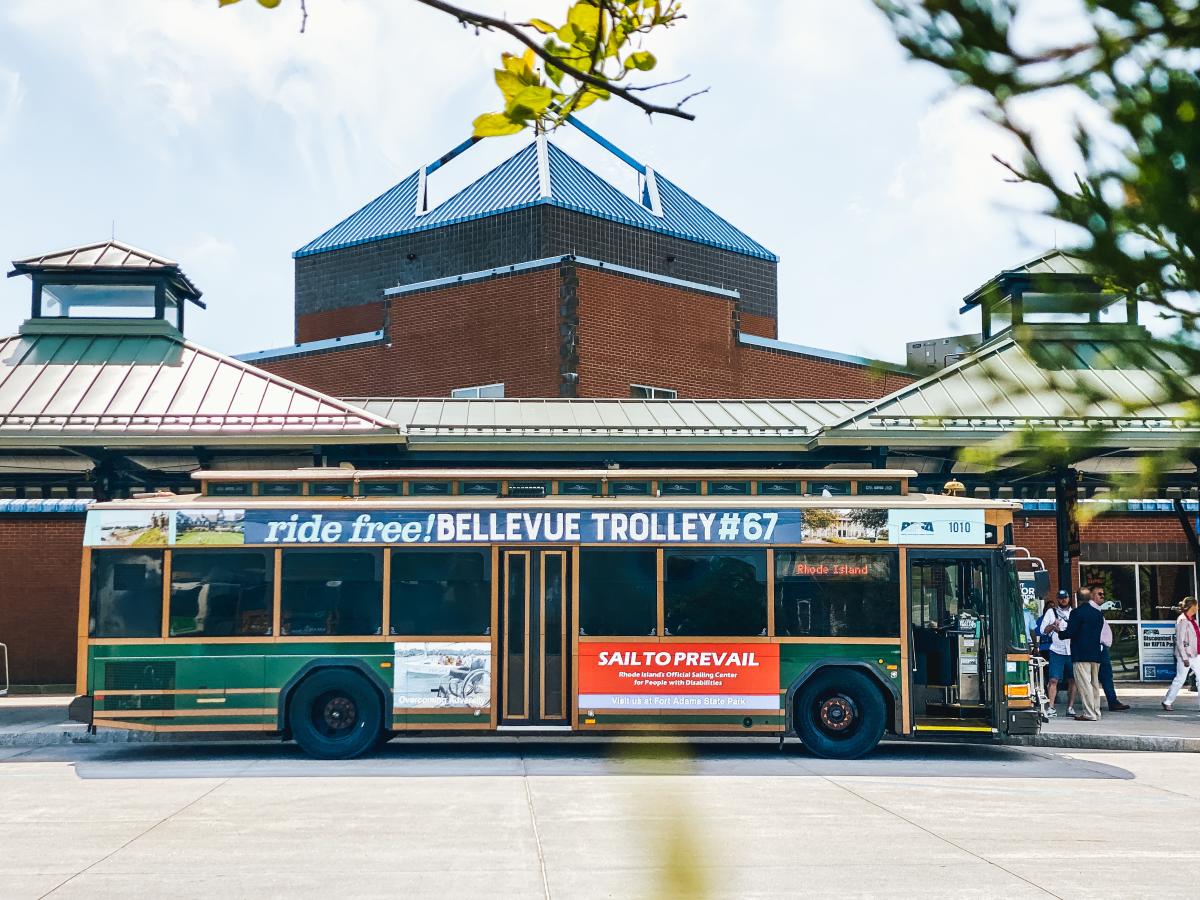 Craving serenity? Newport's enchanting 3.5-mile Cliff Walk is the perfect place for your moment of peace.

Sachuest Point National Wildlife Refuge provides an important stopover and wintering area for migratory birds.

Boyd's Eight-Vane Wind Grist Mill is one of the last two survivors of more than twenty known wind mills which once worked to supply the daily needs of Aquidneck Island. It is the only eight-vane smock…

10 miles of commanding coastline meets one winding road on Newport's iconic Ocean Drive.

Fort Adams State Park is home to the largest coastal fortification in the country, constructed between 1824 and 1857 to defend Narragansett Bay against attack.
FREE EVENTS
FOOD TRUCK SUNSETS AT SAFE HARBOR NEW ENGLAND BOATWORKS
When: June 24, July 15, and August 19 from 4:30 PM to 8:30 PM
Where: Safe Harbor New England Boatworks
Safe Harbor New England Boatworks in Portsmouth transforms with food trucks, beer and wine, and live music on select nights this summer with PVD Food Truck Events. Your job? Come soak in the views and just pay for what you eat and drink. 
ART NIGHT BRISTOL WARREN
When: June 29, from 5:30 - 8:30 PM
Where: Water Street, Warren
Warren's historic Water Street is the place to be on Art Night when private gardens and studios are opened for all ages to explore for free Thursday, June 29th from 5:30 to 8:30 PM. Think: Art, shopping, restaurants, and live entertainment available along historic Water Street.
BIKE NEWPORT'S FULL MOON RIDE
When: July 3, August 1
Where: Water Street, Warren
Join Bike Newport for a lovely evening bike ride along a coastal route with scenic harbor, bay, and ocean views – lit first by the setting sun, and then by the rising full moon.
When: July 4, 10:00 AM - 12:00 PM
Where: Washington Square
Visit the Colony House and Washington Square for a morning of patriotic activities, including a yearly-tradition of reading of the Declaration of Independence. The Colony House will be open for free tours throughout the day. 
BRISTOL FOURTH OF JULY PARADE
When: July 4, 10:30 AM
Where: Downtown Bristol, Hope Street
No biggie—just the oldest continuous Fourth of July Parade in the country. This iconic parade, adorned with painted red, white, and blue lines along the route, begins at 10:30 AM and will step-off at the corner of Chestnut Street and Hope Street and ends on High Street, between State Street and Bradford Street.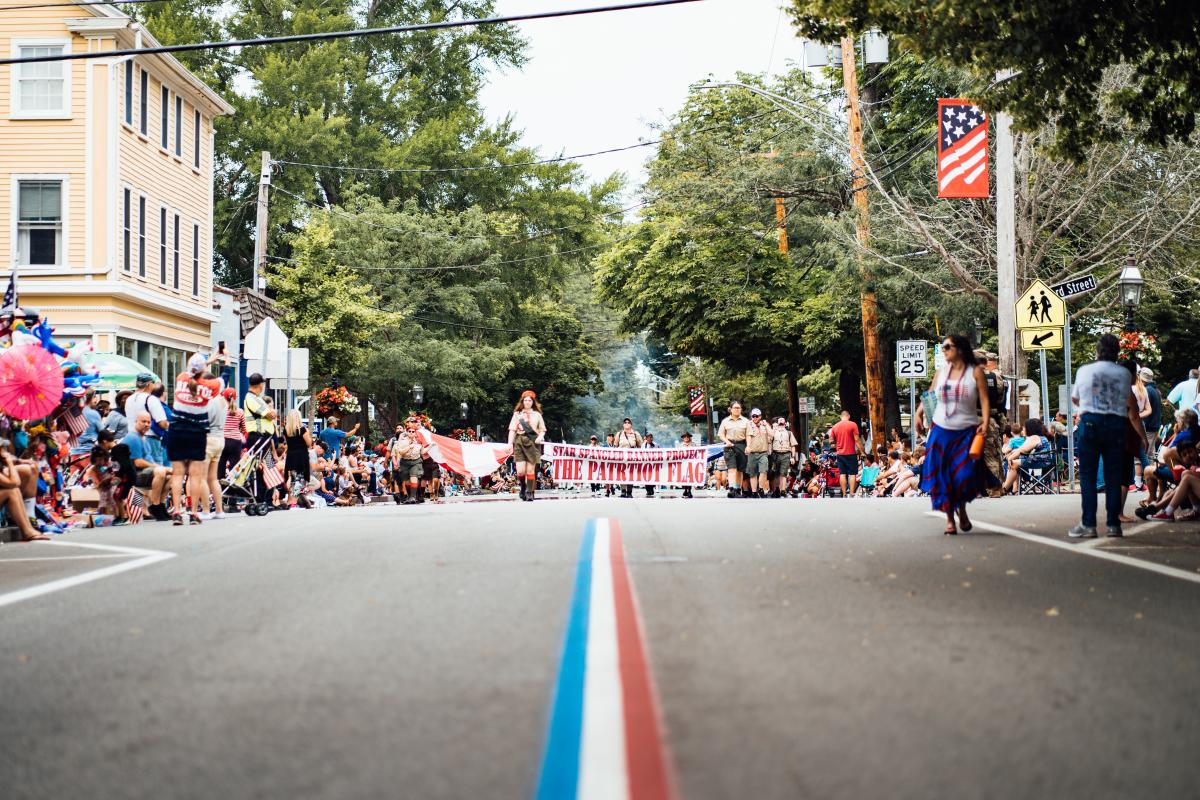 NEWPORT 4TH OF JULY FIREWORKS DISPLAY
When: July 4, starting at 9:15 PM
Where: Newport Harbor
Weather permitting, this year's display is scheduled to light up the harbor beginning at approximately 9:15 PM on Monday, July 4th, with a rain date slated for Tuesday, July 5th. 
Newport's annual Fourth of July Fireworks display traces its history to a small but dedicated group of community members who volunteered their time to help celebrate our nation's founding with a safe, family friendly atmosphere. 
Where to View: For best viewing, be sure to find a westward facing spot along Newport Harbor. Popular viewing locations include Perrotti Park, King Park, and Queen Anne Square.
CARS & COFFEE
When & Where: See website for full calendar.
Join Audrain Auto Museum for a morning of cars and coffee at unique venues in and around Newport.
When: July 8 - 9
Where: Sail Newport at Fort Adams
Sail Newport has a long history of hosting this East Coast keynote event for one-design classes where they live by the motto: "More Racing, Less Waiting, Cold Beer." Sit along the shore and enjoy a classic sailing event this July.
HELLENIC FEST
When: July 14 - 16
Where: St. Spyridon Greek Orthodox Church
Hellenic Fest is St. Spyridon Greek Orthodox Church's annual festival which dates back to 1983. Enjoy authentic Greek cuisine and pastries, live music and dancing, and so much more in downtown Newport. 
FRENCH IN NEWPORT WEEKEND
When: July 14 & 15
Where: Downtown Newport
Step back in time to Newport in 1780 during the "French in Newport Living History Weekend". Events include lectures in Washington Square, tea traditions, interviews with scholars and Fife & Drum concert to conclude the weekend. 
When: June 25, July 9 & 23, August 6 & 20, September 3 & 17
Where: Norman Bird Sanctuary
Count up as many bird species as you can, from soaring red-tailed hawks to tiny hovering hummingbirds. You'll learn how to identify common year-round residents and seasonal migrants.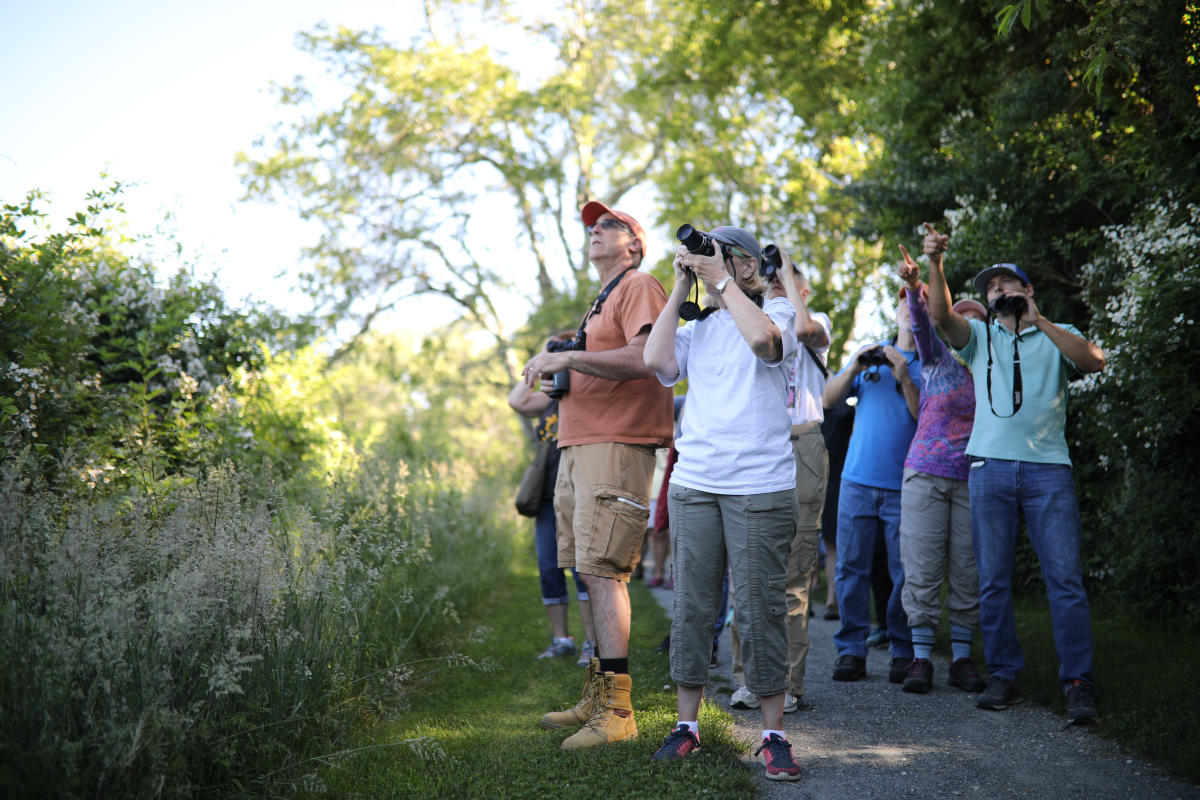 When: Wednesday Afternoons
Where: Norman Bird Sanctuary
Stretch your legs, get some fresh air, and end the day with a walk in nature. Explore the Norman Bird Sanctuary trails during a free guided walk every Wednesday afternoon.
Brenton Point is your spot for unparalleled views of the shoreline, picnicking, and even kite…
Park your car at any of the spots along Wellington Avenue and make your way to King Park. Equipped…
Ballard Park is a wild and natural open space of 13 acres including two 19th century quarries. It…
Colt State Park boasts 464 acres of lawns, stone walls, and curving drives along one of the state's…
Fort Adams State Park is home to the largest coastal fortification in the country, constructed…
GET SOCIAL
Tag your photos #TheClassicCoast for the chance to be featured on our accounts.