Newport is often acclaimed as a can't-miss retreat for seafood lovers (have we mentioned we love a lobster roll?) That doesn't change the fact that it's a really good time to be vegan in Newport right now. Plant-based restaurants and cafes have been popping up in large numbers over the last few years with offerings good enough to convert even the most die-hard meat eaters. 
COVID-19 NOTE:
When you're ready, we can't wait to welcome you back to The Classic Coast. Rest assured, the safety and well-being of both visitors and locals remains our top priority. The mask mandate requiring face coverings in Rhode Island has been lifted, however local businesses may ask you to wear a mask when visiting their establishments. Please be prepared for individual business mask policies. Additionally, shops, attractions and tours are monitoring the number of guests at any given time and may ask you to socially distance to enter. 
All we ask when you land on these shores is that you play your part in keeping everyone safe. Please be kind, adhere to guidelines and maintain social distancing. 
FULL VEGAN MENUS:
PLANT CITY X
Middletown's newest fast-food, drive-thru eatery is totally plant-based and the first of its kind in the Northeast. The sister restaurant to Providence's Plant City Food Hall opened in March of 2020 and offers indoor counter service and covid-safe seating  in their airy and spacious dining area, alongside outdoor patio seating and drive-thru service. As for the menu, think: burgers made from beans, vegetables and grains; "chik" sandwiches and nuggets made from crispy fried tofu; salad bowls, sweet potato and regular French fries with unique dipping sauces; shakes; gluten-free mac and cheese, and more. 
SPROUT AND LENTIL
Located in Middletown, Sprout and Lentil is a dedicated Vegan / Plant Based restaurant with a creative and tasty menu, offering everything from signature burgers and sandwiches, to soups and salads, and delicious baked goods. They even have a house-made poptart calling your name. We have officially entered Vegan nirvana. 
THE POWER OF JUICE
The Power of Juice is a plant-based lifestyle brand, located in Middletown, committed to serving nearly 100% organic, non-GMO and sustainable foods, with a mission to create zero waste. Enjoy an assortment of healthy "grab and go" plant-based options, like raw juices, nut milks, cacao truffles and more.
DIEGO'S
Welcome to the place where the food has just as much character as the atmosphere, laden with string lights, Day of the Dead skulls, and a Buddha or two strewn about. Located in the heart of downtown on Bowen's Wharf, Diego's offers an entirely vegan menu in addition to their standard menu. Highlights include vegan nachos, the vegan sausage quesadilla, fried tofu tacos, Cali burrito made with vegan cheese, tostadas and more. 
ROOT 
The plant-based juice bar and eatery on Broadway is the brainchild of owners Paul Webber and Kate Moran, and according to the couple, offers something for everyone. The menu includes breakfast bowls like the chocolate "pudding" bowl, açaí bowl and the steel cut oatmeal bowl; a selection of toasts including avocado toast, peanut butter almond joy toast and the coconut bacon BLT; nourishing grain bowls; juices and smoothies; and a variety of coffee and tea options.
MENUS WITH NOTEWORTHY VEGAN OFFERINGS
DRIFT CAFE
Replacing the old Juice'd Cafe at 190A Thames Street, this locally-owned, quick-serve style cafe boasts a wholesome menu with plenty of vegan offerings including smoothie bowls, lunch bowls, smoothies and most importantly, good coffee.
RHODY ROOTS
What started as a food truck, later turned into a brick and mortar restaurant, Rhody Roots located in the heart of Warren is a vegan diner's dream. They offer trendy, locally sourced foods and many of their menu options can be made vegan; ranging from their breakfast sando to tacos, nachos and more. 
DIEGO'S BARRIO CANTINA
The sister restaurant of the downtown Diego's location, Diego's Barrio Cantina in Middletown serves up classic favorites from the original location including a variety of vegan offerings like the vegan nachos, vegan burrito, vegan tacos, a kale and peptic salad, and a vegan quesadilla.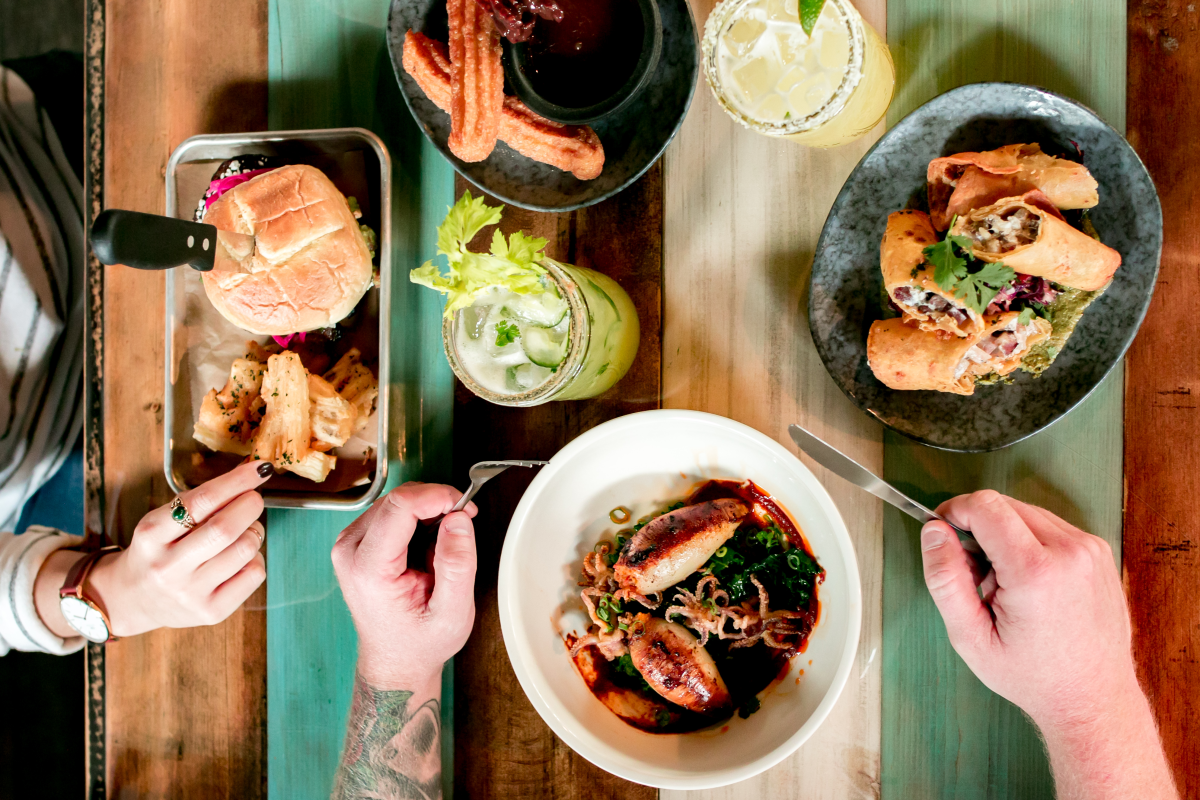 YAGI NOODLES
Yagi Noodles is a craft ramen shop that is bringing the heat to Newport—in the form of chili oil. Grab a seat at the bar, or a cozy corner table for two and start your night off with a variety of unique craft cocktails, or opt for one of the sake flights to set the mood. Then, order from the modified vegan menu featuring some of Chef Basil's best dishes, just ask before placing your order!
LUCIA'S ITALIAN RESTAURANT
If you're craving really, really good Italian food, this is your spot. Lucia's, located on upper Thames above Panini Grill, offers a full vegetarian menu loaded with plenty of vegan options, as well as items that can be made vegan with slight modifications.
Pro tip: the Penne all'Arrabbiata has never disappointed.
KAFFEOLOGY
Kaffeology opened their first location on lower Thames Street in 2017 as a small cafe offering over-the-top milkshakes alongside coffee and teas. Since then, their location and menu have expanded with a second spot on West Main Road in Portsmouth and new offerings including breakfast sandwiches, salads, bowls and more. There are some vegan offerings, like the sweet potato bowl and the vegan Cobb, and some items that can be made vegan with slight modifications, like the avocado toast and the rise + shine breakfast sandwich.
GET SOCIAL
Tag your photos #TheClassicCoast for the chance to be featured on our accounts.