Newport is often acclaimed as a can't-miss retreat for seafood lovers (have we mentioned we love a lobster roll?) That doesn't change the fact that it's a really good time to be vegan in Newport right now—in fact, Newport was recently named top 10 Vegan-Friendly beach towns by PETA for the plethora of animal-friendly fare. 
Plant-based restaurants and cafes have been popping up in large numbers over the last few years with offerings good enough to convert even the most die-hard meat eaters. 
COVID-19 NOTE:
When you're ready, we can't wait to welcome you back to The Classic Coast. Rest assured, the safety and well-being of both visitors and locals remains our top priority.  All we ask when you land on these shores is that you play your part in keeping everyone safe. Please be kind and adhere to local guidelines. 
MENUS WITH NOTEWORTHY VEGAN OFFERINGS
Newport, RI
Replacing the old Juice'd Cafe at 190A Thames Street, this locally-owned, quick-serve style cafe boasts a wholesome menu with plenty of vegan offerings including smoothie bowls, lunch bowls, smoothies and most importantly, good coffee.
How to order: Order dine-in and takeout, on-site, by phone and online.
Warren, RI
What started as a food truck, later turned into a brick and mortar restaurant, Rhody Roots located in the heart of Warren is a vegan diner's dream. They offer trendy, locally sourced foods and many of their menu options can be made vegan; ranging from their breakfast sando to tacos, nachos and more. 
How to order: Order dine-in and takeout, on-site, by phone and online.
Middletown, RI
The sister restaurant of the downtown Diego's location, Diego's Barrio Cantina in Middletown serves up classic favorites from the original location including a variety of vegan offerings like the vegan nachos, vegan burrito, vegan tacos, a kale and peptic salad, and a vegan quesadilla.
How to order: Order dine-in, takeout, and delivery, on-site and online.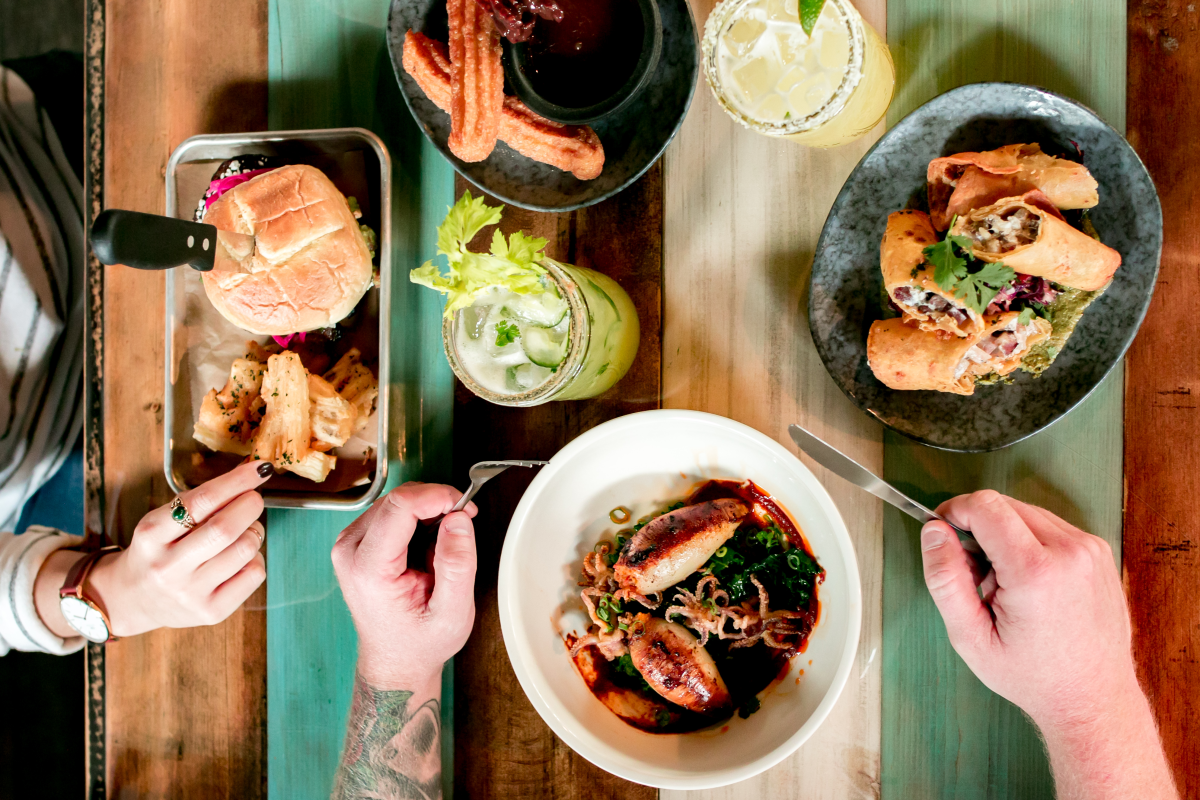 Newport, RI
Yagi Noodles is a craft ramen shop that is bringing the heat to Newport—in the form of chili oil. Grab a seat at the bar, or a cozy corner table for two and start your night off with a variety of unique craft cocktails, or opt for one of the sake flights to set the mood. Then, order from the modified vegan menu featuring some of Chef Basil's best dishes, just ask before placing your order!
Please Note: Yagi Noodle's is currently in a transition phase while opening a brand new location at Long Wharf Mall. Stay tuned for updates and tasty noods!
Newport, RI
If you're craving really, really good Italian food, this is your spot. Lucia's, located on upper Thames above Panini Grill, offers a full vegetarian menu loaded with plenty of vegan options, as well as items that can be made vegan with slight modifications.
Pro tip: the Penne all'Arrabbiata has never disappointed.
Newport, RI + Portsmouth, RI
Kaffeology opened their first location on lower Thames Street in 2017 as a small cafe offering over-the-top milkshakes alongside coffee and teas. Since then, their location and menu have expanded with a second spot on West Main Road in Portsmouth and new offerings including breakfast sandwiches, salads, bowls and more. There are some vegan offerings, like the sweet potato bowl and the vegan Cobb, and some items that can be made vegan with slight modifications, like the avocado toast and the rise + shine breakfast sandwich.
How to order: Order dine-in and takeout, on-site and online.
GET SOCIAL
Tag your photos #TheClassicCoast for the chance to be featured on our accounts.