Families have been making the journey from New York City to Newport since the early 19th century when the city's wealthiest-cc: the Astors, the Vanderbilts, the Belmonts - established their summertime homes along the area's rocky coastline. Really, who could blame them? Think: Unparalleled fresh seafood, charming seaside resorts, beaches, unique shopping, plenty of things to do for kids, and arguably most important of all, staff that's well-versed in meeting the needs of little ones. 
Just over a 3-hour drive from the city awaits a family vacation that feels worlds away.
DAY 1
CHECK IN:
Welcome to your waterfront home away from home at Newport Harbor Island Resort, where the essential resort experience awaits! Surrounded by water with views of both Newport Harbor and Narragansett Bay, this family-approved property offers two indoor/outdoor saltwater pools for hours of entertainment, a private sundeck, cabanas for rent, a historic lighthouse, and a clan of goats (the property is located on Goat Island, after all).
SAILING STARTS HERE:
Welcome to Sailing's new home. The Sailing Museum opened its doors this Spring to the anticipation of sailors and non-sailors alike. The museum's 8,500 square feet of exhibits will chronicle the history of sailing as a sport, along with galleries that honor the America's Cup Hall of Fame, one of the most prestigious sailing races in the world, and the National Sailing Hall of Fame. Find more information about the museum and interactive exhibits here.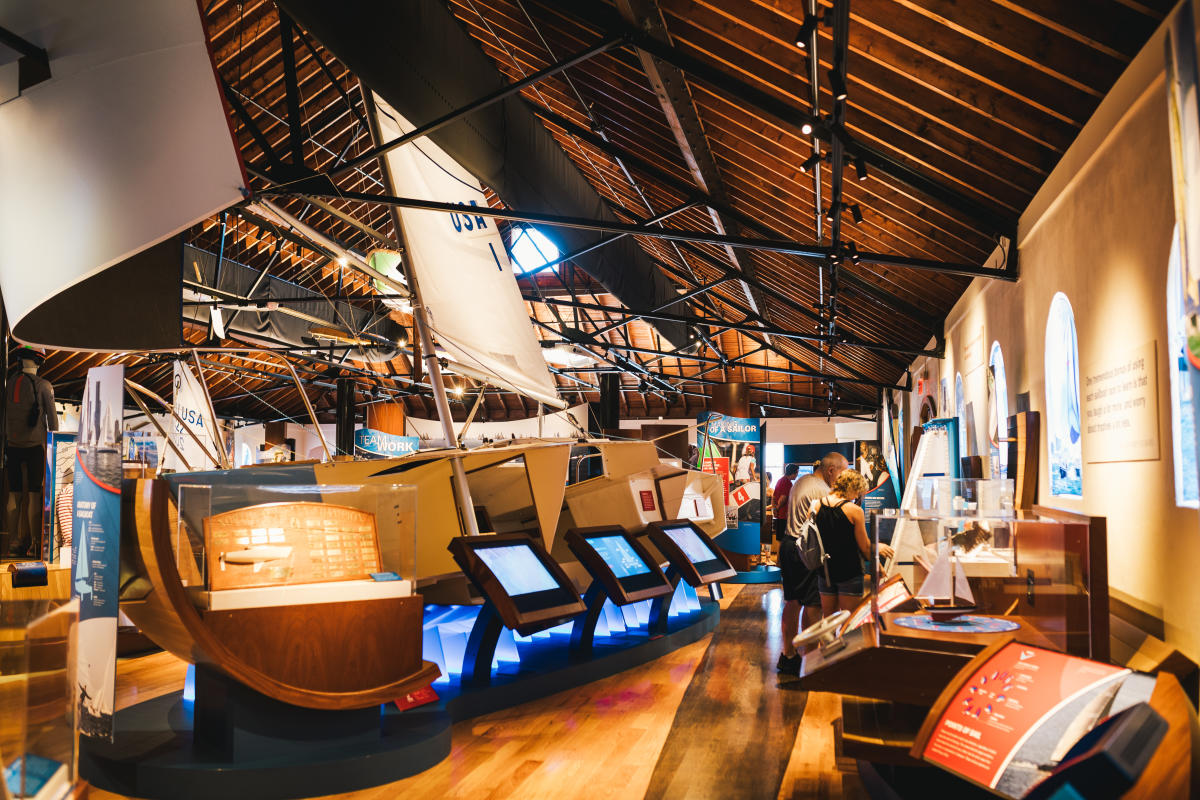 CASUAL COASTAL LUNCH:
This humble lobster shack overlooking Newport Harbor is one of the city's best hidden gems. Built by a group of life-long local fishermen as a type of co-op to sell their fresh catch directly to the public, Newport Lobster Shack is stocked with wild-caught crab and lobster straight from local waters. The menu offers up coastal classics like lobster bisque, clam chowder, and lobster rolls, alongside treats for kids like lobster bites, hot dogs and lobster strips.
Wish you could take the fresh flavors of Newport home with you? You can. Newport Lobster Shack ships live seafood anywhere in the continental US.
1
Interactive Education:
Game, set, match! Make your way to the International Tennis Hall of Fame, home to historic grass courts where legends have played. Head inside the museum where nearly 2,000 objects are displayed from the International Tennis Hall of Fame's collection of more than 25,000 tennis artifacts. Experience interactive exhibits, test your knowledge of the sport on a five-foot touch table game where your kids can "serve" trivia questions back and forth, and get up close to tennis legend Roger Federer's hologram.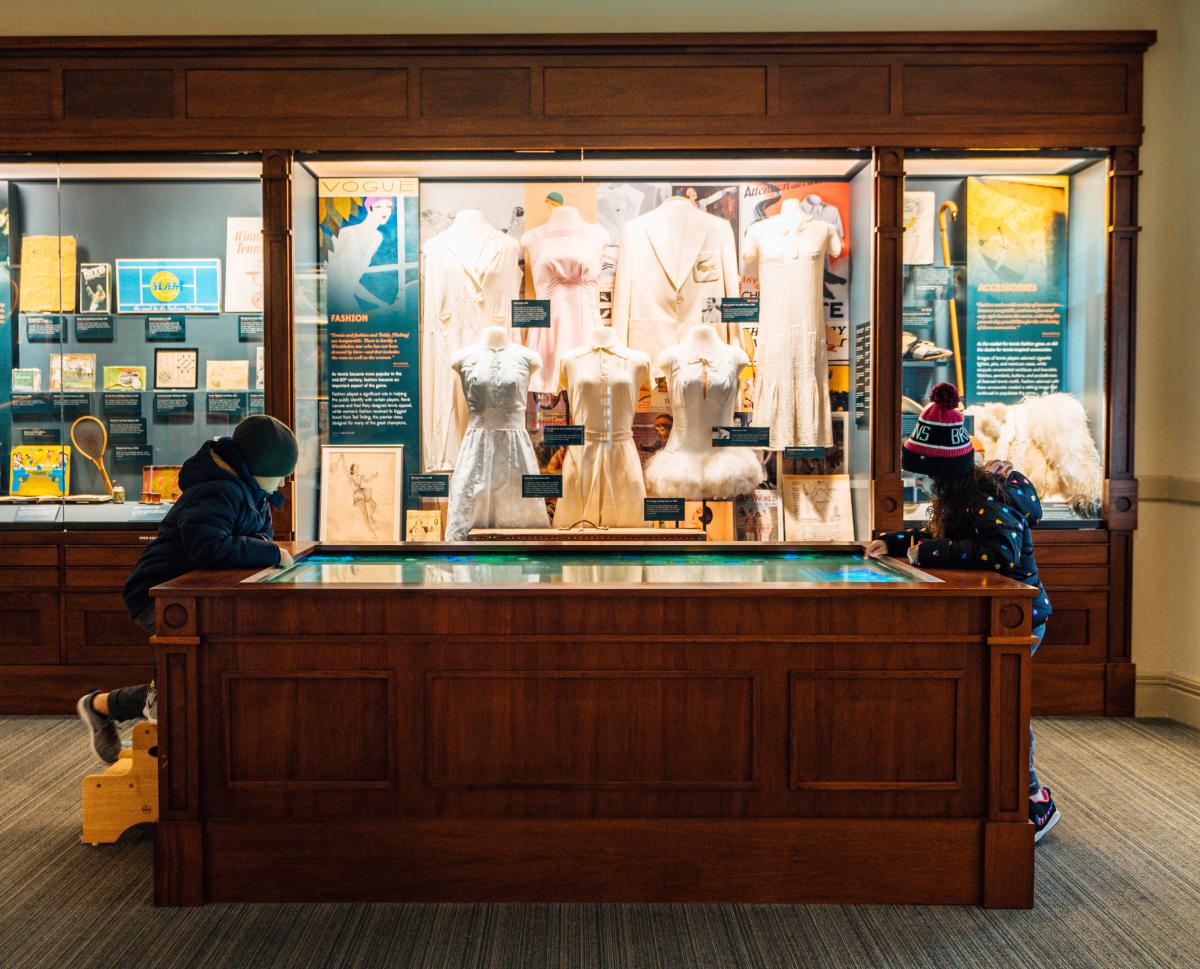 2
Hands-On Sea Experience:
Inside the Easton's Beach ballroom rotunda you'll find Save the Bay's Exploration Center and Aquarium. Home to more than 40 species from Narragansett Bay and Rhode Island, the center houses three touch tanks and dozens of exhibits for a hands-on experience with some of the area's most fascinating sea creatures.
IMPORTANT NOTE: 
Save The Bay's Aquarium will be relocating to America's Cup Ave. in Fall 2023. In the meantime, the current location in the Easton's Beach Rotunda will be open for visits.
SCENIC STROLL:
Afterwards, make the quick walk up Memorial Boulevard to the entrance of Newport's 3.5 mile Cliff Walk. One of Newport's most popular sights, this is where the serenity of salt air and crashing waves meets the marvel of Gilded Age architecture. Stroll at your own pace, stopping along the way to marvel at scenic overlooks and some of Newport's most opulent, historic homes.
FAMILY TOUR: 
Exit Cliff Walk at Ruggles Avenue and take a right at the end of the block to find yourself at The Breakers, the largest of the Newport Mansions. Head inside for a family tour that brings the house, its furnishings and sculptures to life. Your kids will love hearing from whimsical creatures like the friendly dolphin under the grand staircase, the lions of the Music Room and the dragons in the Dining Room. They'll experience a summer day in the life of one of the Vanderbilt children, learn about the masters of the kitchen—Monsieur Le Chef and his colleague, The Butler.
While your kids enjoy the family audio tour, grab yourself a head set to hear The Breakers Revealed, an audio tour that follows the same route and timing.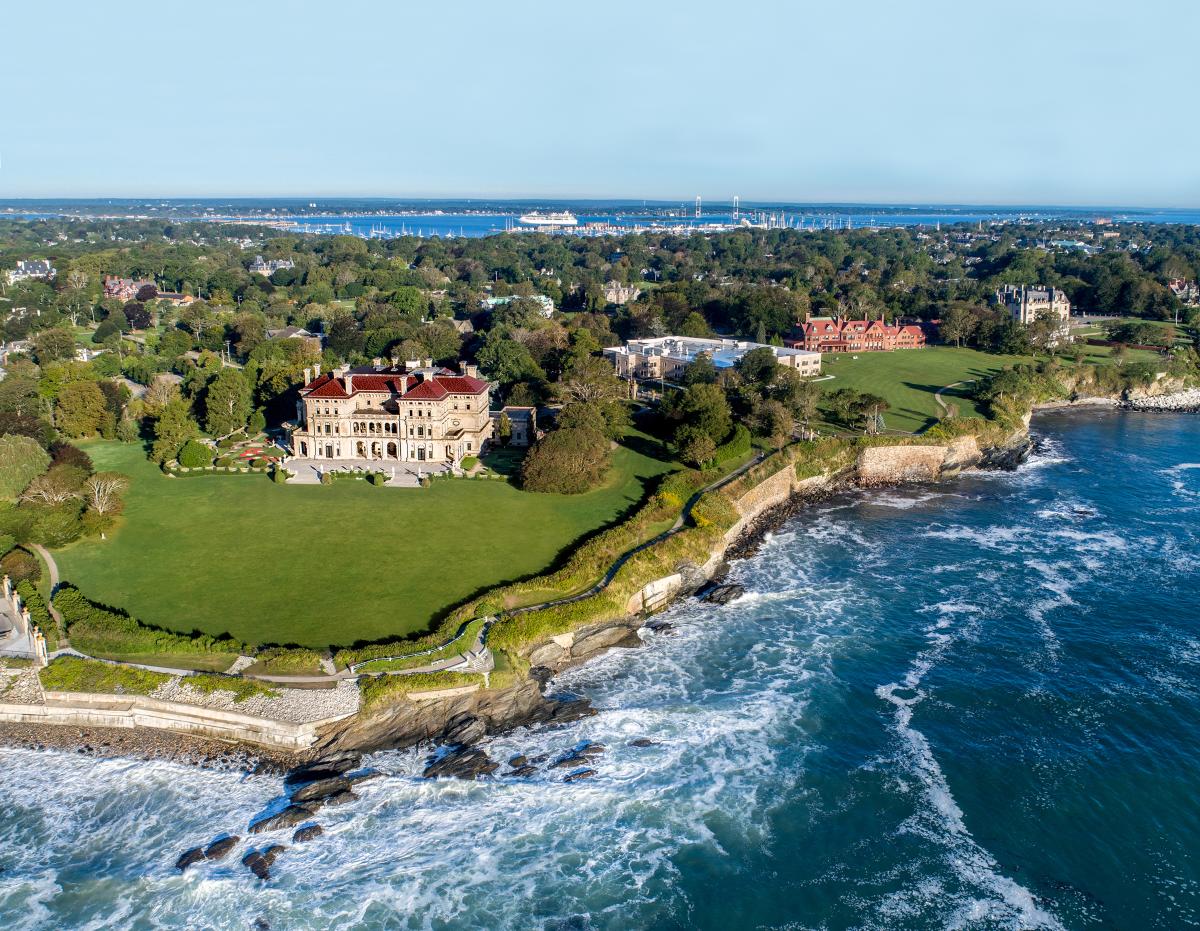 ON THE PATIO:
O'Brien's outdoor patio is a top pick for chill vibes and casual grub in an informal setting on Lower Thames in downtown Newport. Since its opening in 1979, the patio has grown to seat over 175 people and is the perfect place to meet for lunch, dinner or drinks. The two-tier fountain filled with water toys is sure to keep your kids occupied while you enjoy a cocktail (or two). Speaking of cocktails: For the complete experience, order a mudslide. Trust us
DAY 2
MORNING FUEL:
Two eggs, home fries, toast and coffee for $4.50 is the breakfast deal you'll catch Monday through Friday at Annie's. The casual, diner-like eatery located on Bellevue Avenue has been serving Newporters for decades and offers breakfast all day. Their menu is lengthy, which means there's something for even the pickiest of eaters, including pancakes, waffles, omelettes, and when all else fails—PB&J. 
Note: They're BYOB, just in case you're hankering for a mimosa. 
TRY SAILING:
It's time to earn your sea legs! This one-hour experience with Sail Newport at Fort Adams State Park allows you and your kids to experience the thrill of sailing with the safety of an expert sailor. Don't forget to pack hats, sunglasses, sunscreen and a jacket or fleece to layer.
SERENE DRIVE:
Once you're back on land, continue making your way from Fort Adams down Ocean Drive, where 10 miles of coastline meets one winding road. You'll pass by Gilded Age mansions, Hammersmith Farm where Jackie Kennedy grew up, iconic Castle Hill, and Gooseberry Beach, a favorite summertime spot. For a classic experience, pack a blanket and a kite for your kids, and park your car at Brenton Point to enjoy the ocean breeze and crashing waves at one of the best kite-flying spots around.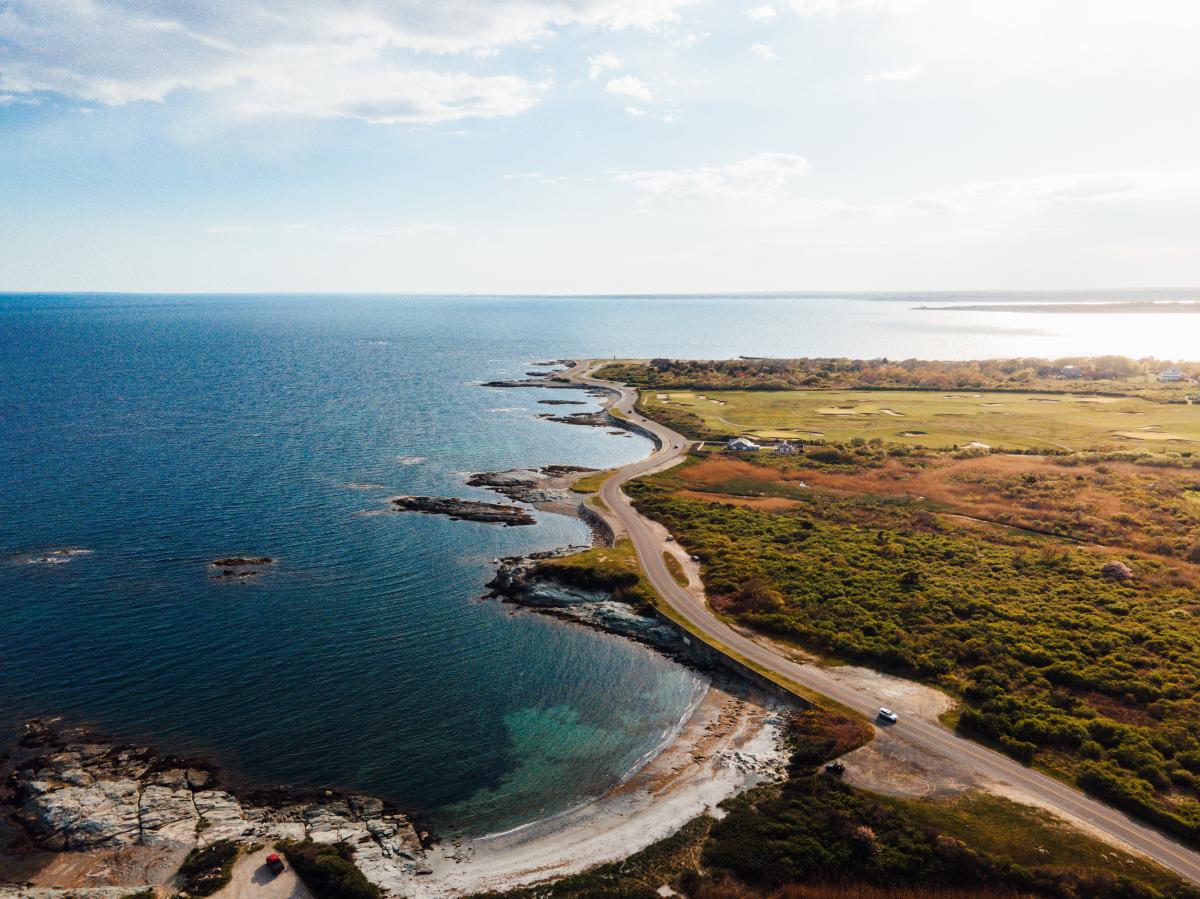 SEAFOOD WITH A VIEW:
Featured on Food Network's Best of Rhode Island, Flo's Clam Shack has been a staple for life-changing seafood in Newport since 1936. Grab a menu and place your order at the counter—we recommend the award-winning clam cakes—then grab a seat on either floor of this casual, oceanfront shack. For a worthwhile view, take your order upstairs to the front sun room to enjoy overlooking Newport's First Beach.
Don't forget to say hello to Bruce, the 26-foot shark named after the shark in Disney's Finding Nemo, that resides in front of the eatery. 
1
Rail Bike Tours:
Based in neighboring Portsmouth and just a short drive from Newport, Rail Explorers offers you the chance to ride tandem or quad, custom-built, pedal-powered rail bikes along railroad tracks journeying alongside Narragansett Bay. Nervous about what to expect? Rail Explorers are easy to pedal, the terrain is mostly flat and the ride is relaxing and enjoyable, making it perfect for families.
Pro tip: Traveling with your family's four-legged BFF? Rail Explorers are dog-friendly.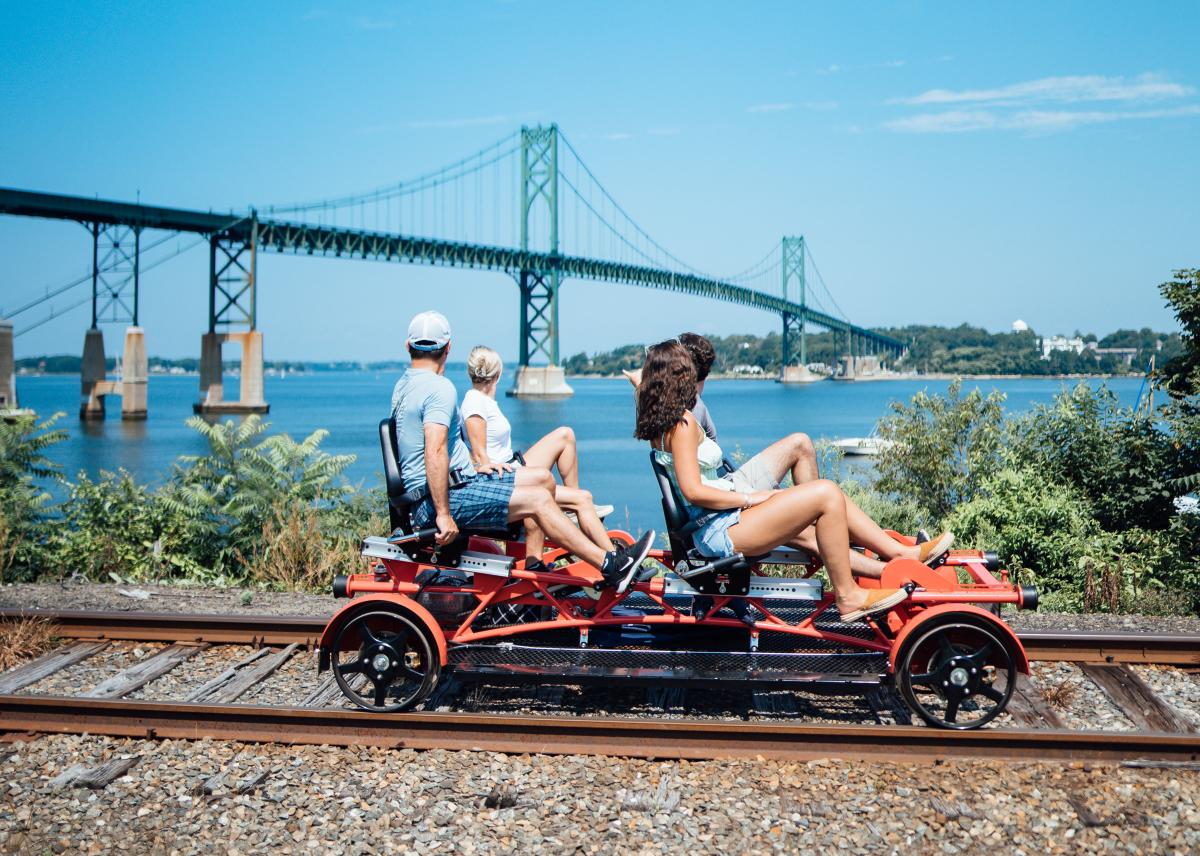 2
Green Animals Topiary Garden:
Enter inside the seven-acre Portsmouth estate to explore the oldest and most northern topiary garden in the United States. Green Animals Topiary Garden is home to 80 pieces of topiary artistically crafted into exotic animal replicas and geometric figures alongside flower gardens and ponds. 
Insider Tip: Starting May 26th, explore Sean Kenney's award-winning exhibition "Sean Kenney's Nature Connects", where you will find 14 sculptures crafted from LEGO® bricks.
RELAX & RECHARGE:
Head back to home base for an afternoon of leisure for the whole family at the pool, or make your way downtown for an unexpected afternoon treat at Sprinkles ice cream shop on Bowen's Wharf. This local shop has been serving up Gifford's Ice Cream from its outpost on Bowen's Wharf for 15 years. Choose from fat free, dairy free, Italian ice, soft serve and more, place your order at the walk-up window and grab a seat overlooking the harbor for a classic summer in Newport experience.
SAVOR A LOCAL STAPLE:
When you spot the iconic yellow awning on famed Thames Street you know you've reached your destination. With more than 40 years in the business, Brick Alley Pub is no stranger to award-winning food in their pub-like atmosphere. The walls are adorned in vintage neon signs, carousel animals, photos and quirky memorabilia, perfect for keeping your kids entertained. Their menu is extensive, which means there's something for everyone, including their lobster roll—named among the best in the nation by Bon Appetit, their award-winning nachos, pasta, sandwiches, burgers and more. 
Getting Here
By Car

Total distance: 180 miles
Total travel time: 3 hours and 28 minutes

Take Route I-95 North into Rhode Island to Exit 3A (Route 138). Proceed on Route 138 East into Jamestown, and over the Jamestown Bridge. Continue on Route 138 to the Newport Bridge (toll). After crossing the bridge, take the first exit and make a right turn at the light at the bottom of the ramp (Farewell Street).
By Train

Total travel time: approximately 4 hours and 30 minutes

Grab a seat and settle in. Amtrak offers daily service to two nearby train stations: 

Kingston, RI (KIN): From the Kingston Train Station, climb aboard RIPTA Bus #64 for a one-hour ride into Newport. 
Providence, RI (PVD): After arriving in Providence, you can either board the complimentary shuttle bus service to the Providence—Newport ferry terminal where The Seastreak Ferry will take you into downtown Newport arriving at Perrotti Park. Alternatively, you can make the 5-minute walk from the Providence Train Station to Kennedy Plaza and take RIPTA Bus #60 into downtown Newport.
By Shared Charter

Total travel time: approximately 35 minutes

Tradewind's scheduled service flights to Newport operate on select days through October 3. Newport scheduled flights depart from the Million Air private FBO at Westchester County Airport (HPN) and fly directly into Newport State Airport (NPT) in under 40 minutes. Arrive just 30 minutes before departure and relax in the FBO lounge before departing directly to the aircraft.
GET SOCIAL
Tag your photos #TheClassicCoast for the chance to be featured on our accounts.